Miller serves up walks, homers as woes continue
Southpaw reliever: 'Nobody feels worse about that than me'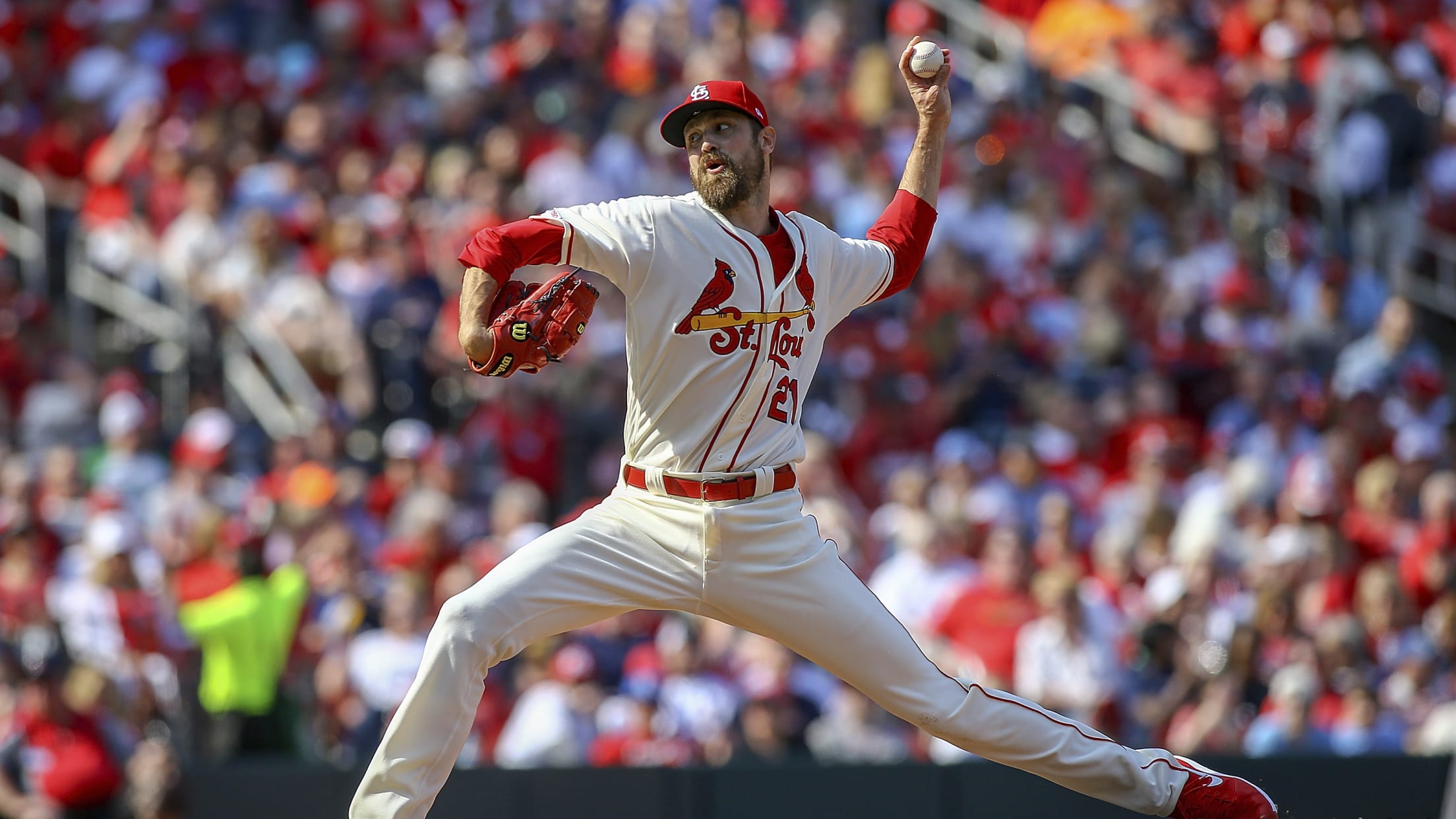 ST. LOUIS -- Before Andrew Miller can serve as the bullpen anchor the Cardinals brought him in to be, the lefty reliever must find a way to get himself right again. Miller's first impression in front of his new home fans was far from flattering on Saturday. He inherited a
ST. LOUIS -- Before Andrew Miller can serve as the bullpen anchor the Cardinals brought him in to be, the lefty reliever must find a way to get himself right again.
Miller's first impression in front of his new home fans was far from flattering on Saturday. He inherited a one-run, eighth-inning lead and promptly served up a pair of two-run homers that helped the Padres steal a 6-4 victory at Busch Stadium. It marked the first time since the 2015 season that Miller had surrendered multiple home runs in a game and foiled an opportunity for the Cards to ride a Marcell Ozuna home run into their first home victory.
"Honestly, I feel good. I feel confident coming into games," said Miller, who has already allowed as many home runs (three) in 3 1/3 innings as he did in 2017 (62 2/3 innings) and '18 (34 innings). "Nobody feels worse about that than me. I think my expectations for myself are incredibly high. I'm not doing it right now. It's a fine line between getting guys to swing at pitches and not. They laid off some good ones, put me in trouble and had a couple big hits. I have to do better."
His trouble started with free passes, fitting for an afternoon in which starter Michael Wacha had already tiptoed around eight walks in his 5 2/3 innings. After Fernando Tatis Jr. worked a leadoff walk against Miller, Austin Hedges delivered the first home run off the reliever to give the Padres a one-run lead.
Another walk, this one to Ian Kinsler, and a pair of plays not made by the defense later extended the inning to Manny Machado, who crushed his second home run of the year. It came on a slider.
"Just not being able to finish pitches, really," manager Mike Shildt said. "He looks like he's making good pitches, just not making enough of them. Some pitches not having enough finish at the end like he's used to."
It marked the third time in his first five appearances that Miller has been scored upon and represented another round of hard contact for a pitcher who has long evaded it. Six of the 12 batted balls against Miller this year have registered an exit velocity of at least 95 mph. That's way up from the 21.5 percent hard-hit rate he allowed in 2017 and even the 36.5 percent rate he had in an up-and-down '18 season.
Compromised health, Miller insisted afterward, isn't part of the issue.
His early-season struggles, along with those from Alex Reyes, who took the loss in the series opener and was optioned to Triple-A Memphis following Saturday's game, have stained Shildt's bullpen blueprint thus far. Expected to be key late-inning pieces for the team, the two relievers have combined to allow 11 runs (nine earned) on seven hits and 10 walks in 6 1/3 innings. They've registered three total strikeouts.
"Just grind," Miller said. "Show up every day ready to work. Get better. Make adjustments. I feel like I'm coming into games ready to go. I expect my results to be better.
"That's a game we need to win. I didn't do my part."
Offensive awakening
Shildt had dutifully fielded the questions for days, questions about how long he planned to stick with a middle-of-the-lineup grouping that had collectively contributed almost nothing over the season's first week. Patience, he preached.
The payoff for his own came on Saturday, when the heart of the Cardinals' order collectively arose from its slumber.
In a game where high pitch counts and a plethora of free passes dragged down the pace, Ozuna provided instant offense with his first home run of the season. His two-run blast off former Cardinals farmhand Robert Stock in the fifth broke a 1-1 tie and registered an exit velocity of 112.6 mph, according to Statcast, greater than any other ball put in play by the club this season.
It was the sort of contact the Cardinals had seen sparingly from Ozuna over the first week of the season, when he ranked in the league's bottom nine percent, according to Statcast, with a hard-hit rate of 17.6 percent. His first-inning flyout -- which tracked at 105.8 mph off his bat -- suggested, however, that Ozuna was trending in a positive direction.
"He got a pitch he could handle and just drilled it," Shildt said about the fifth-inning homer. "That ball is still getting altitude going into Big Mac Land."
Ozuna, Yadier Molina and Dexter Fowler had entered the day a combined 10-for-71 with two doubles and two RBIs as the club's primary fourth-, fifth- and sixth-hole hitters. Starting with Molina's second-inning single, the trio reached base seven times and scored three runs on Saturday -- and doubled its RBI output with Ozuna's single swing.
Saturday marked just the second time this season that all three of the team's middle-of-the-order hitters registered a hit in the same game.
Jenifer Langosch is a senior content manager at MLB.com. She previously covered the Pirates (2007-11) and Cardinals (2012-19). Follow her on Twitter.