Projecting the Cards' Opening Day roster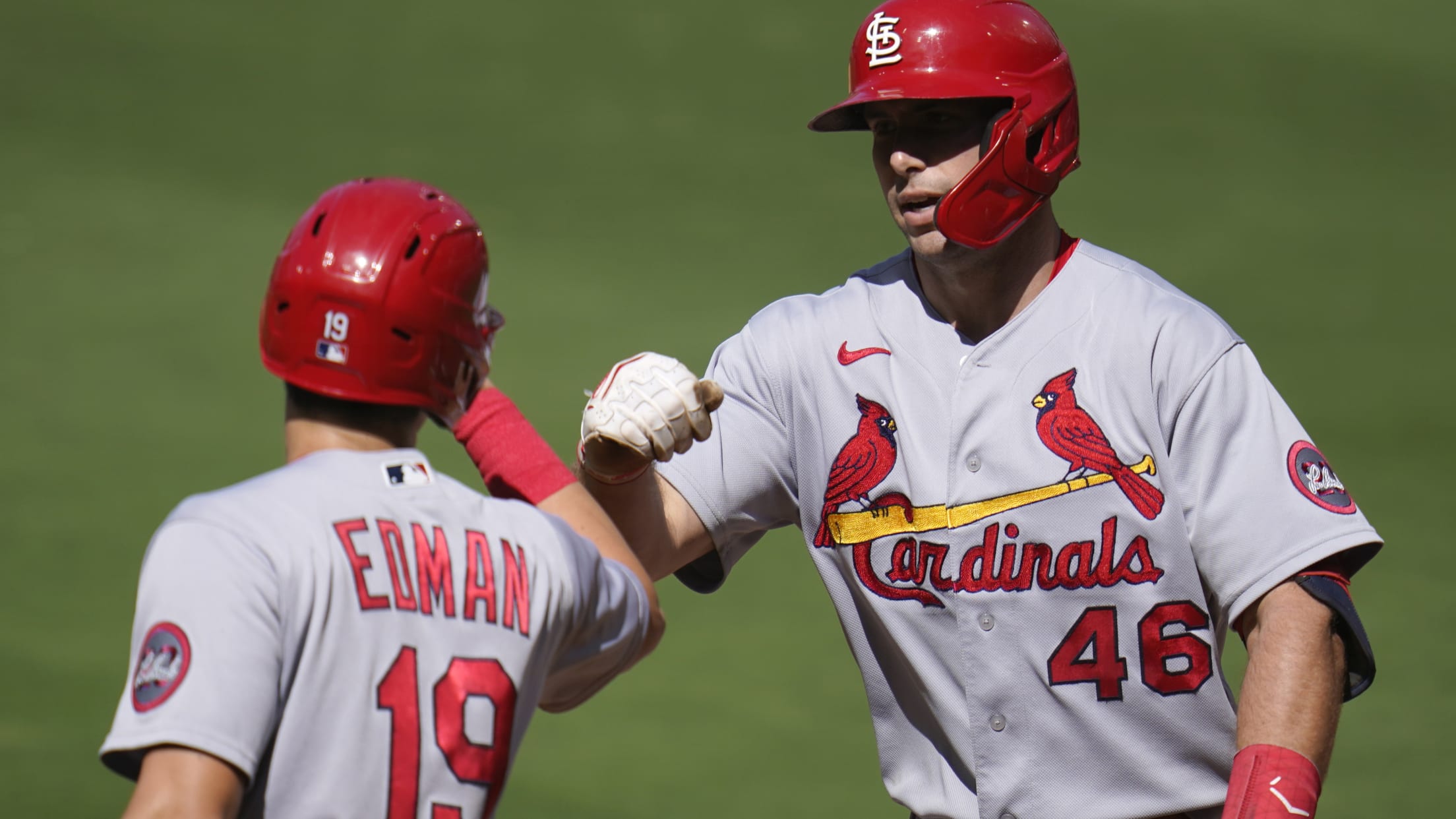 ST. LOUIS -- The offseason has just begun, but it's never too early to start thinking about the upcoming baseball season. The Cardinals' roster will likely change before the 2021 campaign begins, but where and how those changes come are still to be determined, as the club balances payroll and
ST. LOUIS -- The offseason has just begun, but it's never too early to start thinking about the upcoming baseball season. The Cardinals' roster will likely change before the 2021 campaign begins, but where and how those changes come are still to be determined, as the club balances payroll and improvement.
We don't yet know the specifics of what the 2021 season will look like; the roster number isn't set in stone, and Major League Baseball has not decided whether there will be a designated hitter in the National League again. Both of those things would likely add to the teams' offseason strategy; for example, the Cardinals could look to add a true DH for next season if the rule changes.
With this first Opening Day roster prediction, let's assume there will be 26 players on the roster and no DH in the NL. We'll adjust throughout the offseason if necessary.
Catcher (2): Andrew Knizner, free-agent signing
The Cardinals would like free agent Yadier Molina to appear on this list, and Molina's preference is to appear on this list. But with Molina seeking a two-year deal, the two sides are still only in talks about a potential reunion. They believe Knizner is MLB-ready, so his role in St. Louis will be determined when Molina signs with a team. If it's with the Cardinals, Knizner will be Molina's backup. If it's elsewhere, Knizner will likely be the starting catcher, and the Cardinals could look to add a veteran backup catcher for Opening Day.
First base (1): Paul Goldschmidt
No surprises here: Goldschmidt will be the Cardinals' first baseman for the next few seasons. The 33-year-old had a bone spur removed a few weeks after the 2020 season ended, but he is recovering well and is expected to be ready for Spring Training. His backup, if he needs one, would likely be Matt Carpenter or one of the catchers.
Second base (1): Tommy Edman
Possibilities: Edmundo Sosa, free-agent signing or trade
After the Cardinals declined Kolten Wong's $12.5 million option for 2021, Edman -- who played at almost every position in the past two seasons -- became the projected starting second baseman. Wong and the Cardinals aren't ruling out a reunion, and if that happens, Edman could play third base or return to the utility role. The Cardinals could also target another utility infielder or second baseman on the market to improve the offense, but Wong's defense makes him one of the top second basemen available this offseason.
Sosa is able to appear off the bench and be a backup all over the infield. He can play second, third and shortstop, and he can be a reliable bench player for the Cardinals.
Third base (1): Matt Carpenter
Possibilities: Sosa, free-agent signing or trade
If the season started today, Carpenter would be the starting third baseman. But the Cardinals have a few more months to figure out Carpenter's role for the final guaranteed year of his contract. Through trade or free agency, St. Louis could add a bigger bat at third base and relegate Carpenter -- who has underperformed offensively the past two seasons -- to a part-time role or give him time at DH if that's an option next year.
Shortstop (2): Paul DeJong, Sosa
DeJong enters his fourth full season as the Cardinals' shortstop and figures to be a prominent part of the lineup if he can stay consistent throughout the year. He hit .250 with three home runs and 25 RBIs in 2020 while also impacted by COVID-19. DeJong didn't get a ton of days off after he returned from his quarantine, but that was in part due to the Cardinals' 11 doubleheaders.
Outfield (4): Dexter Fowler, Dylan Carlson, Harrison Bader, Tyler O'Neill
Possibilities: Lane Thomas, free-agent signing or trade
This is another area for improvement, after the outfield ranked in the bottom third of MLB in many offensive categories in 2020. Fowler, in the final year of his contract, is likely to be the Opening Day right fielder. Carlson will have an opportunity to secure left or center field. Bader (who is eligible for arbitration this offseason), O'Neill and Thomas are all trade candidates, but if they are still with the Cardinals come spring, they will be in the mix again for a starting spot, along with Justin Williams and Austin Dean. There are plenty of outfielders available to bring to St. Louis, though, and the Cardinals will explore the market to improve the offense.
Starting pitchers (6): Jack Flaherty, Kwang Hyun Kim, Miles Mikolas, Austin Gomber, Daniel Ponce de Leon, free-agent signing or trade
The Cardinals hope Adam Wainwright will round out their Opening Day rotation, but that's still up in the air right now. Dakota Hudson is out for the year after his Tommy John surgery in September. Flaherty is due for a raise in arbitration this year, and Kim will be in the second and final year of his contract. Mikolas is expected to be recovered from his right flexor tendon surgery by Spring Training. That leaves Gomber, Ponce de Leon and Alex Reyes, among others, as candidates for the fourth and/or fifth spots depending on if Wainwright returns.
Relievers (9): Andrew Miller, Ryan Helsley, Génesis Cabrera, Alex Reyes, John Gant, Jordan Hicks, Tyler Webb, Giovanny Gallegos, Carlos Martínez
The Cardinals' bullpen won't see many changes, as the offensive upgrades will take priority over pitching moves this offseason. A year and a half after he had Tommy John surgery, Hicks will likely be back in 2021. If Reyes doesn't make the rotation, he showed what a force he can be in the bullpen, along with Cabrera. Martínez, who ended the season with an oblique injury and will be in the final guaranteed year of his contract, is a trade candidate, but the Cardinals have tried to trade him before without success. If he stays healthy, he can be valuable in the back end of the 'pen. Kodi Whitley and Seth Elledge could also be in the mix after strong rookie campaigns.