Hamstring strain sends Bader to IL; Thomas up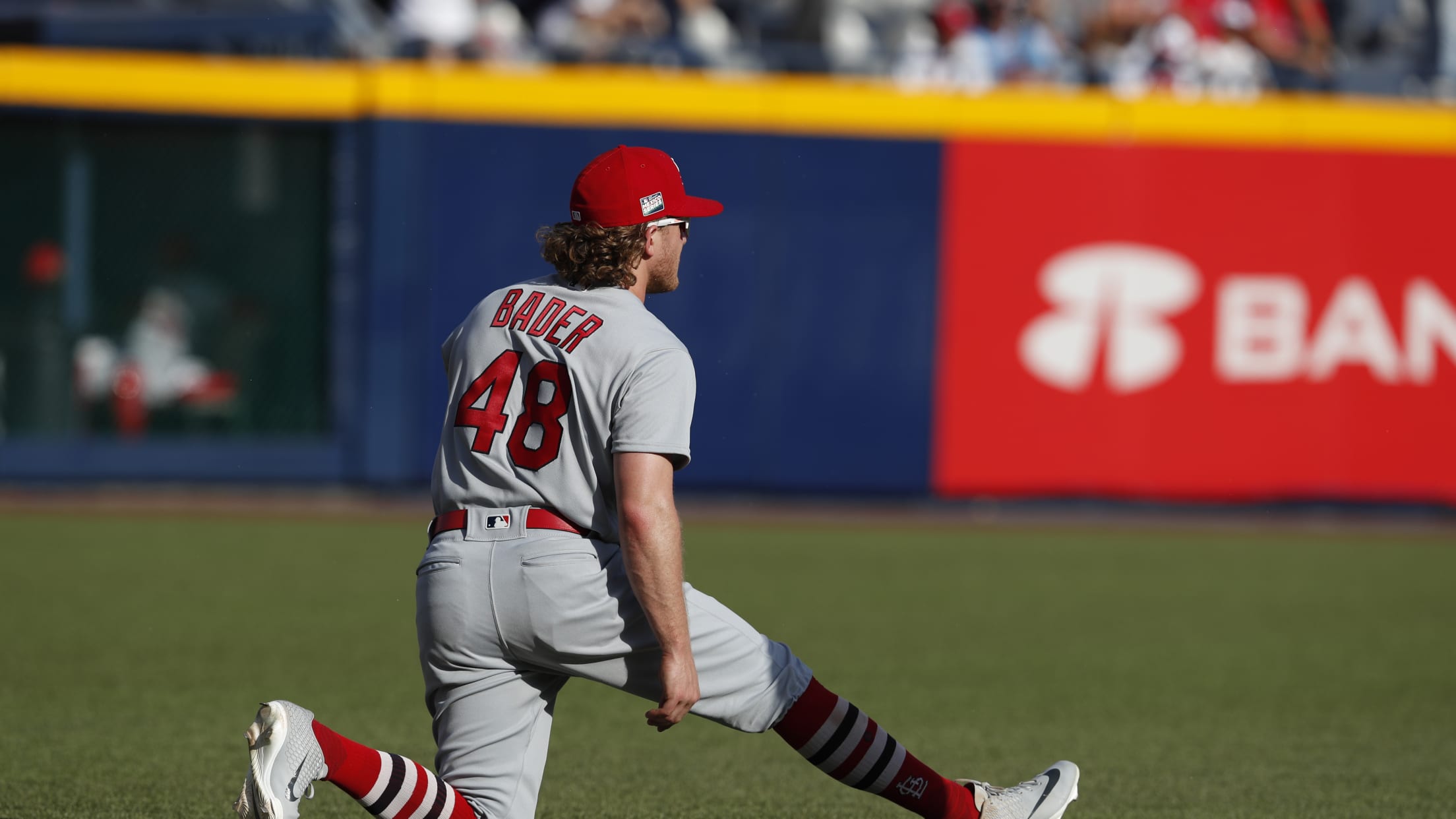 MILWAUKEE -- The St. Louis Cardinals held out as long as they could but with Harrison Bader's right hamstring not healing quickly enough, the team placed its center fielder on the 10-day injured list Wednesday morning before the series finale against the Brewers at Miller Park. Bader suffered the injury
MILWAUKEE -- The St. Louis Cardinals held out as long as they could but with Harrison Bader's right hamstring not healing quickly enough, the team placed its center fielder on the 10-day injured list Wednesday morning before the series finale against the Brewers at Miller Park.
Bader suffered the injury chasing a fly ball late during the Cardinals' game Saturday against the Reds in Monterrey, Mexico. He sat out the next day and was considered day-to-day when the Cardinals arrived in Milwaukee for their three-game set at Miller Park, but after two days of workouts, there wasn't enough progress to avoid a move.
"We evaluated it where we tried to carry him," manager Mike Shildt said. "We were hopeful yesterday he could have done something at the game today and be ready today. Yesterday didn't look like it was an opportunity to do either. We can take advantage of a day off (Thursday), put him on the IL and get it behind him."
Bader will be eligible to return next Wednesday when the Cardinals wrap up a three-game series with the Brewers at Busch Stadium.
"Speed is a big part of his game," Shildt said. "We want to make sure we have the long view right. After we talked to him about this he wasn't happy. Not that he doesn't understand it, he just wants to play.
"It is like, 'I can go, I can go, I can go.' I appreciate that, but we need to regulate ya. Taxes just got done. There is a lot of season left."
In the meantime, with Tyler O'Neill also on the IL, Dexter Fowler is likely to see more time in center field with Jose Martinez taking Fowler's usual spot in right. Fowler has only made two appearances with just one start in center this season but has 1,039 career starts there including 109 for the Cardinals in 2017.
"Dexter's got experience, obviously," Shildt said. "Dexter has been in the league for 10 years ... he's more than capable."
Shildt also plans to use rookie outfielder Lane Thomas as a late-game defensive substitution for Fowler. The Cardinals recalled Thomas from Triple-A Memphis Wednesday morning and he was on hand at Miller Park for the series finale.
Thomas spent Spring Training in big league camp but was slowed by a sore oblique.
"I was okay," Thomas sad. "They wanted to make sure I was fully healthy before I start doing stuff again. You don't want to drag something like that into the season."
Thomas batted .229 (8-for-35) with 5 RBI in 11 games for the Redbirds but produced a .383 on-base percentage thanks to 11 walks. Defensively, Thomas made five starts in center and six more in left.
"It's an opportunity for Lane," Shildt said. "He's a plus defender, good arm and good pop in his bat. We'll get the chance to see him at some point."
Martinez set to throw again
Carlos Martinez will throw another bullpen session Friday before the Cardinals host the Mets at Busch Stadium. If all goes well, he'll then travel to Jupiter, Florida, to throw a simulated game at the team's Spring Training facility.
"Based on what that looks like, he'll repeat that there and then maybe do something with Palm Beach," Shildt said.