Trades link McCarver, McGee decades apart
Catcher integral in Cards' '60s run; outfielder led dominant '80s teams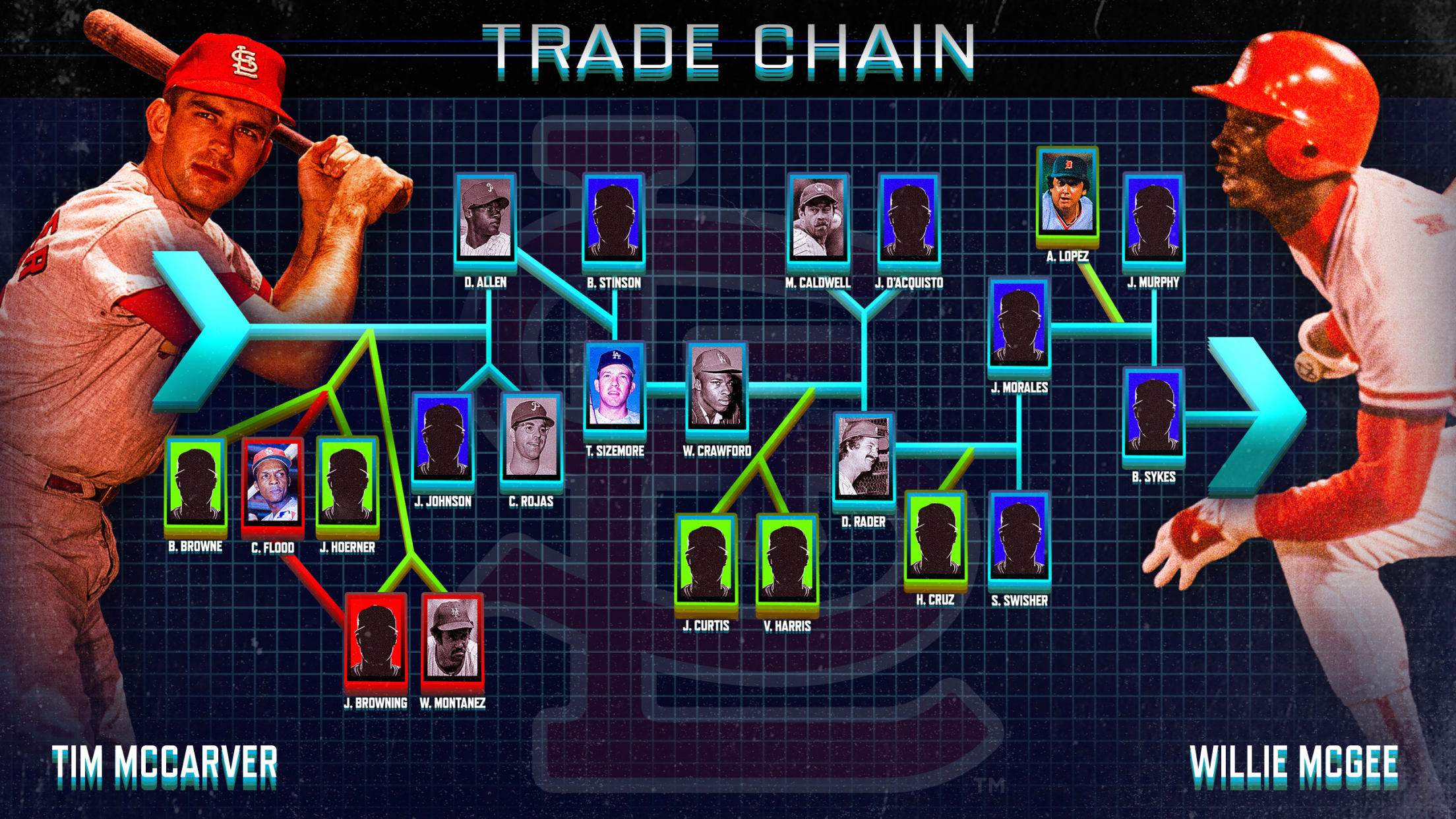 ST. LOUIS -- The Cardinals teams from the 1960s and '80s were some of the most successful teams in franchise history. St. Louis won six National League pennants and three World Series titles ('64, '67 and '82) in those two decades. Those teams are more connected than just their winning
ST. LOUIS -- The Cardinals teams from the 1960s and '80s were some of the most successful teams in franchise history. St. Louis won six National League pennants and three World Series titles ('64, '67 and '82) in those two decades.
Those teams are more connected than just their winning ways. Two integral players of those decades are linked via a trade tree: catcher Tim McCarver, who won two World Series with the Cardinals and is now a broadcaster with FOX Sports Midwest, and outfielder Willie McGee, who won one World Series and is now on the Cards' coaching staff.
Here's how the Cardinals went from McCarver to McGee -- and from one championship to another:
June 8, 1959: Cardinals sign McCarver as amateur free agent
Impressed with his leadership skills and ability, the Cardinals named McCarver their starting catcher in 1963. Then 21 years old, he responded by hitting .289 with seven triples and 51 RBIs. McCarver played a pivotal part in the '64 World Series, hitting .478 (11-for-23) with five RBIs. He hit the go-ahead three-run homer in the 10th inning of Game 5 to give the Cards the series lead.
A two-time All-Star, McCarver finished second in NL Most Valuable Player Award voting in 1967 after hitting .295 with career highs in home runs (14) and RBIs (69). McCarver was an important leader in the clubhouse and on the field in the 12 seasons he played for St. Louis. He was later traded back to the Cardinals in '73, but this trade tree focuses on his first trade -- and a historic one at that.
Oct. 7, 1969: Cardinals trade McCarver, Byron Browne, Curt Flood, Joe Hoerner to Phillies for Dick Allen, Jerry Johnson, Cookie Rojas; Flood refused trade, thus setting stage for free agency in later years; Cards send Willie Montanez, Jim Browning to Phils to complete trade
After two World Series titles and three NL pennants, the Cardinals slumped to fourth place in 1969, 13 games behind the Mets. McCarver was sent to the Phillies in a seven-player trade, most remembered because Curt Flood refused to report and took his case challenging baseball's reserve clause all the way to the Supreme Court. But Flood isn't the center of this trade-tree story. It's slugger Dick Allen, who played first and third base and hit .279 with 101 RBIs in '70. His 34 home runs were the most in a season by a Cardinal since '54.
Oct. 5, 1970: Cardinals trade Allen to Dodgers for Ted Sizemore, Bob Stinson
Allen's fireworks ended after one season. The Cardinals needed infield defense, so general manager Bing Devine traded Allen to the Dodgers for Ted Sizemore, a reliable sparkplug at second base and the 1969 NL Rookie of the Year Award winner.
"The people here [in St. Louis] will like him because of his hustle and his ability to go all out," Cardinals manager Red Schoendienst told reporters after the trade.
In five seasons with St. Louis, Sizemore batted .260, primarily from the No. 2 spot behind Lou Brock, and he accumulated 9.1 WAR.
March 2, 1976: Cardinals trade Sizemore to Dodgers for Willie Crawford
Heading into Spring Training, Sizemore expressed his desire to be traded back to Los Angeles if possible, to be near his home in California. The Cardinals had other options for their infield, so they explored trades with the Dodgers. The left-handed-hitting Willie Crawford, then 29, figured to join the Cards' bench as a reserve outfielder, but he quickly fit in and earned the starting spot in right field a few weeks into the season. He responded by batting .438 in April and .326 in May. He finished the season hitting .304 with a .360 on-base percentage.
Oct. 20, 1976: Cardinals trade Crawford, John Curtis, Vic Harris to Giants for Dave Rader, John D'Acquisto, Mike Caldwell
Concerned about the direction the franchise was going after finishing the 1976 season with a 72-90 record, the Cardinals dismissed Schoendienst and made roster moves, including sending Crawford to San Francisco. Dave Rader was the only one of the three acquired who spent significant time with the Cardinals -- John D'Acquisto was traded to the Padres in May and Mike Caldwell was traded to the Reds in a Spring Training deal. The backup catcher to Ted Simmons, Rader was used primarily as a pinch-hitter and appeared in 66 games in 1977, hitting .263 with a .310 on-base percentage.
Dec. 8, 1977: Cardinals trade Rader, Hector Cruz to Cubs for Jerry Morales, Steve Swisher, cash
The Cardinals needed a proven right-handed hitter to balance their lineup, so Devine used the Winter Meetings to find one. At the time, Jerry Morales -- an All-Star outfielder with the Cubs in 1977 -- looked to be the right move, and Swisher could serve as the new backup catcher. Morales hit .290 in '77, although he was hit in the knee during the All-Star Game and struggled in the second half of the season. Still, the Cards counted on Morales to drive in runs and bolster the middle of the lineup.
Morales opened the 1978 season with three hits off Phillies lefty Steve Carlton, but that was one of his few highlights. He batted .194 in May, struggled to bounce back and finished the season with a .239 average, four home runs and 46 RBIs. The Cards went 69-93 that year.
Dec. 4, 1978: Cardinals trade Morales, Aurelio Lopez to Tigers for Bob Sykes, Minor Leaguer John Murphy
Morales asked to be traded after the season, according to the St. Louis Post-Dispatch, and the Cardinals were going through more changes after dismissing Devine and hiring John Claiborne as the new general manager. Claiborne's first trade was sending Morales to the Tigers for pitchers Bob Sykes and John Murphy. Skyes, a lefty, spent three seasons with the Cards, posting a 5.08 ERA, winning 12 games and alternating between starting and relieving. He pitched an extra-inning shutout at Busch Stadium on July 4, 1980, when he blanked the Phillies for 10 frames. George Hendrick homered in the bottom of the 10th to give Sykes a 1-0 victory.
Oct. 21, 1981: Cardinals trade Sykes to Yankees for McGee
At the time, this move wasn't big news. Sykes ended up never playing a game for the Yankees. McGee was the Yanks' first-round Draft pick in 1977, but he never rose higher than Double-A.
"After my second or third year, I started telling myself the Yankees weren't the only team," McGee said after the trade. "I know I can hit."
The switch-hitting center fielder was assigned to Triple-A before being called up on May 10, 1982, to replace an injured David Green. In his 16th game for the Cardinals, McGee had a four-hit game and sparked a 10-run fourth inning against the Giants on May 31. McGee transformed from a fill-in to a regular who would be integral to the Cardinals' first World Series title in 15 years and their run of success in the '80s. McGee hit .296 with 24 stolen bases and 56 RBIs in '82. He dazzled in Game 3 of the World Series, when he homered twice and had two home run-stealing catches. McGee was the '85 NL MVP Award winner, a four-time NL All-Star, a three-time NL Gold Glove Award winner and a two-time batting champion.
This trade tree ends with the Cardinals sending McGee to the A's in 1990, but McGee returned to St. Louis in '95 as a free agent. In 13 seasons with St. Louis, McGee hit .294 with 301 stolen bases and became one of the most beloved Cards of all time.