Fresh faces dot NL All-Star primary leaderboard
Cubs have 7 in position to advance to Starters Election; Bellinger NL vote leader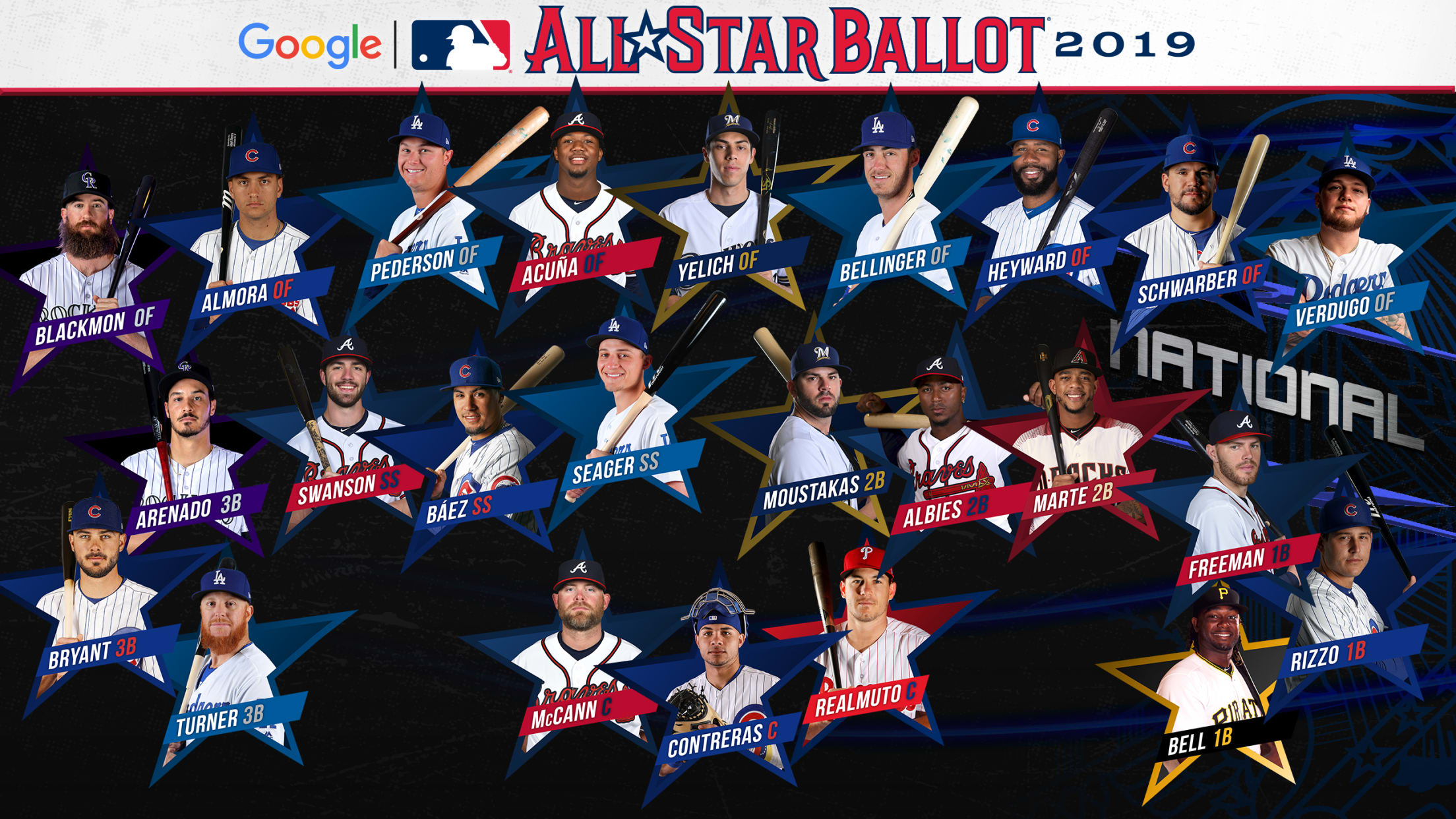 Read our FAQ on this year's revamped balloting format, which includes two phases of fan voting to determine the All-Star starters, and the ability to vote through Google Search. • VOTE NOW: Google MLB All-Star Ballot The Dodgers may be setting the pace in the National League standings, but it's
Read our FAQ on this year's revamped balloting format, which includes two phases of fan voting to determine the All-Star starters, and the ability to vote through Google Search.
• VOTE NOW: Google MLB All-Star Ballot
The Dodgers may be setting the pace in the National League standings, but it's the Cubs that took center stage in the initial NL update of the 2019 Google MLB All-Star Ballot released on Tuesday.
With the top three vote-getters at each position -- or top nine in the outfield -- advancing to the next round of voting for next month's All-Star Game presented by Mastercard, the Cubs are currently in position to send seven players through to The Starters Election, which will take place over a 28-hour period starting at noon ET on June 26. Chicago has the leading vote-getter at catcher and shortstop, while also boasting the No. 2 player at first base and third base, and three of the top nine outfielders.
Most surprisingly perhaps, is a pair of players who would not be going through to the next round of voting. While many fans were locked in on Bryce Harper and Manny Machado this offseason, they have not locked those players into their ballots thus far. Machado is currently sixth among third basemen, while Harper has some work to do just to make his way into the all-important top nine.
Here's a position-by-position breakdown of the first balloting returns:
CATCHER
1) Willson Contreras, Cubs -- 850,613
2) Brian McCann, Braves -- 269,963
3) J.T. Realmuto, Phillies -- 206,442
4) Yadier Molina, Cardinals -- 202,401
5) Yasmani Grandal, Brewers -- 195,922
6) Austin Barnes, Dodgers -- 183,692
7) Tony Wolters, Rockies -- 96,117
8) Buster Posey, Giants -- 79,768
9) Wilson Ramos, Mets -- 78,957
10) Francisco Cervelli, Pirates -- 54,395
No player holds a larger lead at any position -- in either league -- than Willson Contreras. Though he is currently the runaway leader at catcher in the NL, it's important to remember that the top three vote-getters at each position will advance to the next round of voting. Thus, it's actually an incredibly close race at this position, with Brian McCann and J.T. Realmuto rounding out the top three, but Yadier Molina, Yasmani Grandal and Austin Barnes all sitting within striking distance.
FIRST BASE
1) Josh Bell, Pirates -- 621,915
2) Anthony Rizzo, Cubs -- 461,210
3) Freddie Freeman, Braves -- 406,283
4) Max Muncy, Dodgers -- 232,583
5) Pete Alonso, Mets -- 157,347
6) Paul Goldschmidt, Cardinals -- 121,546
7) Rhys Hoskins, Phillies -- 109,680
8) Eric Hosmer, Padres -- 85,256
9) Jesus Aguilar, Brewers -- 79,024
10) Joey Votto, Reds -- 60,985
Josh Bell is looking to continue his breakout season by earning not only his first All-Star Game start, but his first All-Star selection, period. He's currently holding off a pair of three-time All-Stars in Anthony Rizzo and Freddie Freeman, who started last year's contest. Those three have separated themselves from the rest of the pack, though Max Muncy and Pete Alonso could still make a charge.
SECOND BASE
1) Ozzie Albies, Braves -- 424,467
2) Mike Moustakas, Brewers -- 377,983
3) Ketel Marte, D-backs -- 327,269
4) Cesar Hernandez, Phillies -- 265,608
5) Enrique Hernandez, Dodgers -- 244,589
6) Daniel Descalso, Cubs -- 185,781
7) Robinson Cano, Mets -- 100,473
8) Kolten Wong, Cardinals -- 84,517
9) Brian Dozier, Nationals -- 68,957
10) Adam Frazier, Pirates -- 58,785
This is one of the most closely contested positions, with Albies' vote total by far the lowest among any leading vote-getter in the NL. That's not a knock on Albies, but instead the result of fans spreading out their votes to a number of worthy candidates. This is the only infield position in the NL at which five players have at least 200,000 votes. All five of those players are seeking their first career All-Star start, though Albies was an All-Star last year and Moustakas has a pair of All-Star selections, both in the AL and both as a third baseman.
THIRD BASE
1) Nolan Arenado, Rockies -- 783,684
2) Kris Bryant, Cubs -- 404,855
3) Justin Turner, Dodgers -- 273,586
4) Josh Donaldson, Braves -- 206,588
5) Anthony Rendon, Nationals -- 178,215
6) Manny Machado, Padres -- 118,244
7) Eduardo Escobar, D-backs -- 75,493
8) Eugenio Suarez, Reds -- 69,052
9) Matt Carpenter, Cardinals -- 66,397
10) Travis Shaw, Brewers -- 57,915
Nolan Arenado appears to be in the driver's seat for a third straight All-Star Game start at third base, but Kris Bryant won't go quietly. Arenado has four career All-Star selections overall, including starts in 2017 and '18, while Bryant is a two-time All-Star and started at the hot corner in '16. As for the battle for the all-important top three, Justin Turner is currently holding off Josh Donaldson and Anthony Rendon, while Padres newcomer Manny Machado sits in sixth place.
SHORTSTOP
1) Javier Baez, Cubs -- 861,496
2) Dansby Swanson, Braves -- 286,802
3) Corey Seager, Dodgers -- 257,085
4) Trevor Story, Rockies -- 243,550
5) Jean Segura, Phillies -- 138,716
6) Paul DeJong, Cardinals -- 111,590
7) Fernando Tatis Jr., Padres -- 108,680
8) Orlando Arcia, Brewers -- 91,594
9) Jose Iglesias, Reds -- 81,091
10) Trea Turner, Nationals -- 66,036
Javier Baez has a stranglehold on the top spot at shortstop, so the question is seemingly who will he need to hold off in the next round of voting? As it stands now, Dansby Swanson has the second most votes thanks to his breakout performance to this point, but he has plenty of star power sitting right behind him. Two-time All-Star Corey Seager is in third, while Trevor Story -- a 2018 All-Star -- checks in at fourth. Phillies shortstop Jean Segura, a two-time All-Star himself, rounds out the top five.
OUTFIELD
1) Cody Bellinger, Dodgers -- 1,189,380
2) Christian Yelich, Brewers -- 1,057,855
3) Ronald Acuna Jr., Braves -- 518,760
4) Joc Pederson, Dodgers -- 344,440
5) Albert Almora Jr., Cubs -- 294,445
6) Charlie Blackmon, Rockies -- 278,070
7) Jason Heyward, Cubs -- 270,745
8) Kyle Schwarber, Cubs -- 252,557
9) Alex Verdugo, Dodgers -- 242,988
10) Bryce Harper, Phillies -- 242,719
11) Nick Markakis, Braves -- 232,995
12) Juan Soto, Nationals -- 161,939
13) Melky Cabrera, Pirates -- 135,216
14) Marcell Ozuna, Cardinals -- 135,089
15) Andrew McCutchen, Phillies -- 125,927
16) Ender Inciarte, Braves -- 125,442
17) Lorenzo Cain, Brewers -- 120,140
18) Jeff McNeil, Mets -- 96,632
19) Scott Kingery, Phillies -- 93,825
20) Ryan Braun, Brewers -- 87,718
Only two players across the Majors have received more than one million votes and they both reside in the National League outfield. Current MVP favorite Cody Bellinger is setting the pace, while reigning MVP Christian Yelich isn't far behind. Both players have more than twice as many votes as any other NL outfielder. As Bellinger and Yelich battle it out atop the ballot, the race to watch will be for the top nine vote-getters, all of whom advance to the next round of voting. As it stands now, that group would not include Phillies outfielder Bryce Harper, who is 10th among NL outfielders. That said, Harper is just 269 votes behind the No. 9 spot, currently occupied by Dodgers outfielder Alex Verdugo.
Fans may vote in "The Primary" at MLB.com and all 30 club sites, the MLB At Bat and MLB Ballpark apps up to five times in any 24-hour period. Fans in the US and Canada can also vote on Google Search for every position, or up to 17 unique players per day, by searching "MLB Vote" or the names of their favorite players. Primary voting ends at 4 p.m. ET on Friday, June 21.
The top three vote-getters at each position (including nine outfielders) per league will move on to "The Starters Election," which begins at noon ET on Wednesday, June 26. The votes will reset for a 28-hour voting window that ends at 4 p.m. ET on Thursday, June 27. Starters for the 2019 Midsummer Classic will be unveiled on ESPN that night at 7 ET. The pitchers and reserves will be announced on Sunday, June 30, at 5:30 p.m. ET.
Then on Tuesday, July 9, during the 2019 All-Star Game presented by Mastercard, fans may visit MLB.com and the 30 club sites to submit their choices for the Ted Williams Most Valuable Player Award presented by Chevrolet.
The 90th Midsummer Classic, at Progressive Field in Cleveland, will be televised nationally by FOX Sports; in Canada by Rogers Sportsnet and RDS; and worldwide by partners in more than 180 countries. FOX Deportes will provide Spanish-language coverage in the United States, while ESPN Radio and ESPN Radio Deportes will provide exclusive national radio coverage. MLB Network, MLB.com and SiriusXM also will provide comprehensive All-Star Week coverage. For more information about MLB All-Star Week and to purchase tickets, please visit AllStarGame.com and follow @MLB and @AllStarGame on social media.