Assessing Mariners' catching situation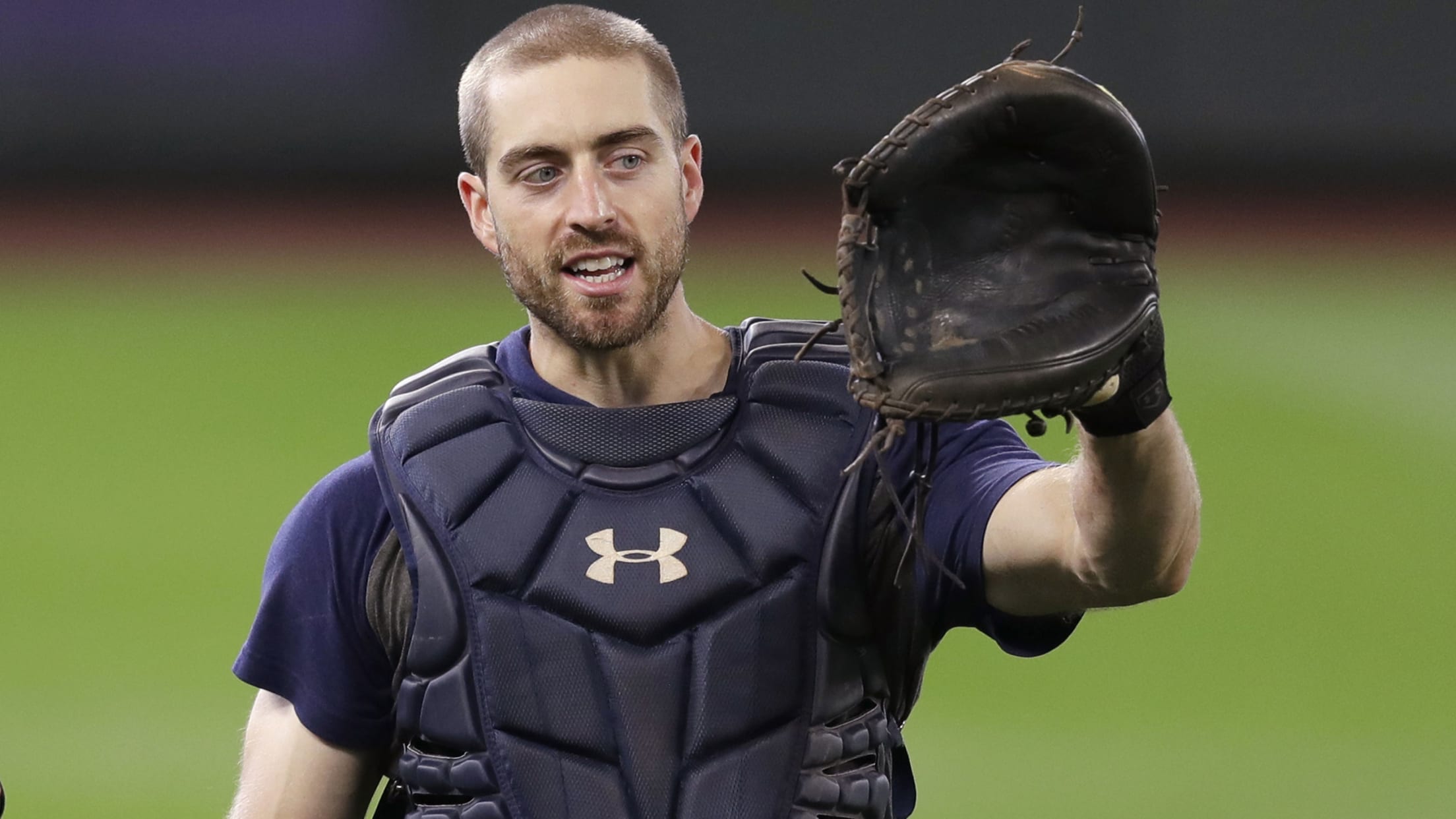 SEATTLE -- As Tom Murphy filled the quiet air on Monday at T-Mobile Park with expletives after taking a nasty foul ball off his already sore left foot, the painful outburst punctuated a worrisome reality for the Mariners. The Mariners have five catchers in their 60-player pool, but Murphy is
SEATTLE -- As Tom Murphy filled the quiet air on Monday at T-Mobile Park with expletives after taking a nasty foul ball off his already sore left foot, the painful outburst punctuated a worrisome reality for the Mariners.
The Mariners have five catchers in their 60-player pool, but Murphy is the only one with more than five Major League starts at that position. Austin Nola is the backup, and the Mariners love his catching prowess, but he only started four games at that position as a rookie last year, when he was used primarily at first base.
Murphy has only started 110 games in the big leagues, with 66 of those last year in his breakout season with Seattle. He was acquired in the first week of the season after being designated for assignment by the Rockies and Giants.
The other catcher with MLB experience in camp is Joe Hudson, who has played in nine big league games and started four times with the Angels and Cardinals over the past two years. But Hudson was just cleared to join camp on Wednesday, hasn't begun playing intrasquad games and clearly won't be up to speed by the time the regular season opens next Friday in Houston.
That leaves top catching prospect Cal Raleigh and 26-year-old Brian O'Keefe, who played Double-A ball in the Cardinals' organization last year before being selected by the Mariners in the Minor League portion of the Rule 5 Draft.
Murphy sat out on Wednesday, but he was recovered enough to get three at-bats -- going 1-for-2 with a walk -- as a designated hitter in Thursday's intrasquad game. His situation seems safe for now, but given the hazardous duties of catching, it'll be a fine line to walk through the upcoming 60-game season.
Assuming Murphy and Nola are healthy when the team departs for its season-opening road trip to Houston and Anaheim, the Mariners will still need to bring along either Raleigh or O'Keefe as their mandatory third catcher on the three-man taxi squad that will accompany the team.
Raleigh, a 23-year-old who is ranked by MLB Pipeline as the Mariners' No. 8 prospect, was expected to open this season back at Double-A Arkansas and continue his promising progress up the developmental ladder. But if needed now, is Raleigh ready?
"I'm going to treat it like any other season," said the former Florida State standout. "Obviously, it's a shortened version. I just have to rewind, feel like I'm going back to college, play some intrasquad games and get ready for a 60-game season. I don't know what the plans are, and I don't think anybody does, but my job is to be ready to go whenever my name is called. If that is the case, I'll try to get ready."
While Minor League catching coordinator Tony Arnerich is one of the coaches being held out of camp because of health concerns, Raleigh has been working with Mariners Hall of Fame catcher Dan Wilson and soaking up everything he can.
Being a switch-hitter, Raleigh not only has to split time learning all the pitchers in camp, but he's also working on both sides of his swing when he can find time in the cage.
"Cal's having a good camp," manager Scott Servais said. "He swings the bat really well and certainly has power from both sides of the plate. The catching side has really impressed me with his arm strength in this camp and some of the drills.
"He's still learning all the pitchers and their nuances, certainly some of the older guys, but this is a good opportunity for him. He's a guy that's going to show up here at some point and play a big role for us behind the plate, there's no question about that."
As for O'Keefe?
"He's super excited to be a part of the organization, and a lot of the things that we've thrown at him on the defensive side he's really taken to," Servais said. "He's got things to work on, but he's got power and a lot of arm strength. We're trying to focus on his receiving and getting that up to speed. Our guys do a really good job of teaching, and I think O'Keefe is taking of advantage of that."
Now the question will be whether Raleigh or O'Keefe -- or eventually Hudson -- is forced to learn on the job at the Major League level should the Mariners run into any troubles down the road.