Sadzeck added to 25-man; Rumbelow optioned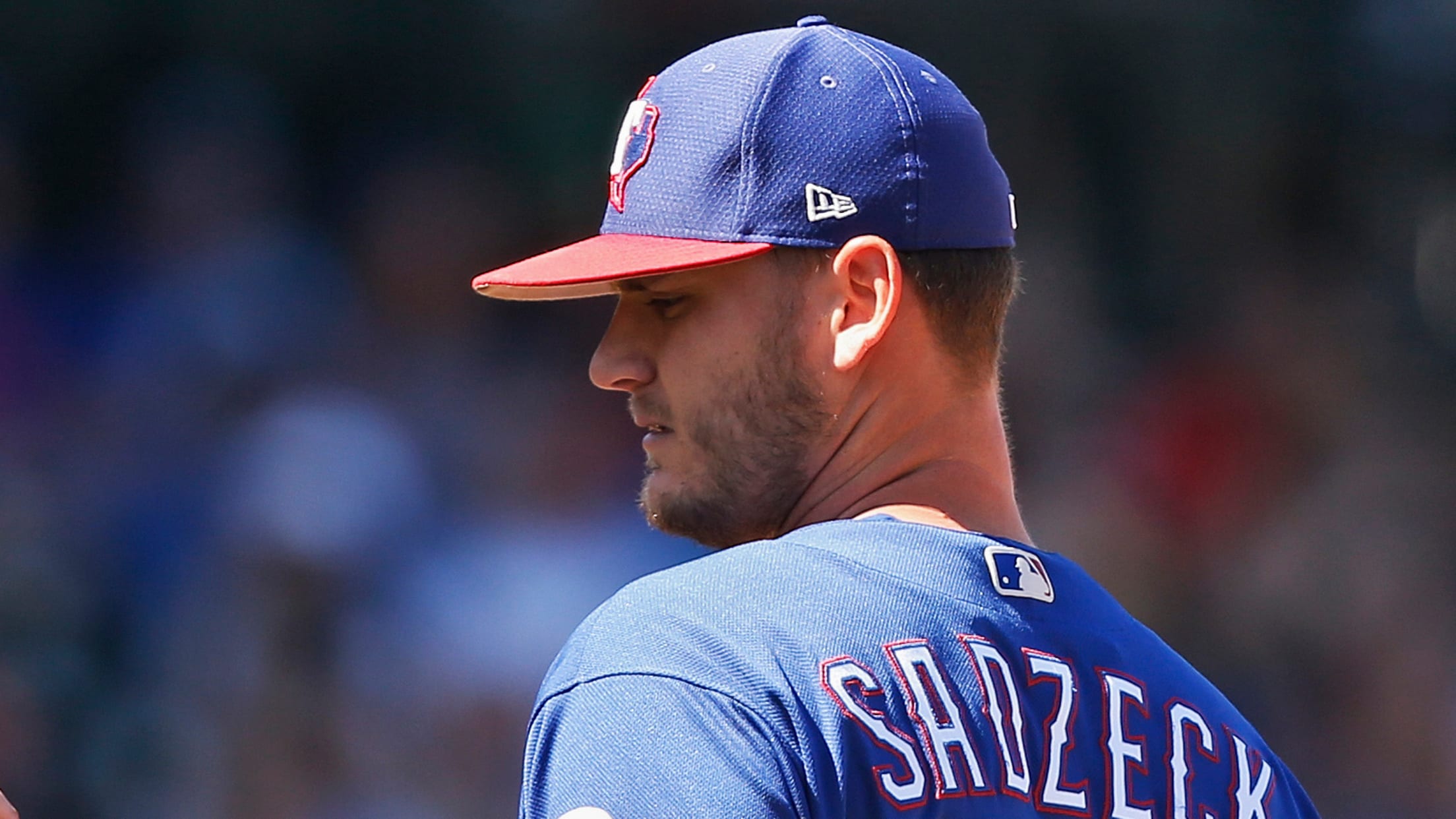 SEATTLE -- Newly acquired reliever Connor Sadzeck was added to the Mariners' 25-man roster on Wednesday, and fellow right-hander Nick Rumbelow was optioned to Triple-A Tacoma. Sadzeck, obtained in a trade with the Rangers for Minor League pitcher Grant Anderson on Monday, will join the team in Chicago and be
SEATTLE -- Newly acquired reliever Connor Sadzeck was added to the Mariners' 25-man roster on Wednesday, and fellow right-hander Nick Rumbelow was optioned to Triple-A Tacoma.
Sadzeck, obtained in a trade with the Rangers for Minor League pitcher Grant Anderson on Monday, will join the team in Chicago and be available when the three-game series with the White Sox begins on Friday.
Sadzeck is a hard-throwing 27-year-old who posted a 0.96 ERA in 9 1/3 innings over 13 appearances last season as a September callup for Texas in his first Major League action. He features a 95-99 mph fastball, but he has struggled with command. Sadzeck allowed just six hits and two runs (one earned), but he issued 11 walks to go with seven strikeouts in his brief time in the Majors.
Since the 6-foot-7, 240-pound Sadzeck is out of Minor League options, he was designated for assignment last Thursday after he did not make the Rangers' 25-man Opening Day roster.
When a player's contract is designated for assignment -- often abbreviated "DFA" -- that player is immediately removed from his club's 40-man roster, and 25-man roster if he was on that as well. Within seven days of the transaction (it was previously 10 days), the player must either be traded, released or placed on irrevocable outright waivers.
Sadzeck was converted from a starting pitcher to a reliever midway through the 2017 season, and since then, he has averaged nearly 11 strikeouts per nine innings at the Minor League level. He was sidelined for all of the '14 campaign, as well as part of '15, after undergoing Tommy John surgery.
Sadzeck went 5-3 with a 4.03 ERA in 38 innings over 32 outings at Triple-A Round Rock last year. He was expected to make the Rangers' bullpen this year, but he dealt with command issues during a rough spring. Sadzeck walked eight and struck out 11 in 8 1/3 innings, yielding seven runs on four hits.
The right-handed Sadzeck will join a Mariners bullpen that also just welcomed veteran Anthony Swarzak, who came off the 10-day injured list to record the save in Tuesday's 2-1 win over the Angels.
Shawn Armstrong (left oblique strain) and Gerson Bautista (right pectoral strain) are expected back later this month after landing on the injured list just prior to the start of the regular season.
Rumbelow will join Tacoma for the start of its season on Thursday in Sacramento. The 27-year-old is one of four Seattle relievers who earned a save during the team's four-game win streak since closer Hunter Strickland went on the injured list with a strained right lat muscle, but he's allowed three hits – including two homers – and four earned runs in 1 1/3 innings in three outings this season.