Gonzales showing he's ready to take next step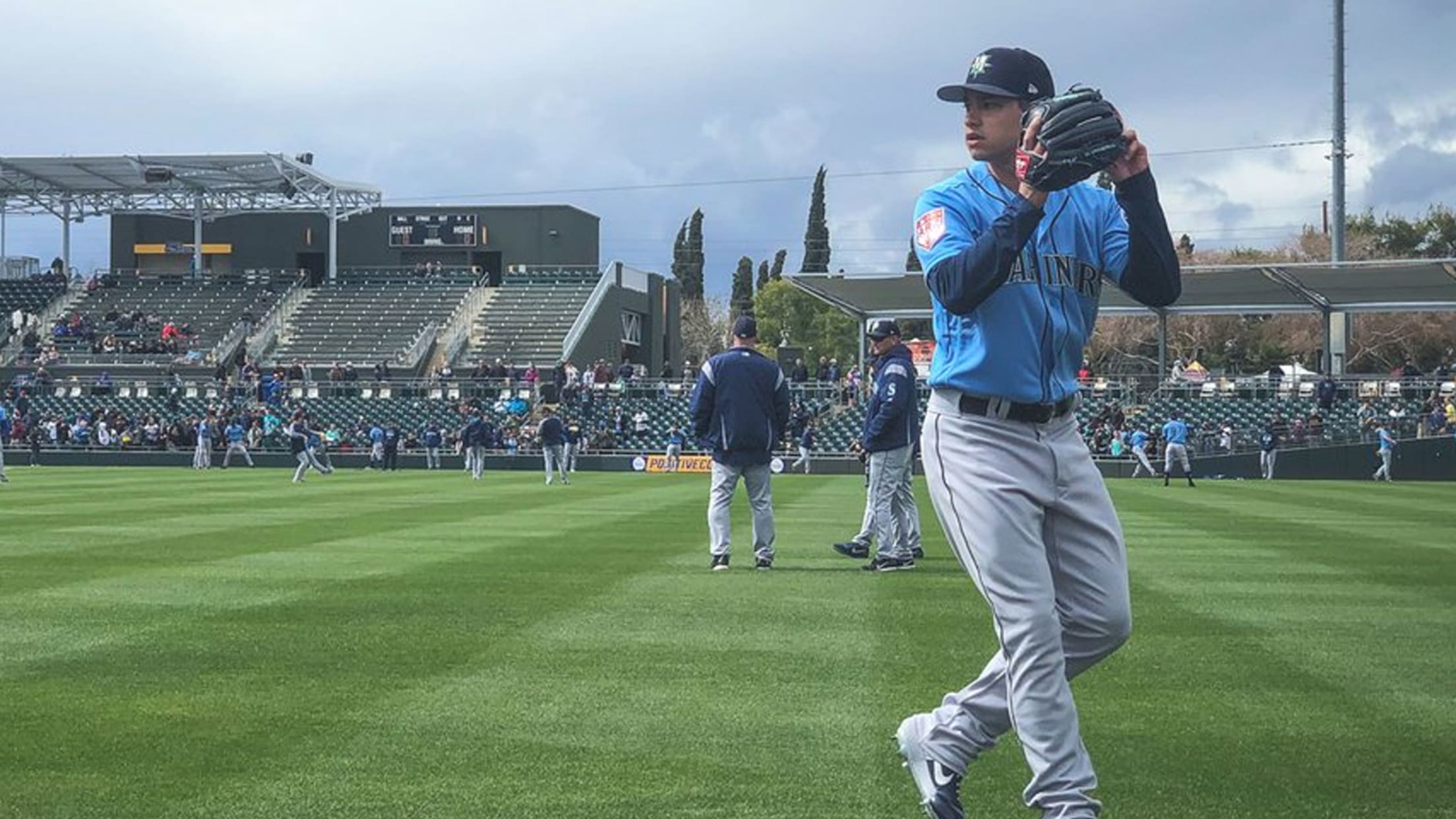 PEORIA, Ariz. -- Marco Gonzales pitched only 12 games as a member of the Cardinals, but as the left-hander thinks ahead to the Mariners' future -- and his role in helping to shape that -- he can't help but think back to his St. Louis days.
PEORIA, Ariz. -- Marco Gonzales pitched only 12 games as a member of the Cardinals, but as the left-hander thinks ahead to the Mariners' future -- and his role in helping to shape that -- he can't help but think back to his St. Louis days.
As a fresh-faced 22-year-old rookie, Gonzales made his Major League debut for the Cardinals at Coors Field on June 25, 2014. The southpaw didn't pitch particularly well -- he allowed five runs over five innings, but St. Louis came away with a victory despite his mediocre performance.
What he remembers most, however, is walking into the clubhouse after being removed from the game. Standing there waiting for him was Adam Wainwright, the team's veteran All-Star ace.
"Adam was the first guy I saw in the clubhouse when I made my debut," Gonzales said. "He gave me a big ol' hug immediately, and that was a big relief for me. I want those guys to feel the same way."
"Those guys" are Justus Sheffield, Justin Dunn and Erik Swanson, three young pitchers acquired by the Mariners this offseason in a pair of trades with the Yankees and Mets. In the aftermath of the winter's moves, Gonzales has emerged as the Mariners' de facto ace, but the development of the young starting pitchers might determine if and when Seattle can return to the postseason, something it hasn't done since 2001.
"Once these guys get the call -- which they will -- I think we want them to be ready and have that comfortability factor of, 'Hey, you're not going to come up here and make your debut; you're going to come up and help us win some ballgames,'" Gonzales said. "That starts now, showing them how we're going to do things and showing them how we carry ourselves, the other starters. What that looks like, I think they need to see that."
What they saw Sunday was another solid outing by Gonzales, who held the D-backs to one run on three hits and a walk, striking out four in four innings as Seattle took a 7-3 decision at Peoria Stadium.
4️⃣ innings,4️⃣ punchouts.

Another strong day at the office for @MarcoGonzales_. pic.twitter.com/7GQZ9DxTwU

— Seattle Mariners (@Mariners) March 3, 2019
"Four innings right now seems like a marathon," Gonzales said. "It's funny this time of year how the buildup seems like a mountain. Even the fourth inning, I felt like I still had some gas left in the tank, so I'm happy with the buildup progression."
Gonzales retired the first five batters he faced, but a hiccup with two out in the second led to Arizona's lone run against him. He walked Nick Ahmed and served up a double to Carson Kelly, scoring the runner from first.
The lefty bounced back with a perfect third, then worked around a pair of singles to post another zero in the fourth.
"That's just a lack of focus; something that will be ironed out throughout this process of Spring Training,' Gonzales said of his second-inning blip. "Get two quick outs, kind of let off the gas a little bit, try to be perfect and try to be cute. I've got to stop doing that; stop being cute."
Mariners manager Scott Servais has been pleased with Gonzales' spring, which has seen him give up one run and just four hits over seven innings.
"He's been outstanding; that's kind of what I thought we would get," Servais said. "He's still working through some things. His last outing, I don't think he had a great changeup the first couple innings and he found it in the third inning. That's what Spring Training is about. Some guys maybe try to adjust certain things they do with certain pitches; maybe the shape of the pitch, tightening up a certain spin, changing a grip, things like that. So far, Marco's spring has been really solid."
Unlike his work in the Cactus League, Gonzales' effort with his young teammates began weeks ahead of Spring Training. He first met Sheffield during the Mariners Caravan, giving him time ahead of camp to help the club's No. 1 prospect prepare for what lies ahead.
"A big part of my job is kind of wrangling in some of the younger guys and helping them get on the same page, so we can all pull the rope in the same way," Gonzales said. "Guys like Sheffield, Dunn, Swanson, we want to come in and show them this is how we play the game. That's kind of the tone we want to set. That's a big part of my job, and the other part is to just go out and compete, set a good example for what that looks like."
Mark Feinsand, an executive reporter, originally joined MLB.com as a reporter in 2001.