Mariners acquire pitcher Wright from Orioles
Bruce out of lineup for third straight day with sore left quad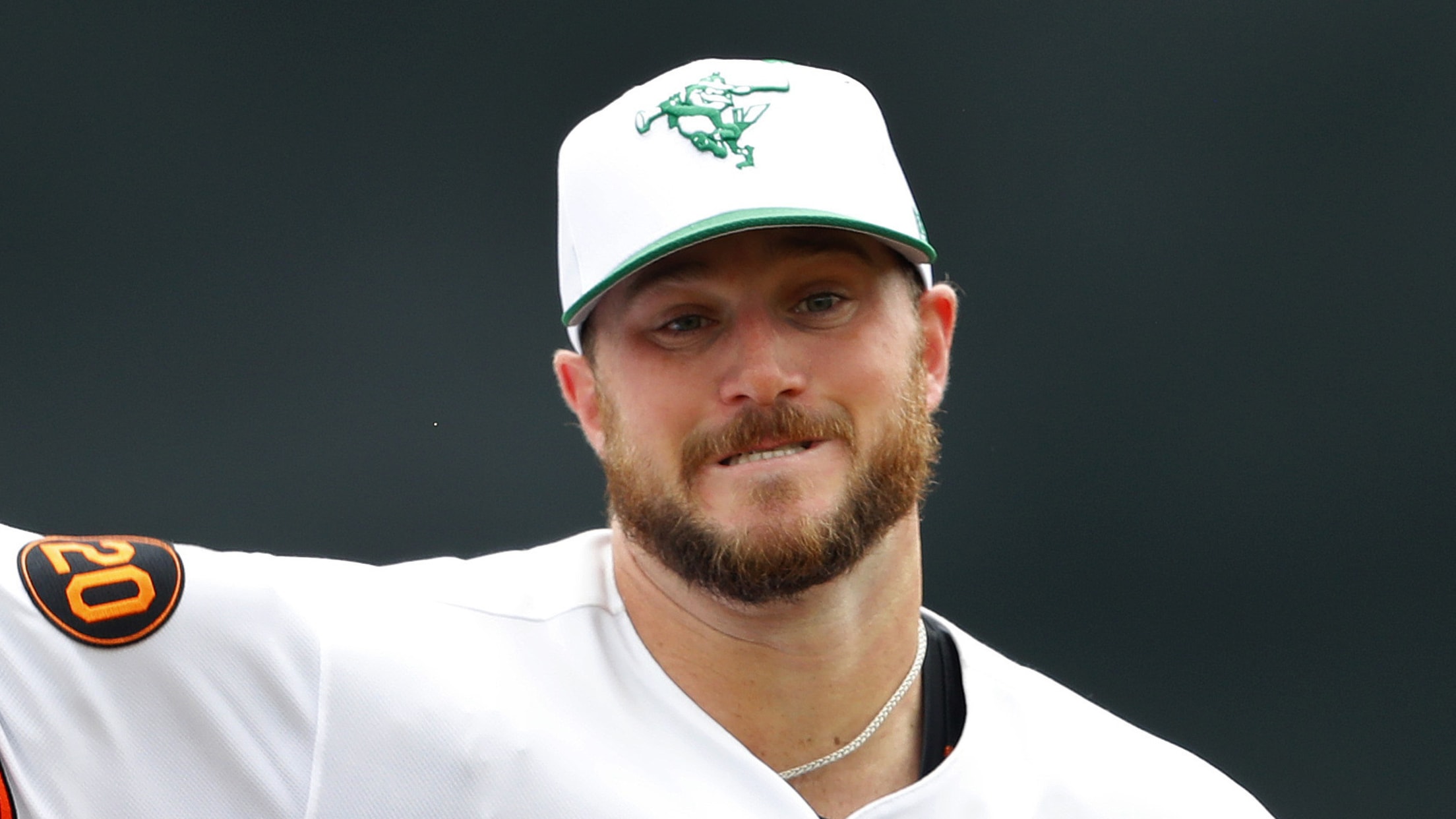 SAN DIEGO -- Right-hander Mike Wright is out of Minor League options. He has been inconsistent, at best. He had run out of chances with his original organization. No wonder Wright caught the eye of the Mariners. "We are the team of opportunities," manager Scott Servais said Wednesday after the
SAN DIEGO -- Right-hander Mike Wright is out of Minor League options. He has been inconsistent, at best. He had run out of chances with his original organization.
No wonder Wright caught the eye of the Mariners.
"We are the team of opportunities," manager Scott Servais said Wednesday after the Mariners acquired Wright from the Orioles for Minor League infielder Ryne Ogren, prior to Seattle's 1-0 loss to the Padres.
Wright, 29, had a 9.45 ERA in 10 relief appearances with Baltimore this season, but he also had 14 strikeouts in 13 1/3 innings. He has had an up-and-down season, having allowed 13 runs in four appearances but only one run in his other six.
Baltimore designated Wright for assignment on Sunday. At 6-foot-6, he relies first and foremost on his sinking fastball. Secondary pitches include a changeup, slider and a cutter he began throwing in 2018. Velocity (96-97 mph) is a plus. Command is not.
"It's an opportunity for him to put a different jersey on, [get a] change of scenery and see what we've got," Servais said. "It kind of lines up with what we talked about doing coming into the season. If you think there's an opportunity to give somebody a fresh start, somebody who has some upside, why not?"
Wright broke into the Majors with the O's in 2015 and has a 5.95 career ERA in 101 games (23 starts). He figures to slot into a middle-inning/long-relief role.
#Mariners acquire right-handed pitcher Mike Wright from Baltimore in exchange for minor league infielder Ryne Ogren.

Read: https://t.co/flXSTNuDeB pic.twitter.com/5IwIquutq8

— MarinersPR (@MarinersPR) April 24, 2019
When Wright reports to Seattle and joins the active roster, it will have some interesting roster decisions. The 40-man roster is full, and Chasen Bradford, who came off the injured list on Tuesday, is the only active reliever with Minor League options available. Plus, there's the possibility of No. 1 prospect Justus Sheffield joining the club this weekend with Yusei Kikuchi scheduled for an abbreviated start on Friday.
Ogren, 22, was drafted in the 12th round by the Mariners in 2018. He has played shortstop, second base and third base in his two pro seasons. Ogren batted .159 in 12 games at Class A West Virginia this year and has a .229 batting average across two pro seasons.
Bruce on bench again
Slugger Jay Bruce was out of the lineup for a third straight day because of a sore left quadriceps. The muscle tightened on him Saturday during the game at Anaheim.
"He's not comfortable on the running stuff defensively," Servais said. "If we needed him to hit, he could do that. We want to be smart here. We need Jay for the long haul. Hopefully, we have him back in there at some point this weekend when we get back home."