Rendon and Soto leading Nats in ASG Primary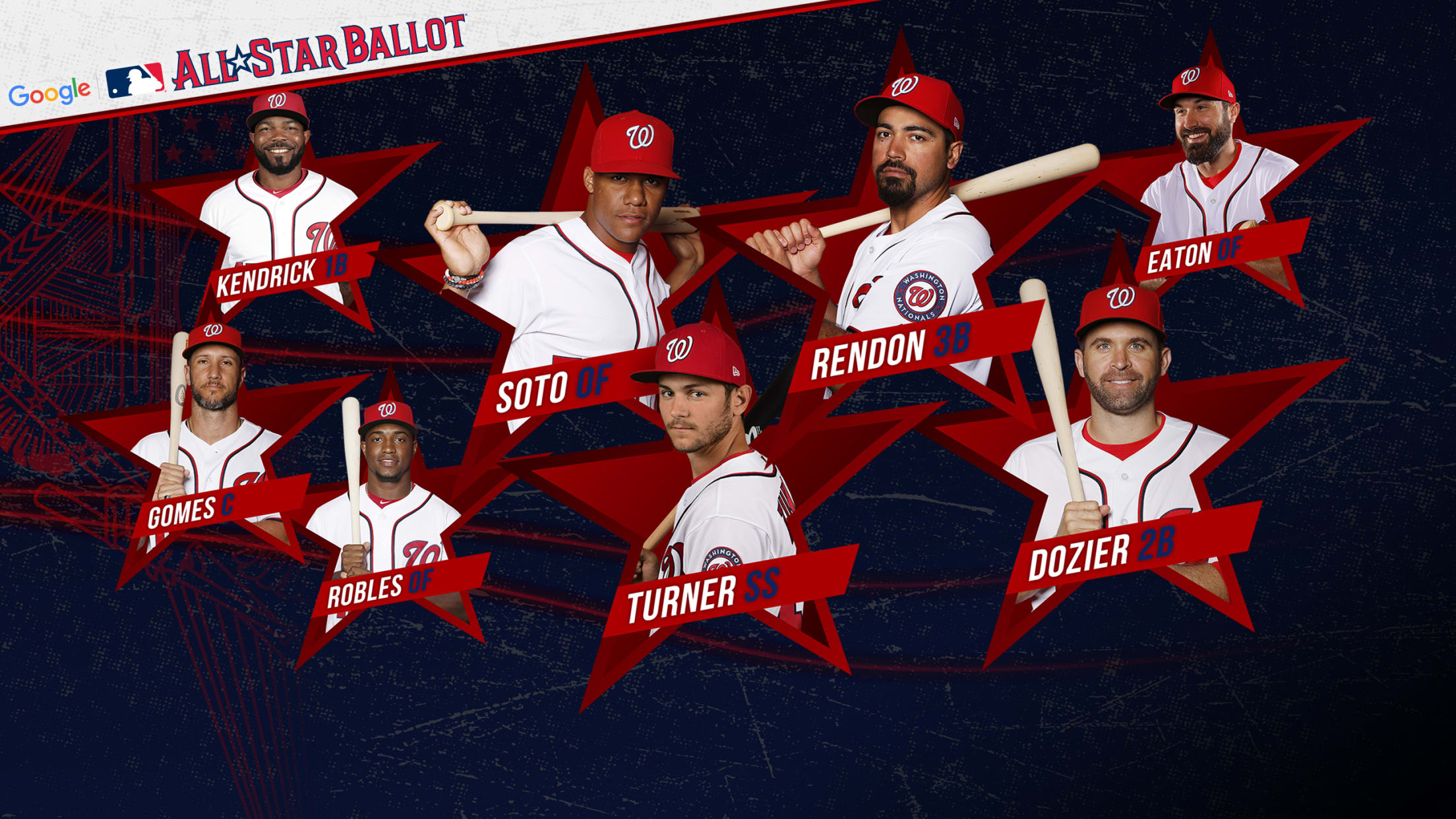 Read our FAQ on this year's revamped balloting format, which includes two phases of fan voting to determine the All-Star starters, and the ability to vote through Google Search.
Read our FAQ on this year's revamped balloting format, which includes two phases of fan voting to determine the All-Star starters, and the ability to vote through Google Search.
CHICAGO -- The surging Nationals have won 12 of their last 16 games entering Tuesday's series finale against the White Sox and in the process picked up four games in the standings in the National League East.
• VOTE NOW: Google MLB All-Star Ballot
Washington trailed Atlanta and Philadelphia by six games at the start of the day Tuesday and perhaps the Nats' poor start to the year contributed to the placing of some of their top stars in the first National League ballot update Tuesday afternoon. No Nationals player led the ballot at their position, or would even make the second phase of voting reserved for the top three at each position (top nine for outfielders).
Anthony Rendon was the highest among Nats position players coming in at fifth in the voting at third base. Juan Soto ranked 12th among NL outfielders, Trea Turner was 10th among NL shortstops and Brian Dozier ninth in NL second basemen.
The case for Rendon to be an All-Star for the first time in his career is the strongest. A bruised lift elbow required a stint on the injured list and caused him to miss 14 games, but he is having the most productive year of his still under-appreciated seven-year career. He entered Tuesday with a slash line at .316/.418/.626 with 12 home runs, his 166 wRC+ is the fourth highest in the NL and his 2.8 Wins Above Replacement are the fourth highest among any position player in the league. Rendon is also in the midst of the longest active on-base streak in baseball, reaching safely in 26 games with a .443 on-base percentage during that span.
Nationals' players, coaches and front office members are often incredulous at the fact that Rendon has never been recognized as an All-Star, despite his consistent brilliance at the plate and in the field.
Soto has also quietly built a strong case to play in Cleveland next month. He entered Tuesday batting .286/.384/.500 with 10 home runs and the seventh highest wRC+ among NL outfielders at 132.
Fans may vote in "The Primary" at MLB.com and all 30 club sites, the MLB At Bat and MLB Ballpark apps up to five times in any 24-hour period. Fans in the US and Canada can also vote on Google Search for every position, or up to 17 unique players per day, by searching "MLB Vote" or the names of their favorite players. Primary voting ends at 4 p.m. ET on Friday, June 21.
The top three vote-getters at each position (including nine outfielders) per league will move on to "The Starters Election," which begins at noon ET on Wednesday, June 26. The votes will reset for a 28-hour voting window that ends at 4 p.m. ET on Thursday, June 27. Starters for the 2019 Midsummer Classic will be unveiled on ESPN that night at 7 ET. The pitchers and reserves will be announced on Sunday, June 30, at 5:30 p.m. ET.
Then on Tuesday, July 9, during the 2019 All-Star Game presented by Mastercard, fans may visit MLB.com and the 30 club sites to submit their choices for the Ted Williams Most Valuable Player Award presented by Chevrolet.
The 90th Midsummer Classic, at Progressive Field in Cleveland, will be televised nationally by FOX Sports; in Canada by Rogers Sportsnet and RDS; and worldwide by partners in more than 180 countries. FOX Deportes will provide Spanish-language coverage in the United States, while ESPN Radio and ESPN Radio Deportes will provide exclusive national radio coverage. MLB Network, MLB.com and SiriusXM also will provide comprehensive All-Star Week coverage. For more information about MLB All-Star Week and to purchase tickets, please visit AllStarGame.com and follow @MLB and @AllStarGame on social media.