Rain postpones Thursday's Yanks-O's opener
To be made up July 9 as part of single-admission doubleheader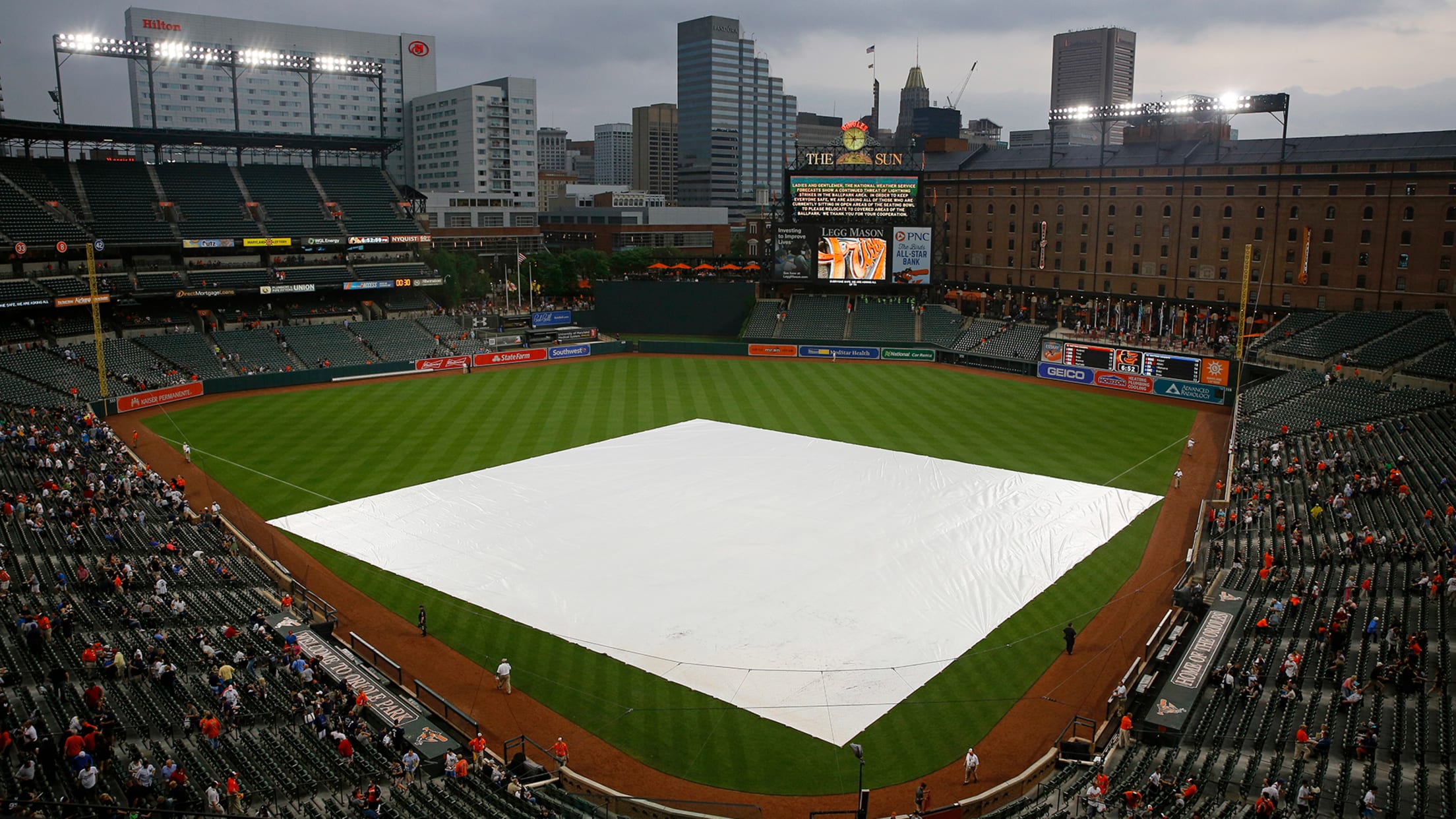 BALTIMORE -- After a nearly two-hour rain delay, Thursday night's Orioles-Yankees game was postponed due to inclement weather in the area.The game will be made up on July 9 as part of a single-admission doubleheader at Camden Yards, beginning at 4:05 p.m. ET, with the second game starting 30 minutes
BALTIMORE -- After a nearly two-hour rain delay, Thursday night's Orioles-Yankees game was postponed due to inclement weather in the area.
The game will be made up on July 9 as part of a single-admission doubleheader at Camden Yards, beginning at 4:05 p.m. ET, with the second game starting 30 minutes after the conclusion of the first. The remaining three games of this series will resume with Friday's 7:05 p.m. ET contest.
Both teams will send Thursday's scheduled starter to the mound, with Sonny Gray starting for the Yankees and Andrew Cashner starting for the Orioles. New York's scheduled starters for Saturday and Sunday are Masahiro Tanaka and Domingo German, respectively, while the Orioles' rotation also slides back a day, with Kevin Gausman starting Saturday and Alex Cobb going Sunday.
The postponement is the Yankees' fifth of the season and adds yet another doubleheader to the Yankees' cluttered schedule.
New York will travel to Detroit on Monday for a doubleheader, making up rainouts from April 14 and 15. They also must return to Washington for two games on June 18, completing a suspended game from May 15 and making up a May 16 rainout.
"Sadly, we're used to it, I guess," Yankees manager Aaron Boone said. "It is what it is. Try and make the best of it. Just get ready to go tomorrow."
Meanwhile, Baltimore will have a tough stretch in July, with two of its three home rainouts being made up in the same week, July 9 and 12 (vs. the Phillies). The Orioles have had four rainouts this season.
Tickets and parking for Thursday's postponed game will not be automatically honored for the July 9 doubleheader. Fans must exchange the value of their tickets and parking from Thursday's game at the Oriole Park box office toward any remaining home game this season, including the July 9 doubleheader, based on availability.
Fans holding tickets for the originally scheduled 7:05 p.m. game on Monday, July 9, can use those tickets for both games of the doubleheader. All ballpark gates will open at 3 p.m., and parking lots will open at 2:30 p.m.