Rutschman rakes, Stewart makes progress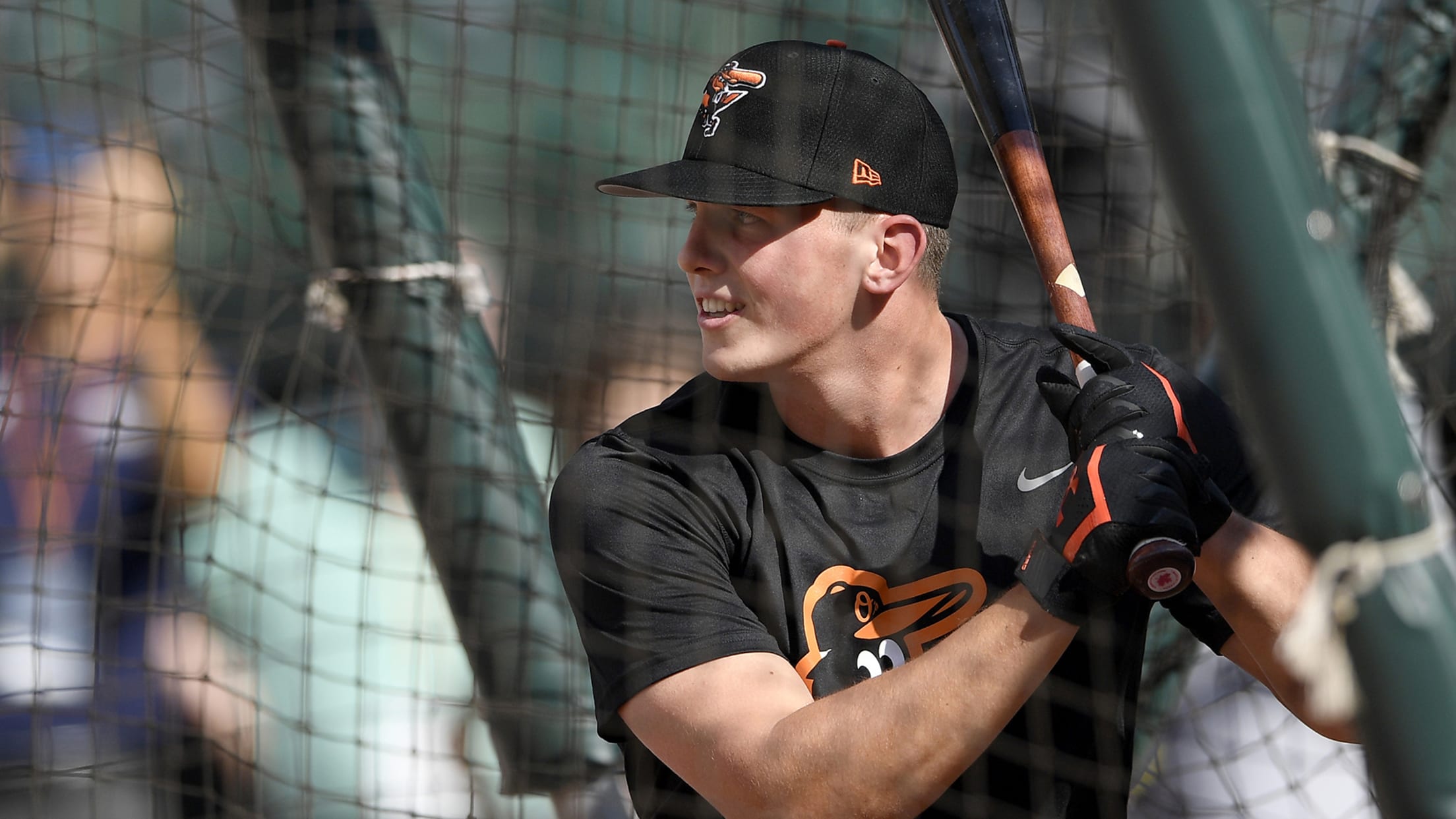 SARASOTA, Fla. -- Sitting at his locker in the Orioles clubhouse on Wednesday morning, Adley Rutschman was asked if, having been here 12 whole days, he had begun to feel the grind of spring, if he'd become bored yet with the routine that these weeks of early workouts tend to
Meet 'Rutsch': Prospect talks food, music, crush
Rutschman's likes include breakfast, Eric Church, Emily Ratajkowski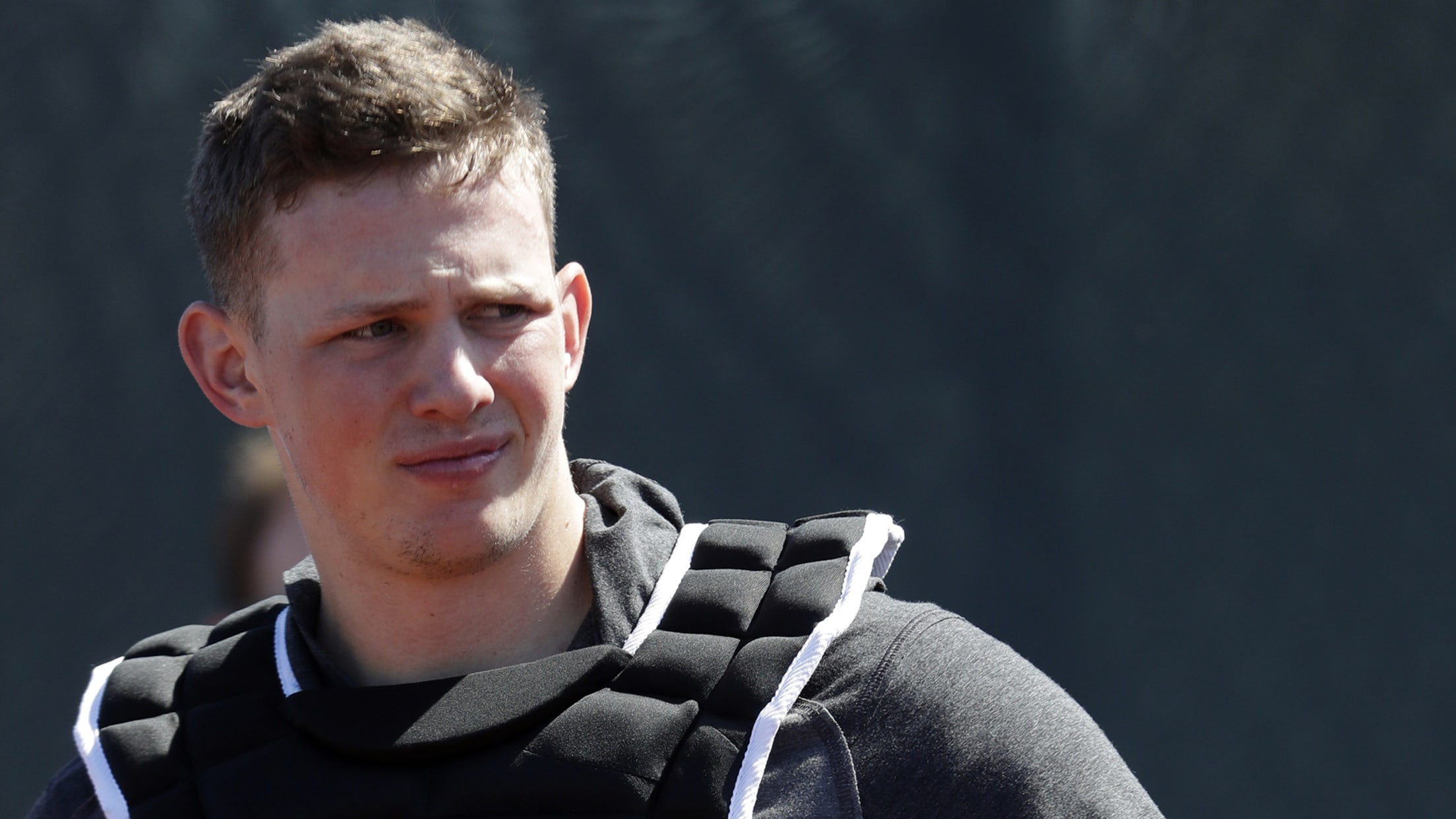 SARASOTA, Fla. -- The future is the theme of Orioles Spring Training, with nearly half of the club's top prospects in camp with the team. That's a lot of fresh faces, many of whom should arrive in Baltimore before long. Each week, MLB.com will sit down for a personality-themed Q&A
Rutschman the star as Birdland Caravan begins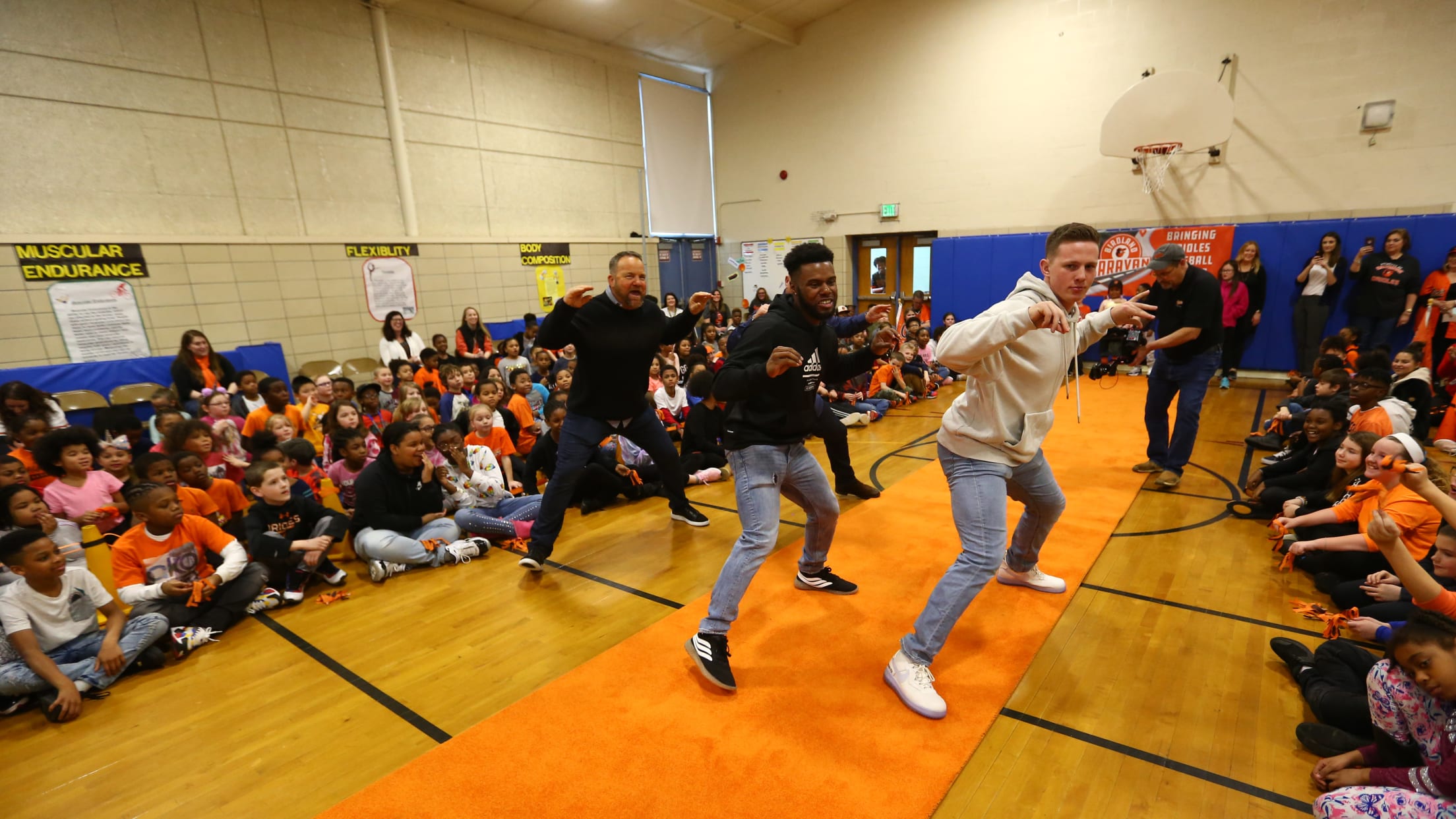 ABERDEEN, Md. -- As the anticipation built, Adley Rutschman rubbed his palms together. He hopped in place, spun once and gave his left cheek the slightest tap, as if to snap himself into the zone. Then he dove through the doors into a roar of applause. Inside, Hall's Cross Roads
Here are 5 O's prospects to watch as camp NRIs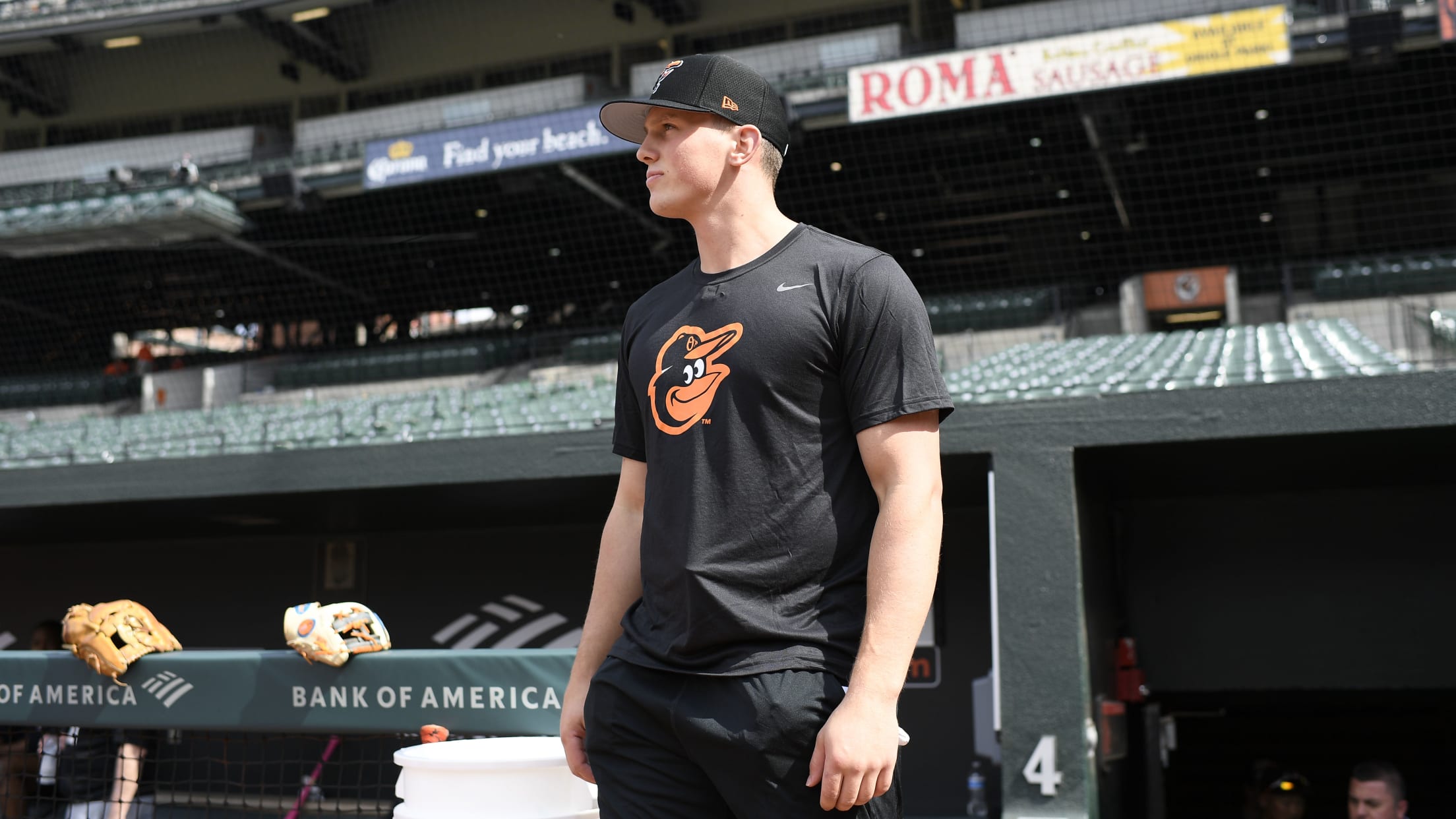 BALTIMORE -- In less than two weeks, a snapshot of the Orioles' future will be plain to see in Sarasota, Fla. Fourteen of the Orioles' Top 30 Prospects, per MLB Pipeline, are set to be with the club when Spring Training opens at its Ed Smith Stadium complex, six as
O's fans to see future at prospect-laden camp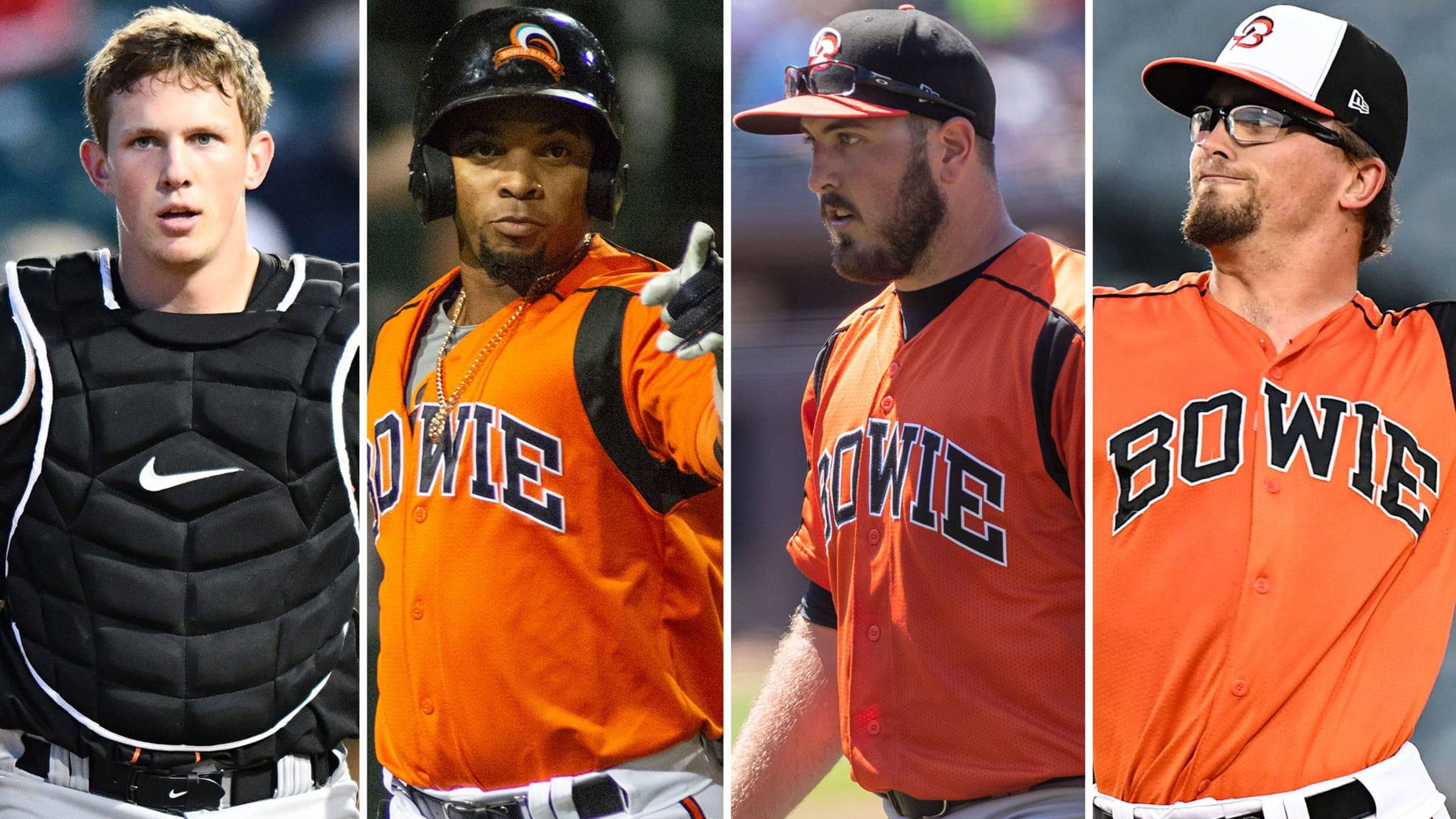 BALTIMORE -- Adley Rutschman won't be the only top Orioles prospect joining the club in Spring Training, though his formal invitation was announced Tuesday by the team. The rest of camp is going to be defined by its prospect feel as well. • Spring Training: Schedule | Tickets | Information
Rutschman invited to Orioles camp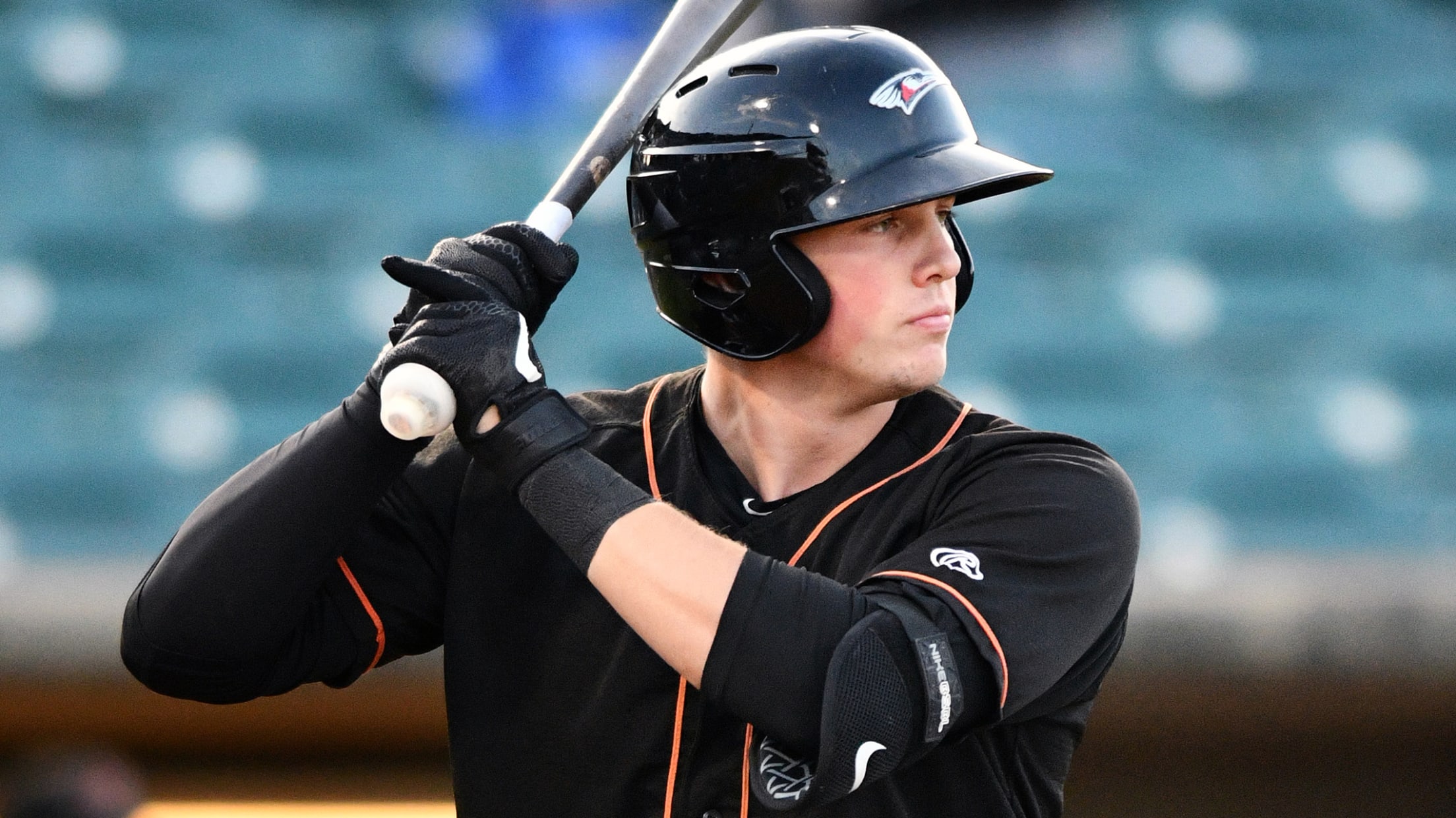 BALTIMORE -- The Adley Rutschman show is coming to Sarasota, Fla., this spring. Rutschman, the No. 4 overall prospect per MLB Pipeline and the first overall pick in the 2019 MLB Draft, was among 23 non-roster players invited to Baltimore's Major League Spring Training, the club announced on Tuesday. Pitchers
Inbox: Does prospect Diaz have O's in sight?
Beat reporter Joe Trezza answers questions from fans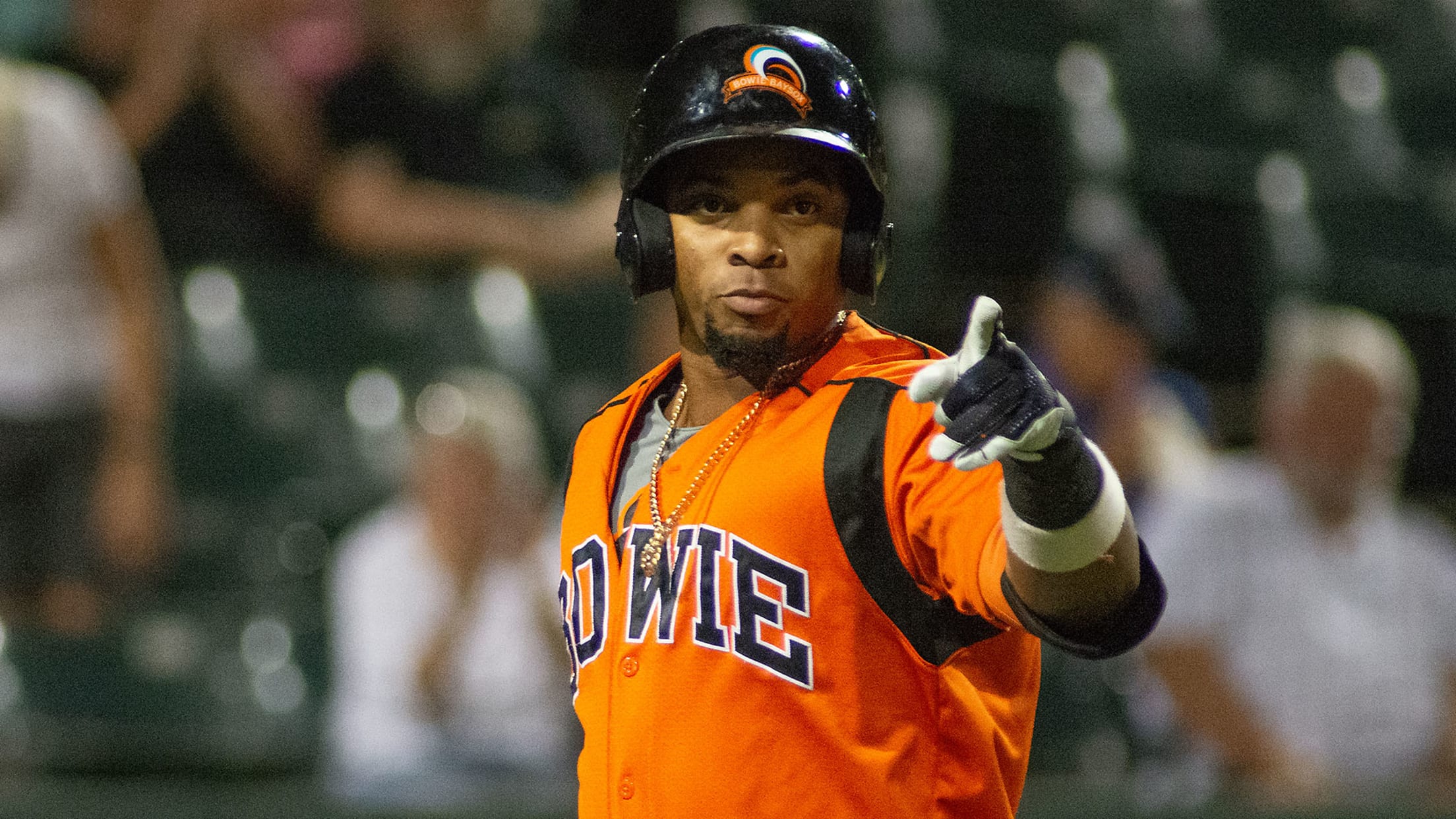 BALTIMORE -- Just a few weeks separate the Orioles from the official start of camp in Sarasota, Fla., and all the sunshine and optimism that date annually brings. While we wait, we figured we'd bide the time by tackling another batch of Orioles questions. Fresh faces and young players were
Mountcastle bound for bigs, but at what position?
O's No. 4 prospect carries big bat, but needs to find defensive home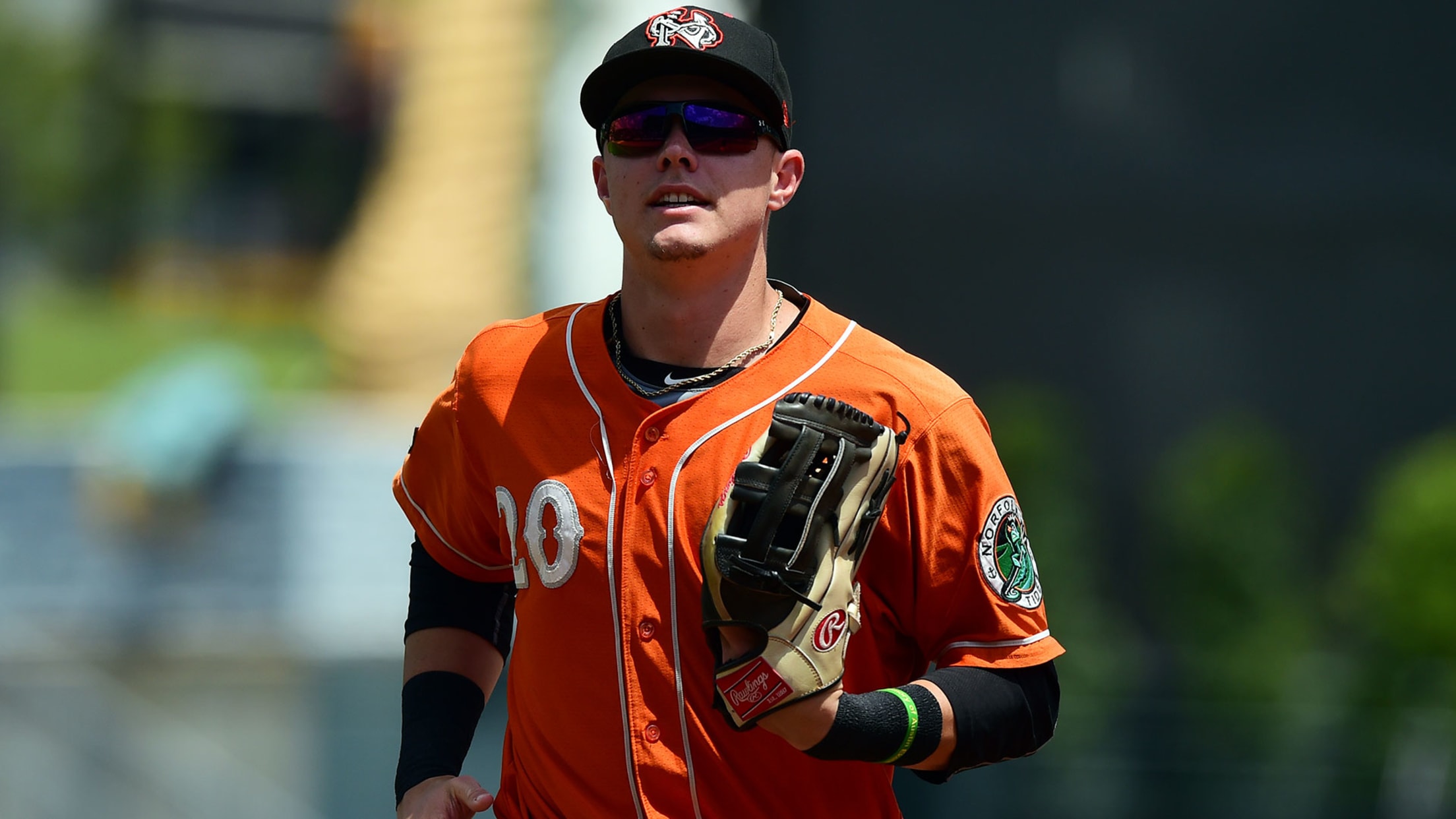 At this point a year ago, Ryan Mountcastle was preparing for a spring that would take him to new positions and effectively function as an introduction to the new front office and field staff that had recently arrived in Baltimore. This spring, the Orioles will meet Mountcastle in Sarasota, Fla.,
O's add four to 40-man ahead of Rule 5 Draft
Baltimore leaves three of seven top 30 prospects unprotected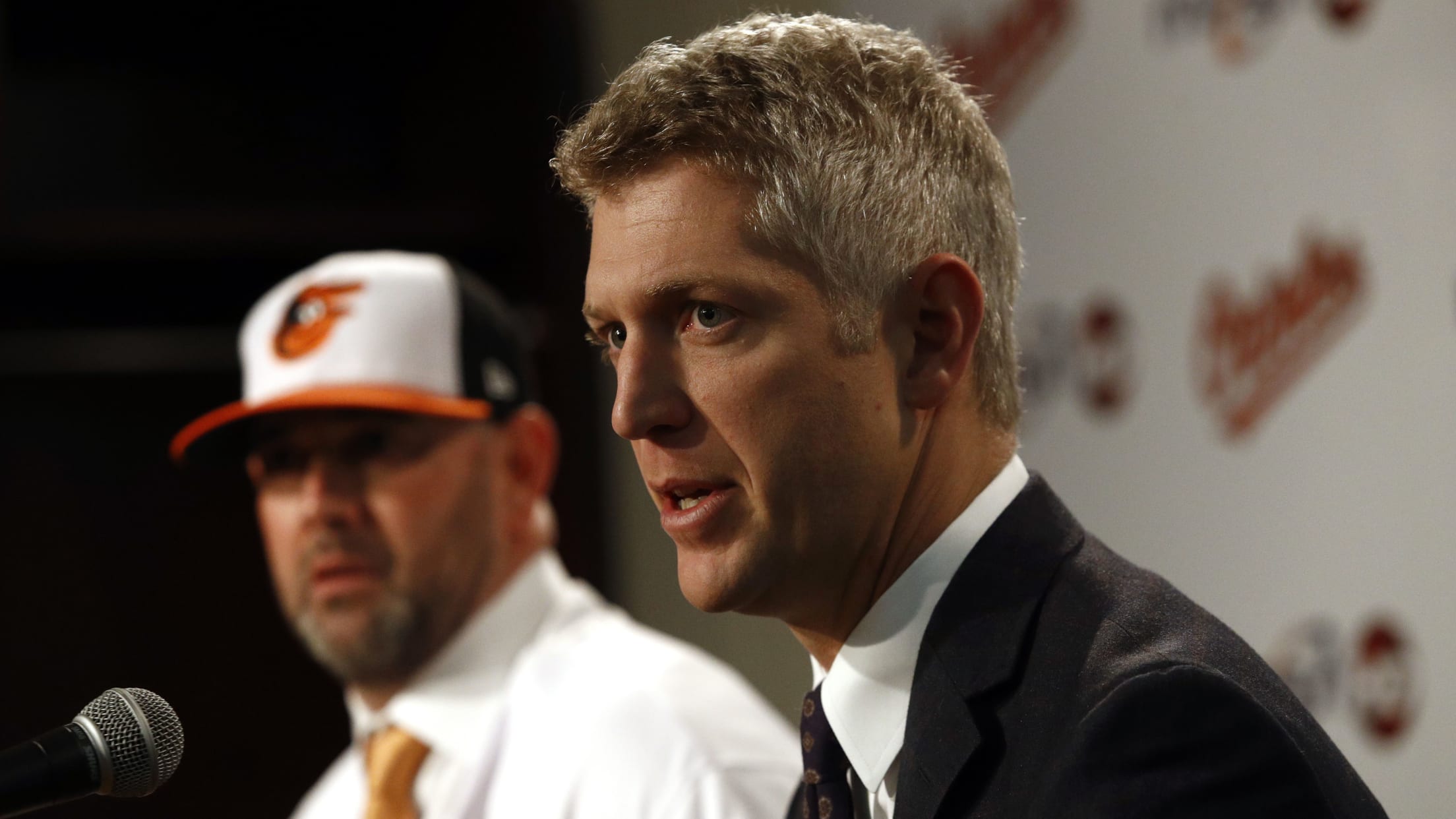 BALTIMORE -- In an effort to protect them from next month's Rule 5 Draft, the Orioles added four of their top prospects to the 40-man roster on Wednesday, selecting the contracts of first baseman/outfielder Ryan Mountcastle, left-hander Keegan Akin, righty Dean Kremer and outfielder Ryan McKenna. By doing so, the
Orioles Arizona Fall League updates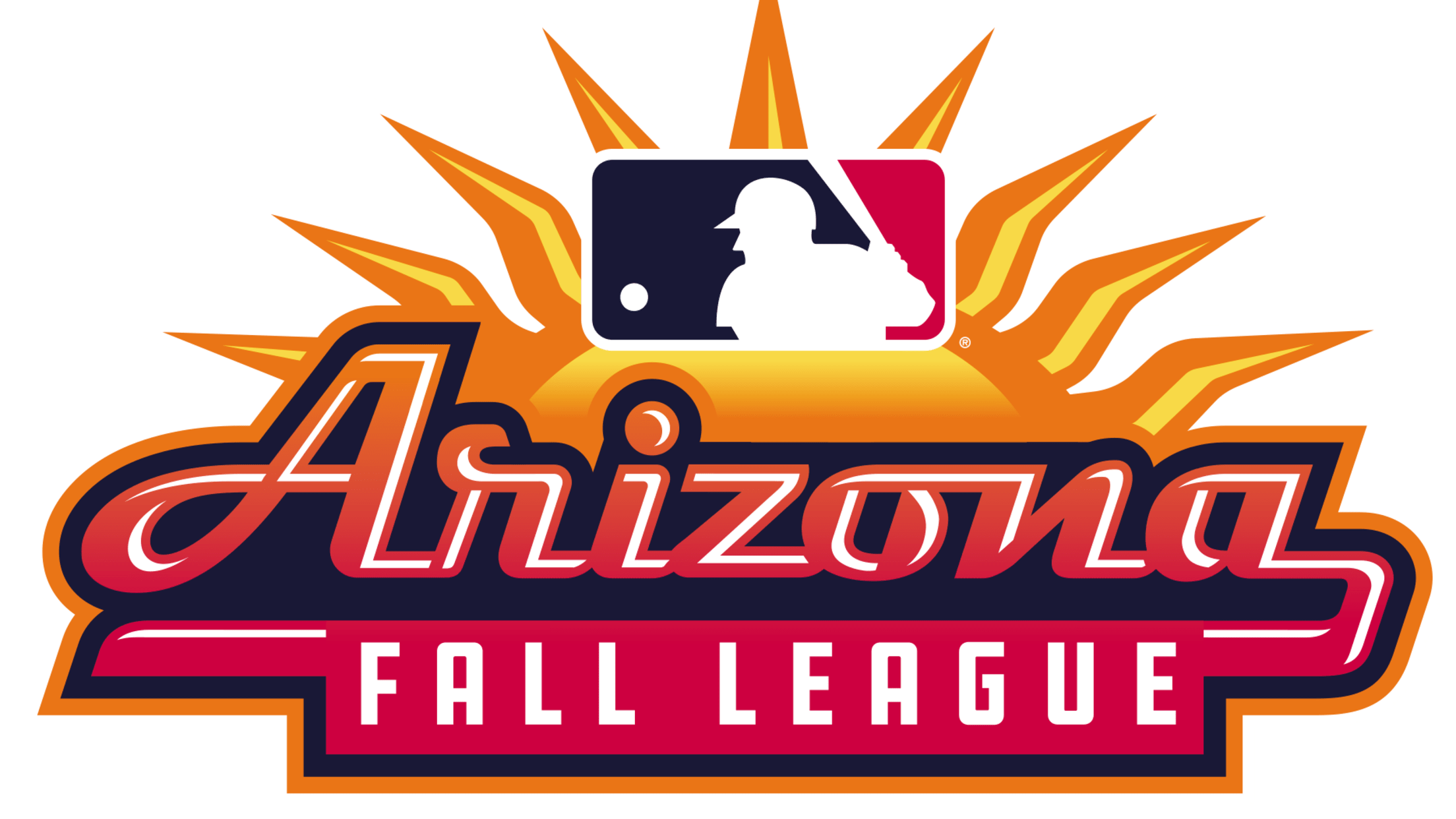 Seven O's prospects played for the Surprise Saguaros in the 2019 Arizona Fall League: Right-hander Dean Kremer (No. 8), left-hander Alex Wells (No. 20), second baseman Rylan Bannon (No. 23), second baseman Mason McCoy (No. 24), right-hander Cody Carroll, right-hander David Lebron and outfielder T.J. Nichting.
Kremer carries late-season '19 success into AFL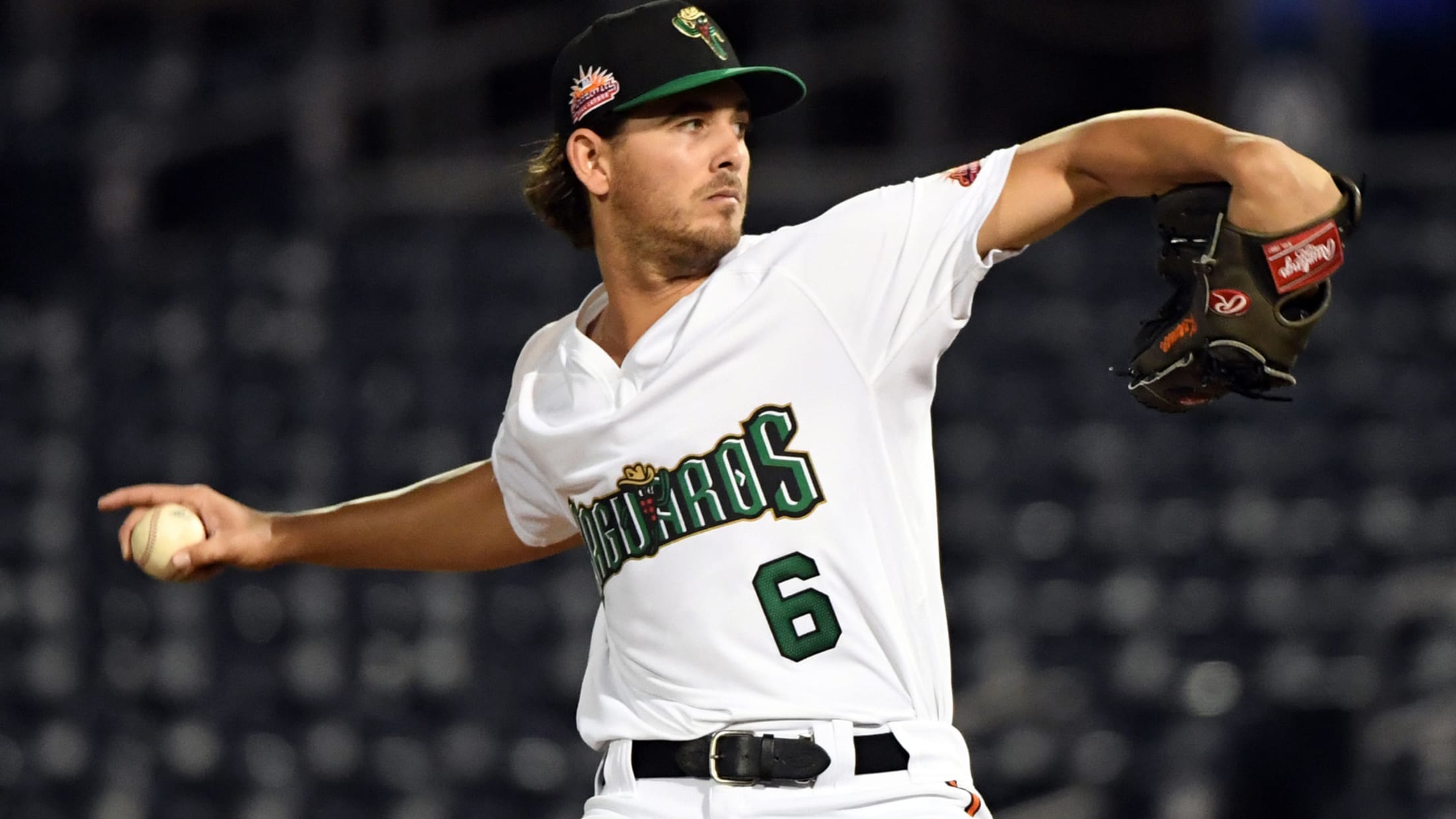 PEORIA, Ariz. -- Dean Kremer had, by pretty much any measure, an eventful 2018 season. It was a breakout campaign that saw the right-hander lead the Minor Leagues in strikeouts and finish with a nifty 2.88 ERA while reaching Double-A for the first time. He also was involved in the
Hays dazzles again, but O's lose in extras
No. 6 prospect hits game-tying HR after Givens' eighth blown save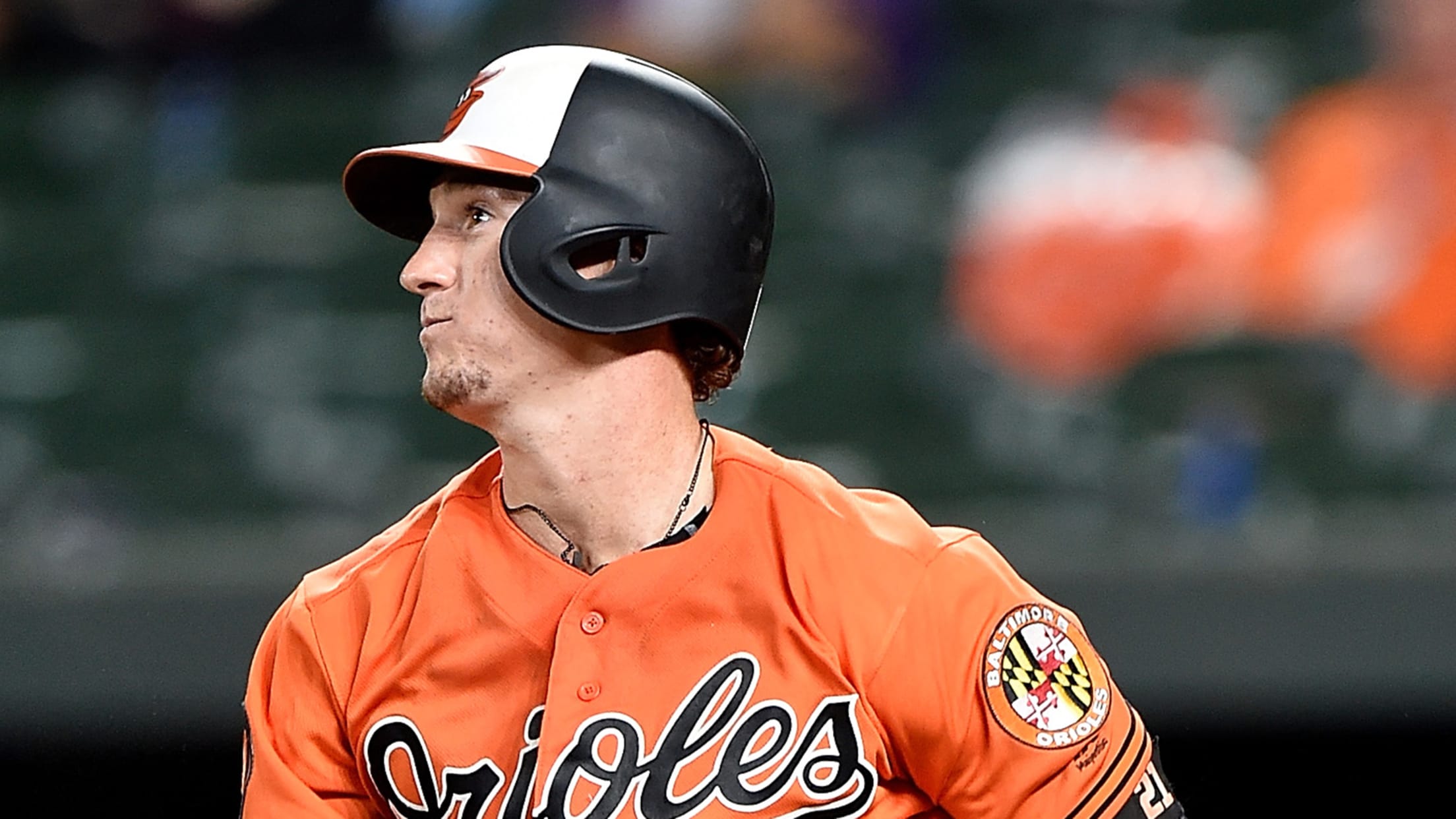 BALTIMORE -- Another night, another Austin Hays moment. The Orioles' rookie center fielder is making a habit of stealing the spotlight, and he did so again in their 7-6 loss to the Mariners on Saturday night at Camden Yards. In his season debut on Sept. 7, it was with a
Pipeline names Orioles Prospects of the Year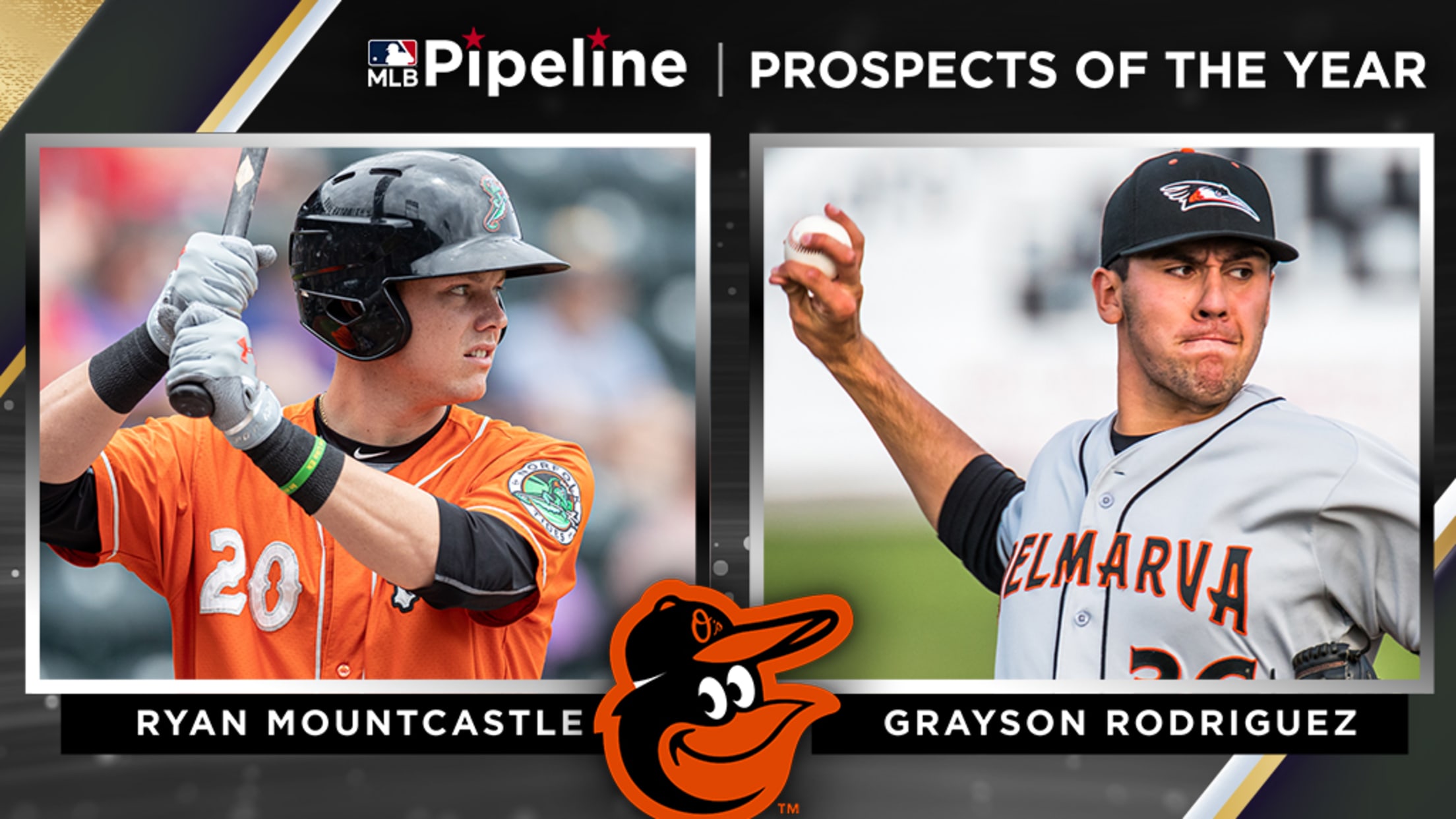 BALIMORE -- For the Orioles, the 2019 season was all about building blocks, identifying the pieces that'll factor heavily into their plans for 2020 and beyond. In that sense, they were thrilled about what developed down on the farm. Armed with new tools and development philosophies brought in by Mike
Hyde sees Hays developing like Pollock
'That's a huge compliment' says O's outfield prospect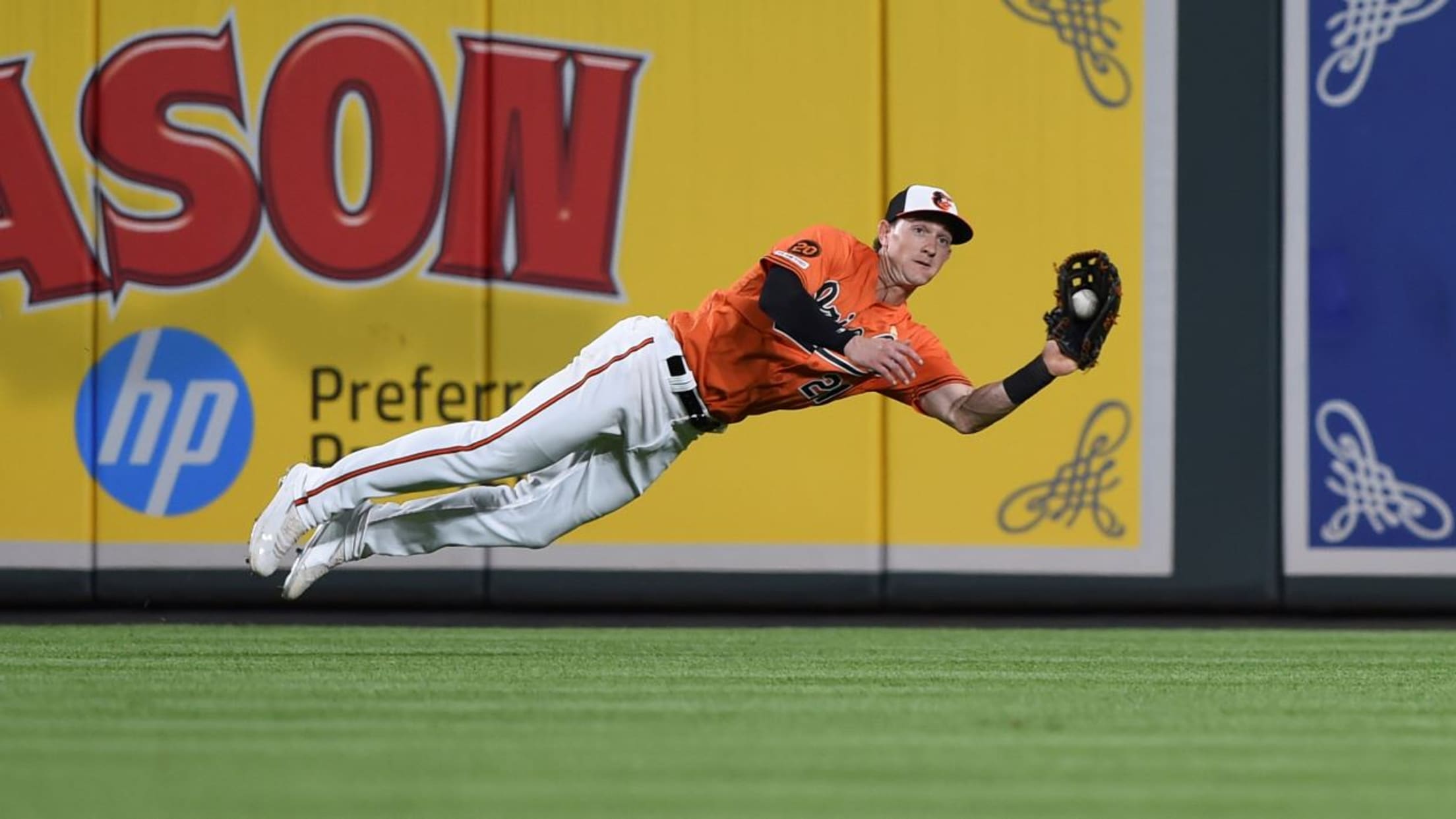 BALTIMORE -- It's been less than a week since Austin Hays returned to the Majors, courtesy of a surprise September callup that's doubling as an audition for 2020 and beyond. The early returns have him running with it -- Hays notching his first three-hit game and several highlight-reel defensive plays
Prospect Hays gets defensive in season debut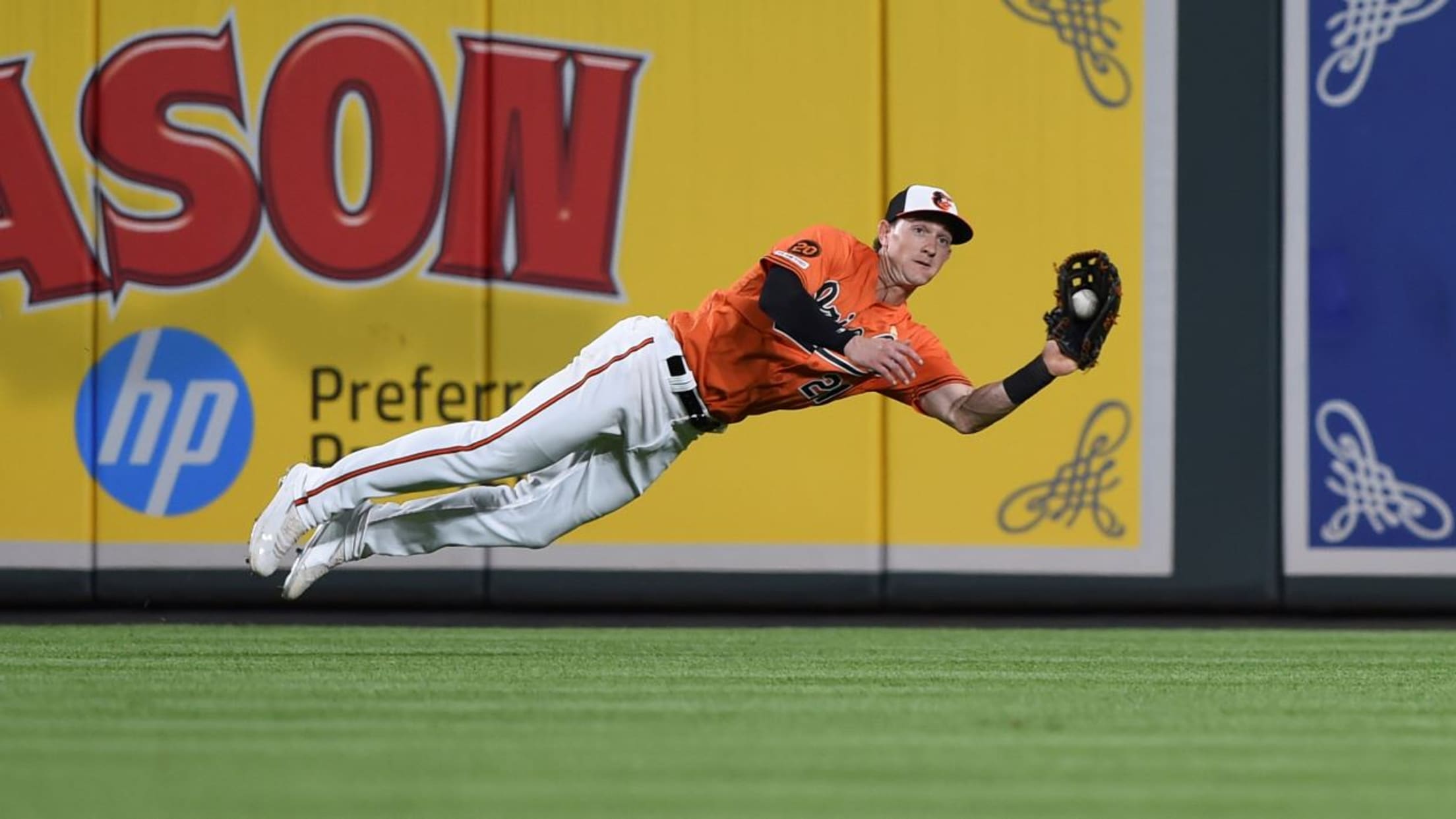 BALTIMORE -- Big league grass back under his spikes for the first time in two years, Austin Hays had his "legs loose, ready for anything." On the inside, a jumbled web of emotion, which Hays described as "excitement, nerves, all mixed in." In his head, a timeless baseball adage that
O's focus on prospects' development vs. debuts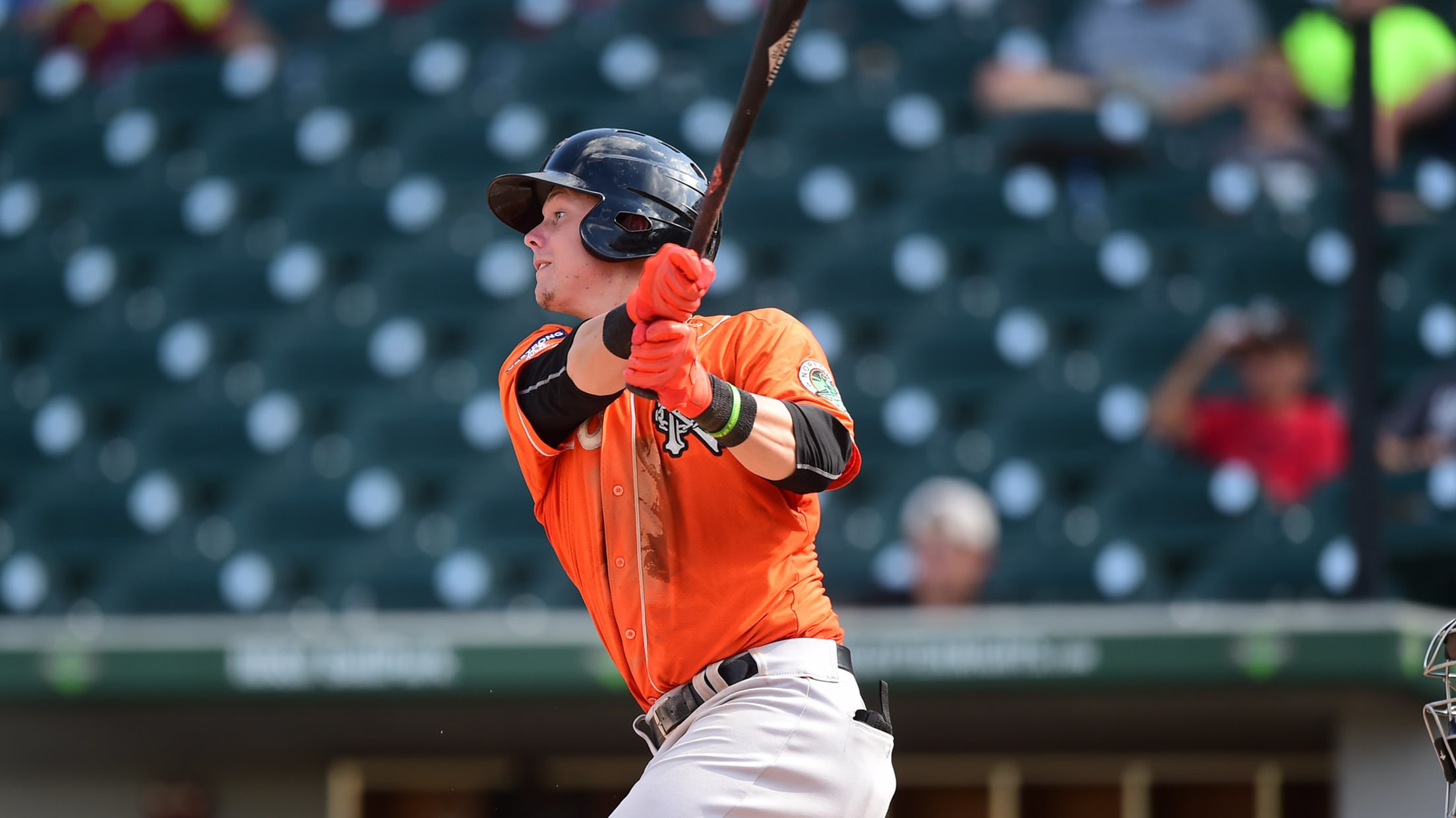 BALTIMORE -- A late rule change with regards to Arizona Fall League participation gave the Orioles an unexpected chance to get their eyes on one of their prime blue-chippers Saturday, when the club promoted Austin Hays to the Majors. But similar maneuvers are not on the horizon for two other
Which O's prospects took steps forward in 19?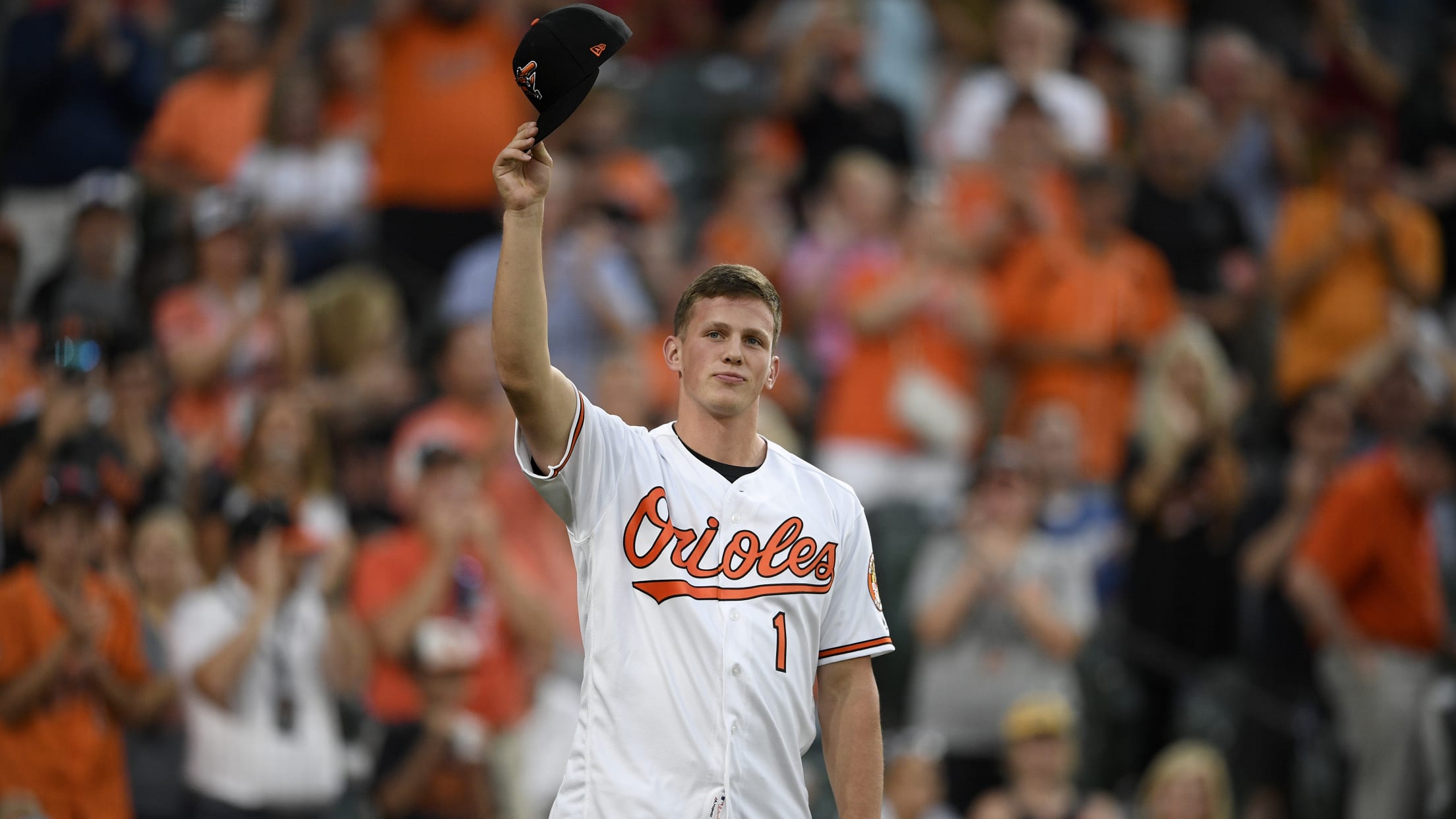 At the big league level, this season for the Orioles was always about evaluation and transition rather than wins and losses. While at the Minor League levels, the Orioles' new regime viewed this campaign as critical: their first chance to infuse a system with talent and revitalize it by implementing
More than a game: O's prospect does it for dad
If you think the story of the Delmarva Shorebirds is special -- the one that details how the Orioles' Class A affiliate went from barely scraping .500 last year to a playoff-bound powerhouse atop the South Atlantic League this go-round -- then wait until you hear about their shortstop. Chief
O's prospect Mountcastle named MVP in Minors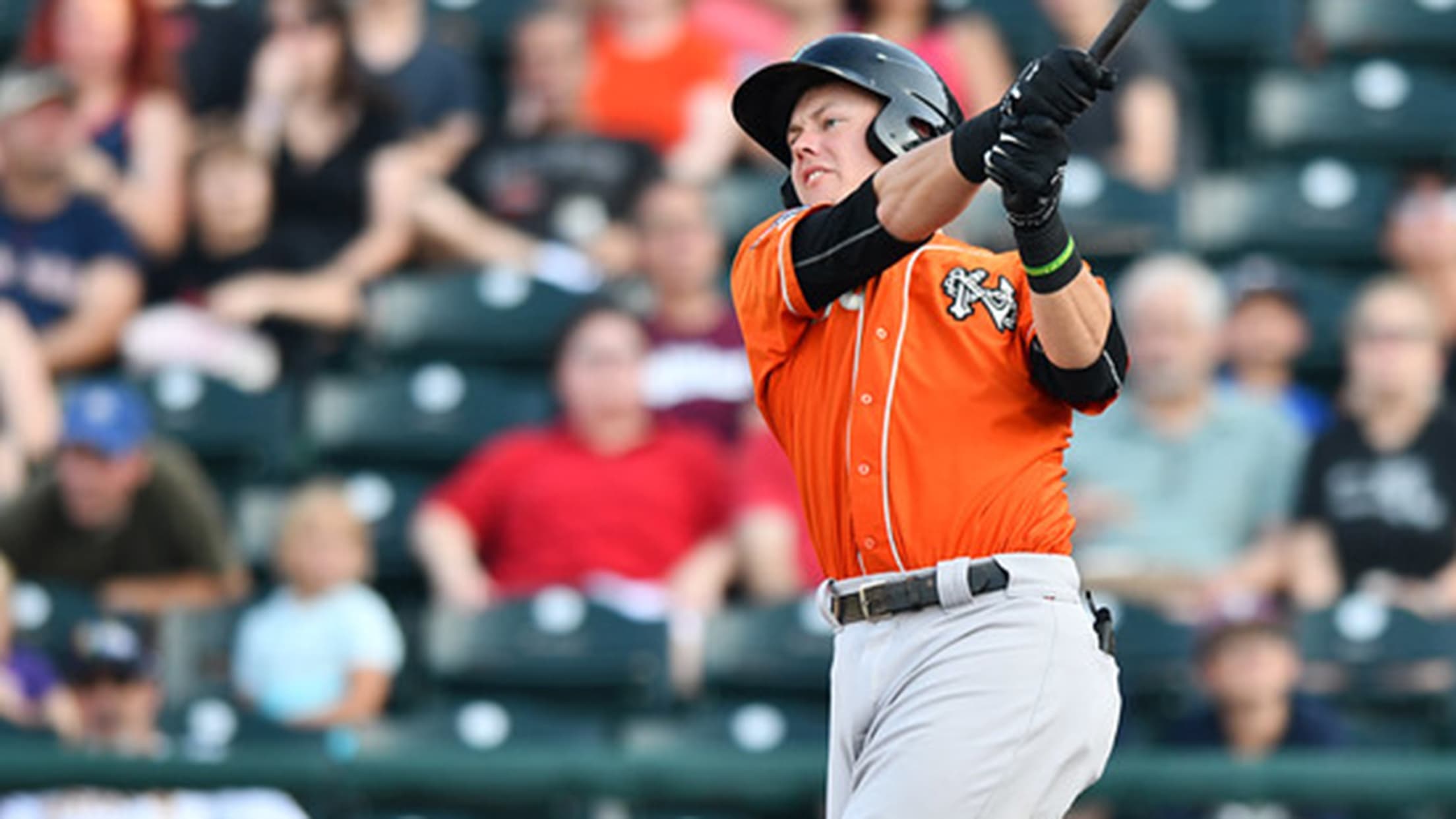 WASHINGTON -- From wall to wall, Ryan Mountcastle's success at the upper rungs of the Minor Leagues was plain to see. On Tuesday, it became official. Is a call to the big leagues next? Mountcastle was rewarded for his monster season at Triple-A Norfolk with the International League's Most Valuable
Podcast: HS '20 Draft prospects, Rutschman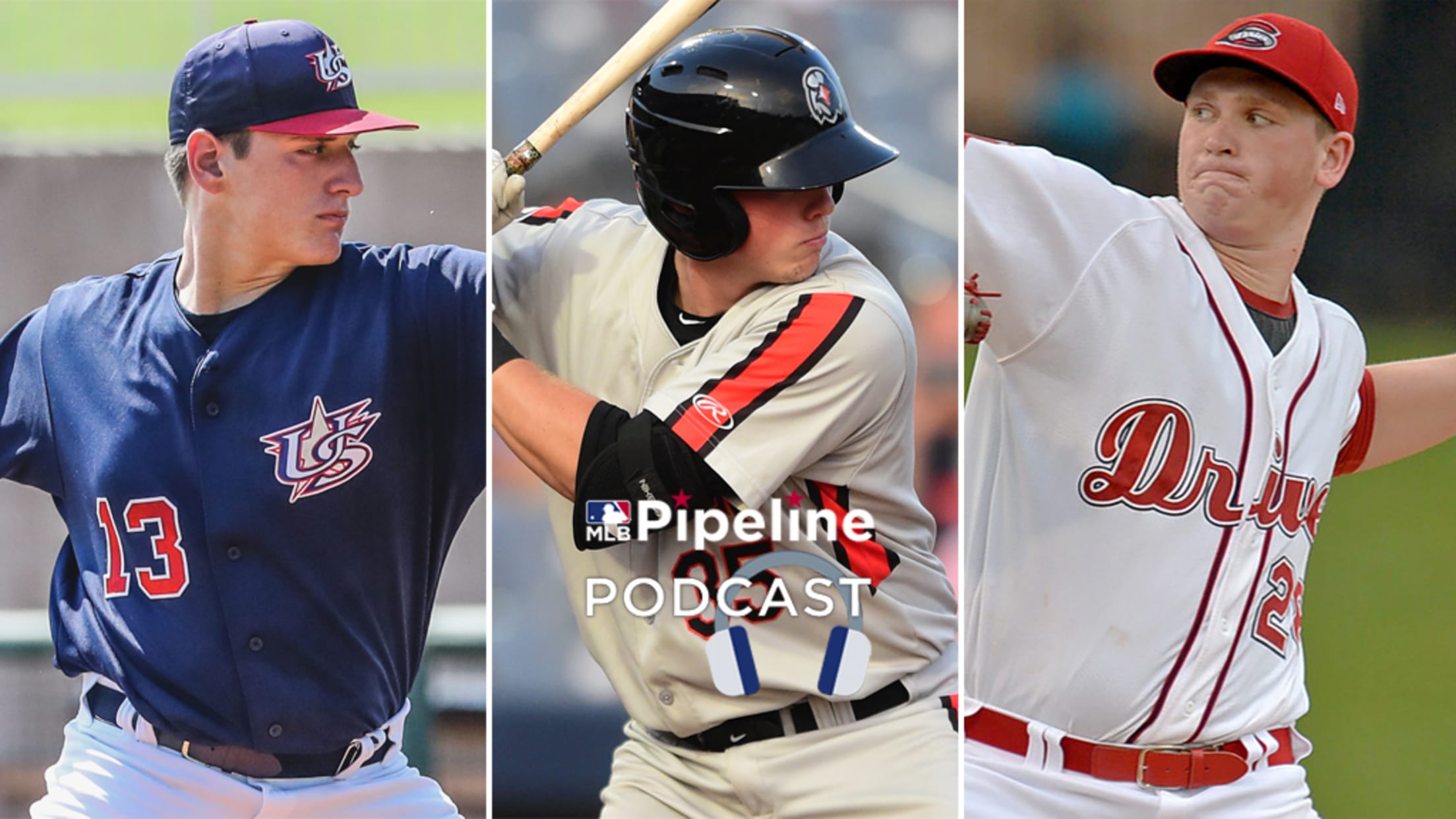 MLB Pipeline's Jim Callis and Jordan Shusterman of Cespedes Family BBQ discuss where the 2020 high school Draft class stands as the summer showcase events have wrapped up, and why RHP Jared Kelley (Refugio, TX) earned the top spot on Jim's list of the top 15 HS prospects. Next, they
Rutschman earns promotion to Delmarva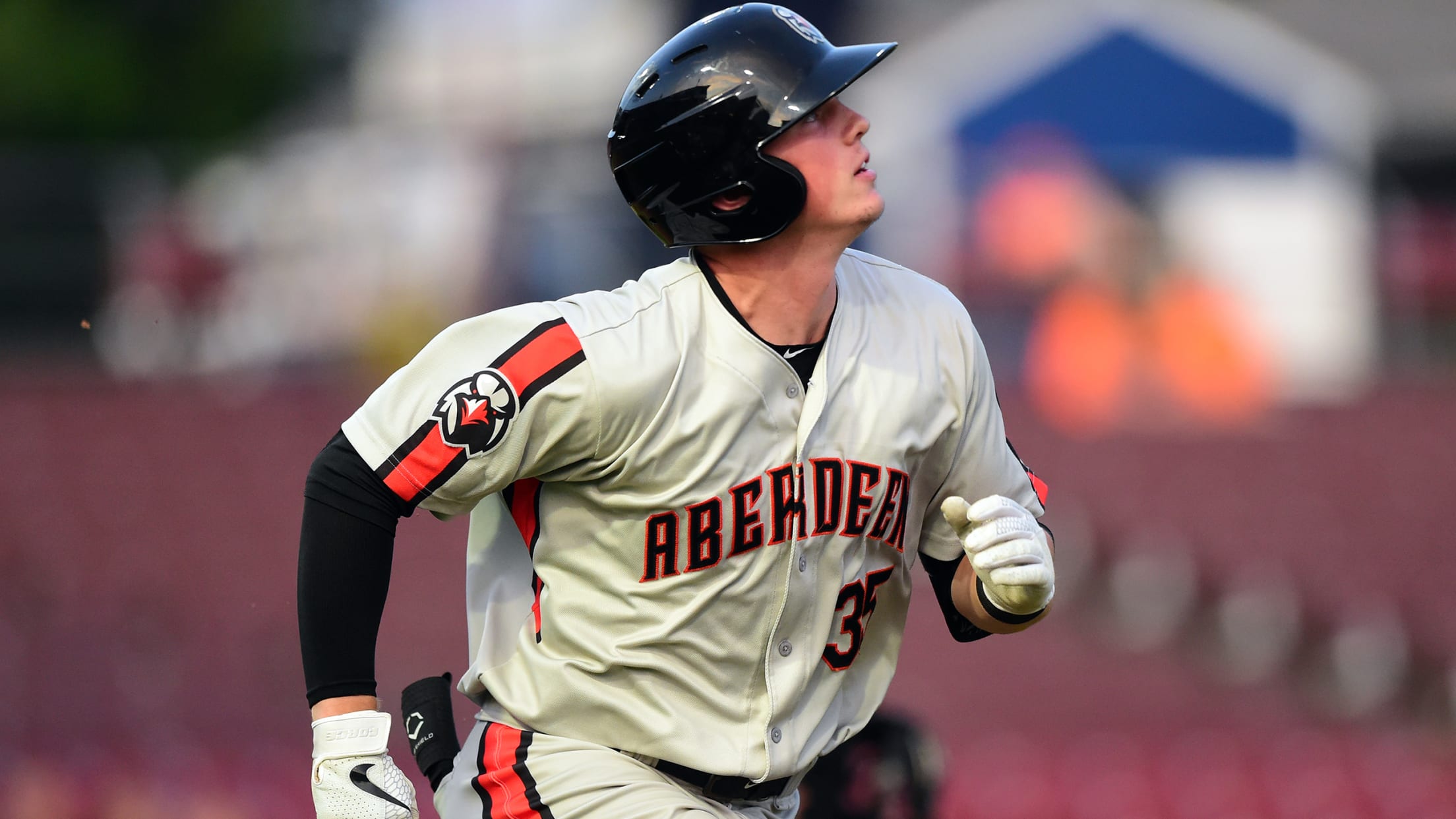 BALTIMORE -- It didn't take long for Adley Rutschman to begin climbing the Orioles' organizational ladder. The O's promoted their top overall prospect -- and No. 6 in the Majors per MLB Pipeline -- to Class A Delmarva on Tuesday. The promotion comes on the heels of a torrid three-week
No. 2 prospect Rodriguez visits Orioles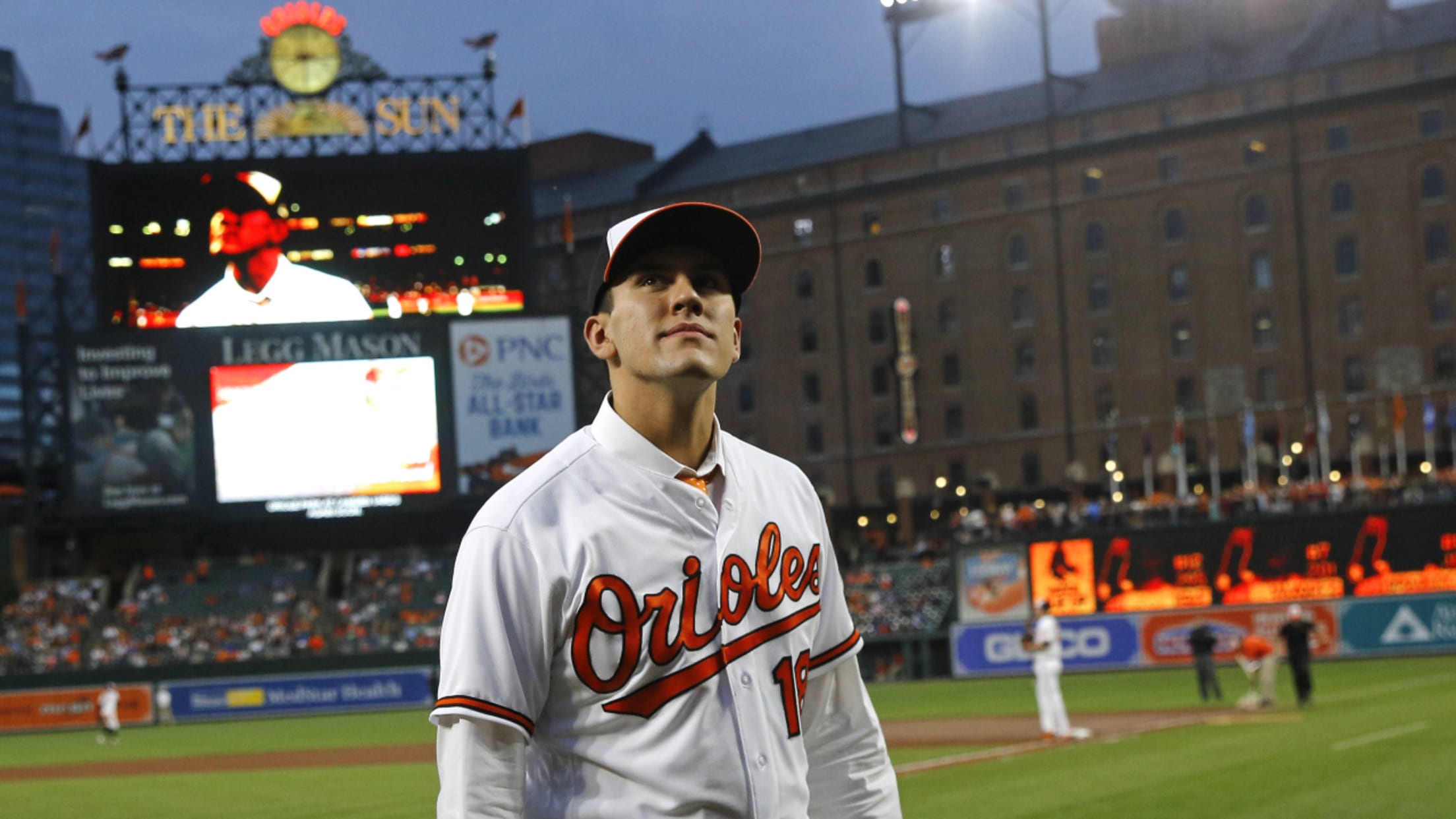 BALTIMORE -- Shortly before they opened their three-game series with the Royals on Monday, the Orioles welcomed a visitor into their daily pregame pitching meeting: right-hander Grayson Rodriguez. The club's No. 2 prospect, per MLB Pipeline, became the latest in a line of blue chippers the club has hosted at
Season comes to early end for O's prospect Hall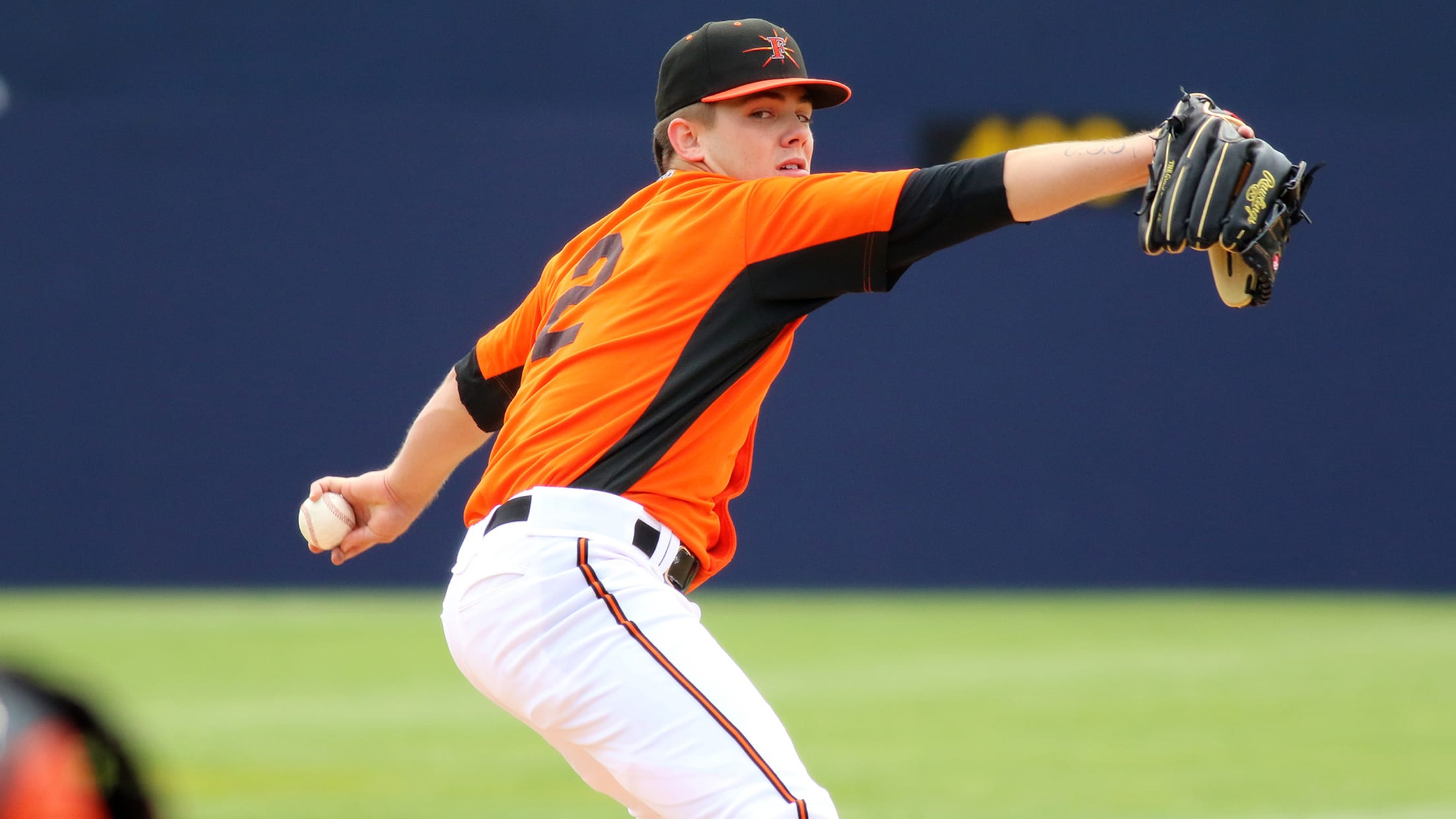 For left-hander DL Hall, one of the top blue-chippers in the Orioles' farm system, the 2019 season has come to an early end. A team source confirmed Sunday that Hall, the club's No. 3 prospect and No. 62 overall per MLB Pipeline, has been shut down with a left lat
Harvey impresses in long-awaited MLB debut
Orioles' No. 15 prospect picks up 2 K's in relief as father, former big leaguer, looks on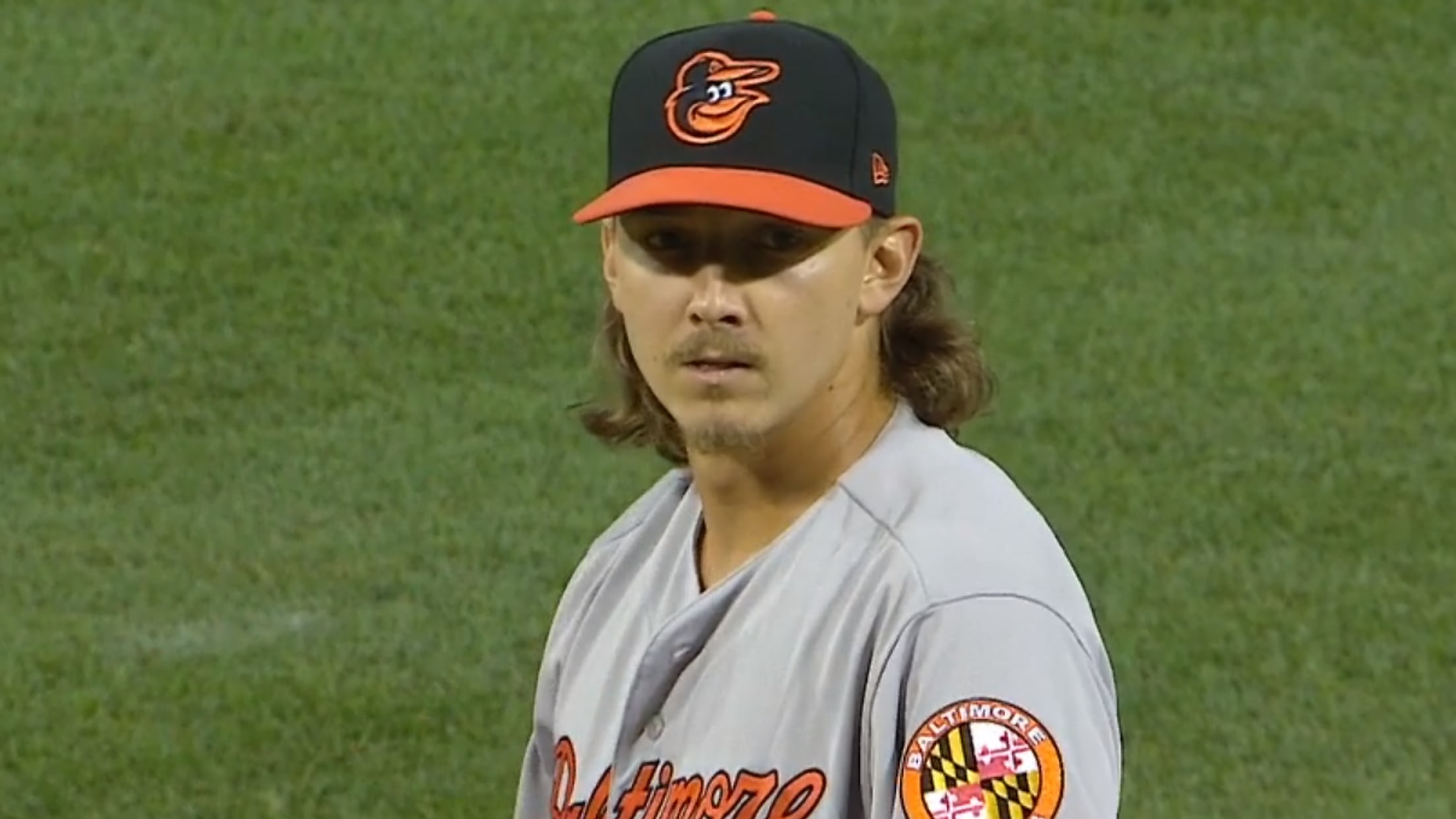 BOSTON -- Hunter Harvey was hoping the call would come, but he didn't think it would happen in mid-August. Around 10:30 p.m. on Friday, the Orioles informed Harvey he was being promoted from Triple-A Norfolk for Saturday night's game against the Red Sox. He didn't think he'd be called up
Stewart back from concussion injured list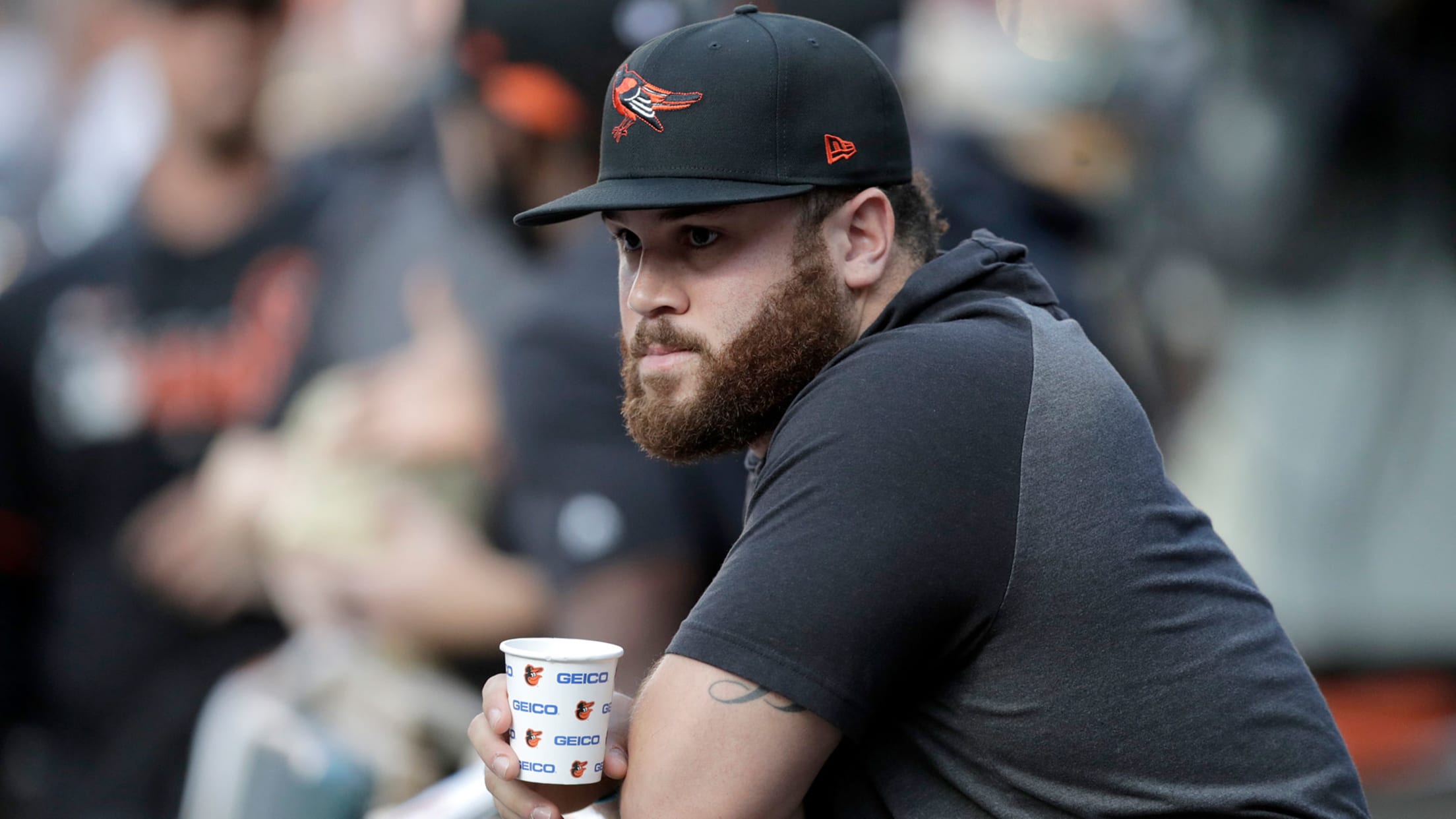 After a week sidelined with a concussion, Orioles outfielder DJ Stewart was reinstated from the injured list on Friday. To make room for Stewart, the club optioned right-hander Chandler Shepherd to Triple-A Norfolk. The club's No. 23 prospect per MLB Pipeline, Stewart was concussed diving for a fly ball in