For Jackson, Martin, path to Majors is clear
Vision tests lead to career transformations for Rule 5 Draft picks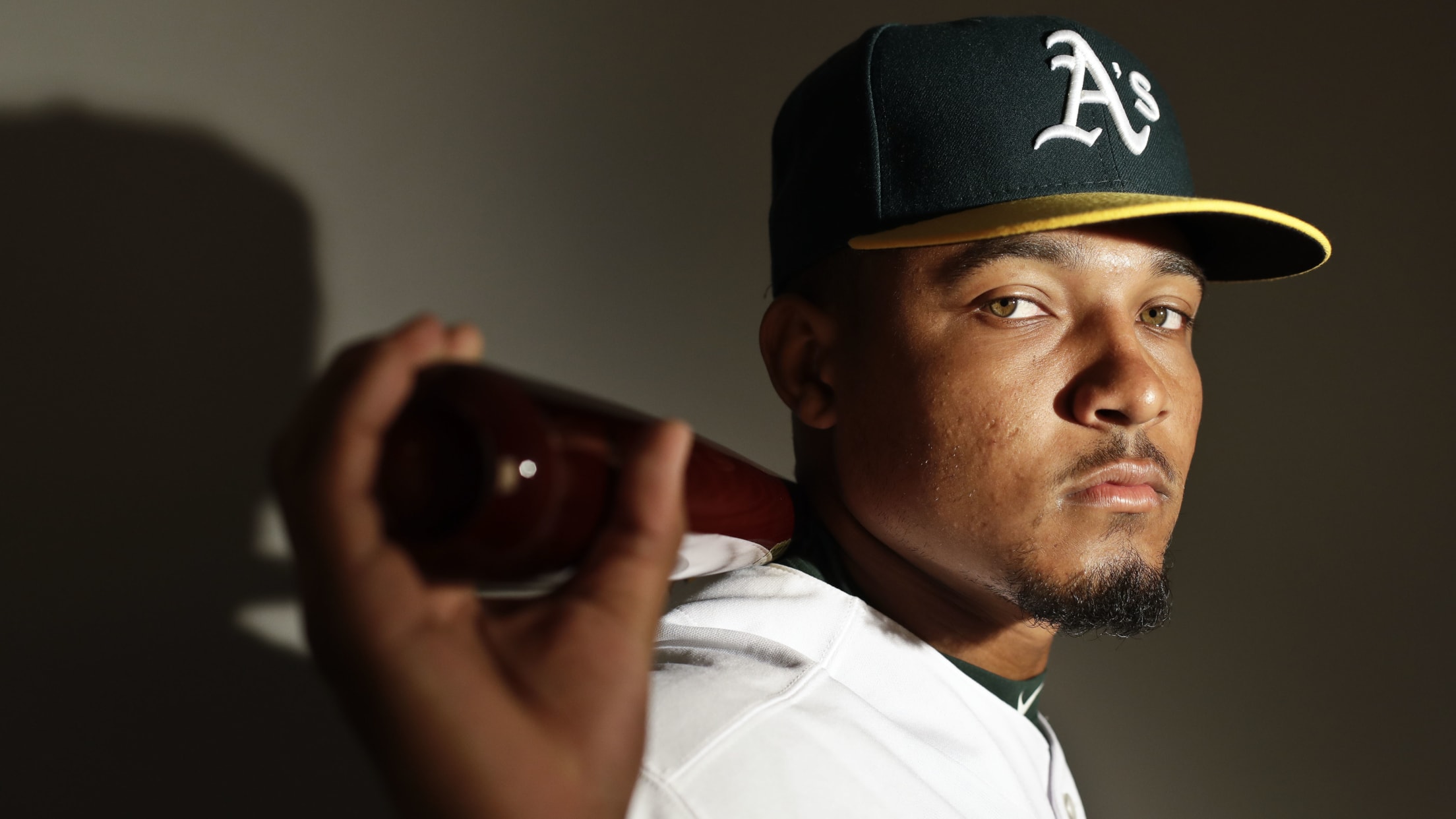 SARASOTA, Fla. -- For Drew Jackson and Richie Martin, the revelatory moments came in cars -- and at critical points in their careers. Jackson was in the passenger's seat in a sleepy section of Palo Alto, Calif., just done with his sophomore year at Stanford. Martin was driving around Tampa,
Osich eyes fresh start in lefty-heavy bullpen
Southpaw was claimed off waivers from San Francisco this week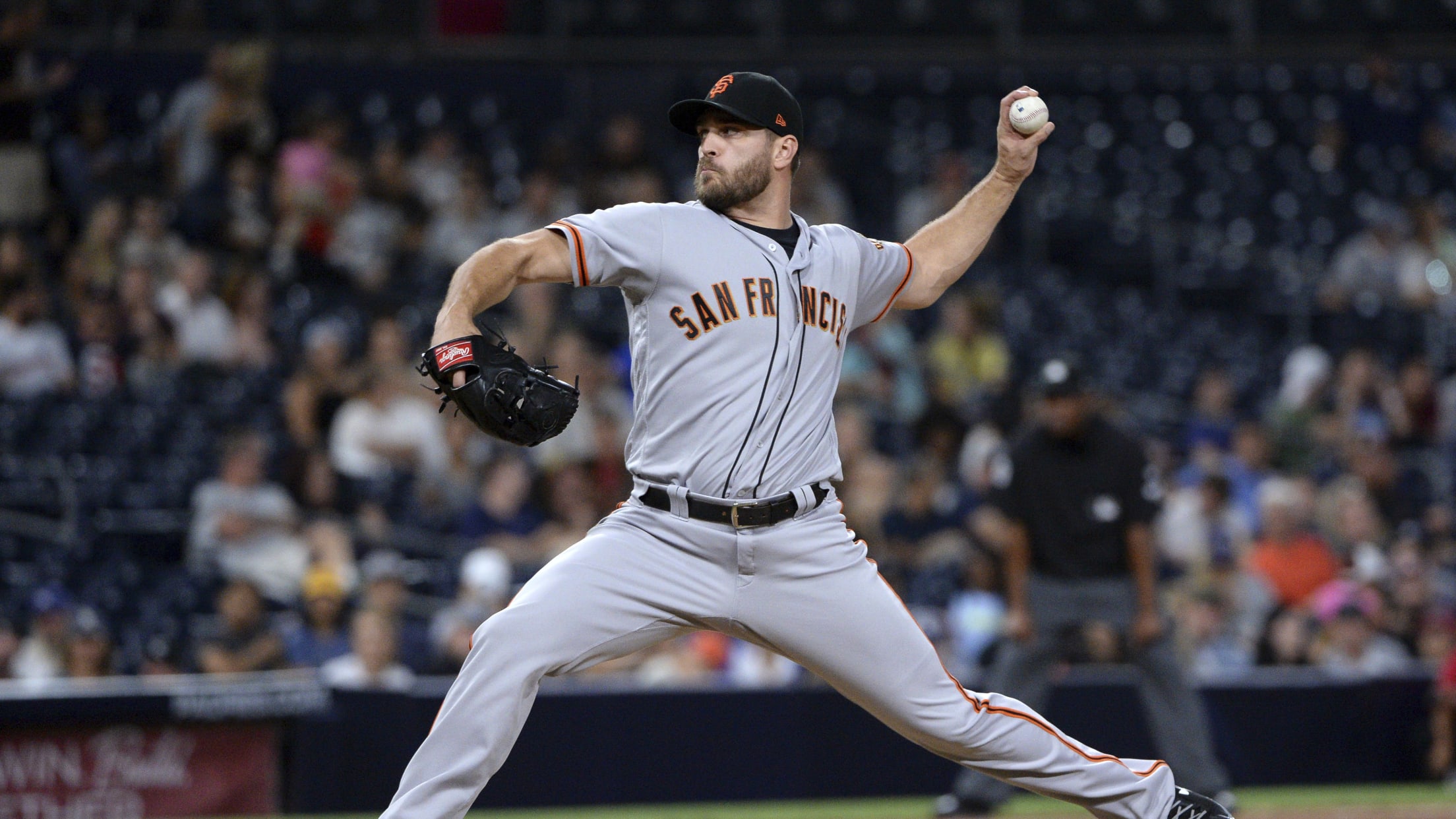 SARASOTA, Fla. -- Peel back the ugliness of Josh Osich's career 5.01 ERA, and glimmers of dominance emerge. Just ask Diamondbacks slugger Jake Lamb, who is 1-for-11 with six strikeouts off Osich. Or Rockies All-Star Charlie Blackmon, a former batting champ, who's hitless in seven at-bats. Bryce Harper, Anthony Rizzo
Each team's most likely 2019 award candidate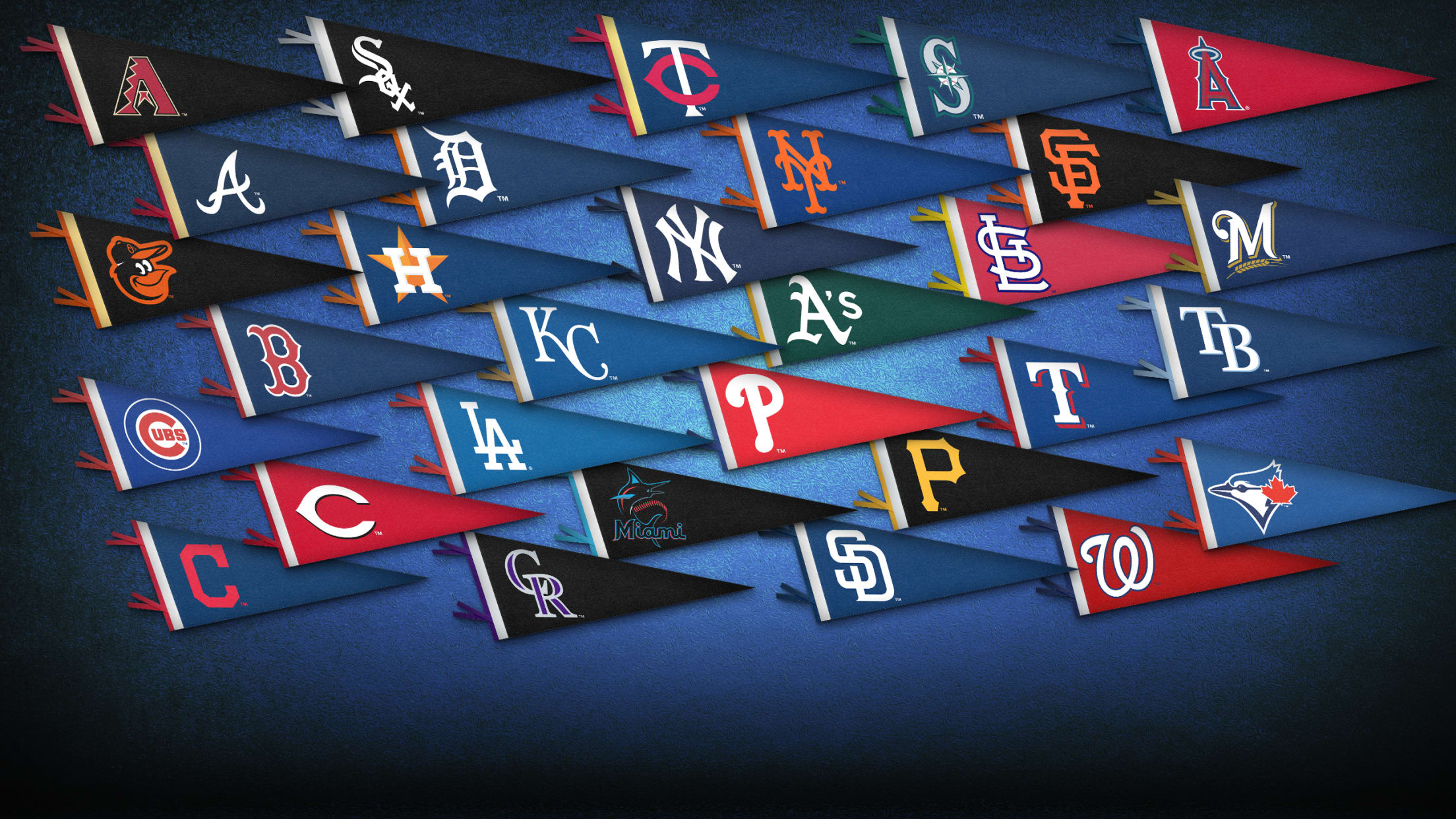 As we saw again last year, with the American League Most Valuable Player Award winner coming from a 108-win Red Sox team and the National League Cy Young Award winner coming from a 77-win Mets team, an award-caliber season can emanate from just about anywhere. With that in mind, let's
O's have ample OF competition in camp
Starting right fielder, fourth outfielder jobs open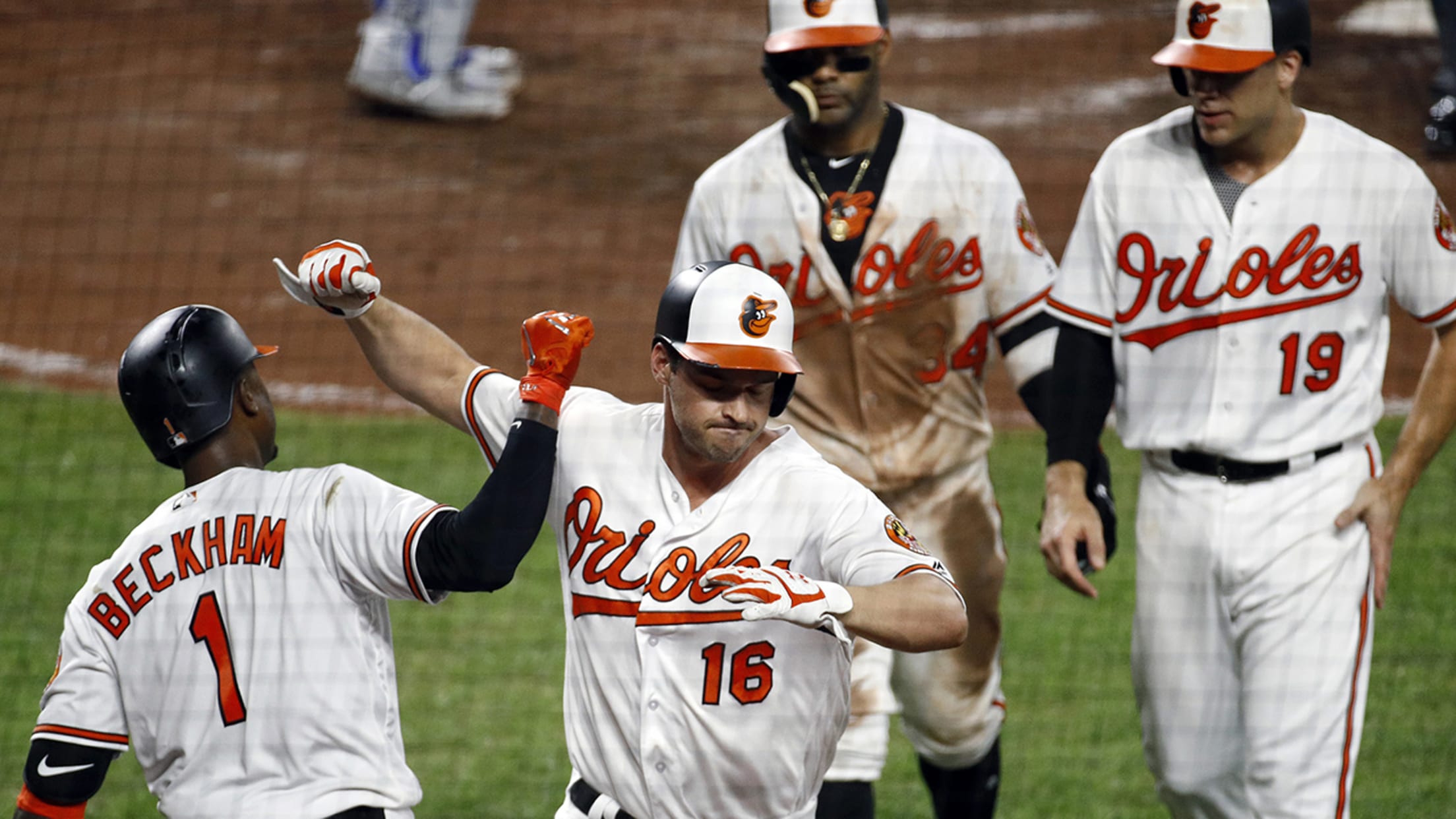 As we inch closer and closer to Opening Day, we'll continue to take a position-by-position look at the Orioles' roster options and remaining questions. With full squad workouts officially underway, now feels like a good time to take a look at the outfield, where much will be decided over the
Orioles to honor Frank Robinson on uniforms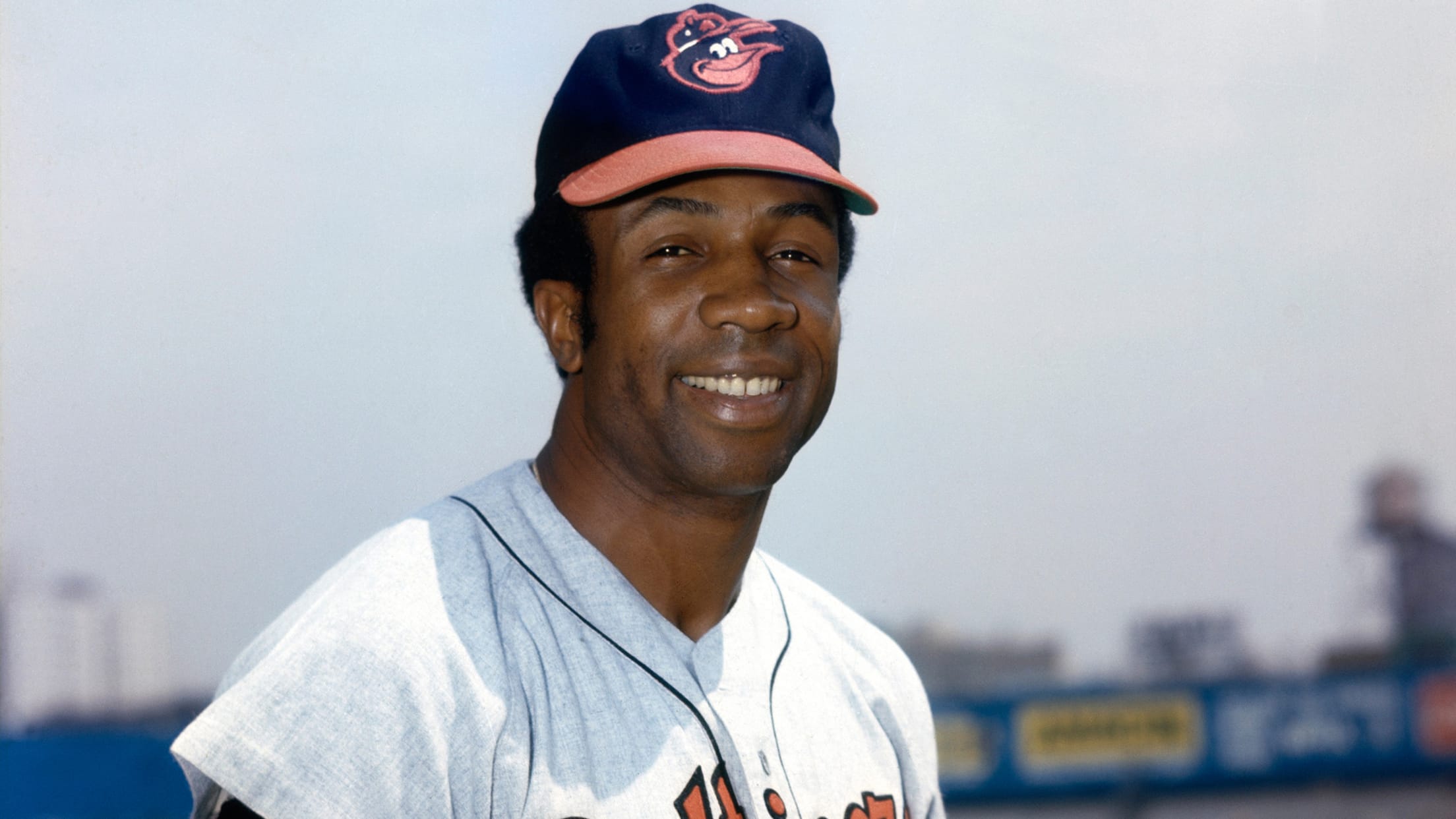 SARASOTA, Fla. -- The Orioles will honor late icon Frank Robinson during Grapefruit League play and will continue to do so throughout the season, with a patch on the sleeves of their uniforms. The patch features Robinson's No. 20 in orange against a black background. • Frank Robinson, legend and
20 questions that will define the AL East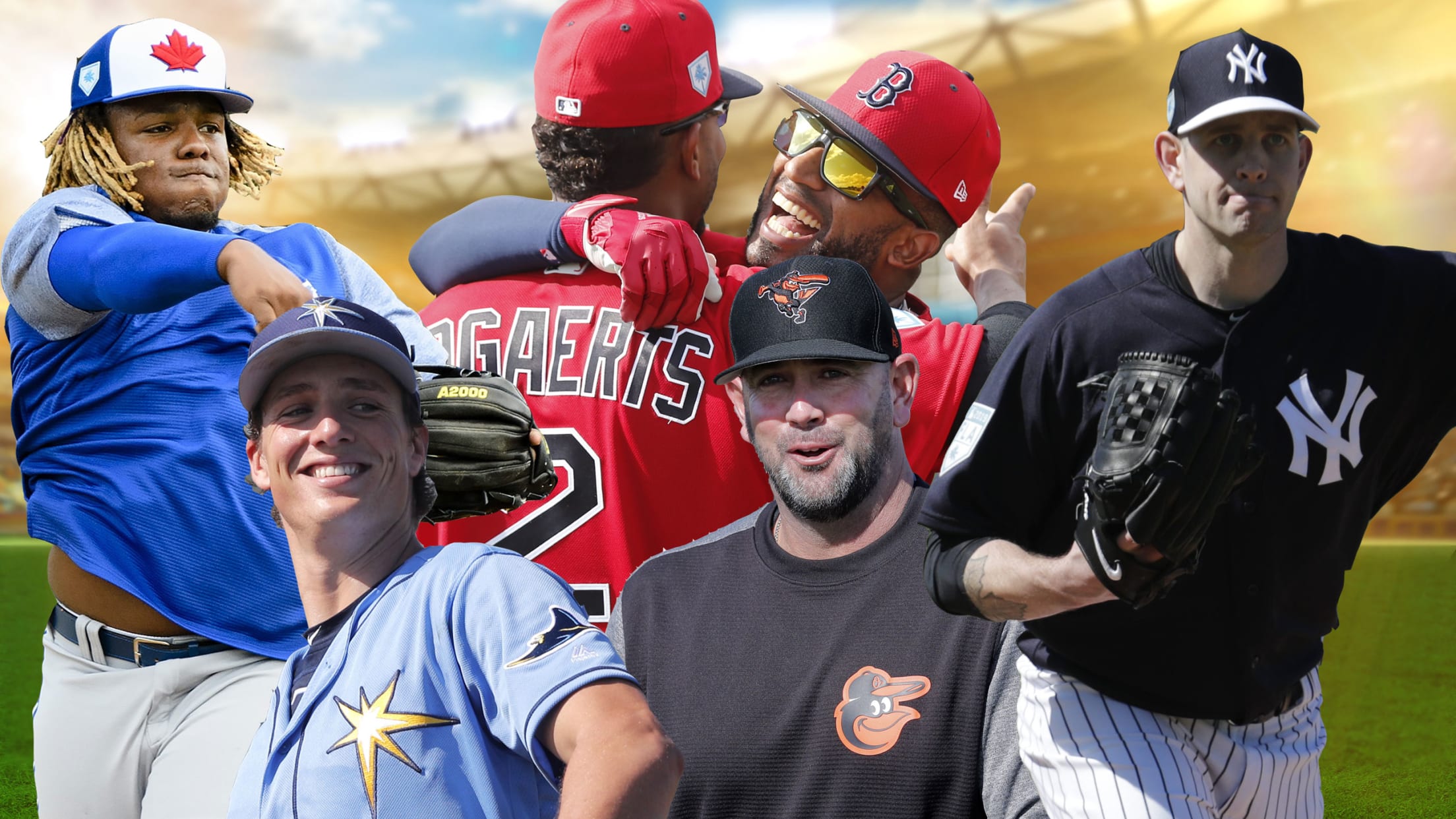 It's easy to forget this now, but heading into last season, it was the Yankees, not the Red Sox, who were widely considered the heavy favorite in the American League East. In fact, picking Boston to win the division became a sort-of indicator of hipster contrarianism; sure, the Yankees just
Mountcastle tries 1B as O's preach versatility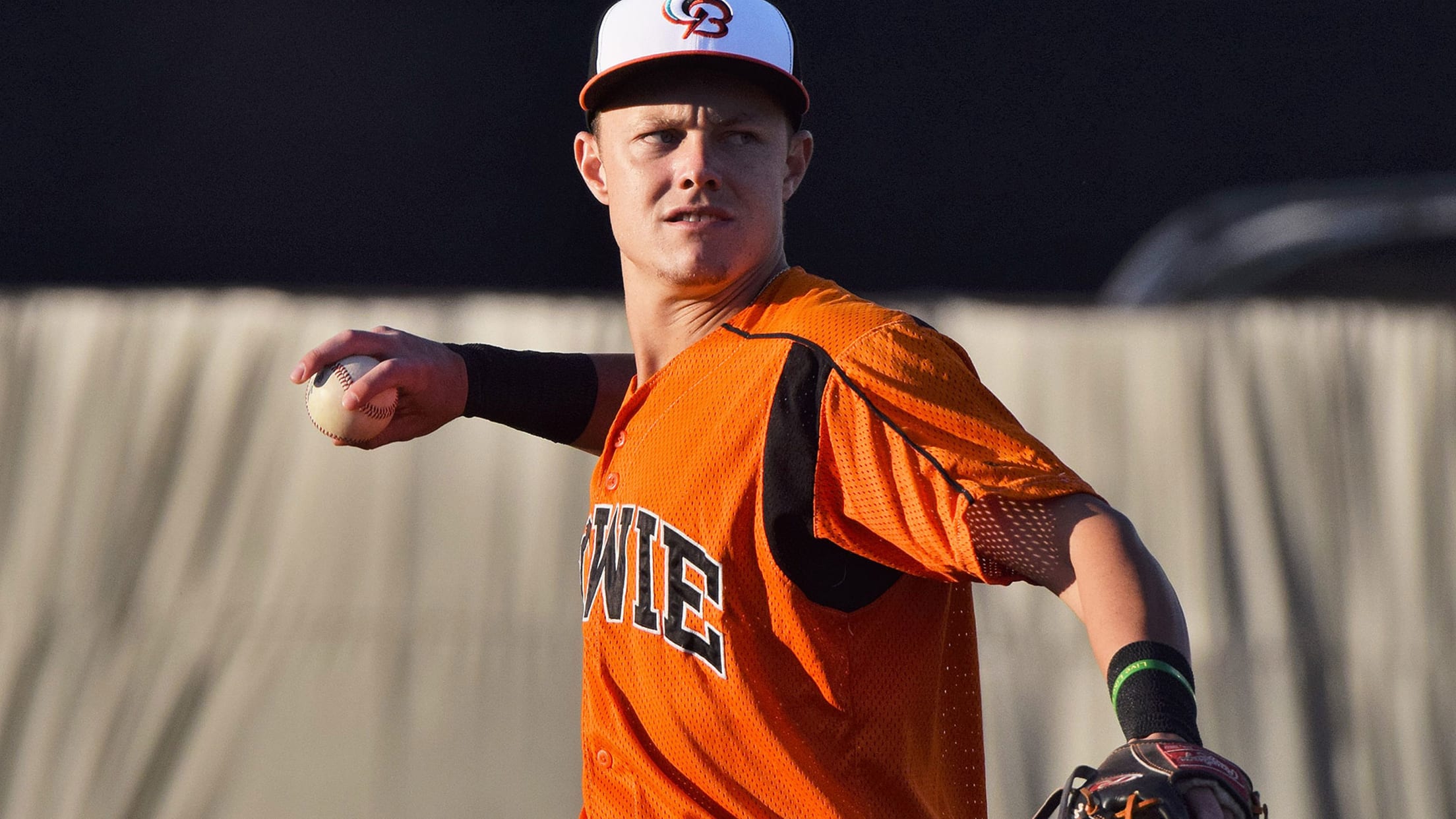 SARASOTA, Fla. -- When Ryan Mountcastle reported to the Orioles' clubhouse this week, surprises awaited on the schedule and in the locker just to his right. Upon arrival, infield coach Jose Flores approached Mountcastle with a directive: move across the diamond. Locker neighbor Chris Davis then lent him a hand.After
Here are the Orioles' 2019 Top 30 Prospects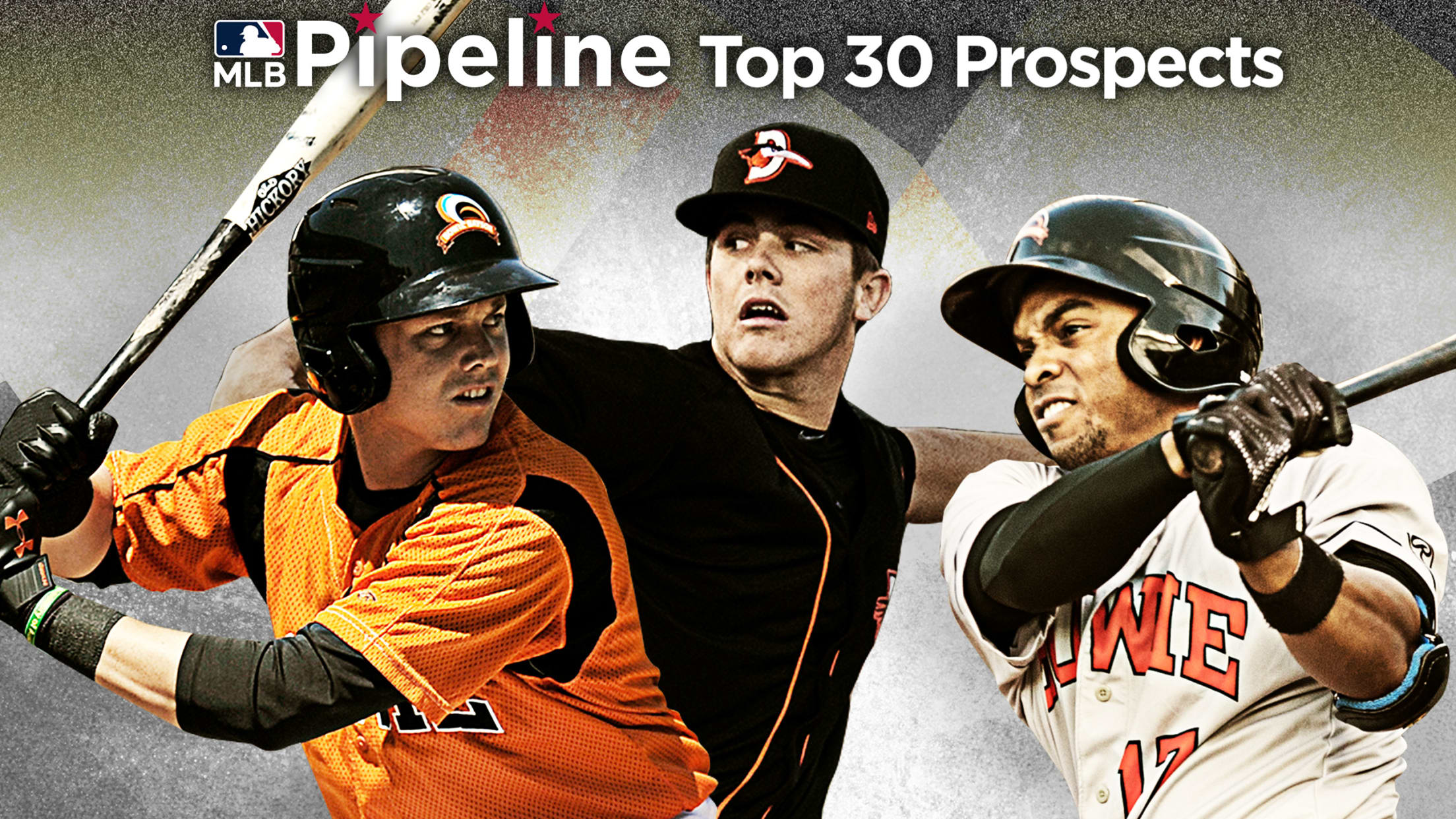 After a last-place finish in the American League East in 2017, the Orioles continued to trend in the wrong direction last year, losing a franchise-record 115 games en route to Major League Baseball's worst record. The Orioles' sharp plummet into a non-competitive abyss pushed then-general manager Dan Duquette to begin
Pitch clocks nothing new to younger players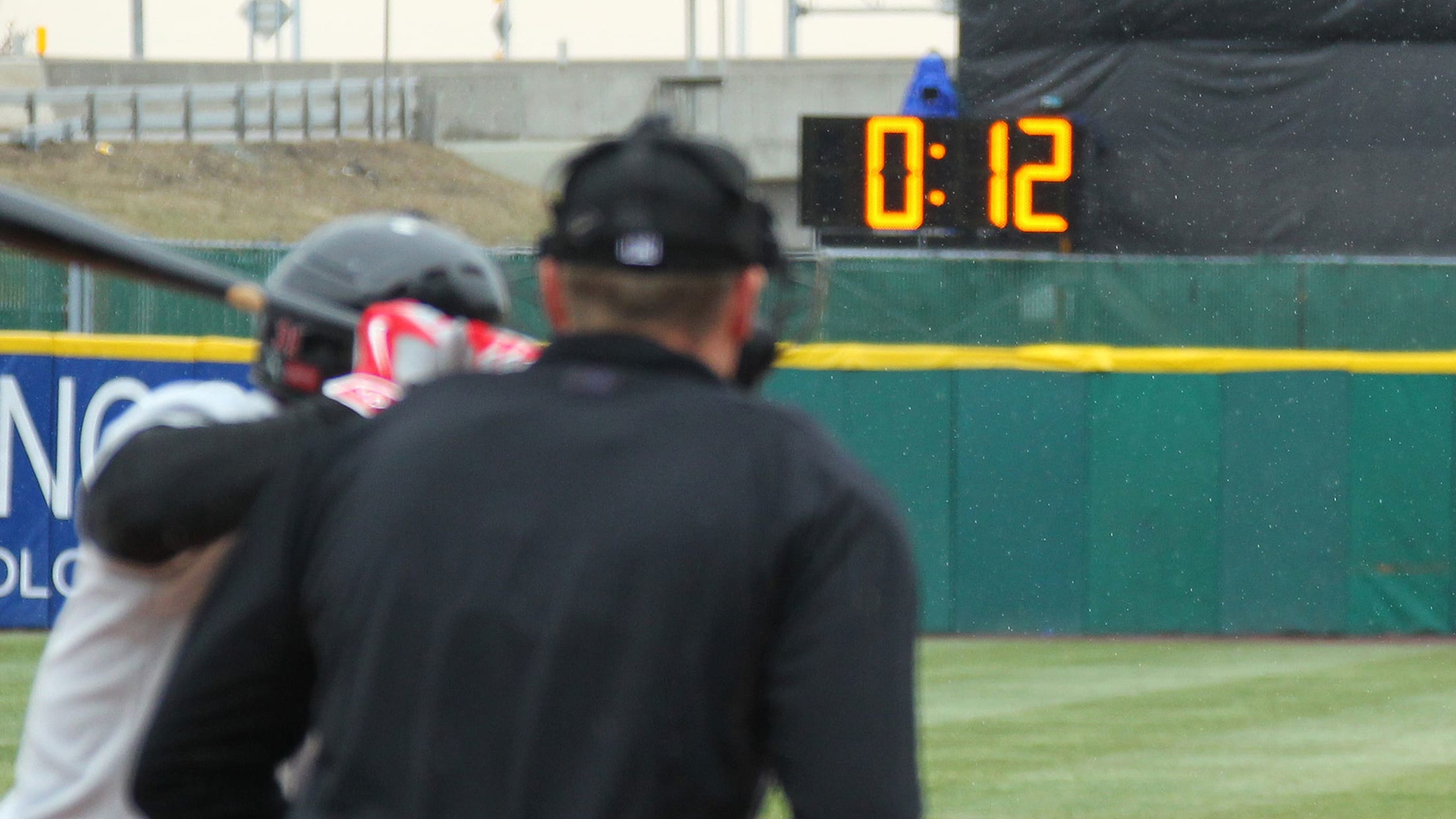 SARASOTA, Fla. -- When Major League Baseball dropped experimental pitch clocks into the Arizona Fall League four autumns ago, it made little secret of the way it viewed the advanced prospect league as something of a petri dish. By exposing in-game timers to some of the game's top prospects, baseball
Here are 12 Orioles to watch in spring camp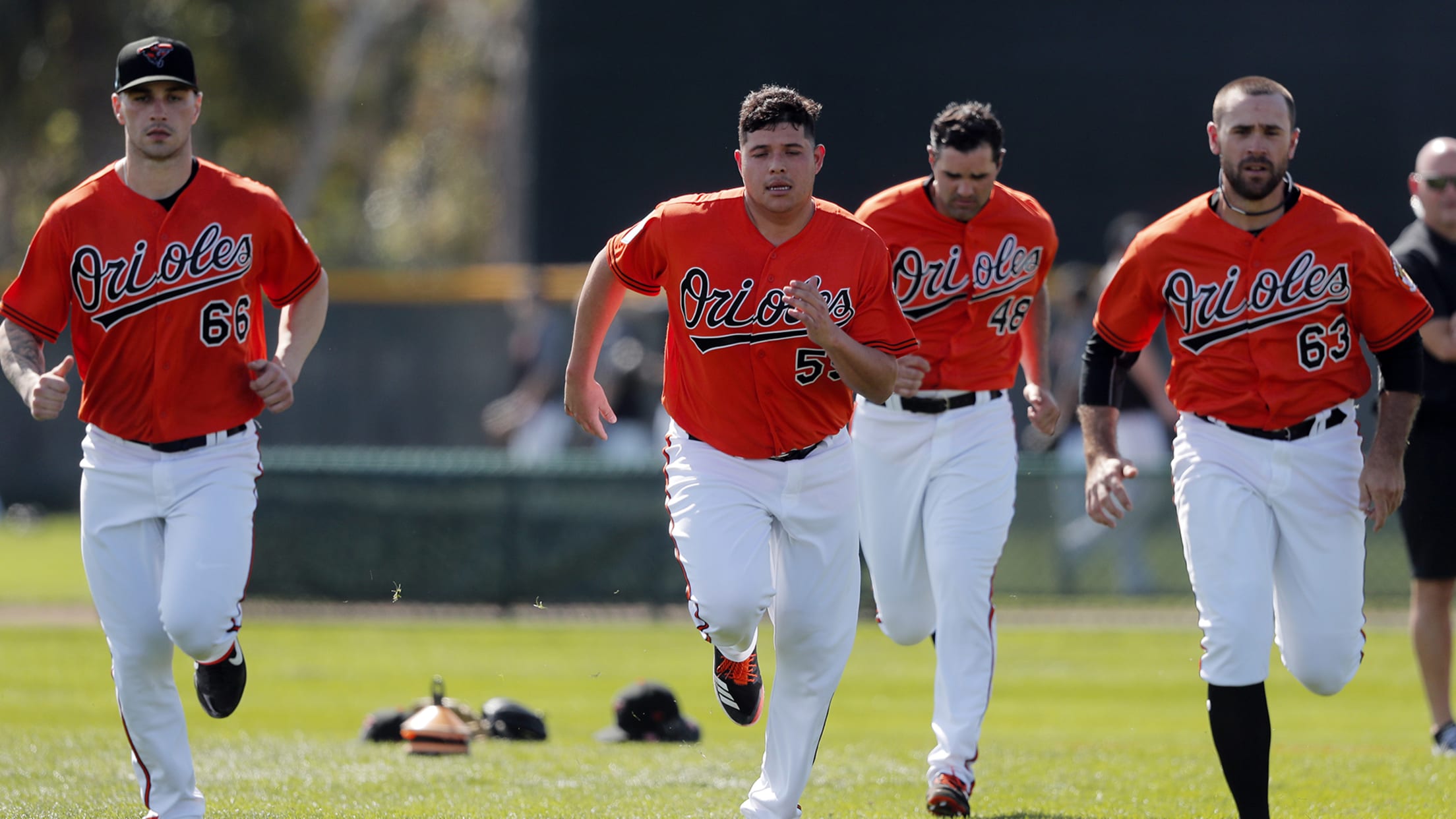 SARASOTA, Fla. -- In holding their first full-squad workout on Monday, the Orioles ushered in the first official phase of a spring set to surprise. Fresh faces flood Ed Smith Stadium. Questions litter the roster. Battles abound at nearly every position.Here are 12 players to watch at the dawn of
O's Harvey feeling good after BP session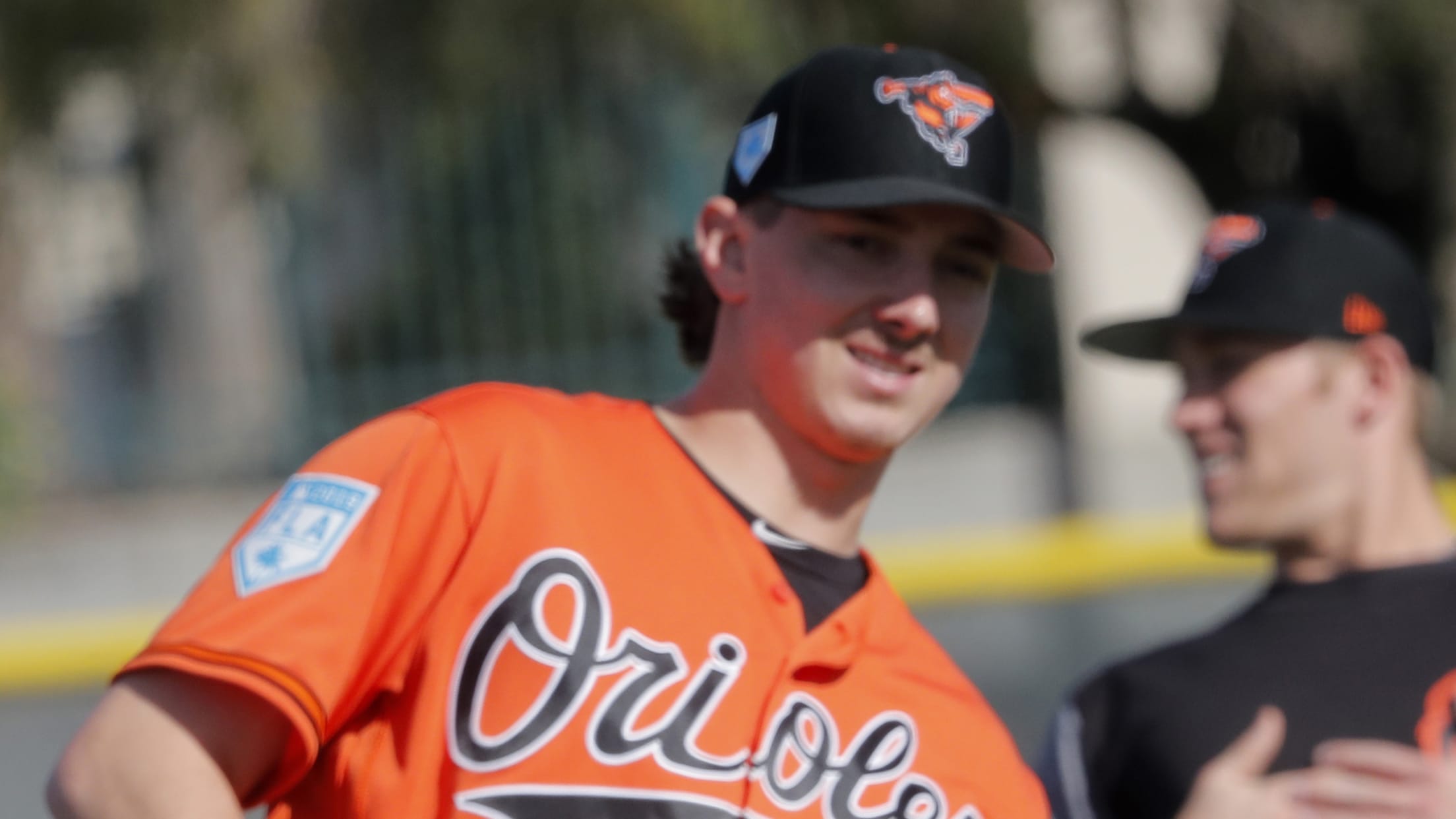 SARASOTA, Fla. -- The simple question stumped Orioles right-hander Hunter Harvey for a moment.Not long before, Harvey had hopped off a backfield mound at the club's Spring Training complex and exhaled. He was one of 14 pitchers scheduled to face hitters as part of the club's first full-squad workout on
30 intriguing position battles -- 1 for each team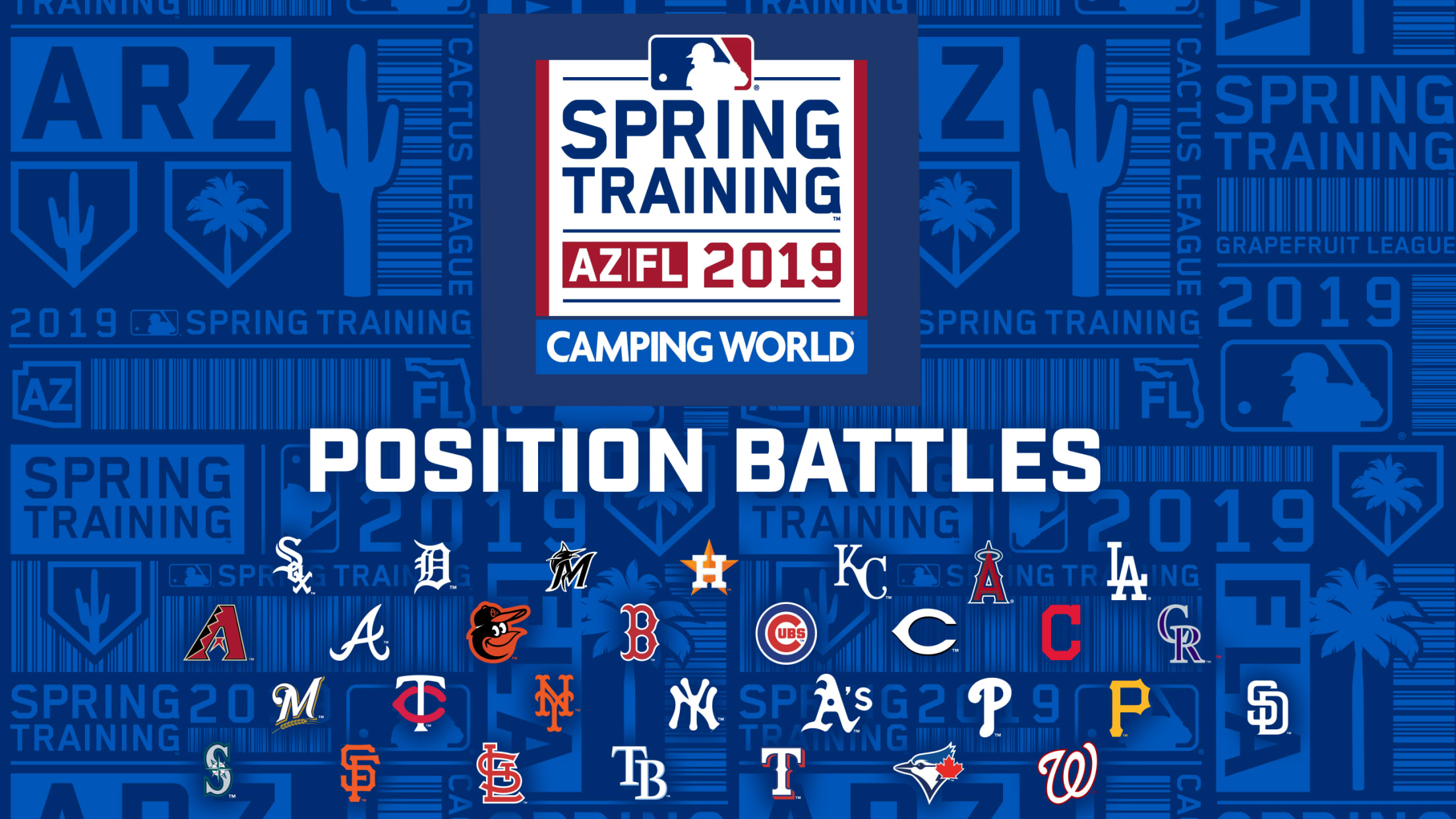 Stars might put fans in the seats, but baseball is a sport that rewards the most complete clubs. That's what makes Spring Training more than a series of exhibitions; big league jobs are on the line, and they could end up having a major impact on the season-end standings. The next
O's pitchers welcoming high-tech revolution
'It's just a start': Hyde excited by staff's interest level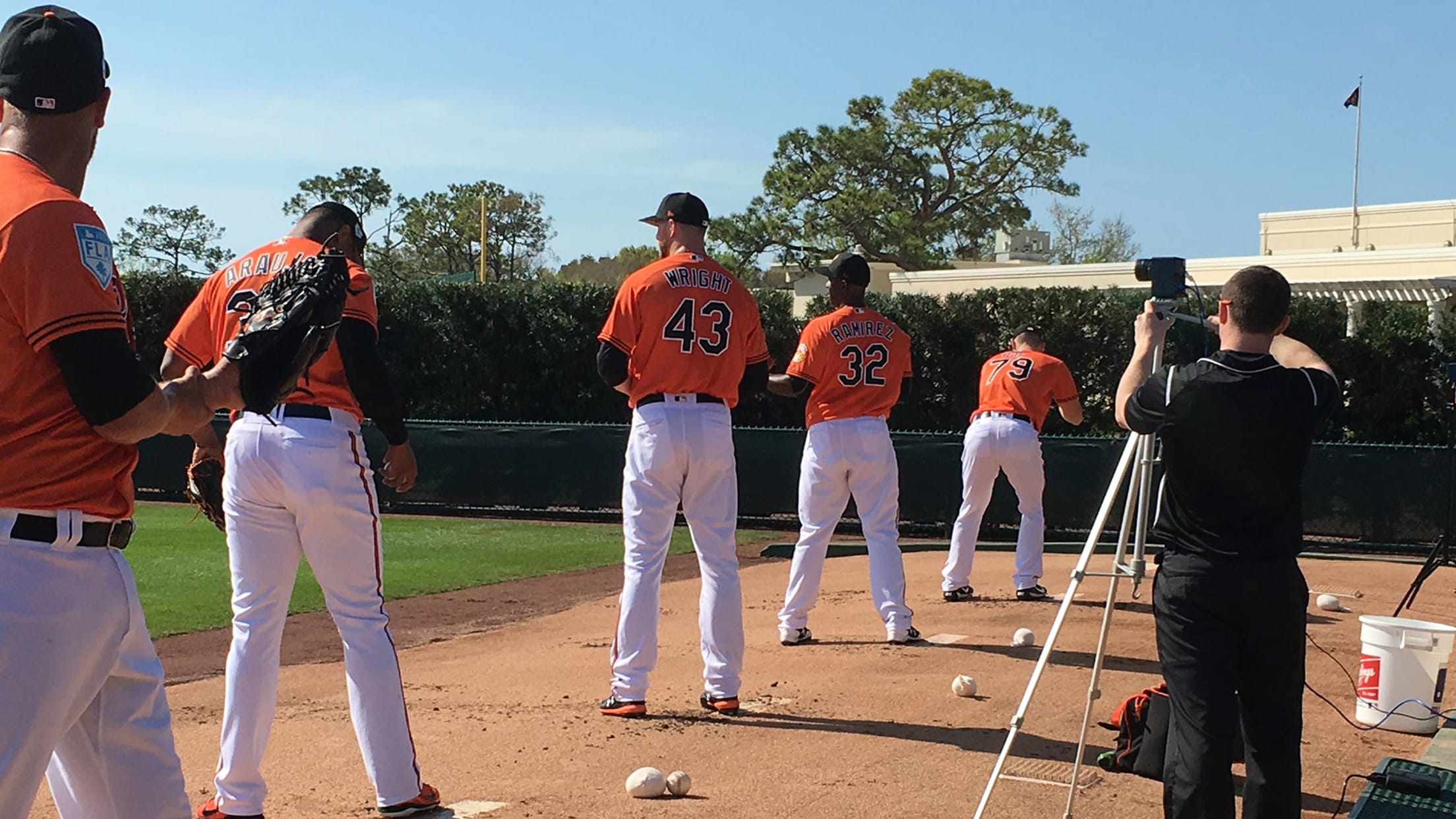 SARASOTA, Fla. -- Like so many pitchers in Major League camps, Orioles hurlers have extra sets of eyes on them this spring. The Edgertronic cameras, perched on tripods, are set about a stride's length beyond the backfield bullpen mounds at the club's Ed Smith Stadium complex, as conspicuous as the
Wilkerson is Orioles' man of many gloves
Multiple O's enter spring camp eyeing positional flexibility as key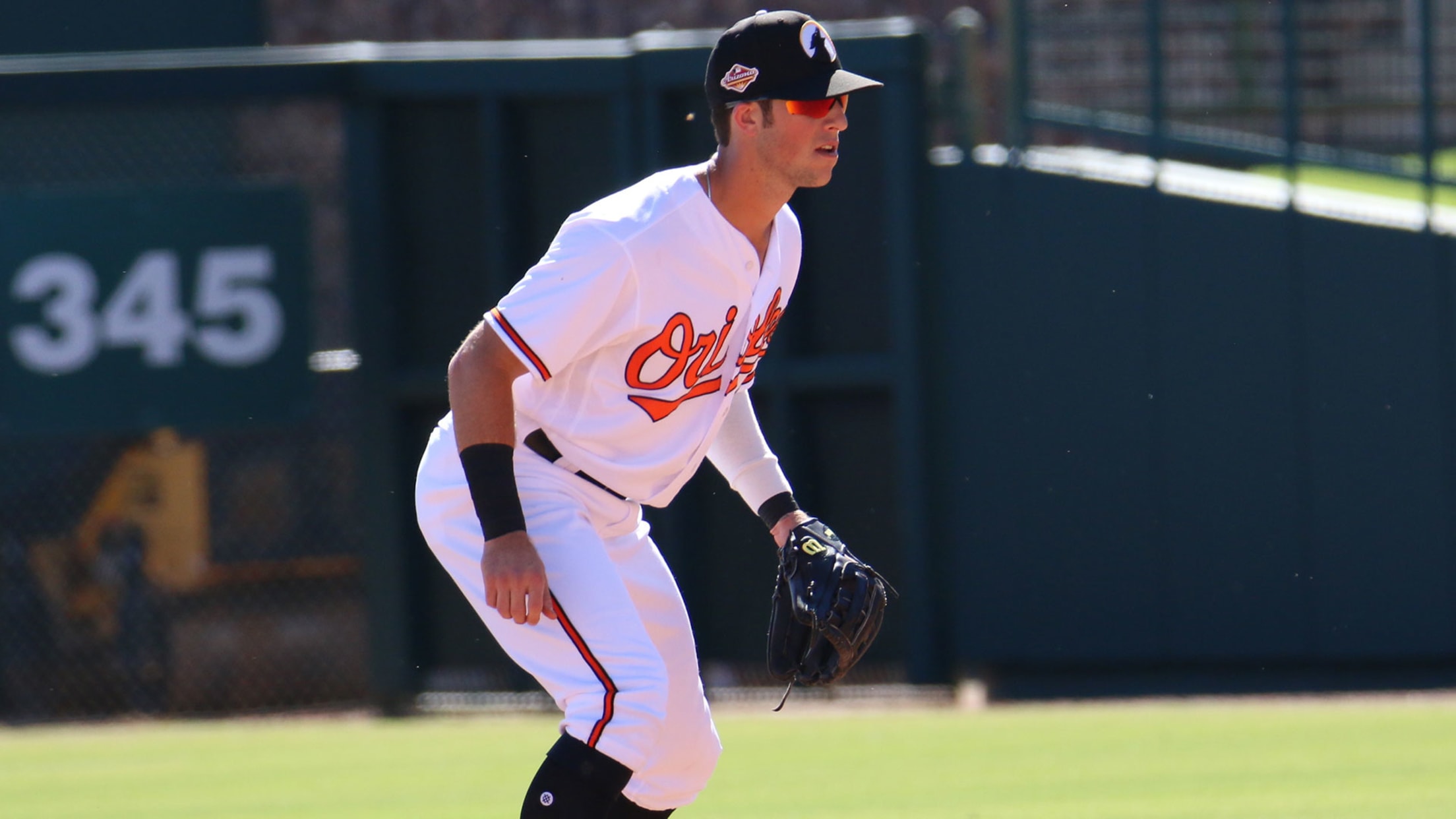 SARASOTA, Fla. -- Steve Wilkerson may be a clubhouse manager's worst nightmare and a manager's dream. For someone planning to move around, the speedy 27-year-old surely doesn't travel light.On the heels of a brief big league cameo last year, Wilkerson arrived at Orioles camp Sunday set to battle for a
Reasons for optimism for each MLB club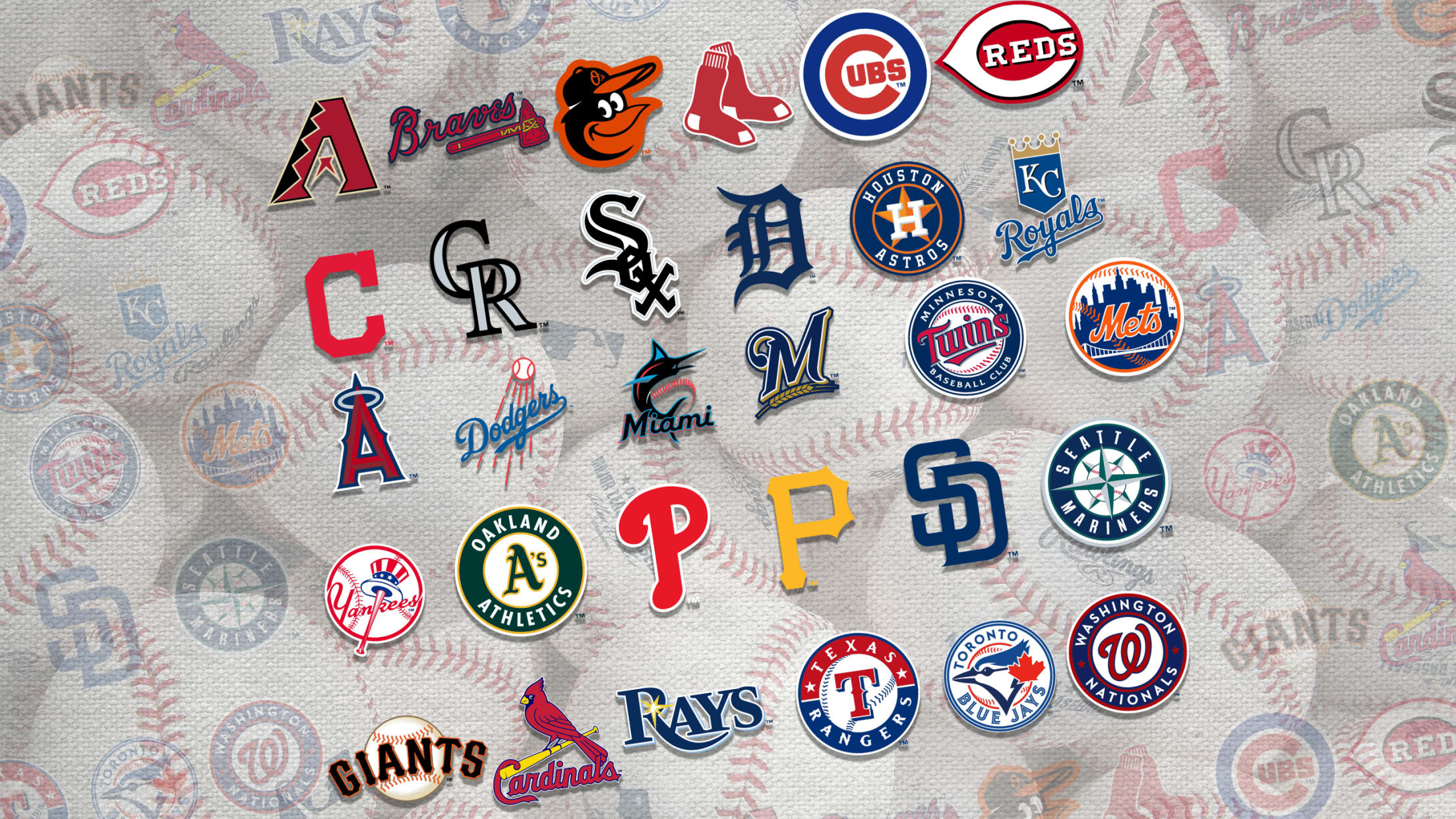 On this opening week of Spring Training, all 30 Major League teams have one thing in common: optimism. You've read a lot about teams being all-in for 2019 and also about some teams rebuilding. Here's what's also true: When players and coaches get to work in Florida and Arizona, optimism
Top prospect Diaz looks to break camp with O's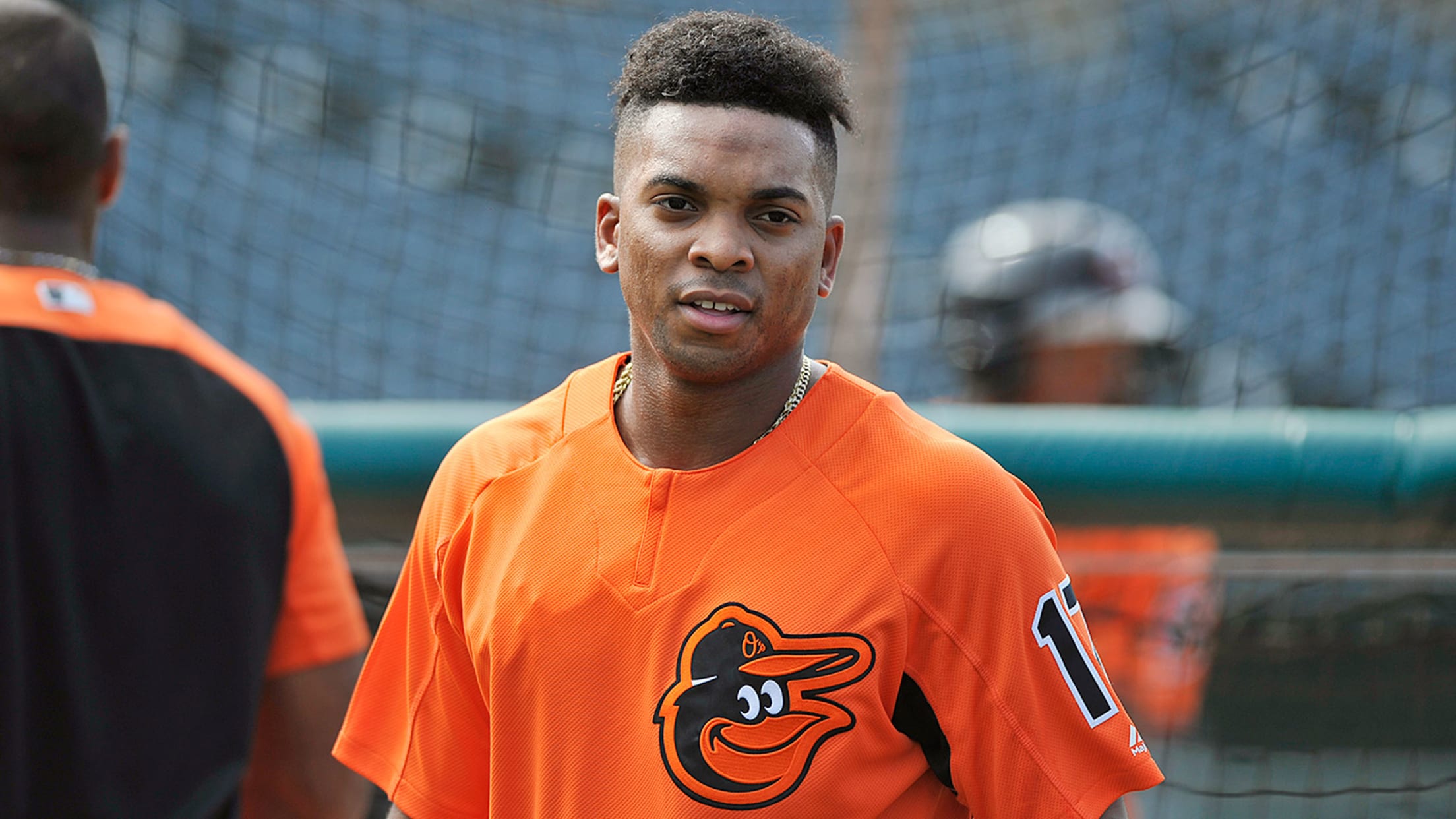 SARASOTA, Fla. -- A lot has to go right for Yusniel Diaz to crack the Orioles' Opening Day roster. But the Orioles' No. 1 prospect per MLB Pipeline isn't letting that impede his plans to compete for a spot anyway."That is the ultimate reason for being here," Diaz said through
O's ink veteran Escobar, extend spring invite
SS spent last eight seasons with Royals, won Gold Glove in 2015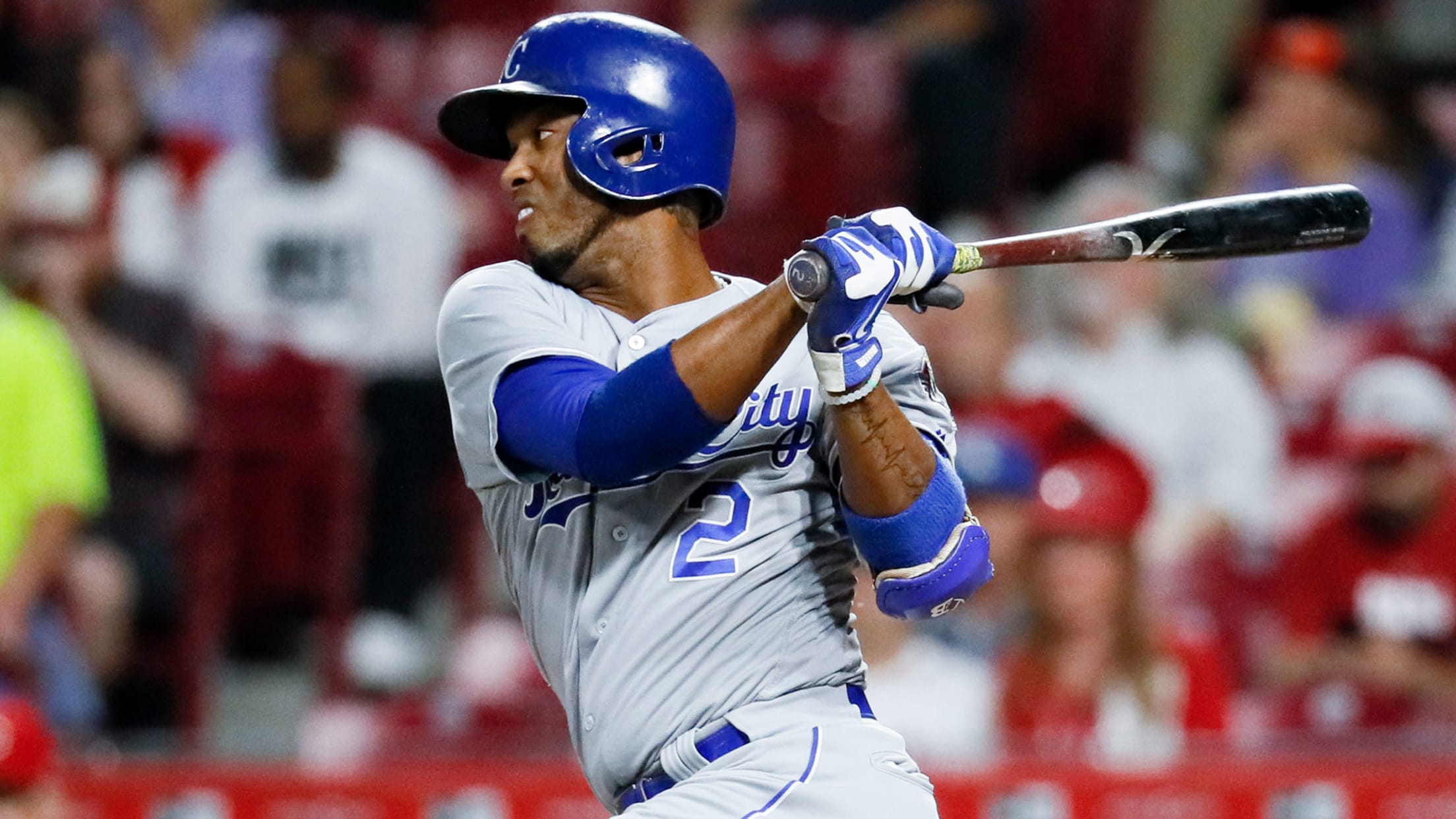 SARASOTA, Fla. -- The Orioles' cloudy infield picture gained some clarity Saturday when the team signed veteran shortstop Alcides Escobar to a Minor League contract with an invitation to Spring Training.Escobar could earn up to $700,000 should he crack the club's Opening Day roster, according to MLB Network insider Jon
Davis embracing data, new approach to improve
Slugger arrived early to Orioles camp, wants to rebound from subpar 2018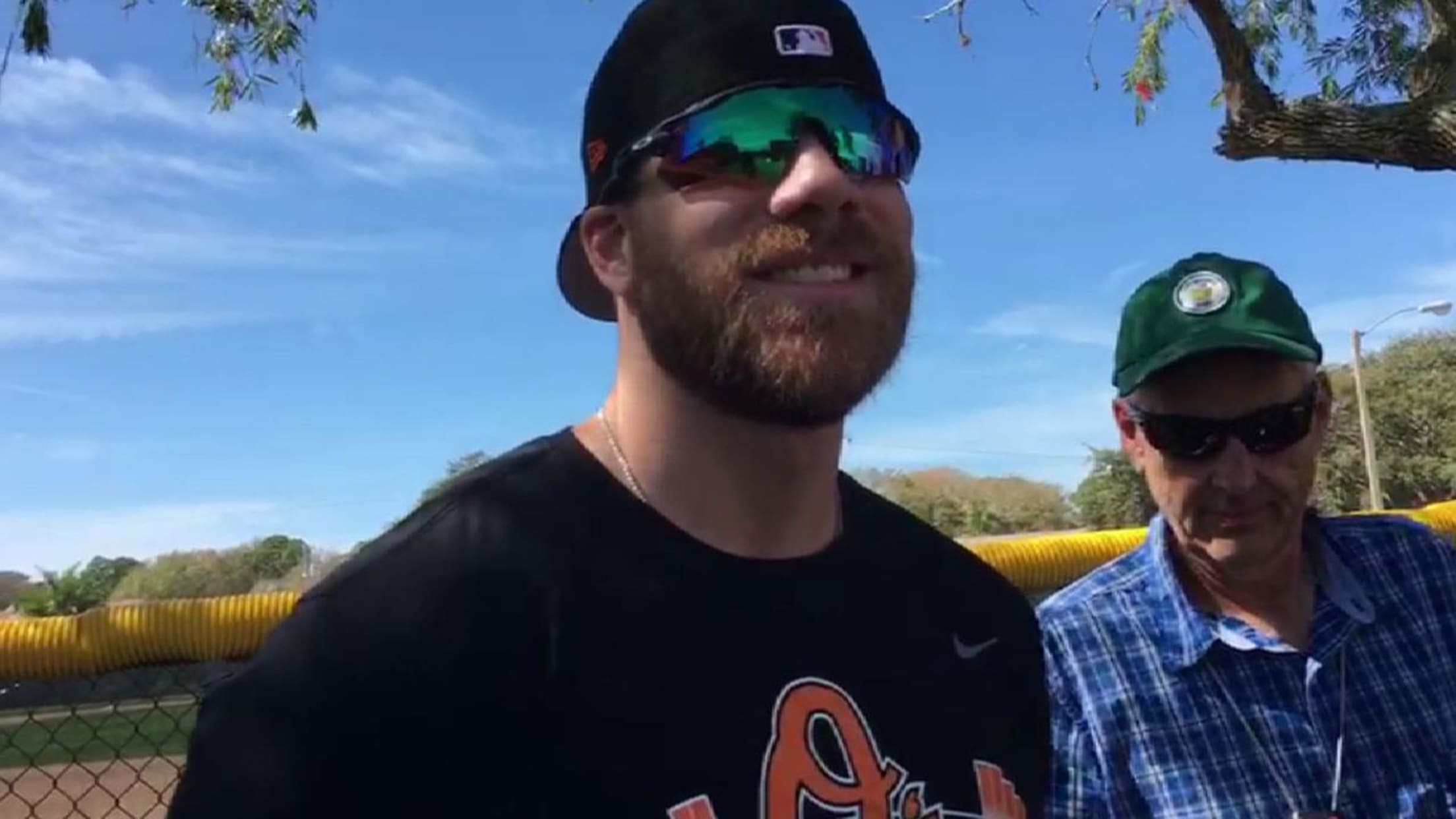 SARASOTA, Fla. -- Looking to preempt questions about his work ethic in a nightmare 2018 season, Chris Davis reported to Spring Training in Florida more than a week before Orioles position players were required to. That's when his efforts to rebound hit their first minor snag.Though Davis has been in
Wave him bye bye: O's voice Angel retires
Play-by-play man was in Baltimore's radio booth nearly two decades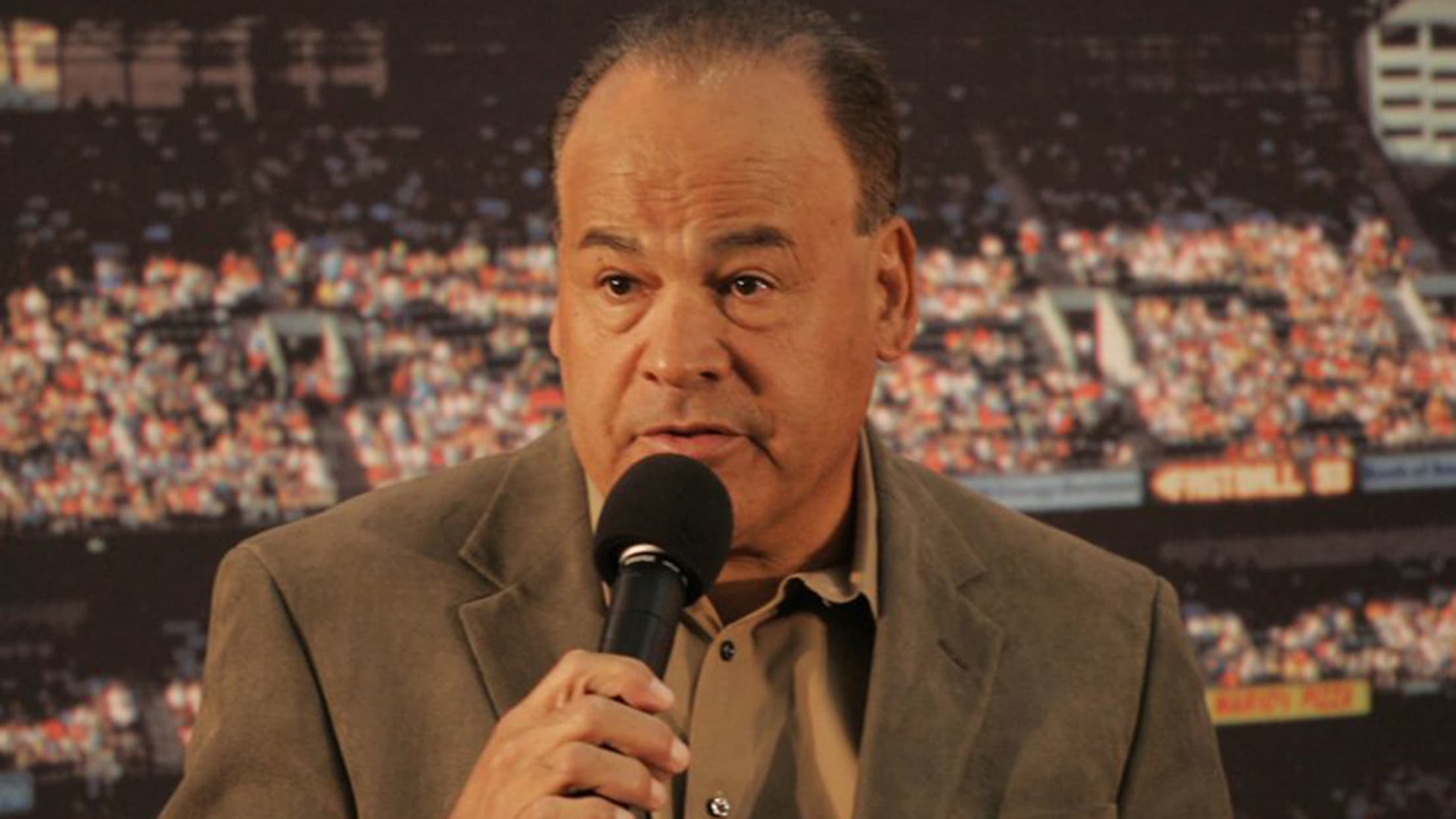 SARASOTA -- Wave him bye bye. A legendary voice of Orioles baseball is calling it a career.Joe Angel, beloved play-by-plan man and voice of the Orioles' radio broadcasts for nearly two decades, announced his retirement this week. The decision caps a 41-year career in the booth for Angel, 71, a
Now healthy, Karns looks to revive career
Right-hander, who didn't pitch in 2018, could fill variety of roles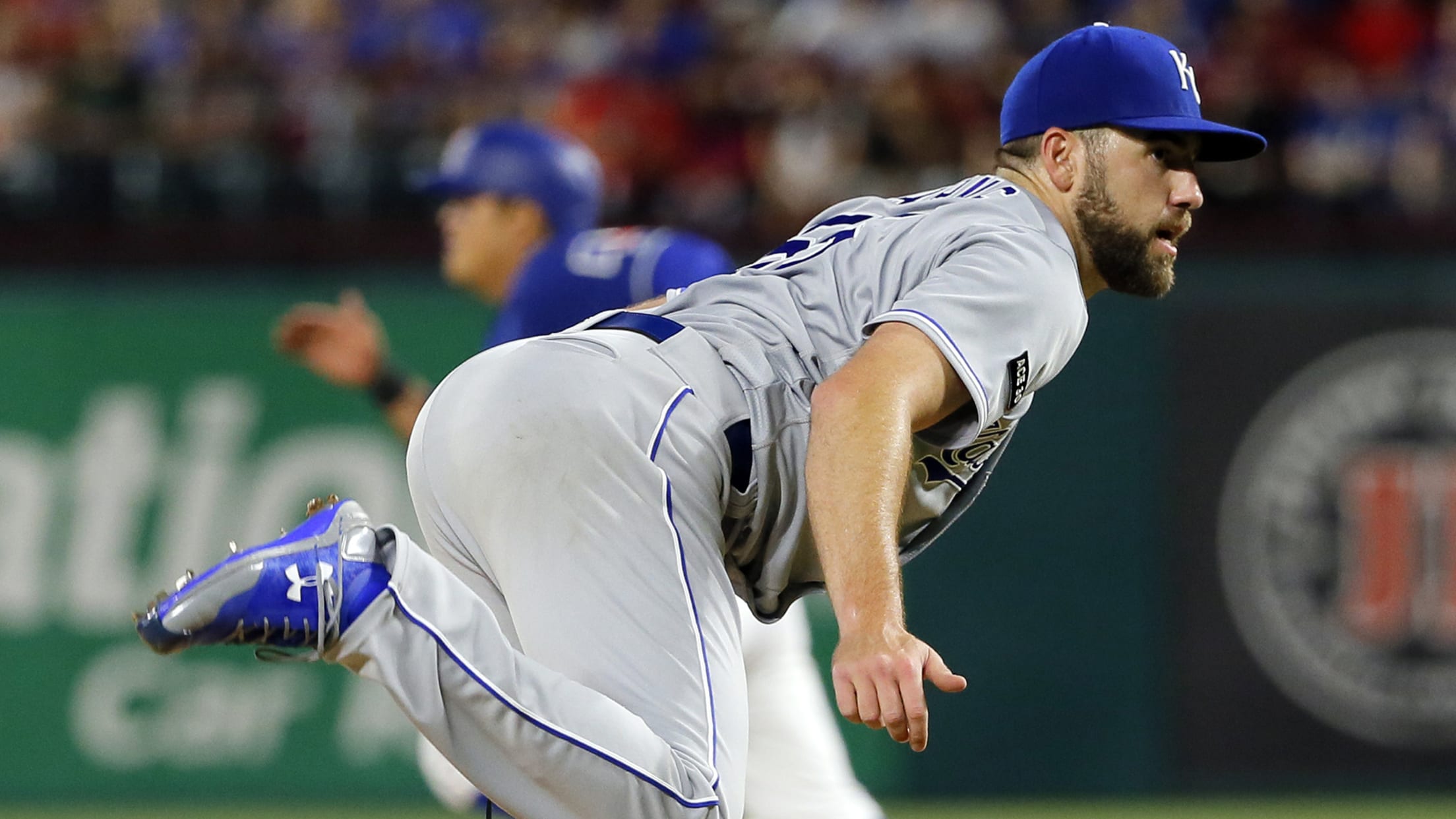 SARASOTA, Fla. -- Everyone hopes for health this early in spring. But few more than Nate Karns, who has trudged a longer road back than any player in Orioles camp.The right-hander, a breakout starter a few years ago, is now 31 and at a crossroads after spending most of the
Givens a lock to take mound in late innings
Orioles notes on Infante, Kremer, Reinheimer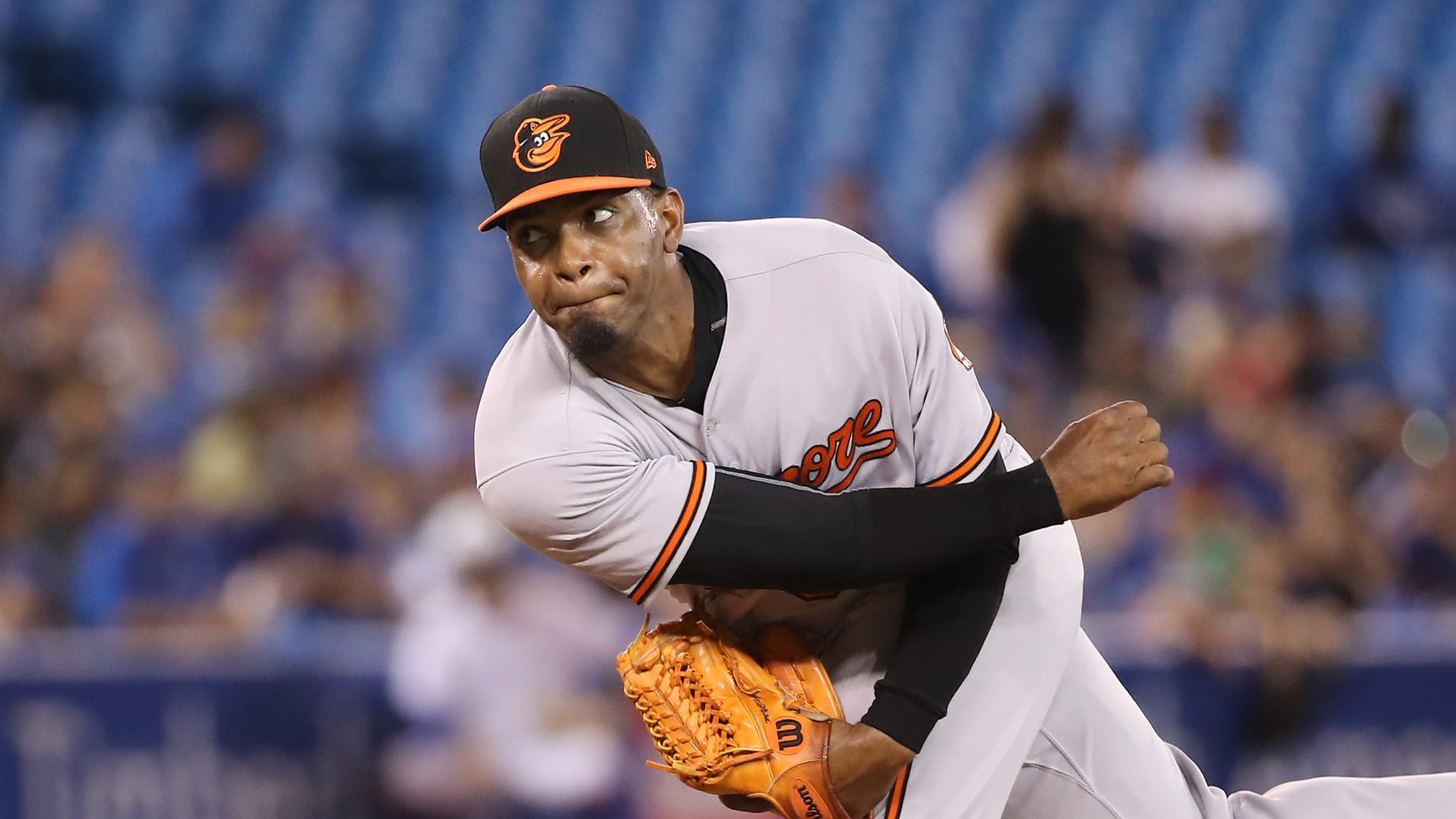 SARASOTA, Fla. -- With more than a dozen pitchers seemingly in the mix for bullpen jobs this spring, it'll take weeks of assessment before candidates for certain roles begin to emerge. Even the club's few veteran holdovers will have to wait.That includes Mychal Givens, who finished 2018 as the Orioles'
Prospects who should vie for a roster spot in camp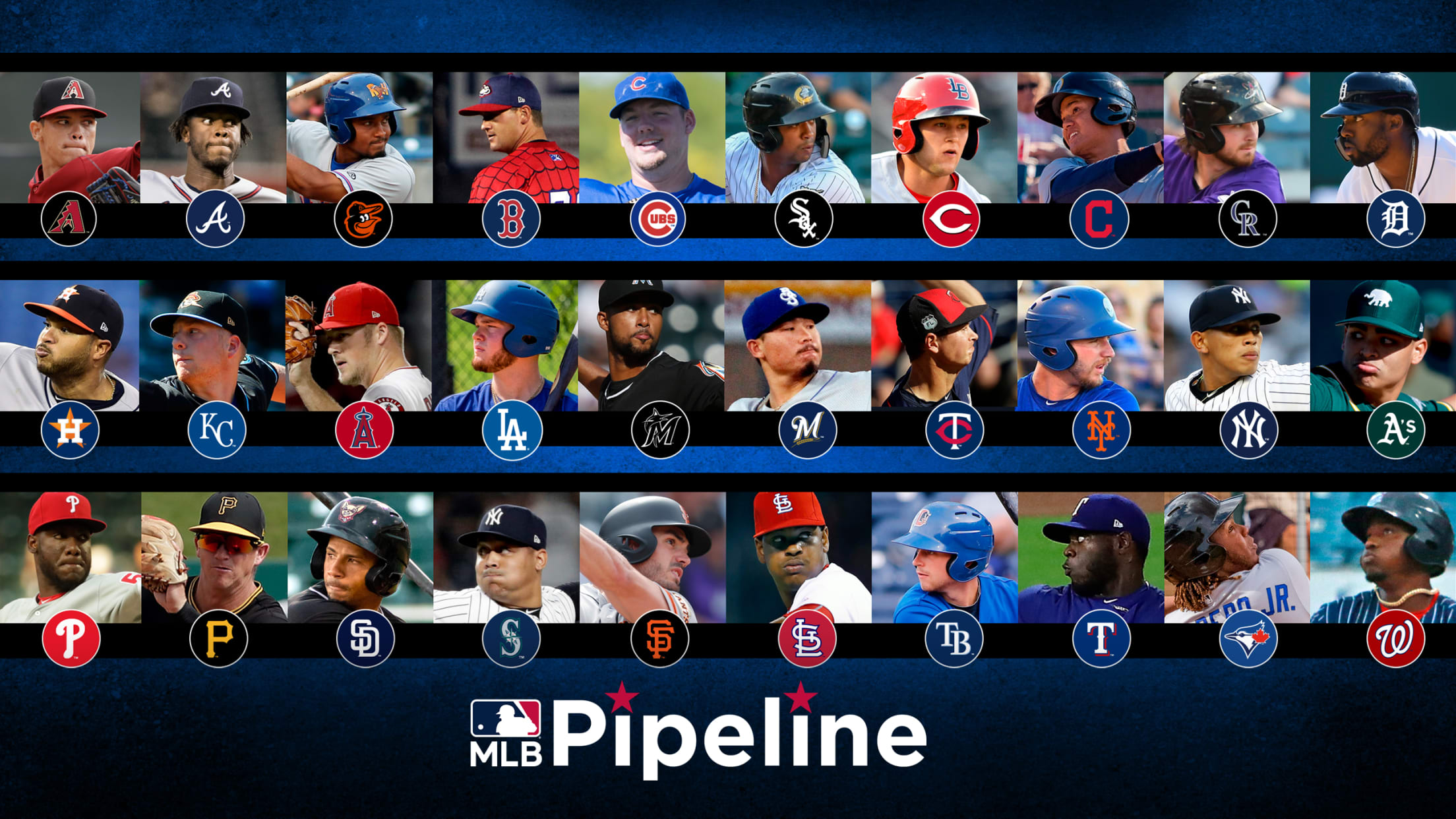 As Spring Training gets underway, MLB.com has taken a closer look at prospects getting the chance to show what they can do in the Grapefruit and Cactus Leagues. For example, there's been a story on 20 prospects likely to be impact rookies during the 2019 season.Our beat writers also singled
Visa issues delay Sucre's arrival to O's camp
Bleier returns to mound after lat injury in 2018; back end of rotation still up for grabs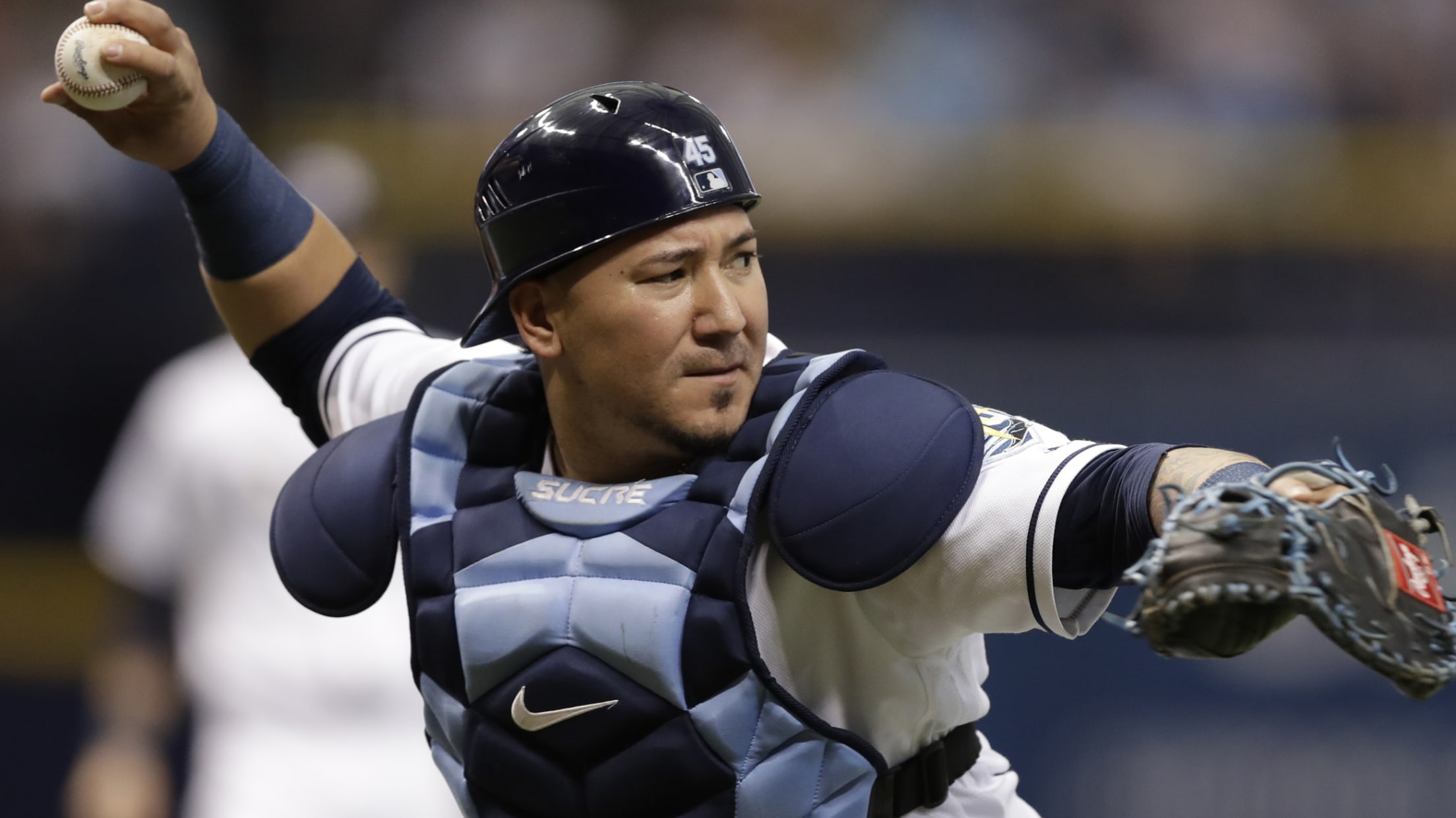 SARASOTA, Fla. -- It may take the Orioles a little longer than expected to fully sift through their fluid and crowded catching situation. The club held its first pitchers and catchers workout on the backfields at soggy Ed Smith Stadium on Tuesday without Jesús Sucre, one of the several veterans
Around the horn: Will Sisco be the starting C?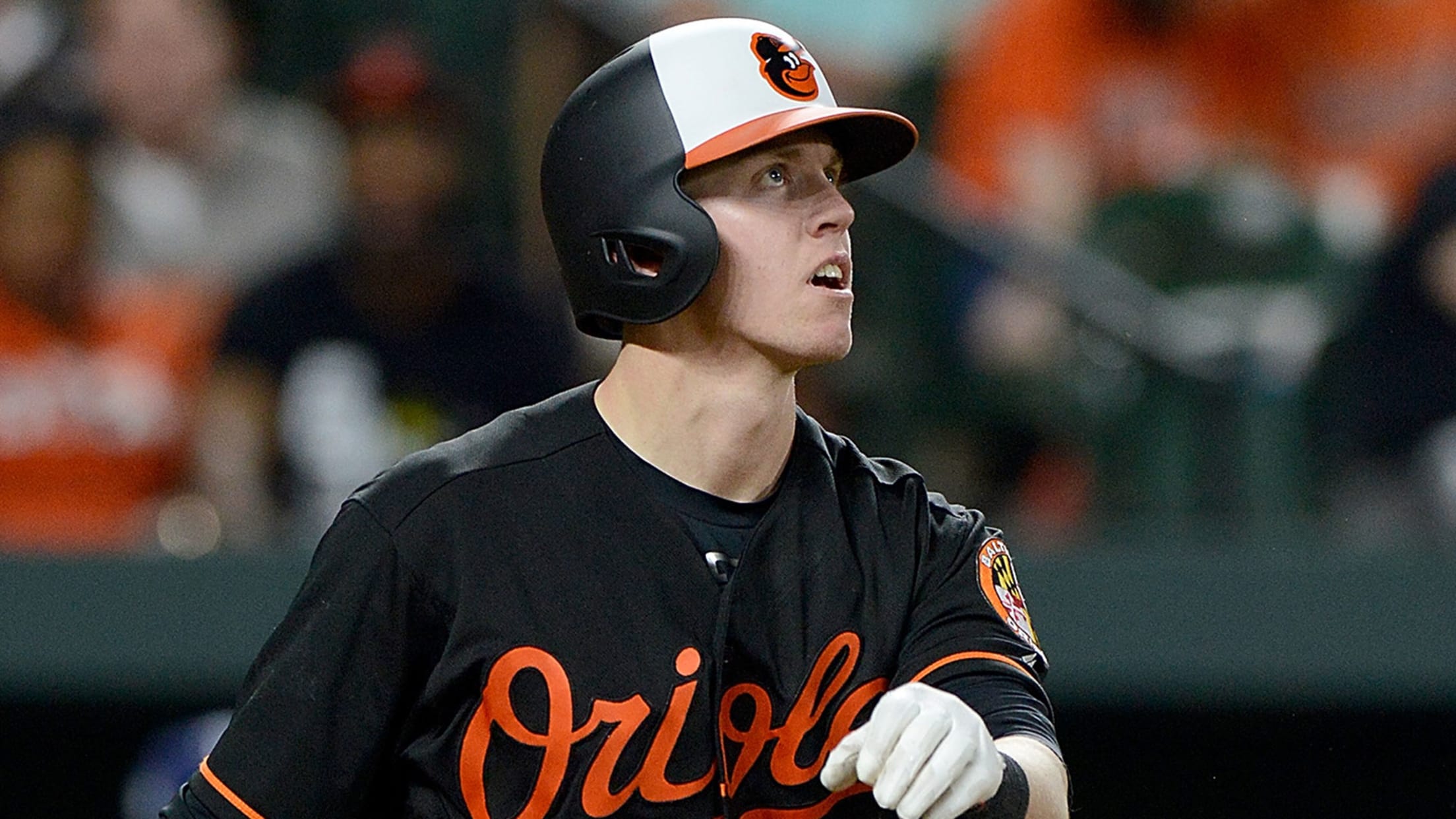 As we inch closer and closer to Opening Day, we'll continue to take a position-by-position look at the Orioles roster options and remaining questions. Now that pitchers and catchers have officially reported to Spring Training, now feels like a good time to take a look behind the plate, where the