Mountcastle, Williams added to O's player pool
Baltimore holds 1st intrasquad game; Iglesias nears debut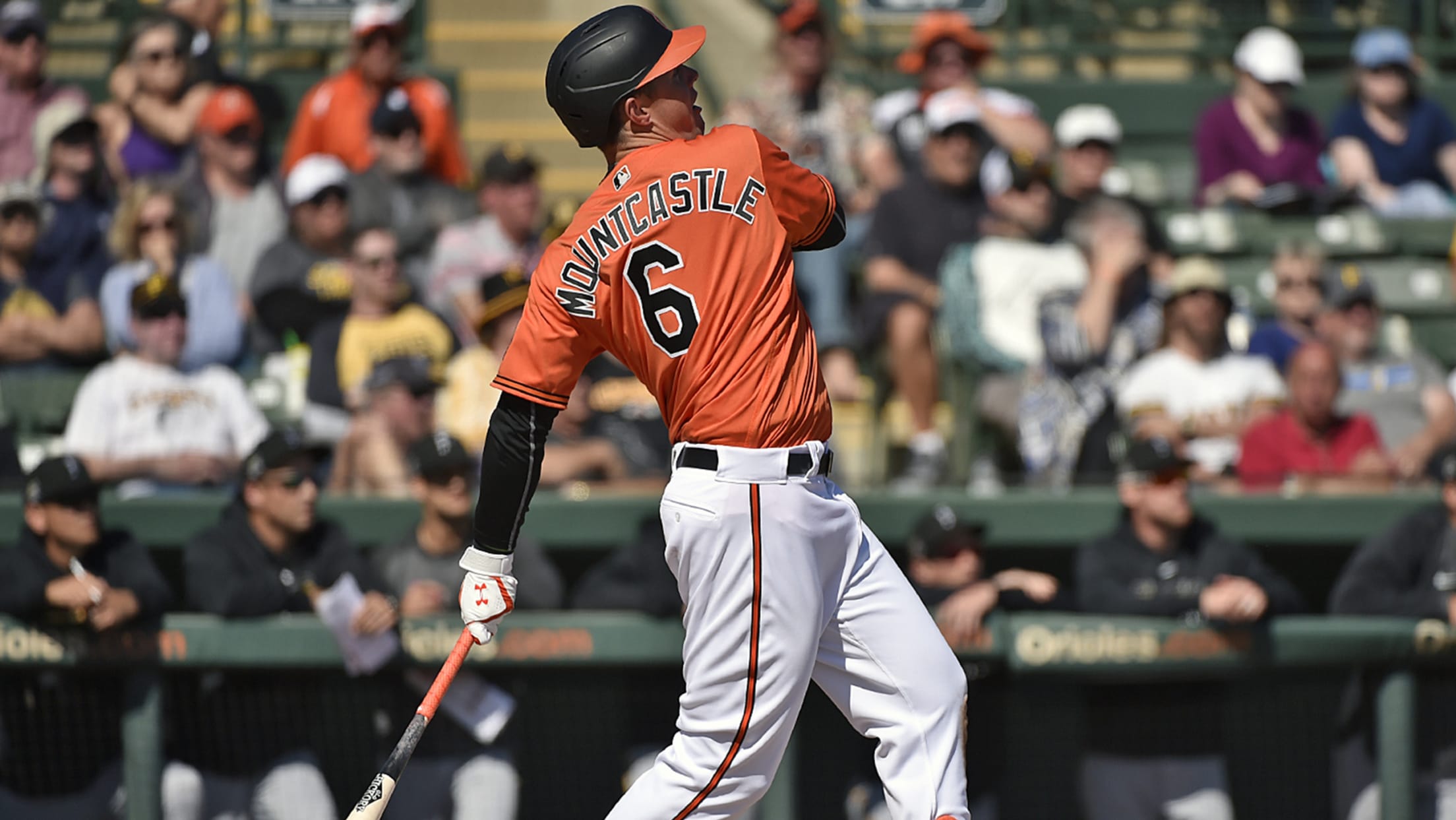 BALTIMORE -- The Orioles added first baseman Ryan Mountcastle and outfielder Mason Williams to their player pool on Wednesday. Manager Brandon Hyde said both players will be reassigned to the team's secondary camp once it opens. Mountcastle and Williams completed their COVID-19 intake screenings on Wednesday. "We're going to have
BALTIMORE -- The Orioles added first baseman Ryan Mountcastle and outfielder Mason Williams to their player pool on Wednesday.
Manager Brandon Hyde said both players will be reassigned to the team's secondary camp once it opens. Mountcastle and Williams completed their COVID-19 intake screenings on Wednesday.
"We're going to have a couple [new] guys come in every day now that we're starting to play games," Hyde said. "These guys won't be in games for a while, but we're going to get them on the field here in a little bit."
Mountcastle is the team's most MLB-ready hitting prospect, ranked No. 4 in the organization by MLB Pipeline. He's not a candidate to make the Opening Day roster, but he is expected to debut this season and will work out with the big league team until the O's secondary camp opens.
Mountcastle could eventually take over some of the reps in right field for Trey Mancini, as well as see time at first base and designated hitter. The 23-year-old had a big season at Triple-A Norfolk in 2019, hitting .312 with 25 home runs and 83 RBIs in 127 games.
Williams played 11 games for the Orioles last season. The 28-year-old hit .267 in 30 at-bats.
Baltimore now has 47 players in its player pool. Top prospects Adley Rutschman (No. 1) and Grayson Rodriguez (No. 2), 2020 first-round Draft pick Heston Kjerstad and perhaps others could be added in the coming weeks.
Intrasquad life
There was a sandlot feel at Camden Yards on Wednesday night for the Orioles' first intrasquad game of Summer Camp. The biggest quirk of their first 7 1/2-inning matchup was the presence of what Hyde called "ghost fielders" -- each team played with at least one corner outfield spot vacant.
It was less a social-distancing measure and more due to necessity, as Dwight Smith Jr. and Anthony Santander aren't in camp due to undisclosed reasons. Both players are in Baltimore and underwent intake testing, but neither has yet to appear at a workout.
Hyde served as the official scorer for any batted ball hit to the vacant positions. The visiting orange team started Austin Hays in center field and DJ Stewart in left, leaving right open. The home white team had Stevie Wilkerson in center and both spots open beside him.
Everything's in place. Let's play ball! pic.twitter.com/pUUVBML5kt

— Baltimore Orioles 😷 (@Orioles) July 9, 2020
The intrasquad game also featured a team official umpiring from behind the mound, and no fans in the stands. Hyde called it "a practice run of what it's going to be like" during the regular season. The Orioles have intrasquad games scheduled each night through the end of the weekend.
"We are going to keep some stats and keep track of how guys are doing from an at-bat standpoint," Hyde said. "We might do some competitive things game-wise toward the end of this. We want guys to get on the mound and get some at-bats before we take it too seriously, but we'll do something competitive with teams before we start the season."
From the trainer's room
José Iglesias (sore back) was held out of action for the second straight day. The veteran shortstop is expected to make his camp intrasquad debut on Thursday.
"Hopefully, he'll get some innings and ABs in [Thursday]," Hyde said.
Rotation station
Remember in spring when the Orioles desired to enter camp with eight rotation candidates? The math is different now, with them preparing to stockpile even more depth.
Hyde said that the club is stretching out at least nine of its 26 pitchers in camp as starters, as well as a few others for swingman/long-relief roles. It is all with an eye toward making sure the O's have enough pitching to get through the 60-game season after using 39 pitchers (including 18 starters) over 162 games last season.
The main competition should be between right-hander Kohl Stewart and veteran southpaw Tommy Milone for the fifth rotation spot behind John Means, Alex Cobb, Asher Wojciechowski and Wade LeBlanc. However, every pitcher being stretched out is likely to pitch for the team in some capacity this year.
Two of those candidates played in the intrasquad opener. Milone allowed two runs and struck out four over four innings, while Tom Eshelman tossed three innings of one-run ball. The loudest swing came from Renato Nunez, who swatted a long solo home run to left-center field during Milone's third inning. Hays lined an opposite-field homer off Eric Hanhold a few innings later.