Ottavino thrills Yankees with 'disgusting' stuff
New bullpen addition fans the side vs. Pirates, has 8 K's in 4 2/3 innings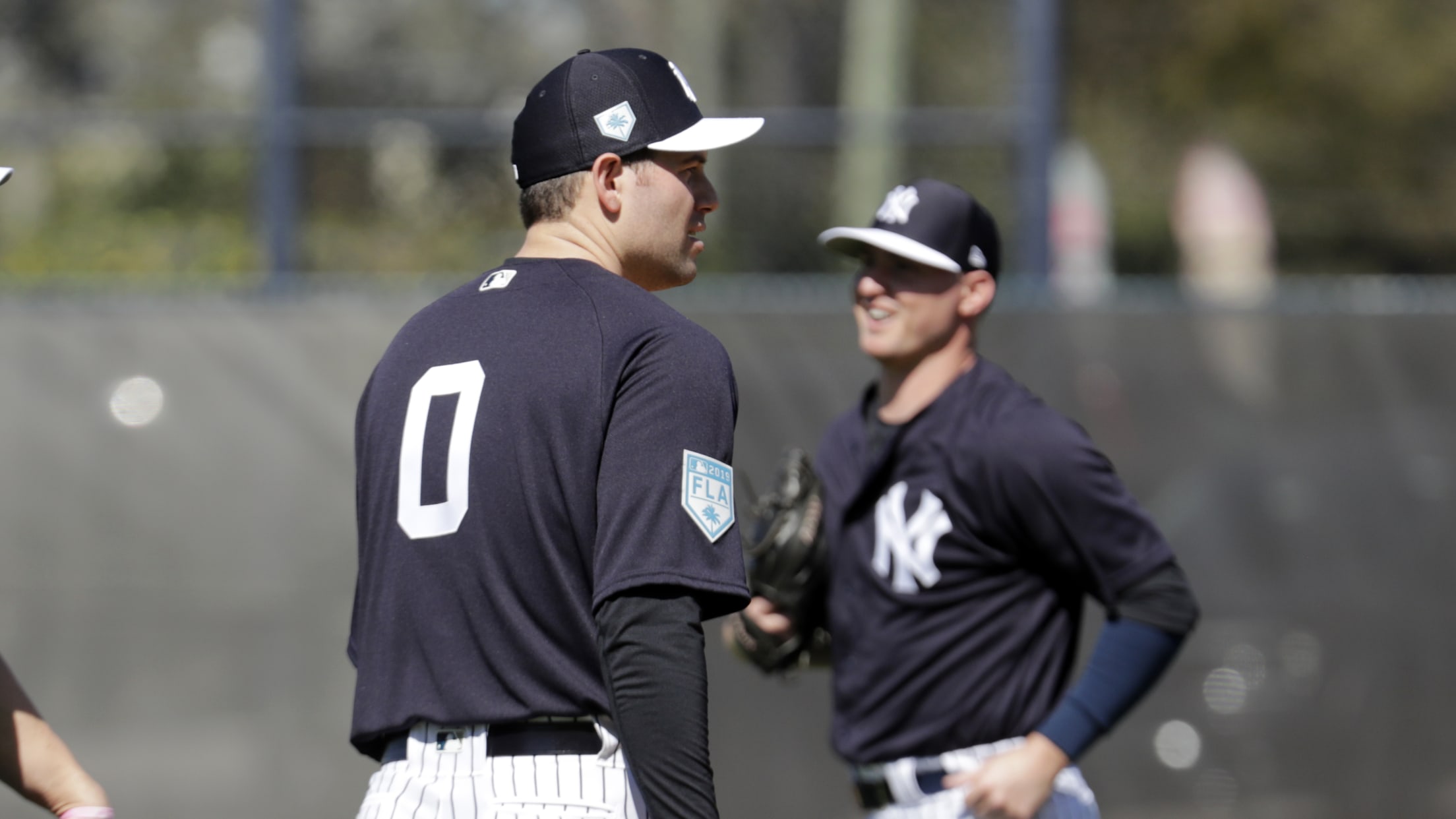 TAMPA, Fla. -- Dellin Betances knew about Adam Ottavino's darting two-seamer and a backdoor slider that breaks like something swiped from a video game, but seeing the combination in practice on a regular basis this spring has swelled the hurler's appreciation for his new teammate. "He's been unbelievable. His stuff
TAMPA, Fla. -- Dellin Betances knew about Adam Ottavino's darting two-seamer and a backdoor slider that breaks like something swiped from a video game, but seeing the combination in practice on a regular basis this spring has swelled the hurler's appreciation for his new teammate.
"He's been unbelievable. His stuff is disgusting," Betances said after the Yankees' 6-5 Grapefruit League victory over the Pirates on Sunday. "Everything he has, a lot of movement. It's going to be fun to watch him."
Making his fourth appearance of the spring, Ottavino struck out all three batters he faced in the fifth inning, whiffing Jason Martin and Starling Marte before freezing Jung Ho Kang on a called third strike.
"That was pretty lights-out," manager Aaron Boone said. "You know when guys on defense are running off talking about it, like, 'That's not fair.' That was one of those when you see the highlights of Otto, you can add that one to it. The ability to run the fastball back, obviously the slider, the command to both sides. That was a pretty showy performance."
And to Betances' disbelief, it didn't take long at all.
"I was talking with the guys, kind of went for a bathroom break and then next thing you know he's already done," Betances said. "He struck out the side? This is insane."
The 33-year-old Ottavino has struck out eight against a walk in 4 2/3 spring innings, allowing two runs and four hits (3.86 ERA).
"It's such a different look," J.A. Happ said. "Ottavino, [Zack Britton], all those guys have a unique pitch that's elite. It should be fun to watch those guys go to work."
Low power mode
Betances' performance did not go as swimmingly as the one generated by Ottavino, his locker neighbor to the right.
Making his third spring appearance, Betances could not complete his assigned seventh inning, permitting a Cole Tucker triple and a Kevin Kramer RBI single before striking out Ryan Peurifoy. A fatigued Betances then issued back-to-back walks before Boone emerged from the dugout.
"I felt like crap today. I didn't really have energy out there," Betances said. "It's just a matter of building. I think every outing has gone better, which is usually the case. I'm not really worried. I'll be ready to go once the lights come on and we've got about 50,000 in the stands."
Boone said he believes that Betances is continuing to find his mechanics after a late start to his spring. His velocity touched 93 mph for the second consecutive outing, having been clocked between 88-91 mph in his first appearance.
"We keep getting asked about the velocity, which we're not overly concerned about," Boone said. "I think that's just building arm strength as well. I thought maybe today he tried to manufacture it a little bit, so he lost a little bit of his command and labored out there. We want him to just continue to stay in his mechanics because that's a thing he has done so well over the last year. The velo and arm strength will get there."
Behind the numbers
Happ allowed three runs and five hits over four innings, including back-to-back homers to Kang and former Yankee Francisco Cervelli, but the lefty also struck out six without a walk.
"He's had better lines down here, but as far as building arm speed, I thought it was the first time he had his Happ fastball," Boone said. "It may be 90-91 [mph], but it's playing."
Happ said he was "encouraged with feeling a little more life," which he thought made his pitches sharper.
Too low
Troy Tulowitzki struck out twice in an 0-for-3 performance and is hitless in his last 12 at-bats dating to March 3, with nine strikeouts.
"He's just a little late," Boone said. "That's a result of, you miss a year and a half and you face some big-time velocity. He'll get there. I'm convinced of that, timing-wise, but that's what it is. Even over the last few days, I feel like he's had a lot of good swings on balance. He's fouled some pitches back, but that's a timing thing. Eventually, he'll start to get results there."
Trainer's office
• Aaron Hicks (lower back stiffness) ran, played catch and took swings from both sides of the plate on Sunday. He is expected to see a doctor on Monday, but Boone said he does not expect Hicks to be ready to play on Tuesday.
• Didi Gregorius (Tommy John surgery) will be evaluated on Monday. The shortstop has been swinging a fungo and hopes to progress to a regular bat. That would be followed by tee work, hitting underhand tosses and then batting practice.
Minor moves
Right-hander Albert Abreu was optioned to Double-A Trenton prior to Sunday's game. Rated as the Yankees' No. 3 prospect by MLB Pipeline, the 23-year-old Abreu made three appearances this spring, limiting opponents to no runs and four hits over 4 1/3 innings. Abreu walked three and struck out three, hitting a batter.
Up next
Following an off-day on Monday, the Yankees return to action on Tuesday, hosting the Orioles in a 6:35 p.m. ET contest at George M. Steinbrenner Field. Jonathan Loaisiga starts for New York, opposite Mike Wright Jr. for Baltimore. The game will be broadcast on YES Network, WFAN and MLB.TV.