Yankees Magazine: CC inspires to keep on running for a cause
With Sabathia's charity behind him, Yankees Magazine senior editor finishes NYC Marathon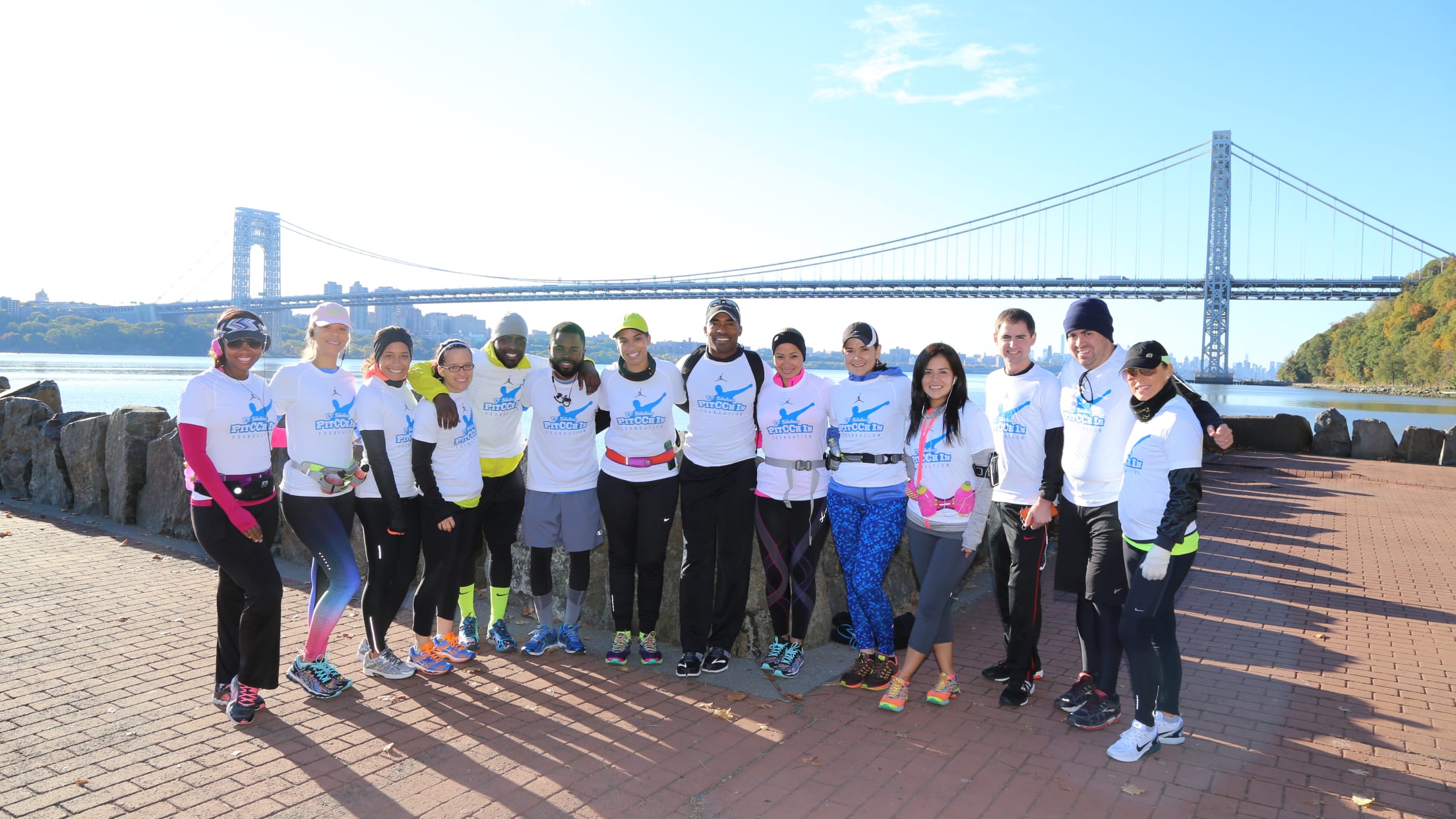 With about five miles to go, I switch on the Hamilton cast recording, relying on a most unlikely production about the most unlikely of America's founding fathers to carry me home on this most unlikely journey. Young? Not as youthful as I felt this morning. Scrappy? Sure, but I could
With about five miles to go, I switch on the Hamilton cast recording, relying on a most unlikely production about the most unlikely of America's founding fathers to carry me home on this most unlikely journey. Young? Not as youthful as I felt this morning. Scrappy? Sure, but I could use a bit more pluck. Hungry? You bet.
The past five hours -- enough time to drive from here to western Pennsylvania -- have seen me cross rivers, climb hills and accept high-fives like shots of adrenaline. About an hour ago, my right knee locked up, making the endgame feel like a private hell in an all-too-public sphere. As the finish line creeps closer, and I limp past throngs of would-be supporters, I cringe at their well-intentioned words. Don't quit! offers a probably kind-hearted woman whom I hate quite a bit at the moment.
Lady, I yell under my breath, if I were going to quit, I would have done it hours ago.
Even if I wanted to, I couldn't possibly stop now. Not with the end of my second New York City Marathon so close. Not with 20-plus miles in my rearview mirror. Plus, our dinner reservation is near the finish line, so I've got to make my way there anyhow. Delirium may be setting in, but rationalization is a wonderful thing.
Mostly, though, I can't give up after all that has gotten me to this point. The training. The fundraising. The support. I'm running with a silhouette of CC Sabathia on my chest, with the wind from his PitCCh In Foundation at my back, part of a team of athletes and average joes. Dozens of friends and family members have contributed nearly $6,500 to this quixotic quest, and I'm not going to embarrass myself in front of them.
I recall a hunch I had after the 2014 race that I never wanted to run another marathon. I was pretty sure that I had been right, even before my knee stopped working in 2015. But whatever regrets or concerns I had, now isn't the time to dwell on them, impossible though it may be. I can't quit. I can't stop.
Not today. I'm not throwing away my shot.
The Delivery
On Nov. 1, 2015, 49,617 runners completed the TCS New York City Marathon, trekking the 26.2 miles from Fort Wadsworth in Staten Island to Tavern on the Green in Central Park. Eighteen of us ran on behalf of the PitCCh In Foundation, having raised money and contributed time in support of Yankees pitcher CC Sabathia's charity.
Among us, there was a physical education teacher, a special education aide, a political consultant and a retired Pro Bowl running back. Some of us looked like runners, some of us (yours truly, to be sure) decidedly not. There were first-timers, a ninth-timer, and plenty of never-againers. We had a sub-4-hour finisher and a bunch that took more than 5 1/2 hours.
Sabathia says that his foundation, which focuses on supporting inner-city kids by refurbishing ballfields and helping with school supplies and other basic needs, has a really simple goal: making a difference.
"Just one small, little piece at a time," he says, "really putting in that time to try to change a kid's life."
CC and his wife, Amber, regularly talk about when he was 9 years old, back where they grew up, in Vallejo, Calif., and star A's pitcher Dave Stewart came by his Boys & Girls Club. The small fact that a superstar athlete would be willing to spend time with local underprivileged kids resonated with Sabathia then, and now that he's in a similar position as Stewart was a few decades ago, it still does.
"I was a product of foundations like this, Boys & Girls Clubs and different things, growing up," Sabathia said. "I want to be that tool for kids in the inner city to try to get to the next level."
The marathon team raised more than $94,000 for that effort this year, besting the $80,000 goal that the foundation's program director, Candy Crary, had set. Overall, the race is a windfall for charities across the country -- the 2014 event saw some 300 charities raise approximately $34.5 million -- and throughout the New York Road Runners, which organizes the race, there is a sense of the mutual benefits of running for a cause, whether it's NYRR's own Team for Kids charity or any of the others that partner with the event.
"I think when a charity runner does a race with a charity and has a positive experience, it does really enhance the marathon experience, because it's not just about you going out and running the race," says Michael Rodgers, NYRR's vice president of development and philanthropy. "It's about you doing it for others. I joke with people all the time: 'Do you want some extra help? How about I put 200,000 kids behind you and have them push you to the finish line.'"
The Noise
It's the noise that really gets you on marathon Sunday.
The training -- for some, a 12-week process; for others, 20 or more -- can be so solitary. Just you, a suburban sidewalk and some music. Then, the day of the race comes, and there's just so much happening. Thousands of volunteers. About 2 million fans lining the city streets. They scream from morning, when the elite athletes are racing by, all the way to sunset, when a senior editor from Yankees Magazine limps along miserably. The screaming is a constant, a steady stream for almost the entire race.
It's not altogether unfamiliar for Tiki Barber, who heard plenty of cheers during his 10-year NFL career. Those long runs to the end zone, when he'd broken free of the pack and saw daylight ahead -- he remembered them while pushing himself up First Avenue in Manhattan. The noise carried him along a stretch that covers much of Miles 16 through 20 -- right around the point of the race when most runners hit the dreaded "wall."
"It never ends," Barber says. "It goes for blocks and blocks and blocks."
For the second straight year, Barber ran the marathon for the PitCCh In Foundation. But he wasn't just a celebrity signed on to bring name recognition to the charity's efforts. Barber joined the team for a training run across the George Washington Bridge and down the West Side Highway in October, and he attended some of the events in the run-up to the race. He is a friend of the Sabathias, and he believes in what they're doing.
"I grew up way under the median income line in southwest Virginia," Barber says, "and being encouraged by coaches and parents and my teammates was something that allowed me to excel as a student and as an athlete. And that's what PitCCh In tries to do."
As he approached the PitCCh In cheering section just before the intersection of First Avenue and 74th Street, Barber could see his wife, Traci, and their daughter, Brooklyn, as well as a giant picture of himself being held by Amber Sabathia. Amber -- along with a crew of the foundation's supporters, friends and runners from past years -- spent the whole day planted at that location, cheering on the charity's 18 runners. They yelled and screamed, passing out Gatorade and bananas and salt packets, all the while flashing the giant head shots for each passing team member.
"We were tracking like crazy with two phones in hand," Crary says. "We really wanted to make sure we didn't miss any runner. We knew this was like the World Series for the runners, so we wanted to make sure we caught everyone, and if you needed anything, especially at that 17-mile mark, where you hear about how challenging it is … we wanted to be that cheerleader."
The Family
Amber Sabathia ran the race in 2014, the second year that the PitCCh In Foundation fundraised off the marathon.
"The year before," she says, "I went out and I got runners, and I had no idea how hard it was to run a marathon. So I said, 'I can't ask other people to do this without doing it myself.'"
A mother of four, Amber jokes that she worked harder than CC did that year, between the relentless training and all the other elements that go into her very hands-on role with the charity. (In fairness, the pitcher spent much of the season on the disabled list.) She brought a great deal of attention to the foundation by recruiting friends, such as Barber; prominent New York radio personality Angie Martinez; and Alexis Stoudemire, wife of former Knicks big man Amar'e Stoudemire.
With her connections, her philanthropic drive and the media attention that the recognizable names brought, Amber was able to personally raise more than $75,000 last year, part of an overall haul of $210,000 for the foundation. This year's runners had a smaller task, with most required to raise $5,000 in exchange for the coveted race entry. But Amber asks more of her team members than a simple check. She puts her runners to work, making sure that they get to see where the money goes, whether it's a field renovation that can cost as much as $500,000 or any of the smaller, more tangible initiatives.
In early September, members of the marathon team visited Public School 46 in the Bronx to stuff backpacks with school supplies for students in one of the poorest communities in New York. Crary says they chose the school because nearly 100 percent of the students qualify for free lunch programs.
"It's one of my favorite things that we do every year," says Kerry Grimaldi, who has run with the PitCCh In team all three years, and has now run nine marathons overall.
If stuffing a backpack with folders, notebooks and hand sanitizer seems a bit small, that's because it is -- and it's intentional. Lifting up underprivileged youth is a cause that has impacted the Sabathias directly. They're grateful that so many charities raise money for medical research, but they also know that they're most effective when they're most affected.
"We want to do something that touches home," Amber says. "Because when it does, you put more of your heart into it. You put more work into it. You fundraise harder because you know where it's going."
One of the key benefits of all that Amber demands of her team, though, is that it builds connections that last much longer than the months spent training for the race. She says that once you've run with the foundation, you're always a member of the team. The runners echo the sentiment.
"Seeing it firsthand, seeing the impact directly after putting together all those backpacks, and knowing the impact that it's going to have on those kids, was huge," says Bryan Watkins, a political consultant who ran for the first time this year.
"Without a doubt, I think this is one of those things where, whether I run the race next year or I don't, I want to continue to help this charity."
The Struggle
In the end, I battled through those last miles, crossing the finish line in 5 hours, 59 minutes, 9 seconds -- almost 45 minutes slower than I had in 2014. I told myself, as my knee screamed through the last 9 miles, that I didn't care about my time at all, that it was "Finish Line Or Bust." But in the end, even if more than 45,000 runners finished with better times than mine, I was thrilled -- and uncomfortably relieved -- to see that my time started with a 5, even with so little slack to spare.

PitCCh In Team 2015 Marathon Finishers
Midway through the race, around the Pulaski Bridge, where Brooklyn meets Queens, I was changing the music on my phone when I had the weird urge to track the race results. Checking a sports score is something that I probably do 39 times an hour, much to my wife's delight. Only this time, I was checking the results of an event that I, myself, was competing in. It was surreal. Meb Keflezighi, who won the race in 2009 and took the Boston Marathon title in 2014, thinks that there's little that separates those at the front from those at the back.
"It takes the same effort," he had said prior to this year's race, "just some are faster. But the duration, the pain, the agony that goes through it, it is the same."
The marathon really blurs lines. Maybe someday I'll play 18 holes at Augusta National. But I'll never get a chance to do it on Masters Sunday. At the New York City Marathon, though, I'm on the same starting line as the world's greatest runners. The winners had a better day than I did; the rest of us tied for second.
After the race, Barber and I chatted about our experiences. He and I have a lot in common. Tiki played 10 years in the NFL, made three Pro Bowls, and ran for 234 yards and three touchdowns in his final game; I dabbled in high school sports. But the marathon is so democratizing. As we commiserated about the struggles we both had in the race, neither of us could really figure out what had given us so much trouble in two consecutive years. We wondered if either of us could ever run a truly great race, whether it was a mountain we could climb. (Tiki promised to consider my suggestion that he have his identical twin brother, Ronde, take over at Mile 18.)
"A marathon, it humbles you," he says. "I don't care how good you are, or how fast you end up running the race. At some point, it's going to humble you.
"Success in the New York City Marathon is finishing. It's hard."
When Amber finished the marathon in 2014, she tucked herself into CC's arms and thought about what she had achieved.
"It was something life changing for me in that 26 miles. It was almost like I could do anything," she recalls. "As a mom, as a wife, as a woman. I could do anything."
That belief continues to fuel the PitCCh In Foundation's efforts -- and it will stay with those of us who ran for the team, too. CC Sabathia had a rough year, with on-field struggles and personal issues. But on one day in November, 18 people, from all backgrounds, ran 26.2 miles through the streets of New York with his picture on their shirts. With support from CC and Amber, and inspiration from the foundation's mission, we all finished, and in the process, we raised almost $100,000.
As for me, it turned out I had been right; I hadn't needed to run another marathon. I hadn't needed to build on my prior experience. But so many of my once-and-forever teammates are still chasing something out on the streets. They'll be at the start line again this coming November, repping CC and Amber's charity across all five boroughs. They'll tell the PitCCh In Foundation's story through their thousands of footsteps. And whether they run the race again in the future, or if they, like me, will just look for other ways to help CC and Amber, their impact will stretch much longer than 26.2 miles.
Jon Schwartz is a senior editor for Yankees Magazine. This article appears in the March issue of Yankees Magazine. Get this article and more delivered to your doorstep by purchasing a subscription at yankees.com/publications.