Betances set to undergo another MRI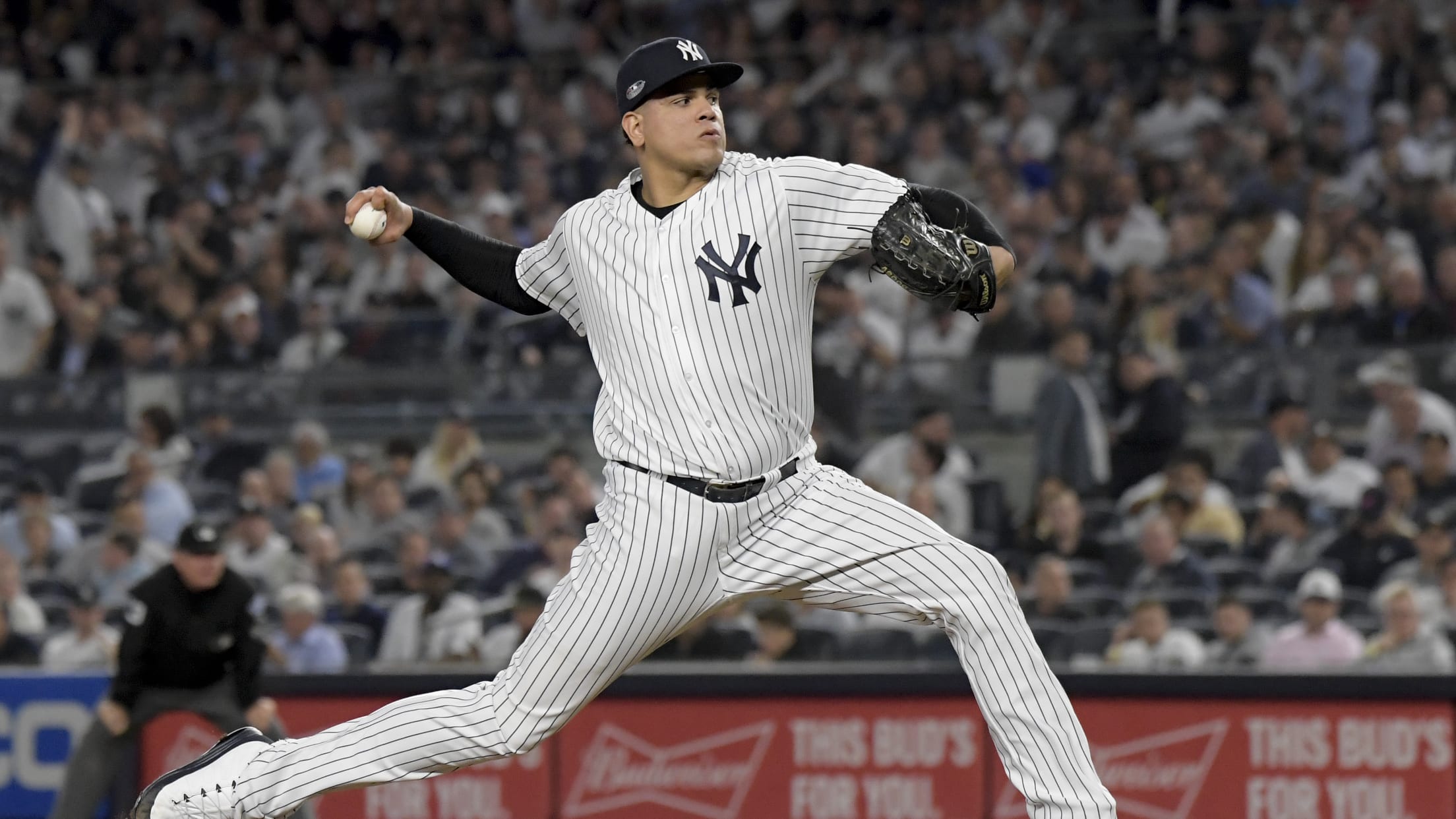 NEW YORK -- The Yankees envisioned Dellin Betances as a pillar of what they hoped would be the most dominant bullpen in the Majors. That blueprint once again appears to be on hold, as the right-hander is set to undergo another MRI examination on Tuesday. Betances had an MRI last
NEW YORK -- The Yankees envisioned Dellin Betances as a pillar of what they hoped would be the most dominant bullpen in the Majors. That blueprint once again appears to be on hold, as the right-hander is set to undergo another MRI examination on Tuesday.
Betances had an MRI last week in Tampa, Fla., after skipping a bullpen session due to soreness, and manager Aaron Boone said that the current discomfort is in Betances' right lat area. Betances was examined on Monday by team physician Christopher Ahmad.
"He's still a little bit sore. We'll look at the MRI and then have a better feel of things," Boone said. "We're going to try to make sure we isolate the spot as best we can to see if there's anything going on in there."
Betances has yet to pitch this year, having been sidelined in Spring Training due to a right shoulder impingement. The news is more encouraging regarding right-hander Domingo German, who had an MRI on Monday that "looked pretty good," according to Boone.
German is on the 10-day injured list with a left hip flexor strain and is scheduled to have a cortisone injection on Tuesday, which Boone said could keep the hurler tossing.
"Hopefully that does the trick," Boone said. "He probably won't go on the trip with us, but he should be able to continue throwing."
Swing and a miss
The Yankees were interested in free-agent left-hander Dallas Keuchel, but did not raise their offer above the $17.9 million qualifying offer level, Cashman confirmed. Keuchel instead signed with the Braves for one year and $20 million, which will be worth approximately $13 million as a pro-rated deal.
"We made an offer that we were comfortable with and that was it. Atlanta made a higher one," Cashman said. "It wasn't like a back and forth. We had two offers that we ultimately made and then we stopped and waited to hear if it was a yes or a no. We were very transparent about where we're at. There was a financial limitation until we go to the next luxury tax level. That was obviously conveyed. That pushes next year's No. 1 pick back, so there are a number of different penalties associated with that.
"... When you're dealing with this free-agent stuff, you don't know what the other opposing teams are doing. You don't know what the numbers are. You find out after the fact. When you lose out, you hope you were blown out of the water. You don't want it to be by the hair of your chinny chin chin."
Cashman said that he continues to engage the marketplace in an effort to fortify the team's starting pitching. Last year, the Yankees made July trades for Zack Britton, J.A. Happ, Luke Voit and Lance Lynn.
"Whatever you do, it usually hurts to do it, so you try to navigate it the best you can," Cashman said. "The most important thing to do is make sure you bring something in that's going to have an impact on us in a real positive way. We were able to do that last summer and we need to do that again this summer."
Bombers bits
• Monday's rainout indicates that the Yankees will have to add a new starter to the rotation on Saturday against the White Sox. Boone mentioned Chance Adams, David Hale or an opener as possibilities.
• Luis Severino (right rotator cuff inflammation) has extended his flat-ground throwing program to 90 feet. Cashman said that Severino remains on schedule to rejoin the active roster after the All-Star break.
This date in Yankees history
June 10, 2004: Bernie Williams became the seventh Yankees player to collect his 2,000th career hit with a single to right field off the Rockies' Jason Jennings. New York defeated Colorado at Yankee Stadium, 10-4.