'Playoffs are different,' and Yanks look ready
DJ LeMahieu said that his confidence in this Yankees club never wavered, even when they sputtered and lost six of their last eight regular-season games. He continues to believe that they are the most talented team in the playoffs, planning on a long month of baseball ahead. "It's no secret
DJ LeMahieu said that his confidence in this Yankees club never wavered, even when they sputtered and lost six of their last eight regular-season games. He continues to believe that they are the most talented team in the playoffs, planning on a long month of baseball ahead.
"It's no secret that we were inconsistent this year, all around," LeMahieu said. "But at the same time, we did a good job of turning the page. The playoffs are different. If you had an inconsistent year, you can turn it on here. If you had a great year, you can lose it real quickly. I just think we're in a really good spot."
• Judge blast sets tone for Yankees
LeMahieu said that Tuesday's 12-3 AL Wild Card Series Game 1 victory over Shane Bieber and the Indians was one of the team's most complete performances of the year, capping a regular season in which the Yanks finished 33-27 to secure the American League's No. 5 seed.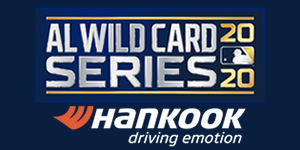 Though New York's 22-9 record at Yankee Stadium suggested they could have trouble during a postseason where all of the games would take place away from the Bronx, LeMahieu said that he wasn't affected by the idea of living out of a suitcase through the end of October.
"I don't think the storylines really bothered us, but we knew deep down that we haven't been ourselves consistently," LeMahieu said. "We felt that, we knew that. We knew we were better than what we were doing. I feel like we turned the page on the regular season, really came out [Tuesday] and played with focus."
On the flip side
Gio Urshela has been on the other side of a Yankees-Indians postseason series at Progressive Field, and he is hoping for a more favorable outcome in this one.
As a 25-year-old, Urshela manned third base for Cleveland in its five-game American League Division Series loss to the Yankees in 2017, when the Tribe blew a 2-0 series advantage. Urshela committed two errors in Game 4 at Yankee Stadium, including one that sparked a four-run frame in New York's 7-3 win.
"I'm always excited to come to Cleveland," Urshela said. "I spent most of my career with the Indians. I feel really happy to be back, playing on the opposite side. It's really weird, but it feels fine. It feels good."
Known as a defensive whiz then, Urshela went 2-for-12 (.167) in that ALDS, coming off a year in which he batted .224 (35-for-156) with one homer and 15 RBIs. He has been a more complete performer since joining the Yankees, showcasing excellent defense while compiling a .310/.358/.523 slash line (133 OPS+) in 175 games.
"I feel like quite a different player now -- different mentality," Urshela said. "But the goal is still the same. That's why we're here."
Back in there
Gary Sánchez returned to the lineup for Game 2 after being benched in favor of Kyle Higashioka, who guided Gerrit Cole through a 13-strikeout performance. Manager Aaron Boone has said that he believes the Yankees will need contributions from Sánchez and Higashioka if they are to reach the World Series.
"I know how capable he is, how talented he is," Boone said. "Even though the results weren't great for Gary down the stretch, I do feel like the last four to six weeks, the at-bats have been considerably better. I know the impact he can have with one swing."
Wednesday marked the first time in Sánchez's career that he has started a game batting ninth in the lineup. Sánchez batted .147 (23-for-156) during the regular season, the lowest average ever for a Major League player who hit at least 10 home runs in a season.
"He's had a handful of balls that have just missed going out to center field," Boone said. "His walk rate has ticked up a little bit. He's not chasing as much. He's a lot closer to the hitter we'll see when he's at his best … [but] the results haven't quite followed."
He said it
"I've been in my office a lot, flipping back and forth, seeing what's going on in the league. I'm sure the real baseball fans are in a little bit of heaven today, getting to see all these games." – Boone
This date in Yankees history
Sept. 30, 1984: Don Mattingly went 4-for-5 in a 9-2 victory over the Tigers, raising his batting average to .343 and edging teammate Dave Winfield by three points for the AL batting title -- the only one of Donnie Baseball's 14-year career.