Stanton on Harper's deal: 'I think it's great'
Yankees slugger's $325M mega-deal eclipsed by newest Phillie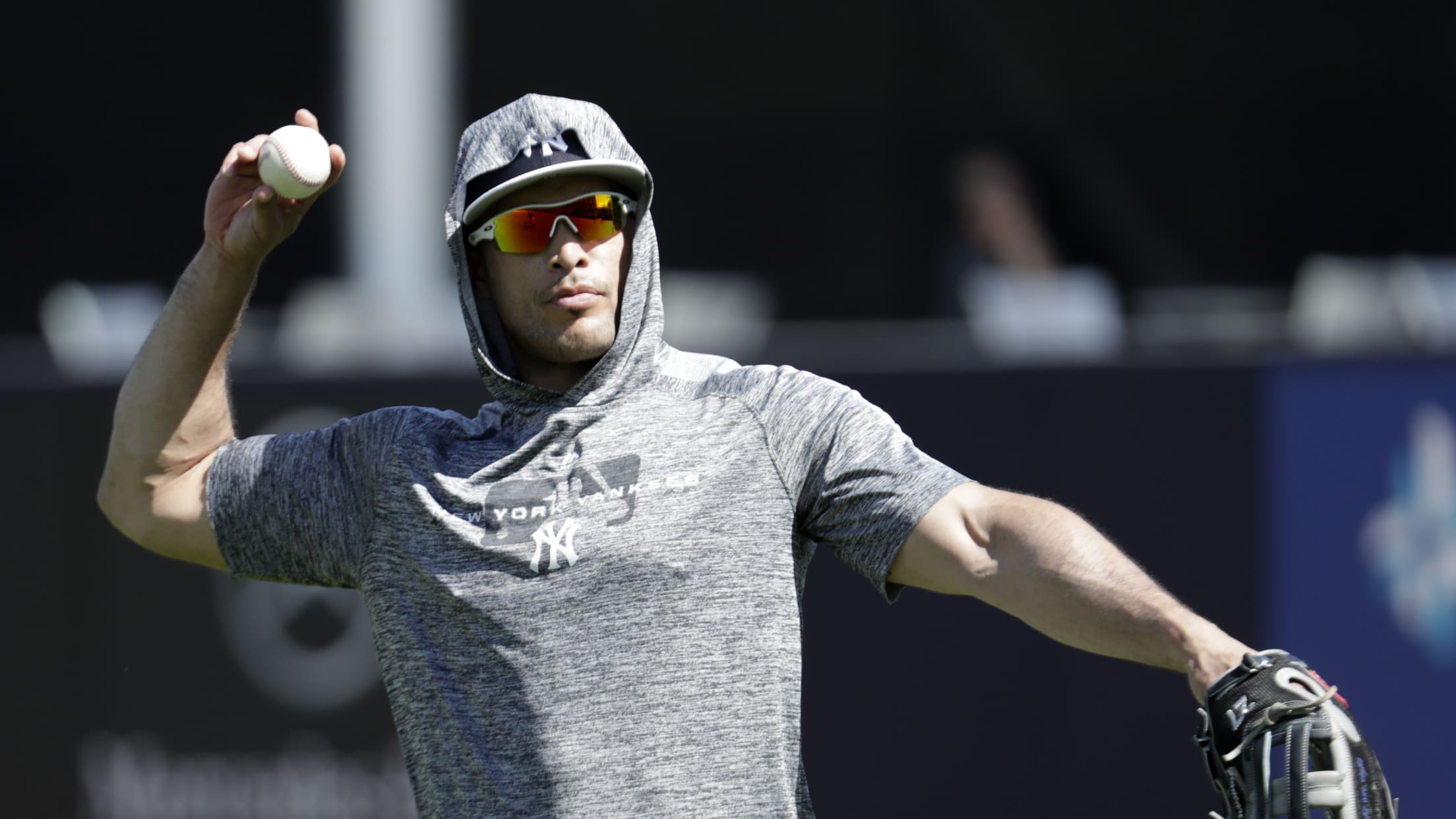 TAMPA, Fla. -- Giancarlo Stanton strolled into the Yankees' Spring Training complex on Thursday morning, still possessing the most lucrative contract in baseball history. He departed later that afternoon, having ceded that honor to Bryce Harper. While the Yankees were on the diamond, Harper and the Phillies agreed to a
TAMPA, Fla. -- Giancarlo Stanton strolled into the Yankees' Spring Training complex on Thursday morning, still possessing the most lucrative contract in baseball history. He departed later that afternoon, having ceded that honor to Bryce Harper.
While the Yankees were on the diamond, Harper and the Phillies agreed to a 13-year, $330 million contract, eclipsing the 13-year, $325 million deal that Stanton received from the Marlins in November 2014.
"I think it's great. Good for him. Good for the city of Philadelphia," Stanton said after the Yankees' 8-6 Grapefruit League victory over the Pirates. "I wasn't really worried about it, but it was going to get beat eventually. It doesn't matter. Great for him, for sure."
Combining Harper's landmark contract with Manny Machado's 10-year, $300 million Padres commitment and Nolan Arenado's eight-year, $260 million extension with the Rockies, Stanton said that the recent surge of mega-deals represents a positive sign for the sport.
"You've got three contracts over [$250 million], it's good," Stanton said. "It took a bit longer than we would have wanted, but at the end of the day, it gets done. Hopefully, it helps for free agents that don't [have to] wait into Spring Training for the other-tier guys."
Yankees manager Aaron Boone said that word of Harper's contract circulated through the dugout during Thursday's game, with guest instructor Nick Swisher loudly announcing the breaking news.
"You usually can hear Swish. I think I heard it first echoing from him," Boone said. "A lot of iron. Interesting. I guess I'm glad he's not in our league."
Though the Yankees entertained Machado with a December visit to Yankee Stadium, they never expressed interest in Harper. Boone said that there was no point of the offseason in which he considered the 26-year-old slugger to be a realistic fit for the Yankees.
"Great player. Hard worker," Troy Tulowitzki said. "I see him in Vegas in the offseason. I'm happy for him, and I wish him the best."
Brett Gardner, the Yankees' longest-tenured player, made his debut in 2008. His time as a Major Leaguer thus far is one year shorter than the length of the Phillies' commitment to Harper, which runs through 2032.
"This will be my 12th season. To think of it like that, it's a long time," Gardner said. "But you're talking about one of the most dynamic players the game has seen -- not just in our generation, but ever. I know Philly has got to be happy with the moves they made this offseason."