Holder sent down; 'I've never struggled like this'
Right-hander allows 5 runs on 2 HRs without recording an out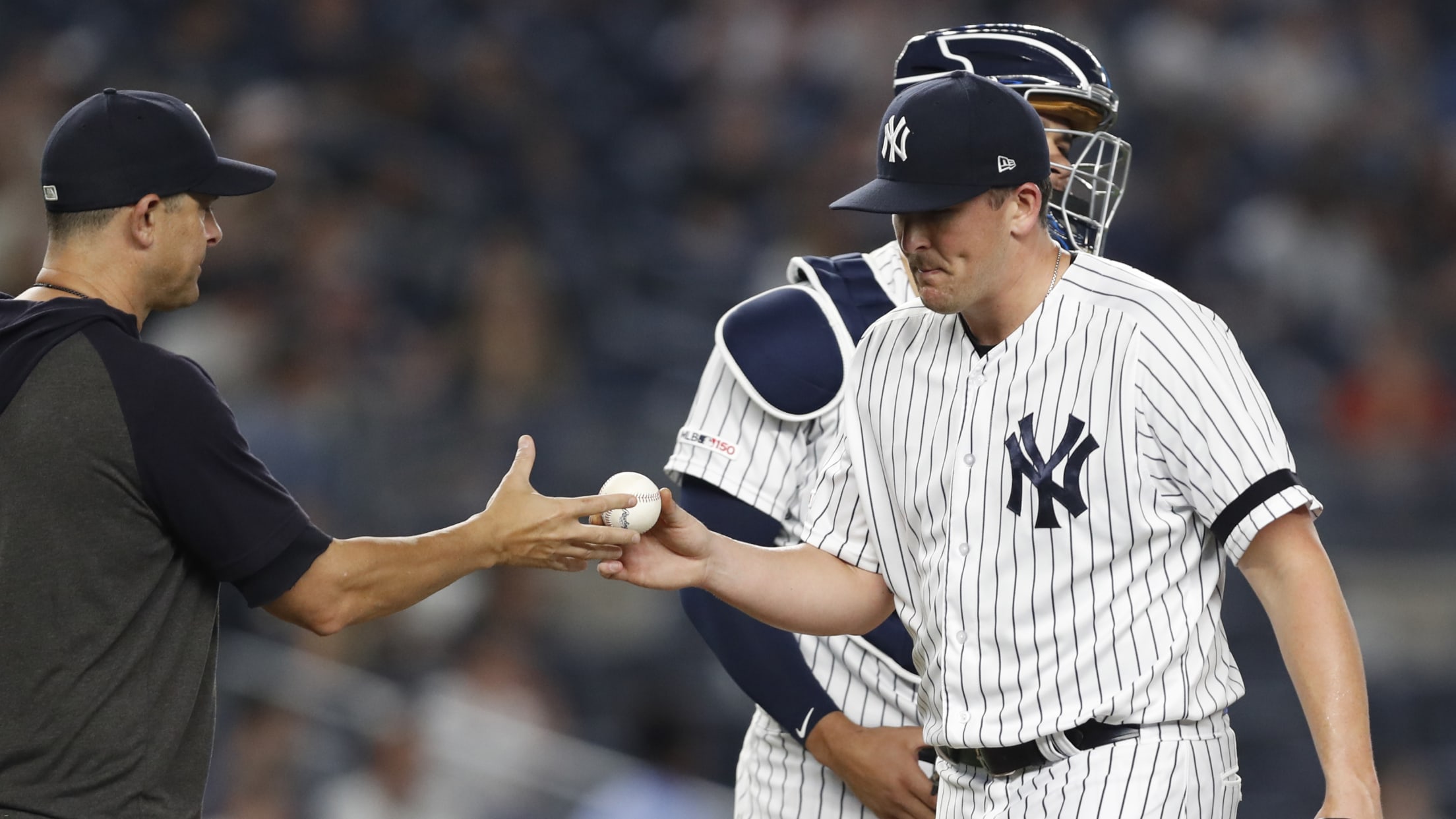 NEW YORK -- Jonathan Holder said his entire season "has been a grind," and Monday had to be the low point. After watching all five batters he faced come around to score in the Yankees' 10-8 victory over the Blue Jays, the struggling reliever was optioned to Triple-A Scranton/Wilkes-Barre. The
NEW YORK -- Jonathan Holder said his entire season "has been a grind," and Monday had to be the low point. After watching all five batters he faced come around to score in the Yankees' 10-8 victory over the Blue Jays, the struggling reliever was optioned to Triple-A Scranton/Wilkes-Barre.
The Yankees have not announced a corresponding move to replace Holder on the active roster, though it will likely involve a pitcher. Holder was summoned to handle the eighth inning with a seven-run lead but surrendered five hits, including a Lourdes Gurriel Jr. homer and a Freddy Galvis grand slam.
"I've never really struggled like this," Holder said. "It's something new for me. This whole season has been a grind for me. I've got to go figure something out. We've got to talk and figure out what's going wrong. I know it stems back to fastball command. When I'm good, I'm commanding my heater all over the zone."
In Holder's last six appearances, he has surrendered 13 hits and 13 runs in 5 1/3 innings (21.94 ERA). Overall, Holder is 5-2 with a 6.81 ERA in 31 appearances, permitting 40 hits and 30 runs (27 earned), with 11 walks and 40 strikeouts.
"Obviously he's going through a little bit of a tough time right now," manager Aaron Boone said. "That was a tough inning for him, but we were able to pick it up. He hasn't really had his good breaking ball that he can lean on, and then he's gotten hurt in the zone. Command is usually a real strength of his, but having that secondary to go along with his fastball is really important."
Holder posted a 3.89 ERA in 37 appearances two years ago and a 3.14 ERA in 60 appearances last year.
"This whole season, I haven't really been able to execute pitches in a timely manner," Holder said. "There's no lack of effort. I've continuously worked. It's just something I've got to get better. I've got to figure something out to put me over the edge, to make nights like this not happen."
Because Chad Green was used to relieve Holder, throwing 16 pitches, he likely will not be available as an opener for Tuesday's game against Toronto. Boone said that those discussions would take place later Monday night.