Estrada grateful for callup to Yankees
Infield prospect overcomes shooting in Venezuela to reach Majors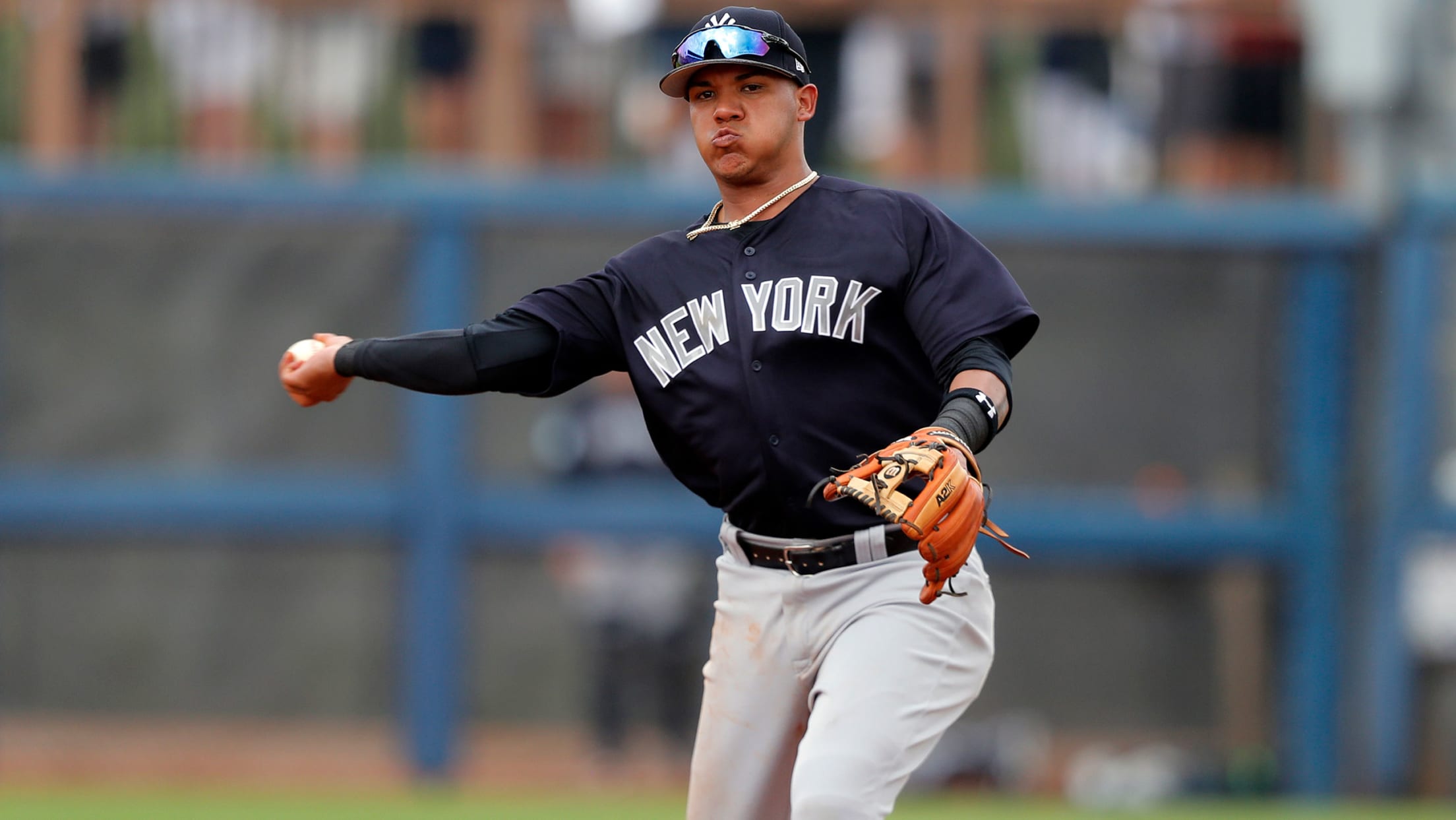 BALTIMORE -- Thairo Estrada arrived at Camden Yards on Thursday to view a big league uniform hanging in his assigned locker. For a few terrifying moments, the Yankees infield prospect could not have known if a day like this was going to be possible. Shot in the right hip during
BALTIMORE -- Thairo Estrada arrived at Camden Yards on Thursday to view a big league uniform hanging in his assigned locker. For a few terrifying moments, the Yankees infield prospect could not have known if a day like this was going to be possible.
Shot in the right hip during a botched robbery attempt last January in his home country of Venezuela, the slick-fielding 23-year-old bounced back with a strong spring. Rated as the Yankees' No. 19 prospect by MLB Pipeline, Estrada was recalled from Triple-A Scranton/Wilkes-Barre to replace injured shortstop Troy Tulowitzki on the active roster.
"When you think about everything, I've got to give thanks to God," Estrada said through an interpreter. "It's kind of like a second opportunity in a way. The work doesn't stop; there's a lot of things to accomplish and a lot of work ahead. Right now, it's a matter of concentrating on those and trying to help out."
Estrada has said he was with his wife at a restaurant counter in his hometown of Bejuma, Venezuela, on Jan. 28, 2018, when two teenage boys approached him, demanding cash or a cell phone. After telling them that he was carrying neither, Estrada had his pockets searched and heard a loud bang.
He did not initially realize he had been shot, and he underwent surgery the next day. Though doctors initially permitted the bullet to remain lodged in Estrada's hip, he said that it was eventually removed in July.
"When I was playing with it, it wasn't bothering me at all so I wasn't really thinking about it," Estrada said. "The doctors cleared me and I did everything I was supposed to be doing at the time. Eventually I got it out and knowing that you have an object there that is foreign to your body and is completely out, of course you're going to feel better about that."
After being limited to 18 games at Class A Advanced Tampa and Triple-A, Estrada hit .267 (8-for-30) with a double, two triples and two RBIs in 18 spring games this year. Yankees manager Aaron Boone said he plans to use Estrada at second base, third base and shortstop, as he did this spring.
"You saw the stuff that makes you think he's going to play in the big leagues for a long time," Boone said. "Live bat, got some pop in his bat, the ability to play multiple positions, runs a little better than I even anticipated. Obviously with the situation, we're getting him here a little quicker, but this is a kid who has a chance to play in the big leagues for a while."
Back on the shelf
After missing the last 1 1/2 seasons due to ankle and heel injuries, Tulowitzki said he was "definitely disappointed" to be sidelined once again, this time due to a low-grade left calf strain sustained during Wednesday's 2-1 loss to the Tigers at Yankee Stadium.
The Yankees have no immediate timetable for Tulowitzki's return, though it will clearly be longer than the minimum 10 days on the injured list.
"It took me a lot to get back, and to get back out there, I enjoyed it," Tulowitzki said. "But hey, it is what it is. There's no reason to make it any worse. I'll look on the positive side and get back with the team and help us win some games and do what I've got to do to be a good teammate. I'll do the stuff that I have to do in the training room and things will work out."
Tulowitzki said he first noticed the injury in the second inning, feeling it on a swing as he popped out to second base. Tulowitzki played the next inning in the field but alerted third baseman DJ LeMahieu that he was not moving well, and was removed from of the game after that.
"The good thing is that it doesn't seem to be related to the injuries he's dealt with the last couple of years, but calf strains, hamstrings, those things can be a little dicey," Boone said. "It's one of those that you've got to make sure it's 100 percent, otherwise you start setting yourself back. Hopefully it's not too long."
He is the 11th Yankees player to be placed on the injured list this year, with third baseman Miguel Andujar and outfielder/designated hitter Giancarlo Stanton having also landed there this week.
"It's really been crazy. I've never seen anything like it," Tulowitzki said. "It's unfortunate, but like I've shared with the guys, it's never easy. Sometimes it makes your team a little bit better because it tests that depth and some guys get some chances that they didn't think they were going to get and they end up helping you a lot. I think it builds some character, too."
Bombers bits
• Dellin Betances (right shoulder impingement) is expected to throw one more bullpen this week at the player development complex in Tampa, Fla., then could be cleared to face hitters. Betances has reported improvement with his strength and velocity, according to Boone, and would progress quickly once he is in game situations.
• Aaron Hicks (chronic back pain) is resuming baseball activities. Boone said Hicks has been cleared to resume throwing, with bat exercises soon to follow. Boone said that while Hicks should not need a full six-week Spring Training, the outfielder is still likely weeks from a big league return.
• Luis Severino (right shoulder inflammation) was expected to throw long-toss from a distance of 120 feet on Thursday, after which he could graduate to throwing from a mound. Severino is targeting an early May return to the Majors.
This date in Yankees history
April 4, 1989: Tommy John sets a Major League record by pitching in his 26th season, a mark since eclipsed by Nolan Ryan (27). Serving as the Yankees' Opening Day starter against the Twins, John allows two runs over seven innings to pick up career win No. 287 in New York's 4-2 victory.