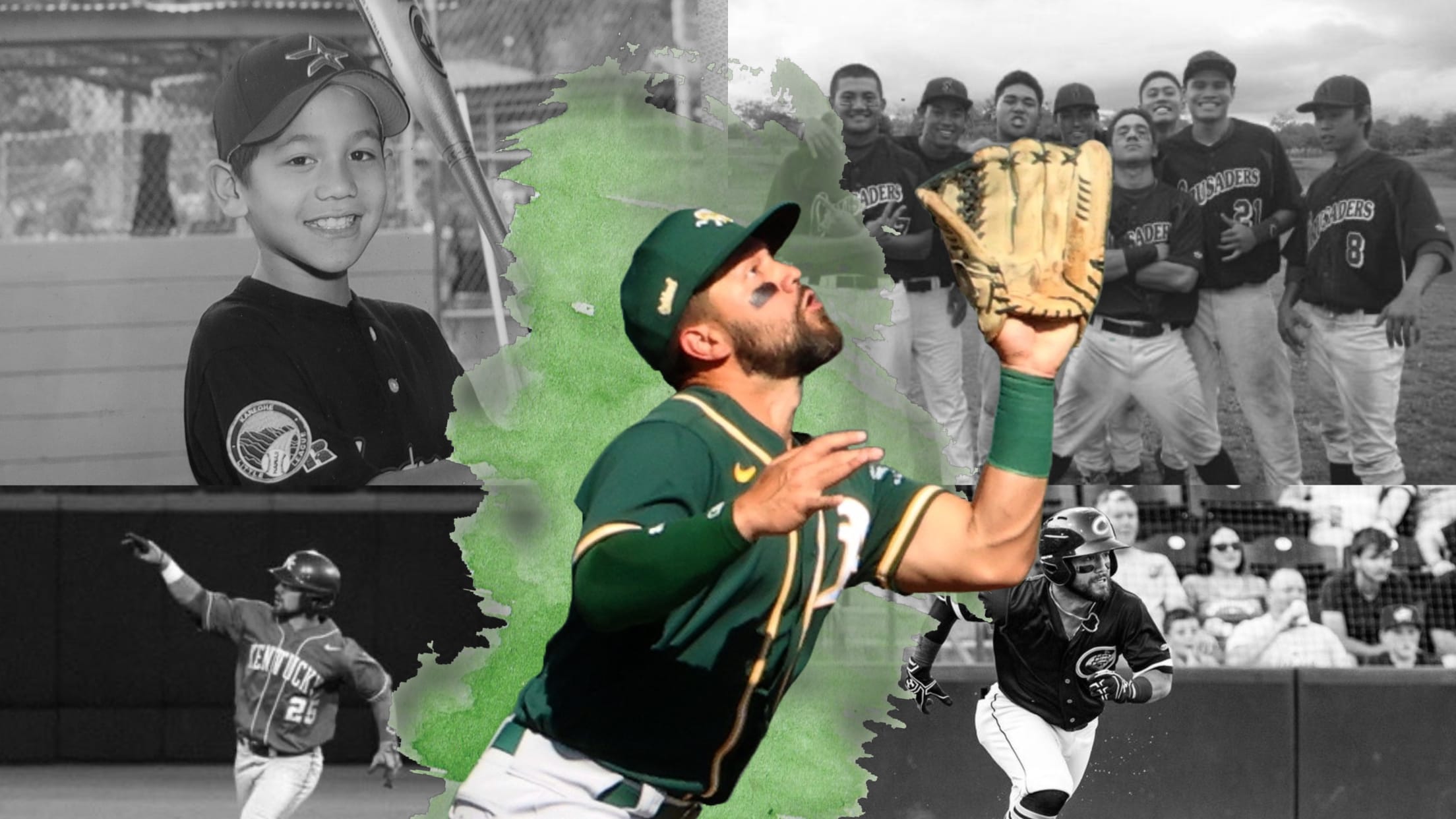 Scroll
Ka'ai Tom's journey from Hawaii to A's opener
It was hard for Ka'ai Tom not to feel as if he were dishonoring the family legacy.
Baseball is practically a religion in the Tom family. His grandfather, Joseph Sr., played college ball at Oregon. His father, Joseph Jr., played at Washington State. Older brothers Jordan and Kainoa? They played at Oregon State and Hartnell Junior College, respectively.
Yet, here was Ka'ai, a high school senior about to graduate in 2012, not only without any college offers but with no recruiters even pursuing him. He didn't even know how it worked. Should he call? Would they call him? Was there a sign-up sheet somewhere? It sure felt as if the family tradition was about to end with him.
"I had no exposure whatsoever," he said. "No interest. I had no idea where I was going, and I was pretty concerned."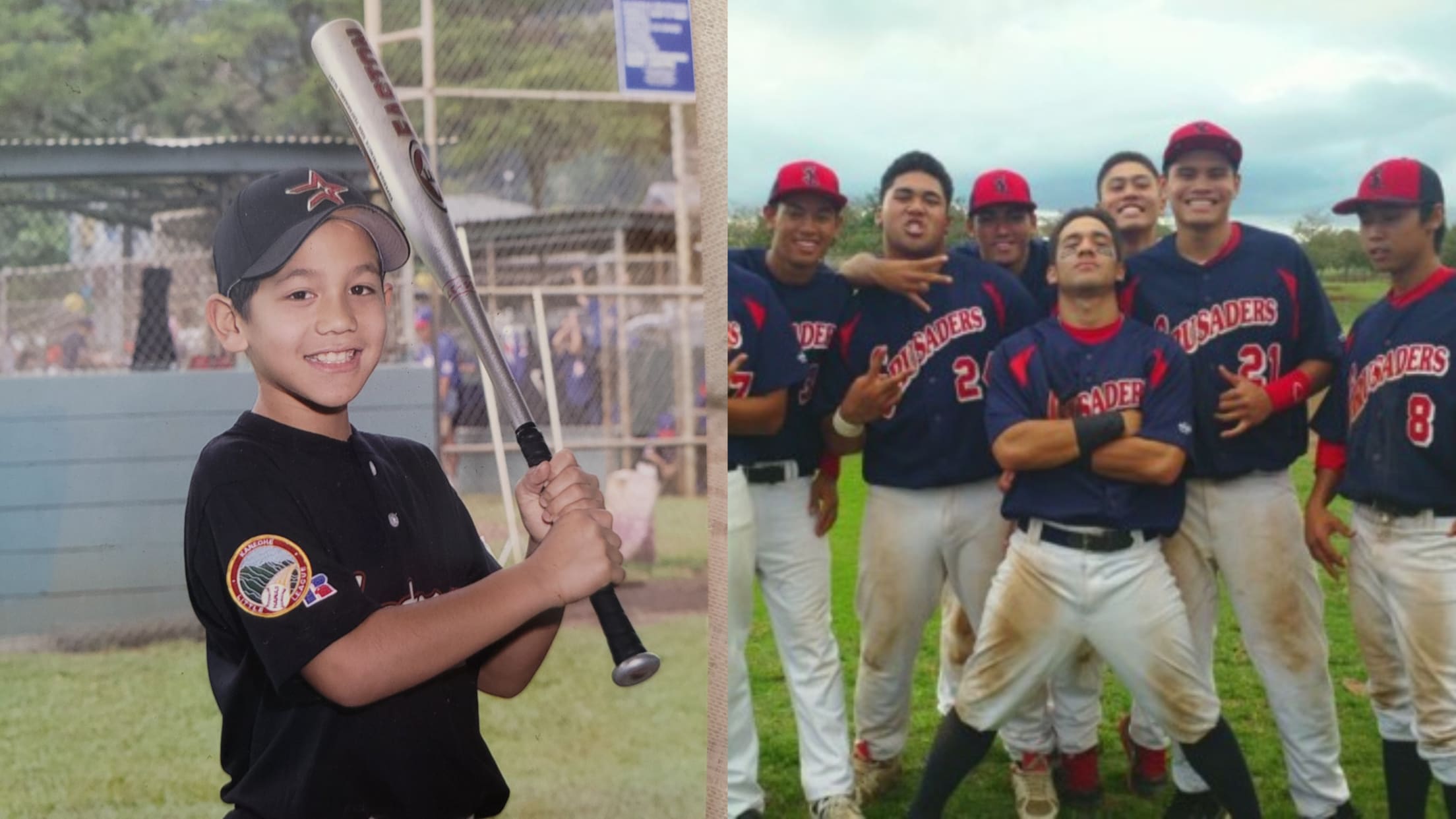 Working against him was his home state of Hawaii. Even though he attended Saint Louis High School in Honolulu, where Tom was a three-time all-state baseball player, Saint Louis High was a football factory. Having produced NFL quarterbacks Marcus Mariota and Tua Tagovailoa, scouts flew across the Pacific to find football talent, not baseball players.
Tom was a good enough athlete that he held his own playing football there -- he even started at quarterback until Mariota took the position from him his junior year. But Tom knew throwing the pigskins was short-term. Baseball is the family business, but to get noticed, you either had to show out in mainland scouting camps or emerge as a bona fide stud who was ranked among the top in the nation. Tom did neither.
So if you're wondering who the heck No. 1 is on the Athletics Opening Day roster, well, just the fact that you're seeing his name -- Ka'ai Tom -- is the latest step in the journey of an unknown Rule 5 Draft pick worth telling.
When he heads to the Oakland Coliseum on Opening Day, when he puts on that Athletics uniform and joins the guys in the dugout, when he takes the field for his Major League debut, he will be doing more than just living up to the family legacy. He will be taking it to another level. He will be honoring his grandfather, his dad and his brothers. The baby of the family has become the best.
As his high school career concluded, Tom had just one last chance to impress a scout. One last opportunity to get on the radar of a college recruiter. It was a summer league with other recent high school graduates from around the area. One final hurrah before closing the book on his baseball career at the age of 18.
He summoned the spirit of his grandfather, leaned on the art of hitting crafted by his father and brothers, and put on a show. He treated every moment of that summer league as if it were Game 7 of the World Series. He gave pitchers fits with his ability to work a pitch count. He wreaked havoc on the basepaths. He couldn't just let the family tradition die without a fight. Baseball was, and is, in his blood.
It worked.
Fort Scott Community College in Kansas was one of the schools to hear about Tom's effort in the summer league. Tom was contacted by head coach John Hill III, who liked what he was hearing about him but wanted to actually watch him play. Videos of Tom coming out of Hawaii were scarce. Hill only saw one clip of his swing -- it was all he needed to see. Tom drilled an opposite-field two-run homer over the left-center fence.
"That was literally the extent of it," Hill recalled. "We heard how good he was. He wound up even better than what we expected."
Tom arrived in Kansas about two weeks before classes began, and the culture shock hit him immediately. Fort Scott has an estimated population of 7,742. As you probably guessed, there aren't many Hawaiians around those parts. But aside from the cold winters, Tom adjusted pretty quickly. The major adjustment came once he took the field for his first practice.
The intense work ethic he displays now wasn't always there. That had to be ingrained in him, and as it turns out, Kansas was the perfect place for that to happen.
Fort Scott players adopt an insane work ethic, starting right away in the fall when each player must complete a two-mile run in under 14 minutes. Tom didn't hit that mark for about four weeks.
"There were just things that weren't expected in Hawaii that were expected here," Hill said. "Ka'ai had some growing pains with that."
Tom's raw talent got him by during his high school career, but that wasn't enough at the college level. He wasn't a grinder yet, and that led to him getting benched on a few occasions during the preseason scrimmages at Fort Scott.
If he never learned that lesson, he wouldn't have become the hustler who later caught the A's attention.
After tearing it up at Fort Scott, batting .387 with 11 home runs and 57 RBIs, Tom transferred to the University of Kentucky, where he batted .352 over two seasons. He was a first-team All-Southeastern Conference selection his first year there, then led Kentucky with a .375 average and 51 RBIs as a junior. He was about to be discovered yet again.
A's amateur scout Rich Sparks couldn't take his eyes off the stocky kid. At 5-foot-8, 190 pounds, with thick arms and legs, Tom wasn't the physical specimen Sparks came to see. Sparks was at the University of Kentucky on a quest for outfielders in advance of the 2015 MLB Draft, and SEC baseball is known for producing some of baseball's best prospects.
But the guy capturing his attention was this lumbering kid with almond skin, who could easily be mistaken for a bat boy if not for his crisp white Wildcats uniform. Fortunately for Tom and the A's, Sparks isn't one of those scouts who overemphasizes the measurables.
There was something about the way Tom moved around the outfield grass -- an effort that dripped from every stride. The confidence in his demeanor. The polish in his swing.
"Just watching the guy move around the field and working hard, he was what we would call, 'a baseball player,'" Sparks said, recalling the first time he watched Tom. "He wasn't flashy. Just the way he swung the bat got everybody's attention."
Tom was a grinder.
"Ka'ai has a supreme confidence," Hill said. "Some people call it arrogance, and it's not. It's a humble confidence. Ka'ai believes in himself. He knows the work that he puts in. He knows the strides he has made. He knows where he came from. But he also knows where he can go."
Sparks, a scout for the A's since 1995, noticed. His resumé of elite signings includes Joe Blanton, Nick Swisher and famed Big Three member Mark Mulder, just to name a few, so caching his eye was no small deal. Sparks urged Oakland scouting director Eric Kubota to draft him in the fourth or fifth round of the 2015 Draft. He would have suggested even earlier, but there wasn't much buzz surrounding the little Hawaiian kid at Kentucky.
"I told Eric that a lot of teams are going to be off him because of his size," Sparks recalled. "Honest to goodness, I thought we were going to get him."
The A's drafted a college outfielder with the 23rd pick of the fourth round. But it wasn't Tom. It was Skye Bolt out of North Carolina. The A's almost had a shot at Tom again in the fifth, but the Indians scooped him up four picks before Oakland's turn.
In baseball, the skills most valued in prospects can vary by team. In five seasons with the Indians' farm system, Tom never sniffed a Major League callup despite solid numbers at every level, including a .290 batting average with a .912 OPS to go with 23 home runs, 27 doubles, 10 triples and 86 RBIs in 132 games at Double-A and Triple-A in 2019. He wasn't invited to their alternate training site last year. Then, they opted against giving Tom a spot on the 40-man roster this past winter, leaving him eligible for December's Rule 5 Draft.
He knows where he came from. But he also knows where he can go.
"It was kind of confusing," Tom said of his situation in Cleveland. "I did think that I should be at the alternate site. I wasn't telling them I should be in the big leagues. But at least have an opportunity."
In hindsight, it's fitting that Tom had to take this route. This is true to his journey. Being overlooked in the past worked in his favor.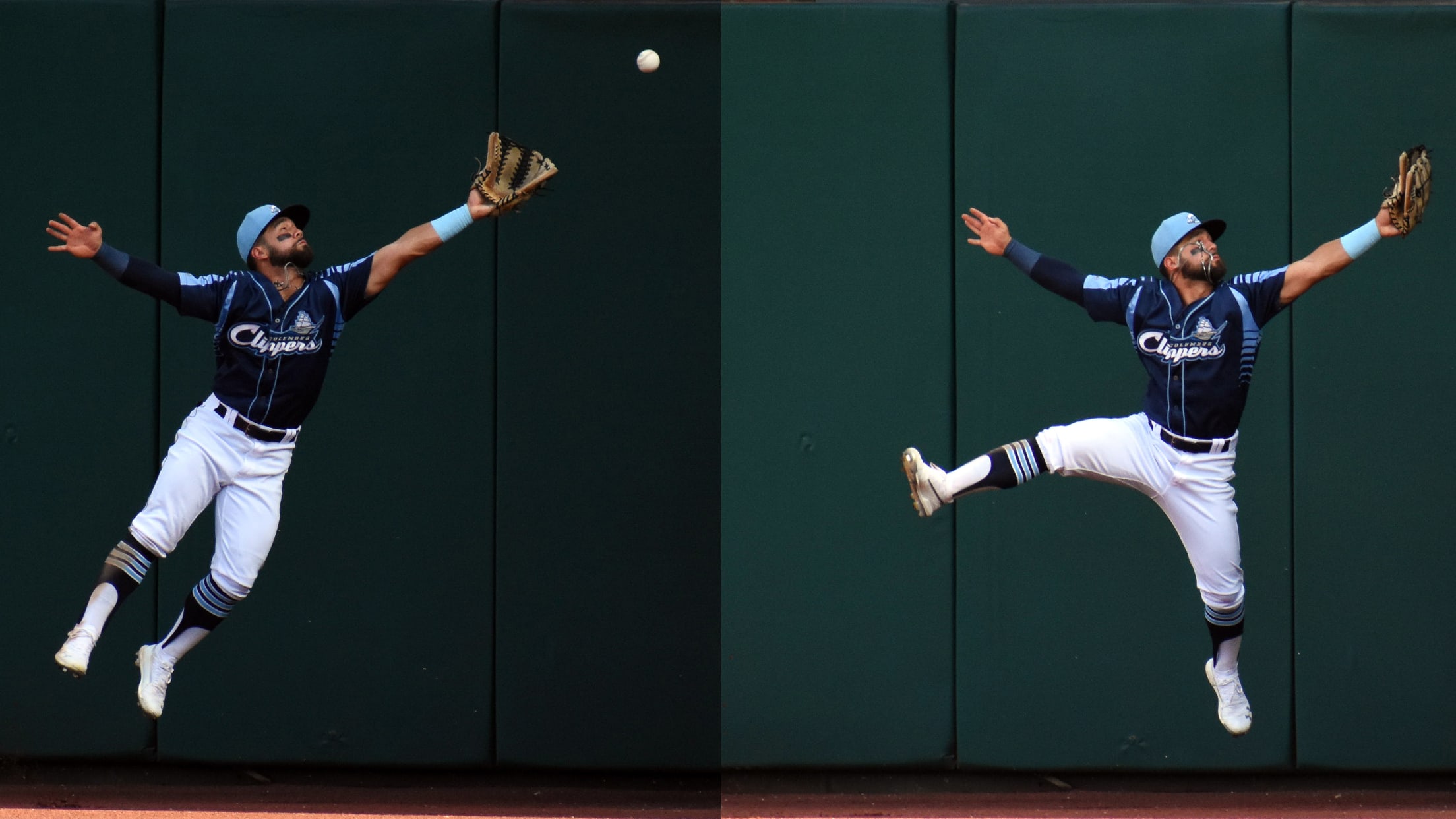 The A's remembered the relentless work ethic they saw six years ago at Kentucky and selected him in the Rule 5 Draft in December. They then gave him a chance in Spring Training. Tom, now 26, parlayed that by forcing his way onto the A's 2021 Opening Day roster with a coming-out party in the Cactus League, hitting .310 with a .964 OPS in 12 games. His masterful control of the strike zone and ability to drive the ball to all fields with power lines him up for plenty of appearances in the A's lineup against right-handers in the upcoming season.
"If I said Ka'ai could be an everyday Major Leaguer, Ka'ai will probably be an All-Star," Hill said. "I don't know Billy Beane or anyone at the Oakland A's, but I want to shake them and just say, 'This is a no-brainer.' He has not failed anywhere that he's been. He just needs the opportunity."
The A's like to play the matchups, so the left-handed-hitting Tom, at least to start, should get plenty of at-bats this season against right-handers. And it is clear A's fans are going to love him. His skills figure to impress when contrasted with his size. His game oozes with appreciation as he goes all out every play. The Coliseum's bleacher crew is already producing his banner to hang in left field.
It's not a stretch to envision Tom breaking out this year given his exciting skillset. But his unwavering hustle is what produced this Major League opportunity. The skills are in his blood -- a gift from his grandfather, father and brothers. The undeniable determination? The qualities that got his foot in the door with the A's? Those did not come so easy.
He has not failed anywhere that he's been. He just needs the opportunity.
"I knew baseball would be my future," Tom said. "My dad and my brothers are my role models. That's where I got all my baseball knowledge and my mechanics of hitting."
He's proven to be an excellent hitter at every level. Why wouldn't that continue in Oakland? If it does, he's likely going to have some memorable moments on a team that annually paints a collage of them.
"This opportunity means everything to me," Tom said. "I'm forever thankful for Oakland to even take a chance with me. This is everything that I ever dreamed about. Just having an opportunity to compete for a job to be a big leaguer, I'm thankful that they are taking a chance."
credits:
Martín Gallegos covers the A's for MLB.com. Follow him on Twitter @MartinJGallegos.