Moose goes from free agent to ASG doorstep
Milwaukee's slugging second baseman qualifies for Starters Election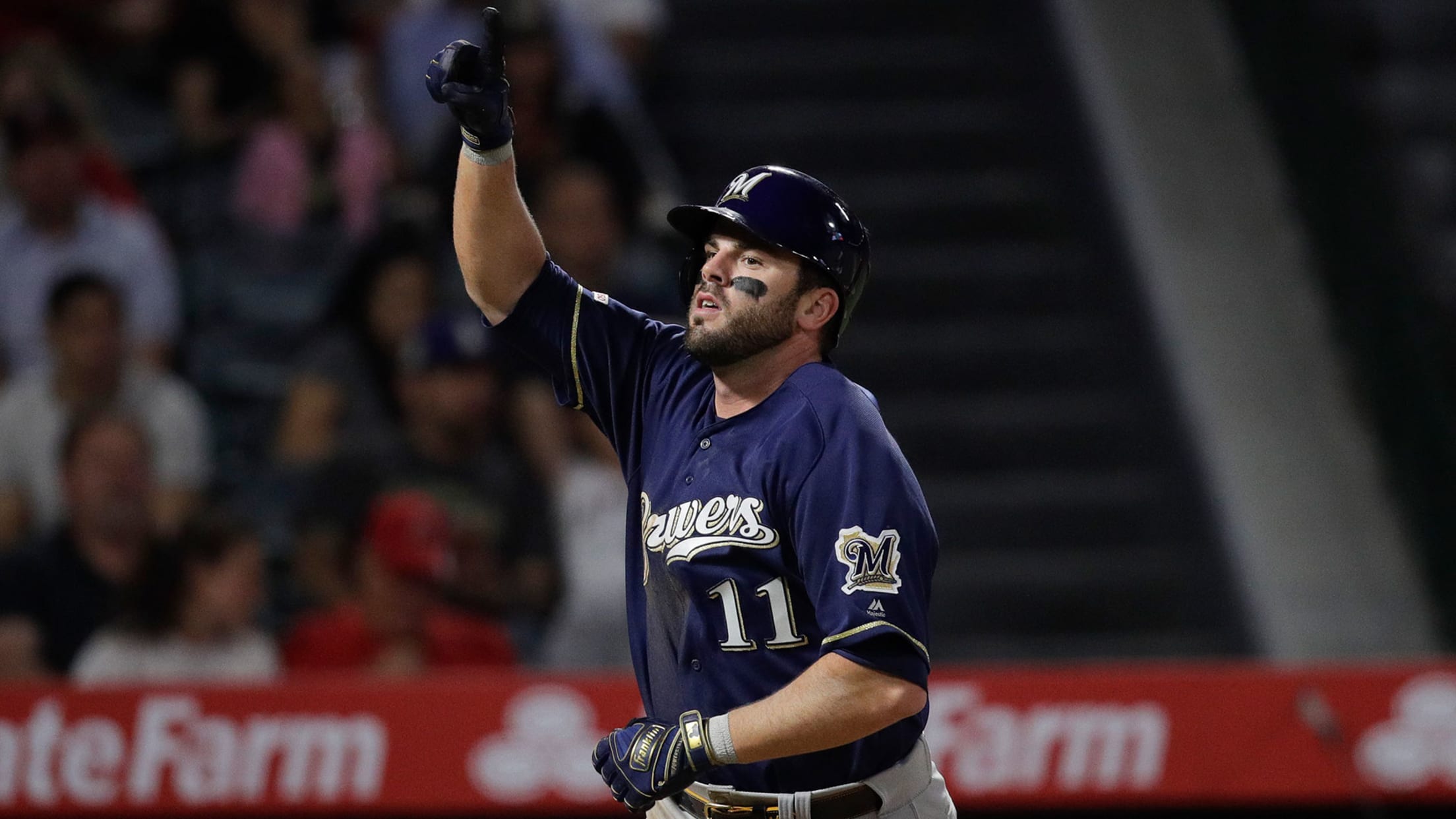 MILWAUKEE -- Mike Moustakas made both of his previous All-Star Game appearances via the Final Vote, so he has some experience stumping for votes. But he's more likely to do his campaigning with his bat this time. Moustakas has gone from unemployed to one of three finalists to start the
MILWAUKEE -- Mike Moustakas made both of his previous All-Star Game appearances via the Final Vote, so he has some experience stumping for votes. But he's more likely to do his campaigning with his bat this time.
Moustakas has gone from unemployed to one of three finalists to start the 2019 All-Star Game at second base for the National League, all in the span of four months. After delivering a long, two-run single in Sunday's 7-5 win over the Reds, Moustakas is slashing .280/.359/.583 with 22 home runs, on pace to set career highs for on-base percentage, slugging percentage and homers.
"Obviously, the offseason the last couple of years has been a little weird," said Moustakas, who had to take one-year deals in each of his forays into free agency, signing with Milwaukee in February for $10 million. "But at the end of the day, we get to go out there and play baseball. All that other stuff is behind us. Like I said in Spring Training, I stopped thinking about my contract once I signed."
The Brewers are planning a get out the vote push ahead of Wednesday's 28-hour window to select the All-Star Game starters, and Milwaukee fans have had success in the past at landing players in the Midsummer Classic. Last year, Jesus Aguilar won the All-Star Final Vote, the same mechanism by which Moustakas won spots on the American League squad in 2015 and '17 as a member of the Royals.
"It would be pretty cool to start," he said. "Our social media team in Kansas City did a really good job [with the Final Vote], and our social media team here is awesome. I know they're going to do a great job doing what they need to do, but I like just going out and playing baseball. That's more my thing."
Houser to start
Right-hander Adrian Houser will get a couple of starts beginning Wednesday against the Mariners in place of Jimmy Nelson, who was moved to the bullpen this weekend after making three subpar starts over the last three weeks.
Houser has taken a huge step forward this season as a rare high-leverage reliever who throws four pitches, with a 1.05 ERA and 10.2 strikeouts per nine innings in 14 appearances out of the bullpen. It will be Houser's third start this season, and while he will be on a limited pitch count Wednesday, the plan calls for at least one more start prior to the All-Star break.
"He is not lengthened out in any way, so there will be some restrictions there, for sure," said manager Craig Counsell. "So it's not going to be a lengthy start. But he's going to start at least twice for us. There's a lot to like. He's thrown the ball really well. He's earned it, really, as much as anything. This is a guy who's earned his way back to the rotation."
Houser threw 78 pitches in his lone traditional start on April 22, but that came after Houser was starting games for Triple-A San Antonio. He has not thrown more than 43 pitches in a game since that outing.
"It's definitely awesome to get another start here and see what I can do," Houser said. "Hopefully I can help the team out and put them in a good position to win that ballgame. So we'll see how it goes."
Counsell acknowledged that shifting Houser to a starting role would come at a price to the 'pen. The Brewers could have started recent callup Aaron Wilkerson, but Wilkerson will remain in relief for now.
"[Houser] has been throwing the ball really well in the bullpen, so, yeah," Counsell said. "But we need a starter."