Welcome to CardBOARD Nation!
Find your cutout in the crowd at Busch Stadium!

Baseball has returned to St. Louis - just with a slightly different look.
While we can't be at Busch Stadium to cheer on the Cardinals just yet, we've got the next best thing: CardBOARD Nation!
For just $70, CardBOARD Nation is a 2D version of you that we'll put in the seats of Busch Stadium for the 2020 season. Deck yourself out in red, snap a photo and upload it, and be part of history as one of our first "flat fans." Your family and friends might spot your smiling face on TV. Proceeds will benefit Cardinals Care and support their efforts in helping kids in our community. There will be a $25 per order fee added for the shipment of your CardBOARD Nation cutouts following the end of the 2020 season.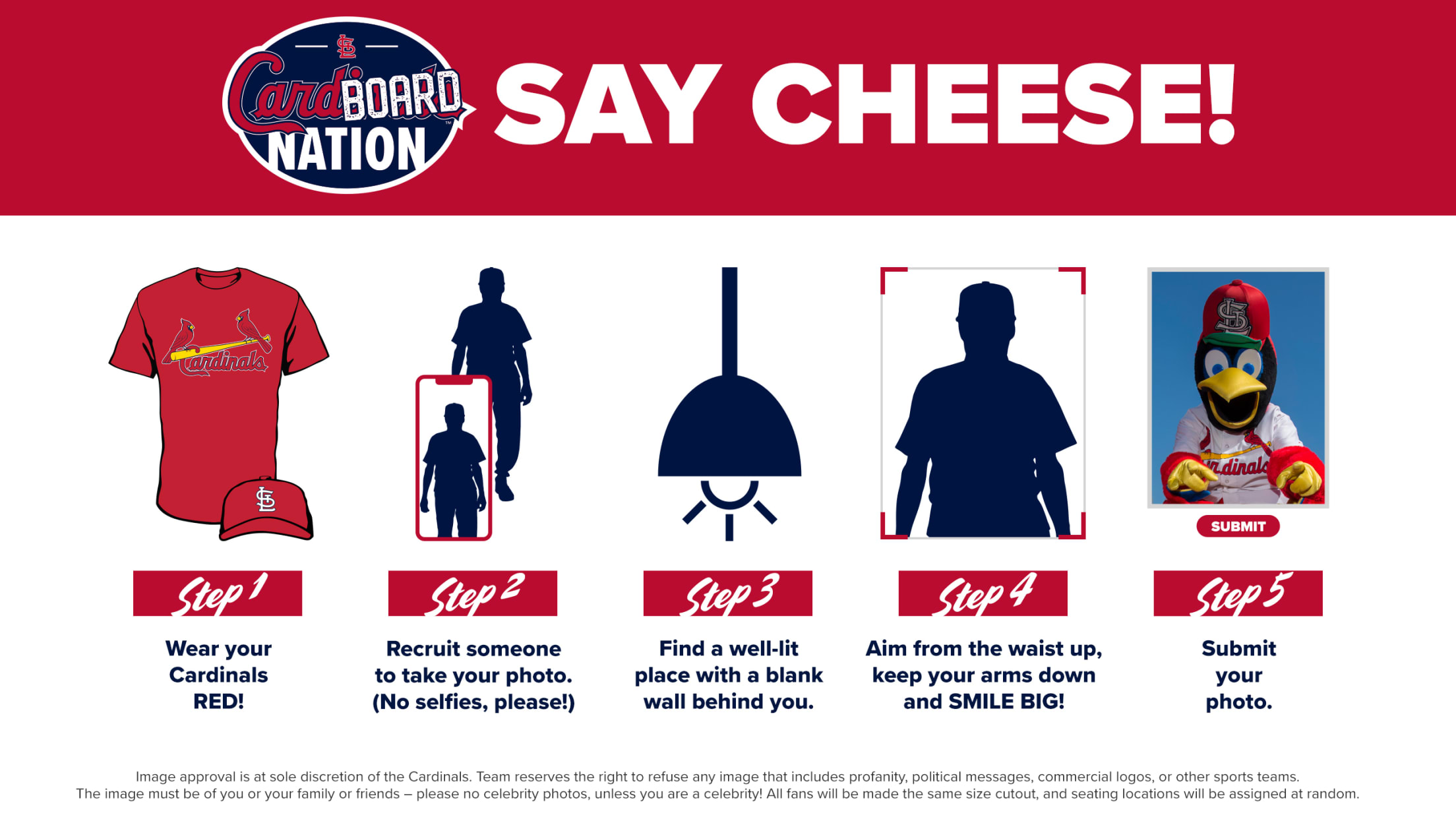 Frequently Asked Questions
Q. Where will my CardBOARD Nation cutout sit?
A. All CardBOARD Nation cutouts will be seated in field level seats, including the Bleachers. More seating levels will be opened up to CardBOARD Nation if/when needed.
Q. Will I have the same seat all season long?
A. Yes, you will be seated in the same seat for the duration of the 2020 regular season. A few randomly chosen, lucky cutouts may be occasionally moved to TV-ready seats behind home plate!
Q. Can I choose my seat?
A. No, seat assignments are random.
Q. Will I be on TV?
A. Since we cannot guarantee your seat location, there is no way to guarantee your cutout will be seen on TV, however, since we are filling seats in the first level, there is a chance you may be able to spot yourself on the TV broadcasts!
Q. Can I keep my cutout after the season?
A. Your cutout will remain in the ballpark for the 2020 regular season and will then be shipped to the shipping address indicated on your submission form. Please note, we cannot guarantee the condition of your cutout after weather exposure.
Q. How many CardBOARD Nation cutouts can I purchase?
A. There is a limit of 10 cutouts per transaction.
Q. How do I upload my photo?
A. You can upload your photo through the purchase form above.
Q. Are there any restrictions to the photo I upload?
A. Yes. Please follow these guidelines.
Wear Cardinals RED or any other bright/dark color.
Ask someone else to take the photo for you, no selfies please.
Find a well-lit area with a blank wall behind you.
Take the picture from the waist up and have your arms down at your sides.
SAY CHEESE!
Any photo submission that includes the following will not be approved: profanity, political messages, commercial logos, or other sport teams.
Recommended minimum file size is 1MB. Maximum file size is 10MB.
Q. Can two people be in one photo?
A. No. Unfortunately, your photo will be rejected if it has more than 1 person in it.
Q. How will I know if the photo I upload is accepted?
A. Your order will be processed and charged AFTER your photo has been approved. This make take up to 3 business days.
Q. When will my CardBOARD Nation cutout be in my seat?
A. CardBOARD Nation cutouts will be installed in waves, depending on when your photo is uploaded. We cannot guarantee an exact installation date at this time, but it will be installed during the remainder of the 2020 season.
Q. Will I be able to view and download a photo of MY cutout in the ballpark?
A. Yes, we will send you a link to a FanCam photo view of your CardBOARD Nation cutout section once installation is done. You can find and tag yourself within the section. Exact timing on the FanCam photo is based on installation.
Q. What happens if fans are able to return to the ballpark?
A. The Cardinals reserve the right to move or remove fan cutouts for this and other possible reasons.
Q. Can I purchase a cutout for my dog (or cat, or goldfish)?
A. Yes! Just follow the same general photo guidelines.
Q. Where does the money go?
A. Proceeds from this fundraiser benefit Cardinals Care, the team's charitable fund dedicated to caring for kids in the Cardinals community. Cardinals Care supports children through three key programs: (1) Redbird Rookies - our free youth baseball/softball league. (2) Building youth ball fields in under-resourced communities. (3) By distributing money to area nonprofits who work with children through an annual grant program. Learn more at cardinals.com/community.