Reyes' progress at Triple-A impressing Cards
'It's just a matter of putting it together,' Shildt says of right-hander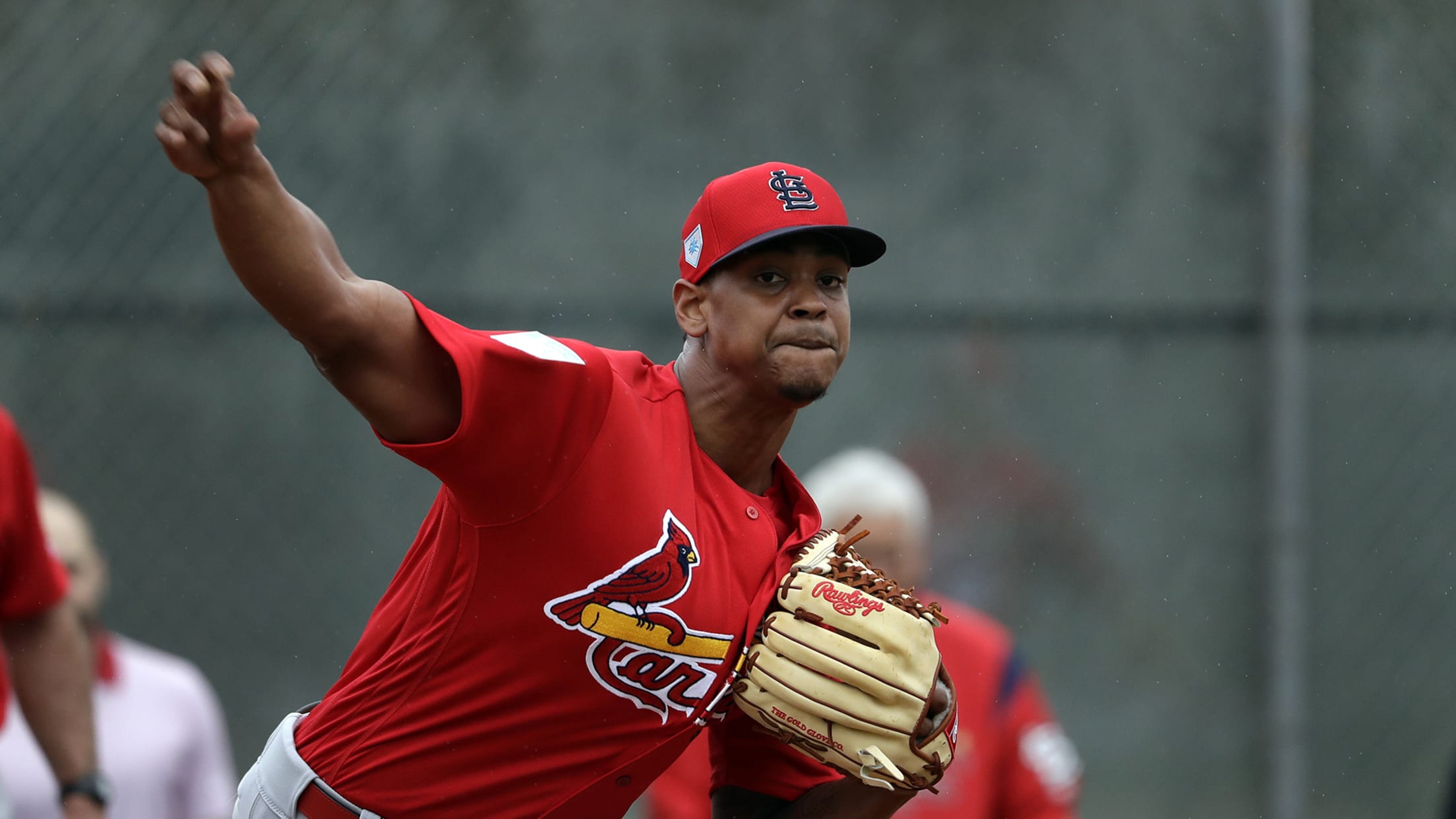 ST. LOUIS -- Alex Reyes' box score from his start with Triple-A Memphis on Tuesday night tells one story. The right-hander, trying to work his way back to a spot on the Cardinals' roster, was battered for six earned runs and 10 hits in five innings in the loss. But
ST. LOUIS -- Alex Reyes' box score from his start with Triple-A Memphis on Tuesday night tells one story. The right-hander, trying to work his way back to a spot on the Cardinals' roster, was battered for six earned runs and 10 hits in five innings in the loss. But he also struck out nine and only walked three over 99 pitches.
The game report that Cardinals manager Mike Shildt receives tells another story: Reyes pitched better as the game went on. Which is why Shildt says that, despite the box score and Reyes' 7.67 ERA this year in the Minors, there is encouragement for what Reyes is accomplishing.
"A lot of quality pitches, better as the game went," Shildt said. "Retired the side in the fifth, softer contact, close misses. You have X number of innings and so many runs and walks and strikeouts, and some line scores just don't read to the actual truth to how he's doing."
Now, the Cardinals are looking for Reyes to put together the good parts of his starts with Memphis since late May. For example, he's struck out 38 in 26 innings, but he's given up 24 runs.
"It's just a matter of putting it together, so we can see the end result of it that everyone would like to see from a box score standpoint," Shildt said. "Which is real. It counts. But a lot more consistency in what he's doing, unfortunately just has had some crooked numbers."
It's uncertain when Reyes might make his way back to the Majors. Shildt said Wednesday there might have been too much expectation at the beginning of the season, when Reyes broke camp with the Cardinals, to see the top pitching prospect have success right away.
When Reyes was called up at the end of 2016, he had a 1.57 ERA and fed into the Cardinals' hope of a future ace. But Reyes underwent Tommy John surgery that cost him the entire 2017 season, and he suffered another setback a year later, when he needed surgery to repair a right lat tendon.
Going into this season, Reyes was expected to have a big impact out of the Cardinals' bullpen. But he struggled with his command early in the season and was sent to Memphis to work on it, moving back into the starting role in Triple-A for the time being.
"He's just so talented, and we're aware of his body of work," Shildt said. "Coming up through the system, which I had him through the system, and seeing what he did at the end of '16, seeing that he was healthy again, going into an automatic, 'Well, he'll just be fine.' Plug him right back into Major League competition after basically two years off of it. Probably wasn't the most reasonable ask."
Goldschmidt gets a reset
After going 0-for-4 in the Cardinals' 6-0 loss to the Marlins on Tuesday, first baseman Paul Goldschmidt got Wednesday off from the starting lineup, his second game off in five days (Saturday against the Mets).
Goldschmidt had one hit -- a home run in the first inning on Sunday against the Mets, the day after his rest day -- in his past 22 at-bats.
But being out of the lineup doesn't signify anything more than Goldschmidt just needing a reset, Shildt said.
"He's a presence in the lineup that you can't really put a figure on, and I hope that's what people appreciate," Shildt said. "We have a presence in a lot of different areas, and he makes a lot of people around him better. There's no number on the scoreboard that can validate that. It's just real. He makes his teammates around him better in the lineup. Today's a good day for him to take a break and come off the bench to do damage."
The day off gives first baseman Rangel Ravelo his first Major League start. After 10 years in the Minor Leagues, Ravelo was called up for the first time on Monday.
The right-handed hitter went 1-for-4 with his first Major League hit on Wednesday night, a single in the sixth inning.
He was lifted in the ninth with the game tied, as Goldschmidt entered at first base before hitting a walk-off blast in the 11th.