Wacha goes 4 strong in 3rd spring outing
Reyes slotted for inning on Saturday; Gyorko still sidelined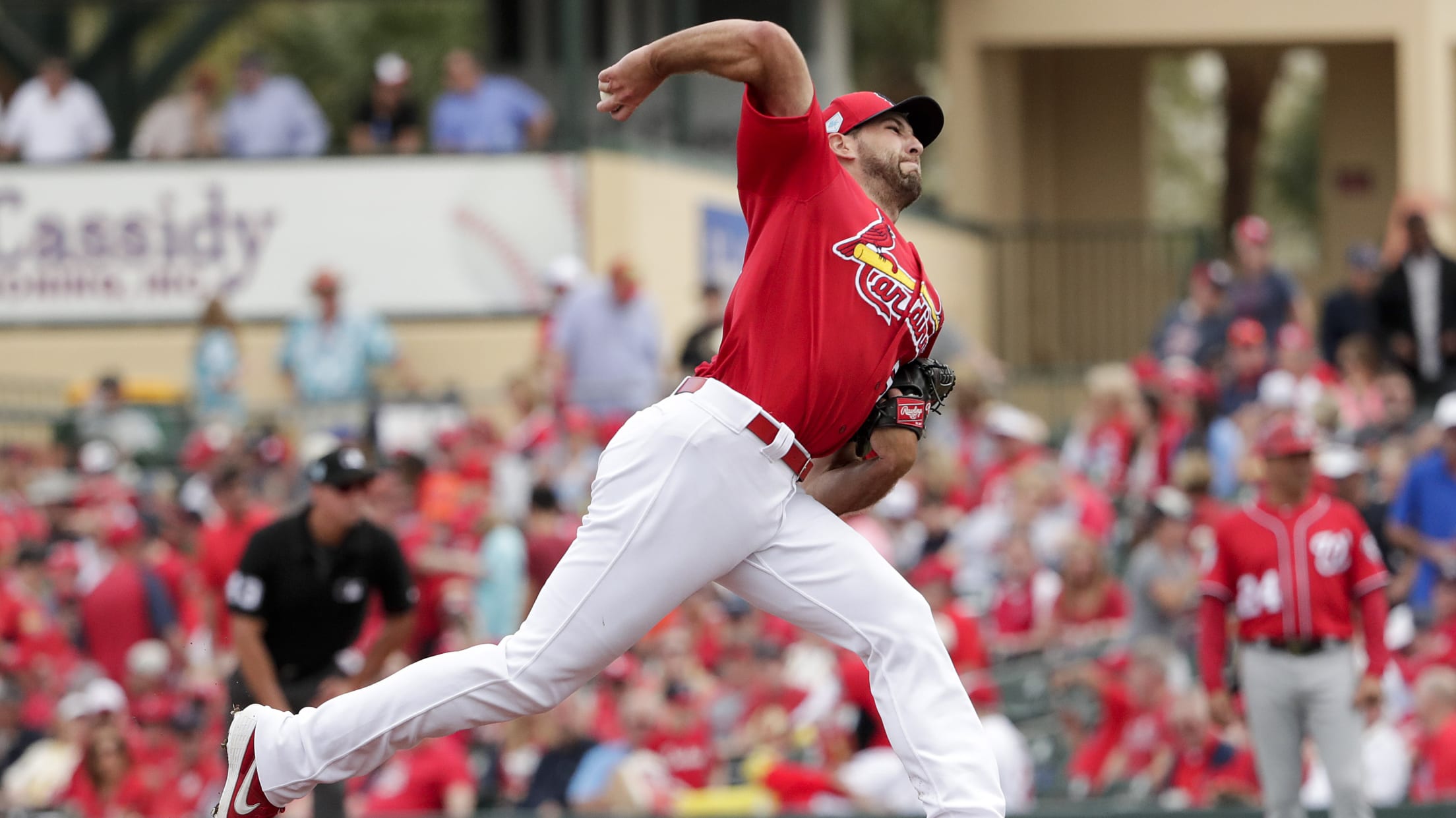 JUPITER, Fla. -- Michael Wacha made his third start of the spring, hoping to build on two previous stellar outings. Take away the first inning and the right-hander did just that in a 3-2 Cardinals win against the Nationals on Friday. Wacha gave up back-to-back home runs to Matt Adams
JUPITER, Fla. -- Michael Wacha made his third start of the spring, hoping to build on two previous stellar outings. Take away the first inning and the right-hander did just that in a 3-2 Cardinals win against the Nationals on Friday.
Wacha gave up back-to-back home runs to Matt Adams and Jake Noll in the first inning. But after that, he shut the door on Washington, tossing three scoreless innings. Wacha threw 50 pitches, 34 for strikes, and gave up six hits while stretching out to four innings. He struck out two and didn't walk a batter.
Over three spring starts, Wacha has worked nine innings, allowing three runs on seven hits with seven strikeouts and two walks.
"The first inning was a little bit uncharacteristic," Wacha said. "I left some fastballs over the plate. Kind of realized that their approach is to come out swinging, so I made an adjustment going on into the next few innings and it worked out a little better."
It was a much cleaner second inning for Wacha, who retired the bottom of the Nats' lineup in order with a pair of ground balls and his first strikeout of the game. But Wacha ran into trouble in the third inning with the top of Washington's batting order. Leadoff hitter Victor Robles lined a one-out single, his second in two at-bats, and Kurt Suzuki followed with a double to put runners on second and third.
However, Wacha managed to escape unscathed when Adams hit a scorcher to first baseman Rangel Rivelo for the second out, followed by Wacha pouncing on a dribbler in front of the plate to throw out Noll and end the inning.
What made the difference after the first inning?
"Changeups down," Wacha said. "I felt like they were really looking for that heater. So just mixing it in with the offspeed and it worked out better."
Working the extra innings and getting a few more up and downs is helping Wacha get into game shape.
"I got a lot of stuff done out there," Wacha said. "I was trying to work on some stuff with my mechanics. So it was a positive outing. Next outing, five innings, keep getting that pitch count up there and getting ready for the season."
Wacha was limited to just 15 starts last season because of a left oblique strain. He went 8-2 with a 3.20 ERA in 2018.
Reyes to get an inning on Saturday
Alex Reyes is scheduled to make his second spring appearance on Saturday, following starter Adam Wainwright to the mound for an inning of work. Reyes threw an inning against the Phillies on Tuesday, allowing one hit and one run. He walked two and struck out one in his spring debut.
The 24-year-old right-hander is vying for the fifth spot in the rotation but has yet to start a game this spring. That's not a problem, however. Cards manager Mike Shildt said he is perfectly fine with the potential of employing Reyes in the starting rotation without making a start in Grapefruit League play.
"Right now we're comfortable with him [in relief] based on where the starters are lining up and based on where Alex is as well," Shildt said.
Of course, starting the season in the Cardinals' bullpen is also a very real option for Reyes, who has struggled with right elbow and lat strain injuries.
Gyorko nursing minor injury
Jedd Gyorko continues to nurse a minor calf injury suffered on Sunday in a 10-8 loss to the Mets. He exited the game for a pinch-runner and hasn't returned to the lineup since.
"Nothing we're overly concerned about," Stildt said. "Just making sure he's getting some rest. It'll probably be another week or so, just being smart [with the injury]."
Up next
The Cards host the Astros at 1:05 p.m. ET Saturday in Jupiter. Adam Wainwright will make his third Grapefruit League start for St. Louis, with Yadier Molina is expected to start at catcher for the first time this spring. Wainwright has four strikeouts in five innings this spring while giving up five hits and two runs.