Mikolas' Texas woes continue with Cards
'This stadium, it doesn't like me,' ex-Ranger says after rough outing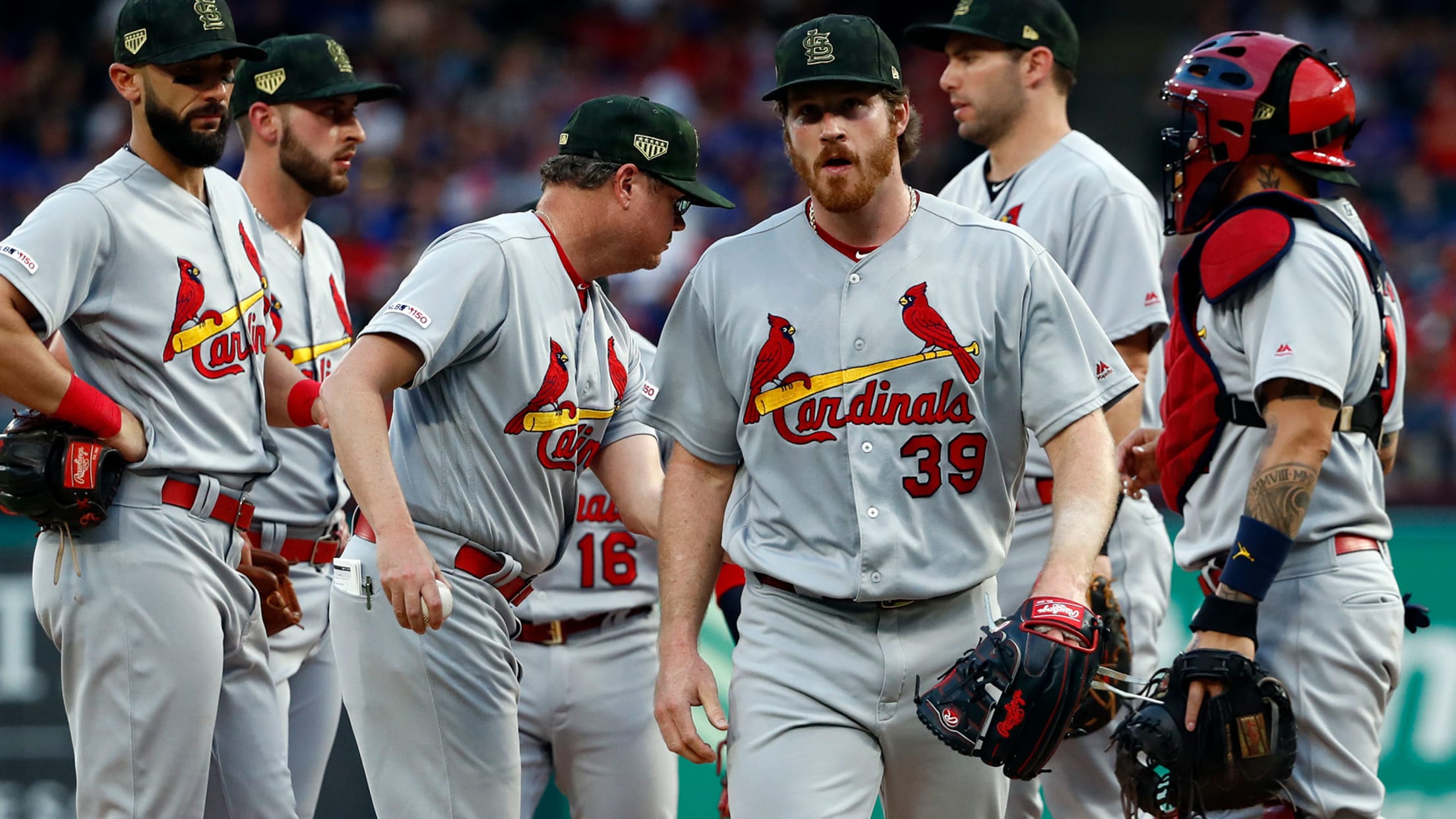 ARLINGTON -- To Cardinals starter Miles Mikolas, perhaps the only good thing about Globe Life Park is that he probably won't ever to have to pitch here again. Mikolas allowed seven earned runs in a 7-3 loss to the Rangers on Friday, leaving after recording only four outs. By his
ARLINGTON -- To Cardinals starter Miles Mikolas, perhaps the only good thing about Globe Life Park is that he probably won't ever to have to pitch here again.
Mikolas allowed seven earned runs in a 7-3 loss to the Rangers on Friday, leaving after recording only four outs. By his modern standards, the outing was an awful aberration for Mikolas, but it was more reminiscent of his brief tenure as a Ranger in 2014 before he reinvented his career in Japan.
Globe Life Park has been nothing but cruel to Mikolas, who has a whopping 15.86 ERA in five career starts there. The seven runs he allowed Friday tied for the fourth most of his career in 52 starts and the most in a start since August 2014.
In fact, the four worst starts of his career -- at least from an earned-runs standpoint -- have all been in Arlington, where he now sports an 0-5 record.
"This stadium, it doesn't like me, so I don't like it a whole lot better, either," Mikolas said.
Mikolas acknowledged that he doesn't feel especially comfortable on the mound at Globe Life Park -- he said maybe it feels a little low, and the backdrop's not his favorite -- but "that's not an excuse.
"When I was here in 2014 I got asked that question a lot, because I had pretty good numbers on the road for Texas and I didn't do well at all here," he said. "It doesn't make you make bad pitches. That was me."
Mikolas gave up nine hits in a brutal second inning Friday, starting with Joey Gallo's double and ending with Gallo's single. Logan Forsythe drove in Gallo for the Rangers' first run before Rougned Odor hit a three-run homer and Shin-Soo Choo hit a two-run shot. Mikolas left the game after Gallo's RBI single. Friday's 1 1/3-inning start was the shortest of his career.
"I think I was pulling off a little bit, stuff that was supposed to be away, I was yanking it middle, stuff that was supposed to be in, I was yanking it off the plate -- just not a good game," Mikolas said.
Manager Mike Shildt agreed that Mikolas just wasn't at his best Friday, regardless of the surroundings.
"The reality is you make quality pitches and you execute your pitches, you're going to get outs, and that's almost irrespective of ballpark," Shildt said.
When the Rangers move to the retractable-roofed Globe Life Field next season, the Cardinals will be the first team in the visiting clubhouse, as the teams announced Friday that they will play in a preseason exhibition March 23. Mikolas can only hope the environment next door will be more accommodating.
"It's a weird anomaly," Mikolas said of his Globe Life Park struggles, "but I'm not going to be upset when they turn this place into a pile of rubble. Hopefully if I ever pitch in the new stadium, I'll have better luck there."
After Friday's setback, the Cardinals, who had the best record in the Majors on May 1, have lost 12 of their past 15 games.
Long night for bullpen, but relievers step up
After Mikolas exited the game far earlier than hoped, the Cardinals' bullpen performed admirably despite the extra workload. Giovanny Gallegos, Tyler Webb, John Brebbia and Andrew Miller combined to throw 6 2/3 scoreless innings while striking out 11 and allowing only two hits, both singles.
Shildt said he was "ecstatic" about the way the four relievers pitched.
"Fantastic job," Shildt said. "Gallegos was tremendous, Webb was fantastic, Brebbia was outstanding. Very, very efficient. I can't say good enough -- they did a fantastic job and gave us a chance."
Webb struck out five in his 2 2/3 innings, while Brebbia had three strikeouts, Gallegos had two and Miller had one. Webb convinced Shildt he could come back out for the sixth inning after he retired the side with two strikeouts each in the fourth and fifth frames.
"I thought I could still get some outs and ran back out there and tried to get a couple more," Webb said.