Tough debut: Prospect allows 4 straight HRs
Cardinals trying to strike right pitching balance after lengthy layoff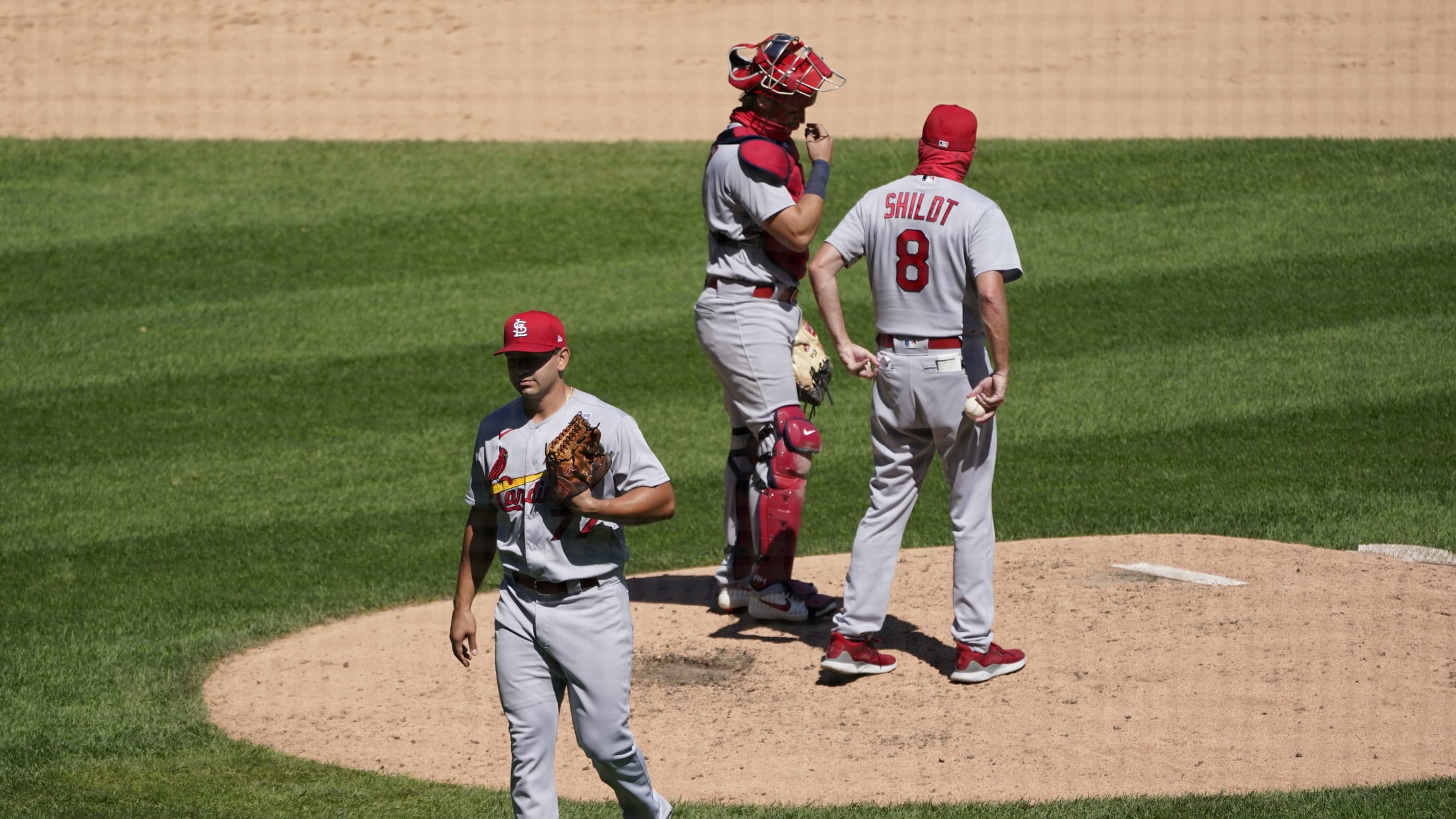 As the Cardinals continue their packed schedule stuffed with doubleheaders and just two scheduled off-days for the remainder of the season, they have to balance building starters' arm strength, bullpen usage and wanting to win as many games as they can. Manager Mike Shildt called that balance a "matrix," and
As the Cardinals continue their packed schedule stuffed with doubleheaders and just two scheduled off-days for the remainder of the season, they have to balance building starters' arm strength, bullpen usage and wanting to win as many games as they can.
Manager Mike Shildt called that balance a "matrix," and Sunday afternoon presented the first challenge.
The price of a lengthy first inning from starter Dakota Hudson was paid in the fifth inning of the Cardinals' 7-2 loss to the White Sox at Guaranteed Rate Field. St. Louis (4-4) turned to its bullpen and saw rookie reliever Roel Ramirez, making his Major League debut, allow four home runs in a row to land on the wrong side of history.
Ramirez struck out the first batter he faced, Luis Robert, before allowing two straight singles followed by a walk. Then the White Sox pounced.
The first three home runs came within a four-pitch span, and all of them came with two outs. Yoán Moncada started it with a three-run blast on a fastball down the middle. Yasmani Grandal and José Abreu delivered on the next two swings, and Eloy Jiménez capped the effort after a six-pitch at-bat.
Ramirez had difficulty moving his split-finger changeup. Acquired from the Rays in the 2018 Tommy Pham deal, the 25-year-old spent the majority of '19 in Double-A Springfield, where he had a 4.98 ERA across 72 1/3 innings. He finished the season at Triple-A Memphis, capping a promising campaign in which he averaged a career-high 10.2 strikeouts-per-nine.
"One of the reasons we liked Roel in Spring Training ... was the fact that he wasn't afraid to go after guys," Shildt said. "He learned that aggression needs to be with a little better command in some certain areas. We asked him to throw strikes, and now it's just a little bit better quality strike, and maybe regroup and make another quality pitch if something gets away from him."
After Jiménez's home run, Seth Elledge relieved Ramirez to make his own Major League debut. He promptly struck out Edwin Encarnación to get out of the fifth and went on to throw 2 1/3 hitless innings, including striking out the side in the seventh.
The Cardinals teased a rally in the sixth, when John Nogowski knocked his first Major League hit and Matt Carpenter hit a two-run single to chase starter Dallas Keuchel (3-2) from the game.
Ramirez, ranked by MLB Pipeline as the Cards' No. 29 prospect, is the ninth pitcher since at least 1901 to allow four-plus home runs in his MLB debut. He's the only one of those to allow the four home runs consecutively. Sunday marked the 10th time in Major League history four homers in a row were hit, matching the record.
Given that this was his first start in three weeks after a 17-day layoff and two separate quarantines where pitchers were limited in what they could do, Hudson reached his pitch count with 55 after four innings. He settled down after a 23-pitch first inning and retired the next nine batters to hold the White Sox to one run.
"It took me a second to get the breaking stuff going, but other than that, I felt pretty strong while I was out there," Hudson said. "I would say right now it's about mentally being locked in, and the physical part will come. As much as it stinks to say, it's really about getting our grasp on throwing to a catcher rather than throwing to a pillow or a mattress."
The Cardinals are looking at five games in three days, including two doubleheaders, against the Cubs at Wrigley Field beginning Monday. For the twin bills, both of the second games are scheduled to be bullpen games, so the Cards have a premium on pitching right now. As starters build their strength, the relievers are tasked with innings. And the Cardinals are still working up to having relievers go back-to-back days after the layoff, so there was limited availability Sunday after Saturday's doubleheader sweep.
• Cards on Negro Leagues: 'Baseball is family'
"You manage with what you know is in front of you," Shildt said. "You manage based on availability. Then you manage based on the situation, and it constantly evolves and changes as the game goes. There's an awareness that we have a bullpen game in Game 2 tomorrow, and we have a bullpen game in Game 2 on Wednesday. We have starters who are all on fairly limited pitch counts.
"It's a matrix that we continue to put together and work to our best ability. But there's always a responsibility to today's competition, too, based on what you have."