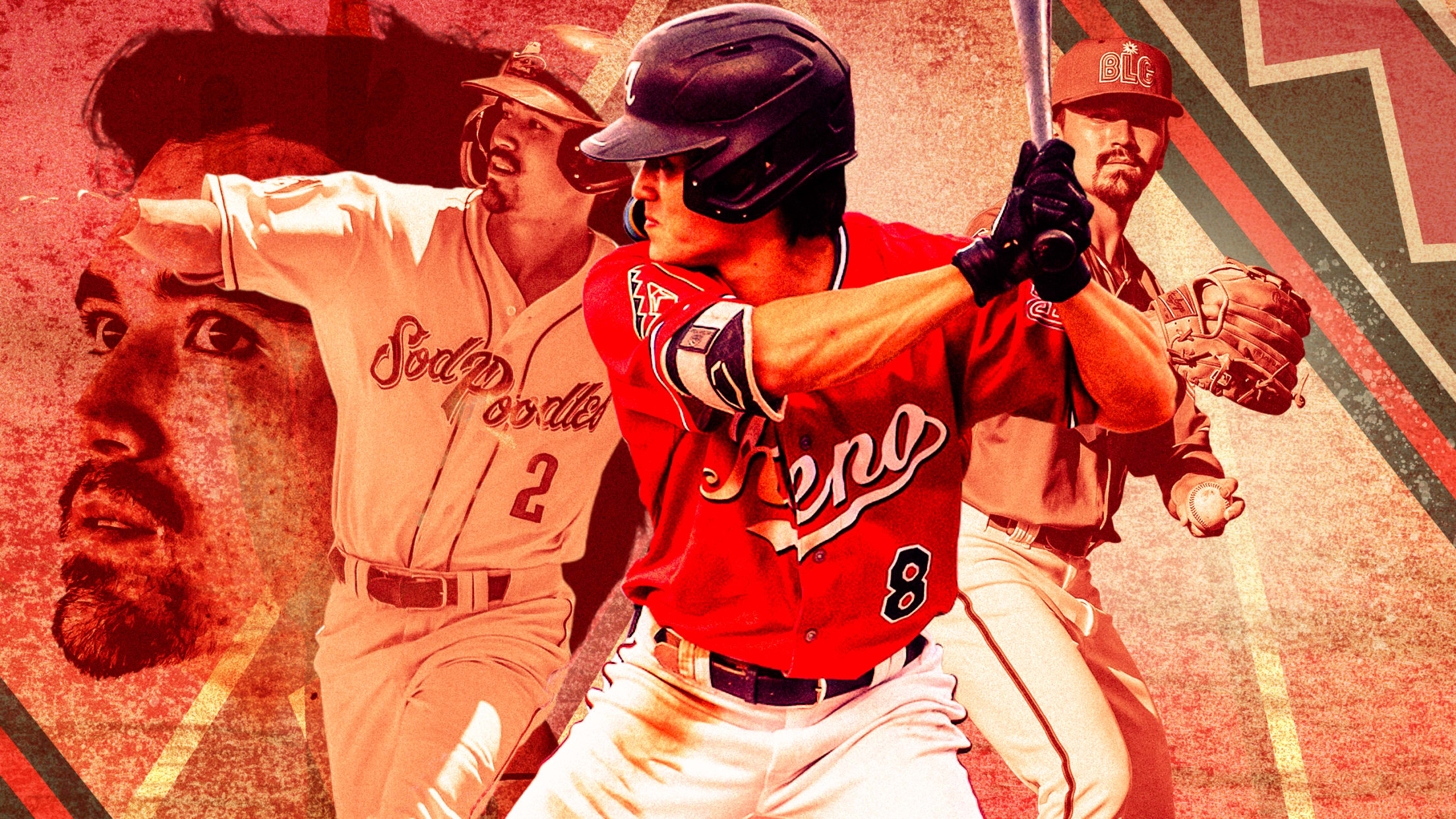 Scroll
Corbin Carroll's path to big league stardom starts with family
The D-backs liked what they saw from outfielder Corbin Carroll on the field when they scouted him prior to the 2019 MLB Draft. They watched him play and succeed against high-level international competition. They knew how good his hit tool was, how fast he was and that his glovework was superb.
That spring, the D-backs got to know him off the field, too, during a dinner with his family. That's when they really locked in on him being their selection with the 16th overall pick.
"I think you become convinced when you walk out of those meetings or the dinners or whatever, that that player may or may not make it to the big leagues," said D-backs senior vice president and assistant general manager Amiel Sawdaye. "But he's going to reach his potential based on his makeup."
Those traits the D-backs saw in him more than three years ago make Carroll -- now Arizona's top-ranked prospect (and No. 3 overall) per MLB Pipeline -- a good bet to succeed at the big league level: He is a problem-solver, that rare player that can be a deep thinker but not an overthinker.
Those indefinable, intangible traits help talent turn into skills and talented kids turn into great ballplayers. But even so, there's having good makeup, and there's "showing up so often they give you a baseball ops badge."
Carroll's tools rate highly across the board, but that's not why the D-backs love him. It's his dedication to the game, so intense that no one could keep him away from the park even when he was hurt. It's his love for the game, that goes back to a childhood idolization of Ichiro Suzuki. It's the person, not the ballplayer.
And it all starts at home.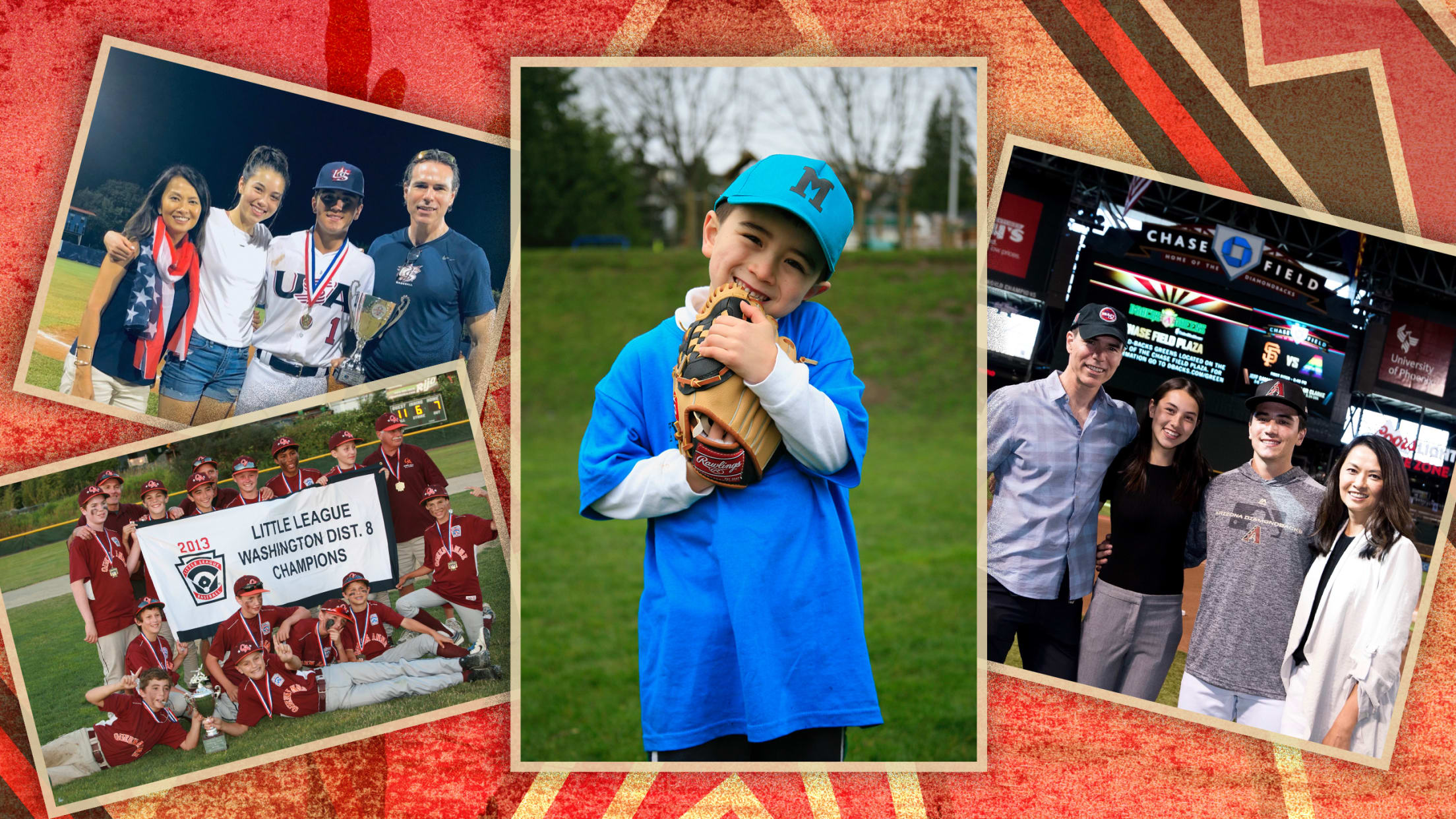 Strong Family
Ask Carroll about baseball or life in general and you will get thoughtful, articulate responses.
But if you want to see him really light up, change the subject to his parents, Brant and Pey-Lin, and his 17-year-old sister, Campbell.
"Any time I feel like someone wants to look into me, that's the place to start. Just because I'm very close with my mom and dad and my younger sister," said Carroll, who turned 22 on Aug. 21. "They mean so much to me, and the support they've given me -- I feel like I owe them so much."
They instilled in him the value of serving others, which is why he already thinks about how success on the baseball field can give him a platform. It's a strong base that serves Carroll well not just in baseball but in life. It helps him stay balanced and grounded while he reaches for his dreams.
"When I kind of think through what my goals are for the future, the biggest is having an impact on people," Carroll said. "That's making the day of a little kid at the ballpark, but it's also charity work."
School came first in the Carroll household, and Corbin was on a rigorous academic track attending Seattle's Lakeside School, an elite private institution that touts such notable alumni as Bill Gates and Paul Allen.
It was an inquiry-based education -- asking questions, filtering out what works and what doesn't -- and the classes were challenging, even for someone of Carroll's intellect. But, in turn, it built resilience.
"He's not fearful of getting things wrong," Pey-Lin said. "He's more delighted by getting things right. That's what really drives him."
Carroll's parents raised their son to be resilient and adaptable. He also asks a lot of questions. Coaches in the D-backs' system know they need to be prepared when he asks them about something because he will drill down to the smallest of details.
Many of those details will get recorded in the notebook he carries with him. It's a simple notebook that you can buy for a few dollars, but it carries within it life lessons. In many ways, it's a chart of his growth both on and off the field.
"We all like positive reinforcement," Brant said. "And baseball in particular is a sport where more often than not, you're not going to get positive reinforcement, just statistically. But I think how he's responded to the lack of positive reinforcement in certain situations goes back to his analytical mind -- 'Oh, I didn't get the positive reinforcement there. What are the things I need to do? What are the things I need to work on? How can I approach this differently to get the result that I want?' He's very analytical about that."
The Draft
The picture is still the screensaver on Carroll's phone. It's Ichiro with Carroll, who is holding up a tiny No. 51 jersey -- the first jersey he ever owned -- in the spring of 2019.
Carroll's first baseball memory is of being a young boy sitting in the upper deck on the first-base side at Safeco Field watching Ichiro patrol right field. The Mariners knew that Carroll had grown up idolizing Ichiro and his iconic left-handed swing, so when they invited him to visit before the Draft, they made sure Ichiro was there, too.
The two wound up in a deep discussion about hitting, and Carroll took away an important lesson from that day: Be consistent in your routine. The season is filled with ups and downs, but your routine should remain the same. If you're constantly changing all these little things here and there, how can you know what is impacting your performance?
"So by keeping the same routine every day, you can at least have the confidence to say that you went out there with 100% confidence in your preparation," Carroll said. "I think I take a lot of confidence in my ability to prepare."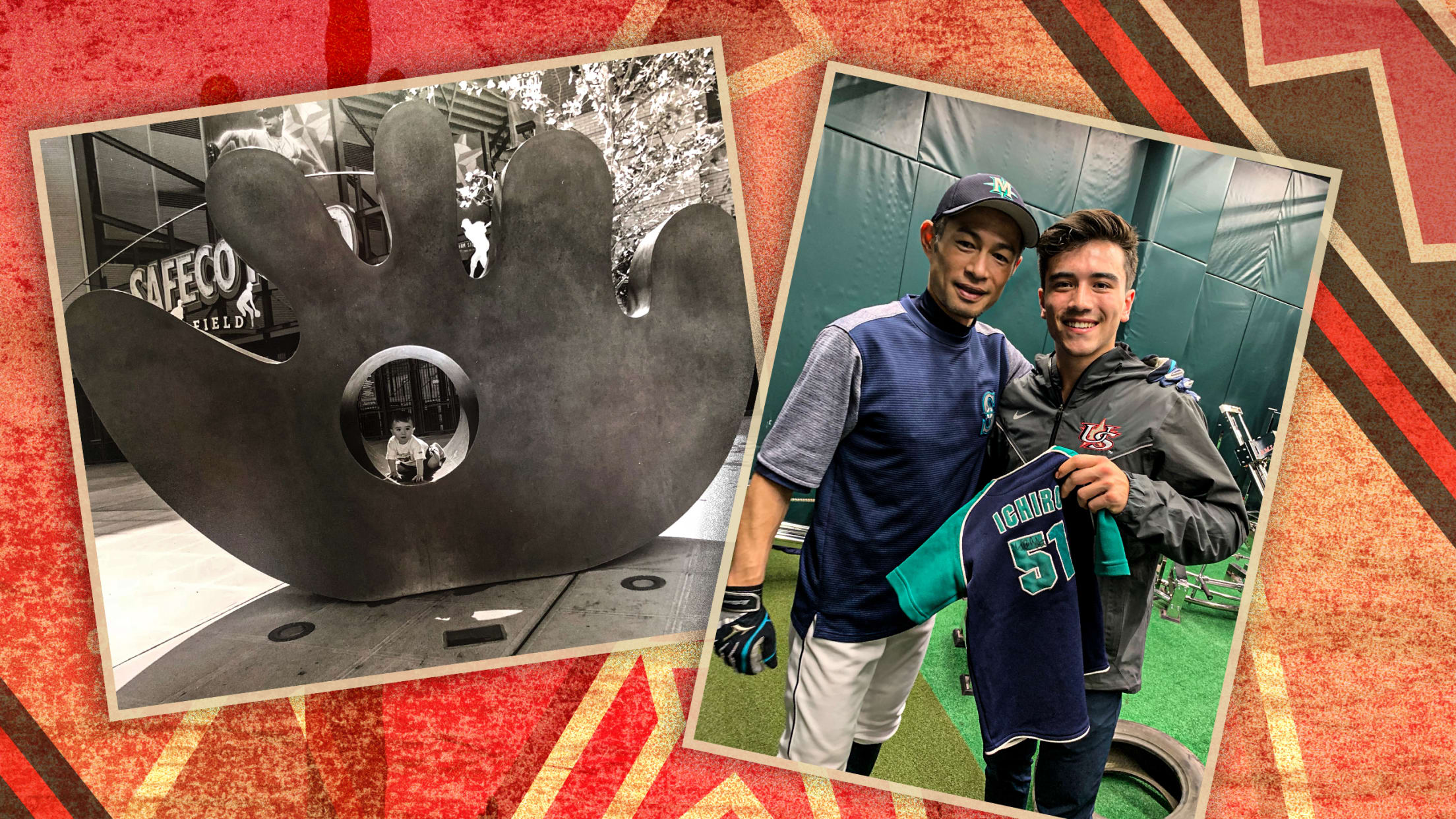 Confidence in his preparation allows Carroll to tune out distractions and compete "with freedom." His pregame hitting routine is always the same: A round off the batting tee, angled flips, a person throwing straight on and then rounds off the pitching machine.
As the Draft approached, there were varied opinions in the D-backs' baseball operations department about whether Carroll would still be available to them at No. 16. But there was one thing that was certain.
"We knew he wasn't getting past us," Sawdaye said.
Carroll had checked all the on-field boxes by the time Sawdaye, then-scouting director Deric Ladnier and scout Dan Ramsey had dinner with him and his family. They left that night convinced that Carroll's makeup was an 80 on the 20-80 scouting scale.
It wasn't just what Carroll said during the gathering that impressed Sawdaye; it was how he handled himself and interacted with his family. There was a maturity about the way he thought before answering that belied his young age.
"I thought it was one of the best meetings I ever had with a kid," Sawdaye said. "He's probably exceeded those expectations now."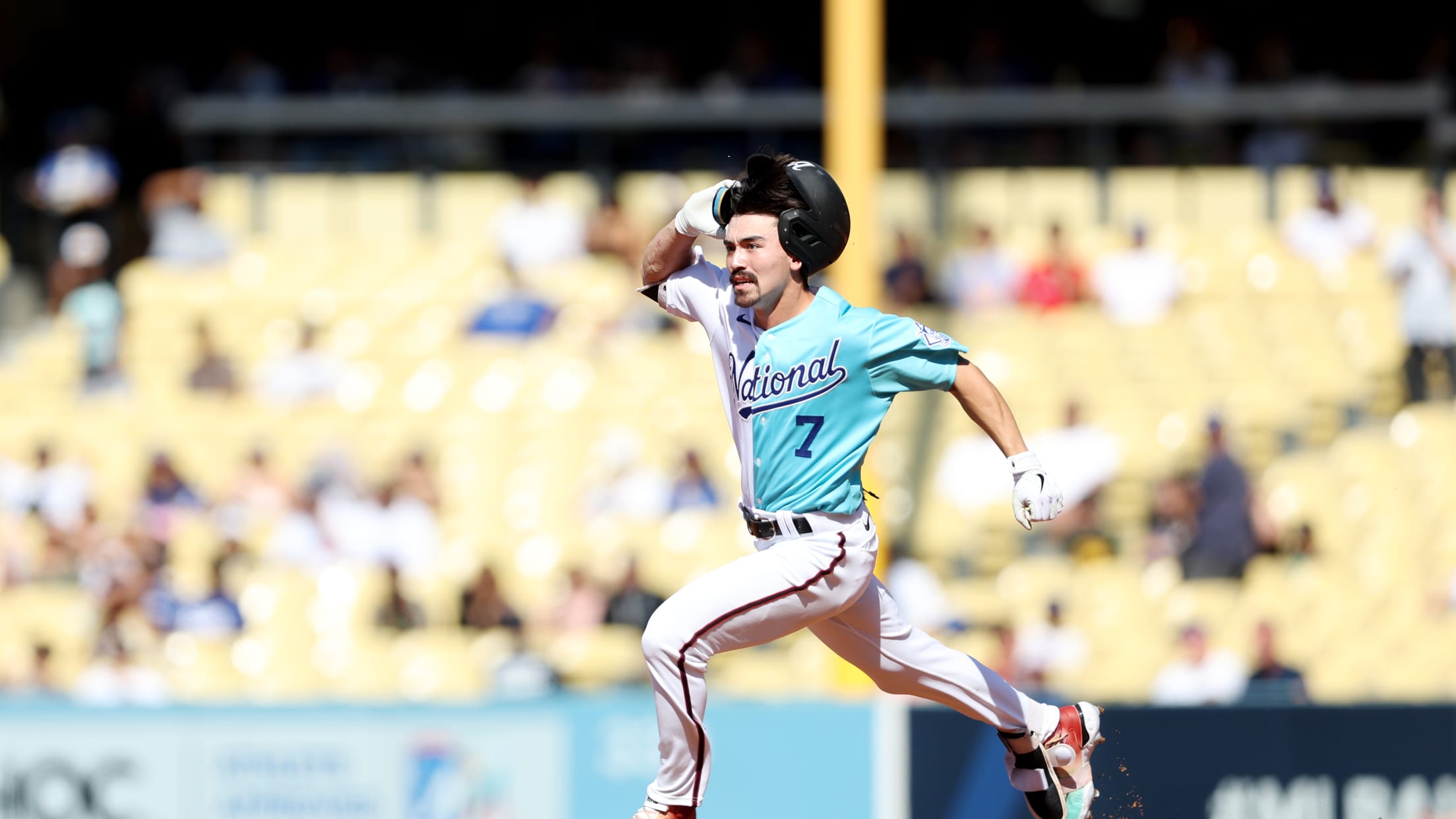 Shortened Seasons
When the COVID-19 pandemic shut down Minor League Baseball in 2020, the D-backs invited Carroll, then just 19 years old, to be a part of their alternate training site at Salt River Fields.
It was a great opportunity to get some at-bats against far better pitching than he likely would have seen in Single-A to open the season. Carroll drove with his mom from Seattle to Scottsdale, Ariz., arriving in time to go through intake testing the day before camp opened.
"During that time, there was a lot of nervous energy," Pey-Lin said. "And he's most comfortable on the field."
So Carroll and Pey-Lin set out in search of someplace where he could hit. They wound up at Chaparral High School in Scottsdale, not far from Salt River Fields, and she began to throw him batting practice.
"She's pretty good," Carroll said. "She's a lefty, too, so that's a good angle for me to see."
It was already late afternoon when they started, and by the time they were done, they headed out to their car in the parking lot only to find that the gate had been shut and locked. They were stuck.
The D-backs ended up sending Luis Gonzalez -- a local legend remembered for his 2001 World Series heroics -- over to get them out.
The days at the alternate site could be long. Carroll would face off against fellow Minor Leaguers in the morning at Salt River Fields (usually before 9 a.m. MT) and then would head to Chase Field at night to help the big leaguers finish off their intersquad games during the three weeks of Summer Camp.
And yet…
"That was one of my favorite years of my life," Carroll said. "Between that and going to [Instructional League] after, the two guys who I got really close with were Alek Thomas and Dom Fletcher. They called us 'The Three Musketeers,' that was our thing. I built some special bonds with those guys. That's what made that year so special for me. We'd be out there every day competing, no matter what it was."
While Carroll found a way to continue his development in 2020, he and the D-backs were excited to see how he would do in his first full professional season.
Nine games into the 2021 season, Carroll was crushing the ball for High-A Hillsboro, hitting .435/.552/.913. In the second game of a doubleheader against Eugene, Carroll hit a titanic blast to right field and triumphantly rounded the bases.
Watching it at the time, you wouldn't think anything was wrong. But in that moment, with that one swing, Carroll's life was about to dramatically change.
His right shoulder rotated too far at the end of his swing, causing an injury so severe it would require season-ending surgery. For a 20-year-old, it was a lot to process, and he sat with it for a few days before doing what he always does -- figuring out the best way forward.
"We're not a pity-party family," Pey-Lin said.
So Carroll pulled out his notebook and started brainstorming ways he could use his time on the sideline to improve both on and off the field. He listed things like nutrition, sleep, college courses (he ended up taking a full load at Arizona State University), weight room goals and possible virtual reality equipment to keep his pitch recognition sharp.
"I was trying to build work capacity and stay busy," Carroll said. "I was really pushing myself, not just physically. I got a lot out of each day. That was my approach because my big goal that I kind of kept to myself for some time was that I wanted to find a way to come back and use this year [to] have improved as a baseball player more than anyone in the organization. That was the standard that I was holding myself to."
When Carroll met with D-backs farm director Josh Barfield and general manager Mike Hazen, they added a couple more items -- working with weighted balls and watching games from the stands at Chase Field. The latter was designed to give Carroll a different perspective of the game.
Like with all areas of his life, Carroll threw himself into that last suggestion. Night after night, he would sit next to D-backs advance scout Jeff Gardner and the two would analyze what was happening on the field.
There were discussions about how the players handled situations: Did they do it correctly? If not, what should they have done differently? They would discuss approaches at the plate depending on what a pitcher was featuring. Gardner's ability to know what a pitcher would throw in a given situation was one of the things that stuck with Carroll.
By the end of the year, shortstop Jordan Lawlar, the D-backs' top pick from the 2021 Draft, was joining Carroll and Gardner. Because of how much the pair say they got out of it, the club will encourage their other prospects to do the same in the future.
Sawdaye said one of the most valuable lessons was showing Carroll that big leaguers aren't perfect.
Carroll was there so often the team gave him an employee badge so they didn't have to leave him tickets every night. That badge, which listed Carroll as a baseball operations employee, is still on his key ring.
You can operate on fear, or you can operate on love. I try and operate on love.

Corbin Carroll
Shedding the Chip
Sitting behind home plate and working with D-backs director of sports medicine and performance Ken Crenshaw each day on his rehab put the finishing touches on a transition that had been building inside Carroll for a while.
Throughout much of his life, he was motivated by the slights he experienced. He remembered the colleges that were late to pursue him because of his size. He remembered hearing he was the last player selected for USA Baseball. And then there were the scouts who constantly wondered if he was going to grow bigger.
But as he progressed in pro ball, Carroll began to realize that there was a better, more powerful fuel: Love.
"We talked about this with [Crenshaw] during rehab," Carroll said. "Not only related to baseball, but more of a life lesson -- there are two ways you can operate. You can operate on fear, or you can operate on love. I try and operate on love."
What helped crystalize that for Carroll was how he felt when he watched other players get their opportunity in the big leagues while he sat in the stands.
"I watched other guys go out there and I was just super, super happy for them," Carroll said. "I realized that to some extent this could be viewed as competition, right? These guys are getting a leg up while I'm sitting out this year not getting a chance to play. But I was truly happy for them, and that made me realize that maybe I had a more mature perspective now."
Focusing on the success of his teammates, as well as his relationships with friends and family, helped ground Carroll as he deals with the growing attention that comes with moving up MLB's prospect rankings.
It will also aid him with the pressure that inevitably comes with being a young Major Leaguer.
"That's not what's most important to me," Carroll said of the rankings, "in the sense that I've got a lot of things that I value over that, in terms of family, friends, values, treating and doing right by other people. I think the way I was brought up, having those values at the front of my mind, it really makes me realize that I've got a lot of really good things in my life in terms of [people] that don't care what kind of prospect I am, what kind of Major Leaguer that I, hopefully, am."
Those values and that perspective are what will likely help Carroll turn his tools into success as a Major Leaguer, but just as important, into someone who will thrive in life.
credits:
Steve Gilbert has covered the D-backs for MLB.com since 2001. Follow him on Twitter @SteveGilbertMLB. Design by Tom Forget.