Bay Area Sports Hall of Fame Ceremony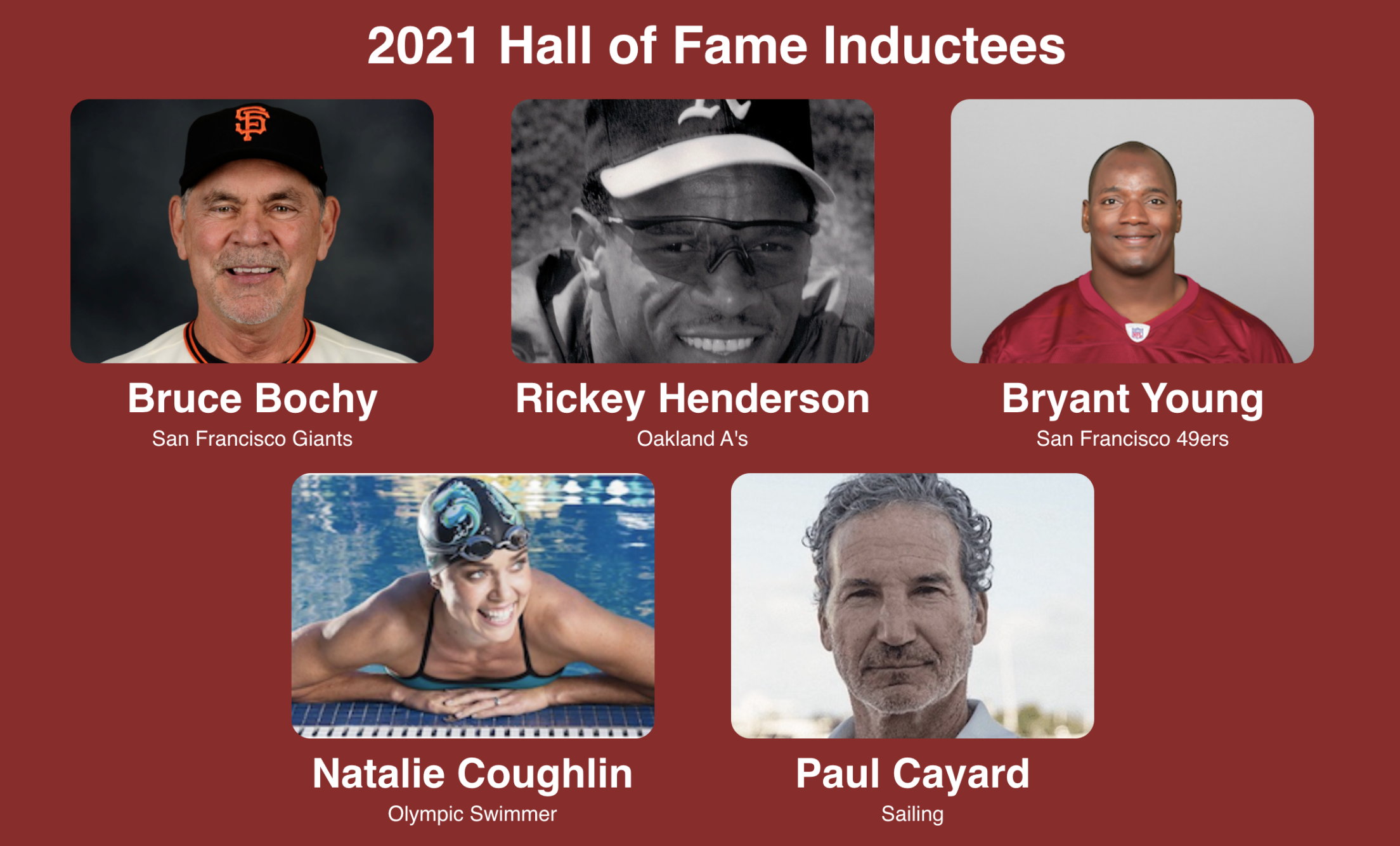 The Bay Area Sports Hall of Fame Class of 2021 Enshrinement Presented by Alaska Airlines to Take Place at Oracle Park on Monday, October 4
VIP Tickets
VIP Reception begins at 5:00pm in Triples Alley. Ceremony begins at 6:30pm.
General Admission Tickets
General Admission access only. Ceremony begins at 6:30pm
The Bay Area Sports Hall of Fame (BASHOF) Class of 2021 Enshrinement presented by Alaska Airlines and in partnership with KNBR 680, NBC Sports Bay Area and California, the San Francisco 49ers and the San Francisco Giants, will be held on Monday, October 4 at Oracle Park. The Class of 2021 inductees include Bruce Bochy, Rickey Henderson, Natalie Coughlin, Bryant Young and Paul Cayard.
The change in venue to Oracle Park will allow for an outdoor event and provide an opportunity for the public to watch the ceremony from the lower box seats. Ticket prices are $75 and $250 and can be purchased online at bashof.org. Tickets at the $250 price are limited and include a pre-ceremony reception and seating in the first two rows of the lower box seats closest to the field. A portion of the proceeds will benefit Special Olympics Northern California.
"It has been a long wait, and we are excited to finally induct this class into the Bay Area Sports Hall of Fame," said Mario Alioto, Board Chair for BASHOF. "I am especially thrilled that having the event outdoors at Oracle Park will allow more fans of these legendary Bay Area athletes to witness the ceremony."
This class of athletes is one of the most diverse and accomplished across a variety of sports to be inducted into BASHOF with Rickey Henderson – a baseball Hall of Famer; Bruce Bochy – a future Hall of Fame manager; Bryant Young– a member of the San Francisco 49ers Hall of Fame; Natalie Coughlin – a twelve-time Olympic medalist for swimming; and Paul Cayard – a professional sailor, is a seven-time world champion, seven-time America's Cup competitor and two time Olympian.
The Bay Area Sports Hall of Fame is a 501(c)(3) nonprofit organization that was founded in 1979 by Lou Spadia, former president of the San Francisco 49ers. Spadia had long dreamed of a Hall of Fame to honor the Bay Area's athletic legends and at the same time raise funds to help kids play sports. Now celebrating over 40 years of enshrining the great athletes, the Bay Area Sports Hall of Fame has enshrined 185 athletes and donated over $4 million to youth organizations in our community.
Special Olympics Northern California (SONC) enriches the lives of children and adults with intellectual disabilities through sports, health, leadership and inclusive schools programs. The 501(c)3 nonprofit organization offers free year-round programming in 44 counties across Northern California, empowering athletes to be their best both on and off the field. More information is available at SONC.org.