30 teams, 30 candidates for 2020 Rookie of Year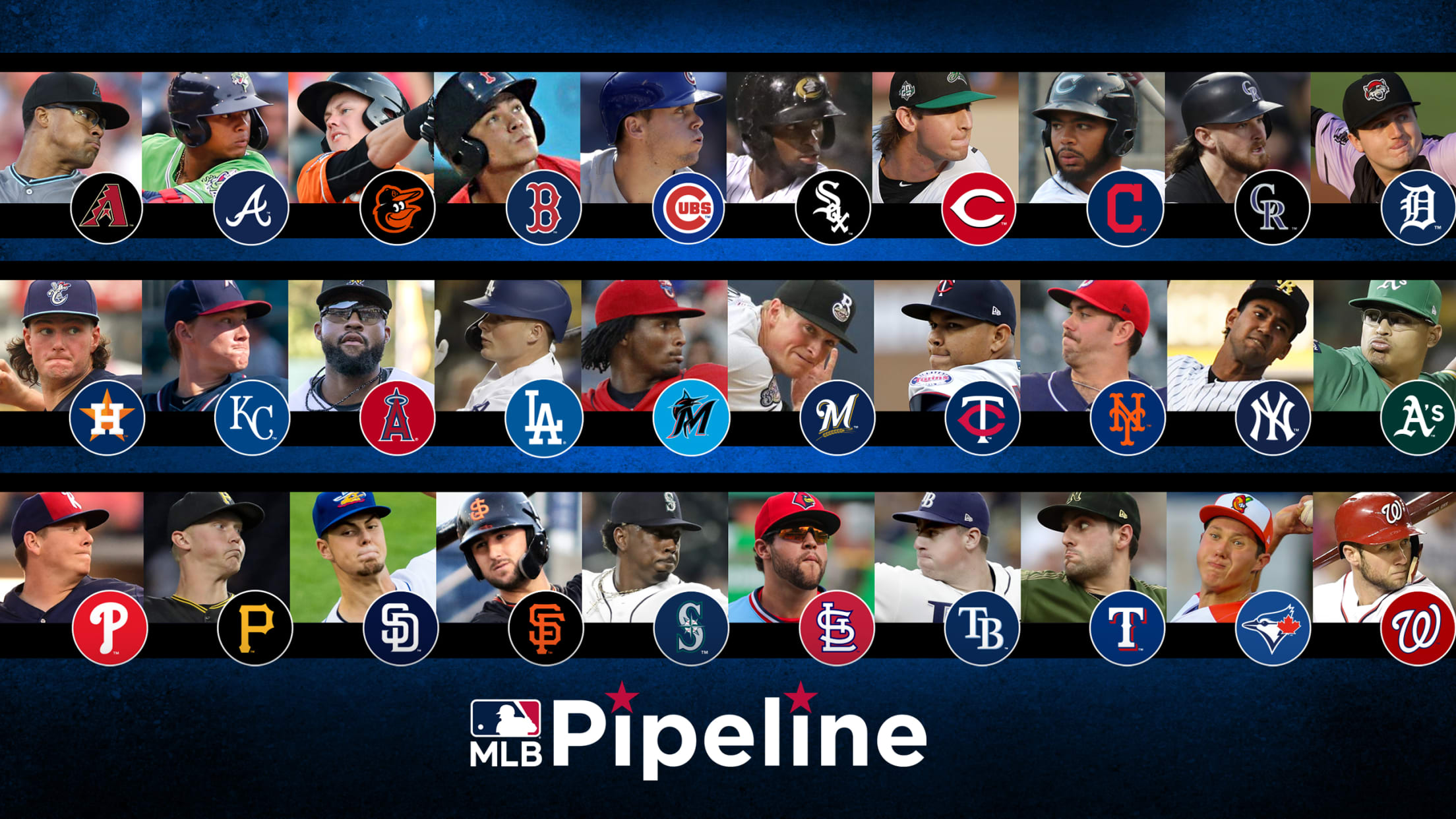 In November, the Astros' Yordan Alvarez (unanimous) and the Mets' Pete Alonso ran away with the 2019 American League and National League Rookie of the Year Awards, respectively. A year ago at this time, Alonso was very much on the ROY radar as he appeared headed for the Mets' Opening
In November, the Astros' Yordan Alvarez (unanimous) and the Mets' Pete Alonso ran away with the 2019 American League and National League Rookie of the Year Awards, respectively. A year ago at this time, Alonso was very much on the ROY radar as he appeared headed for the Mets' Opening Day roster. Alvarez, meanwhile, jumped on the scene with a huge start to his season in the Minors that led to his callup in early June.
When identifying the Rookie of the Year candidates for each club below, the key is trying to find the right combination of readiness (from the prospect) and opportunity (from the team). Sometimes, there's a clear path to an Opening Day roster spot, as there was with Alonso. And sometimes, the opportunity doesn't present itself right away, as was the case for Alvarez.
AMERICAN LEAGUE EAST
Blue Jays: Nate Pearson, RHP (No. 1/MLB No. 10) - After throwing only 1 2/3 innings during an injury-plagued 2018, Pearson emerged as one of the sport's best young arms last year, using his electric stuff to post a 2.30 ERA and a .176 BAA with 119 strikeouts in 101 2/3 frames across three levels, including Triple-A Buffalo. The 23-year-old flamethrower enters 2020 on the cusp of the Major Leagues in an organization that's actively auditioning its young arms as it looks toward the future.
Orioles: Ryan Mountcastle, 1B (No. 4/MLB No. 64) - The 22-year-old and former first-round pick (2015) earned International League MVP honors in his first Triple-A campaign, slashing .312/.344/.527 with 25 homers and 83 RBIs, while also pacing the circuit in both hits (162) and total bases (274). Mountcastle will never offer much defensive value as a first baseman or a left fielder; but the guy can really hit, and it shouldn't be long until he's driving in runs from the middle of the rebuilding Orioles' lineup.
Red Sox: Bobby Dalbec, 3B/1B (No. 2) - Selected in the fourth round of the 2016 Draft, Dalbec hasn't hit for much average, but his power has certainly been impressive. The Arizona product has hit 59 homers over the past two seasons, including seven through 30 games in his first experience at the Triple-A level. While Dalbec has improved as a defender, he's currently blocked at third base in Boston, but he did start getting some experience at first base in 2019, which could expedite his path to the Majors.
Rays: Brendan McKay, LHP (No. 2/MLB No. 12) - McKay's dominance on the mound between Double- and Triple-A -- 1.10 ERA, 0.81 WHIP, 102/18 K/BB in 73 2/3 IP -- earned him his first big league callup in June, and the former No. 4 overall pick (2017) ultimately made the Rays' postseason roster after tossing 49 innings (11 starts) of 5.14-ERA ball. As a candidate to crack the club's Opening Day rotation next season, McKay will be a popular preseason pick for the AL Rookie of the Year.
Yankees: Deivi Garcia, RHP (No. 1/MLB No. 62) - Garcia, 20, pitched across three levels in 2019 and racked up 165 strikeouts over 111 1/3 innings. The right-hander has advanced control for his age and a solid three-pitch mix. Garcia's best pitch is his curveball, but he also has an above-average fastball that plays up because of its riding life and a changeup that he's continuing to develop. While dominating as a starter would seem to be the best path toward winning the Rookie of the Year Award, Garcia's fastball-curveball combination could also play well out of the bullpen.
AMERICAN LEAGUE CENTRAL
Indians: Bobby Bradley, 1B (No. 7) - Strikeouts have been a problem for Bradley throughout his career, but when the 23-year-old slugger makes contact, the ball often leaves the yard. There's no denying Bradley's power -- he's hit 23 or more homers in five straight seasons -- and putting up big power numbers is always a way to stick around in the awards conversation.
Royals: Brady Singer, RHP (No. 2/MLB No. 52) – The 2018 first-rounder was as good as advertised during his first full season, reaching and pitching well in Double-A. His three-pitch mix and excellent command should allow him to make a jump up to Kansas City early in 2020. Expect him to get a nice long look in Spring Training and then join the staff at some point a month or two into the season.
Tigers: Casey Mize, RHP (No. 1/MLB No. 7) - Mize was as dominant as any hurler in the Minors during the first part of the season and fired a no-hitter in his Double-A Erie debut, but a balky right shoulder landed the 2018 No. 1 overall pick on the injured list in June, and he was inconsistent upon returning before then being shut down for the season in mid-August. As long as he's healthy, Mize, with three plus pitches and exceptional feel for his craft, figures to spend most of 2020 in the Tigers' rotation and will be among the more popular preseason picks for AL Rookie of the Year.
Twins: Brusdar Graterol, RHP (No. 3/MLB No. 53) - Twins fans got a glimpse of Graterol's plus stuff when he was brought up to help the big league bullpen out down the stretch, and he even tossed a perfect inning in the Division Series. He maintains that stuff when he's starting and there are openings in the rotation to be claimed. If the Twins do decide to shorten Graterol up long-term, he could be a Rookie of the Year contender as a setup man or even closer.
White Sox: Luis Robert, OF (No. 1/MLB No. 3) - Nick Madrigal's innate ability to hit could certainly put him in the Rookie of the Year conversation, however, it's impossible to ignore Robert's five-tool potential. Injuries hampered Robert during his first two seasons in the organization, but the 22-year-old broke out last season. Robert hit .328/.376/.624 over 122 games (three levels) and also set career highs with 32 homers and 36 stolen bases.
Luis Robert, welcome to the 30-30 club!

The #WhiteSox No. 1 prospect went deep to the opposite field for his 30th homer of the year to go along with his 36 stolen bases.

Here's Robert on the Top 100 Prospects list: https://t.co/p3Dqh8YihV pic.twitter.com/dUhd7mMcHh

— MLB Pipeline (@MLBPipeline) August 25, 2019
AMERICAN LEAGUE WEST
A's: Jesus Luzardo, LHP (No. 1/MLB No. 18) - Had things gone according to plan, Luzardo would have joined the A's rotation at, or near, the start of the 2019 season. A shoulder strain kept that from happening, though he did get back on the mound in June and pitched his way up to Oakland for a half-dozen relief appearances. He's a front-line starter long-term, though, and should be in the 2020 rotation from Opening Day.
Angels: Jo Adell, OF (No. 1/MLB No. 5) - Adell missed almost two full months at the start of the season because of hamstring and ankle injuries suffered during Spring Training, yet still managed to hit his way to Triple-A at age 20. He then showed off all his tools in the AFL, showing he's just about ready to take over in right field, where there might be an opening, in Los Angeles.
Astros: Forrest Whitley, RHP (No. 1/MLB No. 16) - Jose Urquidy, by virtue of his Major League experience, may have the inside track to be the Astros' representative on this list. However, if things go right for Whitley, he'll be in Houston at some point in 2020 and has the arsenal necessary to vault himself into the Rookie of the Year conversation. Whitley had a disappointing 2019 campaign, but put together a solid showing in the AFL. Whitley, with four plus pitches -- fastball, curveball, slider and changeup -- has the upside of a No. 1 starter if everything goes well.
Mariners: Justin Dunn, RHP (No. 5/MLB No. 70) - Dunn's first season in the Mariners organization was a successful one that saw him pitch well enough in Double-A to earn a late promotion to the big leagues. The Mariners could add some veterans to the staff to start the year, but look for Dunn to push his way into the rotation picture sooner rather than later.
Rangers: Joe Palumbo, LHP (No. 6) - Palumbo certainly isn't the biggest name, and as a former 30th-round pick (2013) he didn't enter the Rangers' system with a ton of hype or fanfare. However, the lefty has been a solid performer and made his debut last summer. Palumbo doesn't have overpowering stuff, but uses his pitch mix -- fastball, curveball and changeup -- well and improved his command last season.
NATIONAL LEAGUE EAST
Braves: Cristian Pache, OF (No. 1/MLB No. 11) - It might be safer to pick one of the upper-level pitchers in this system, but Pache has the kind of potential to break through what might seem like a full outfield right now. He doesn't have Ronald Acuña Jr. type power right now, but he is driving the ball more consistently. That, along with his plus speed, defense and arm, could allow him to have an Acuña-like impact in 2020.
Marlins: Sixto Sanchez, RHP (No. 1/MLB No. 22) - Sanchez, whom the Marlins acquired in the J.T. Realmuto trade, may have the best combination of stuff and command of any pitcher in the Minors. Sanchez's workload was limited through the first few years of his career, but he reached Double-A and threw a career-high 114 innings (with 103 strikeouts) last season. The 21-year-old throws both a two- and four-seam fastball, can touch triple digits and also throws an above-average breaking ball and changeup.
Mets: David Peterson, LHP (No. 7) - Taken 20th overall in the 2017 Draft out of Oregon, Peterson made the jump to Double-A last season and struck out 122 batters in 116 innings while pitching to a 4.19 ERA before continuing his season in the Arizona Fall League. The 6-foot-6 southpaw generates a healthy number of whiffs and has long been revered for his groundball tendencies, and as the Mets' most advanced starting pitching prospect, he's a candidate to join the rotation at some point next season.
Nationals: Carter Kieboom, SS/2B (No. 1/MLB No. 20) - Kieboom homered in his Major League debut in April but ultimately appeared in only 11 games with the Nats. At Triple-A Fresno, the 22-year-old slashed .303/.409/.493 with 16 homers and 79 RBIs in 109 games, showing the type of production that could make him a fixture on Washington's infield starting next season.
Phillies: Spencer Howard, RHP (No. 2/MLB No. 88) - Howard missed two months in 2019 with shoulder soreness, but showed perhaps the best overall stuff in the Arizona Fall League, a repertoire that could get big league hitters out right now. He'll need to continue working on his command and might need a bit more time in the upper Minors to start 2020, but it's easy to see a scenario where his domination of Triple-A hitters leads to a lot of starts in the big leagues.
NATIONAL LEAGUE CENTRAL
Brewers: Drew Rasmussen, RHP (No. 12) - Selected in the sixth round of the 2018 Draft amid his recovery from a second Tommy John surgery, Rasmussen already looks to be a steal after a healthy and impressive pro debut, most of which he spent in Double-A. While the Brewers continue to be optimistic about the right-hander's chances of sticking as a starter, Rasmussen's power stuff, including an upper-90s fastball and hard slider, could help him break through as a high-leverage, late-inning reliever in 2020.
Cardinals: Dylan Carlson, OF (No. 1/MLB No. 24) - The 2016 first-rounder broke out in earnest in his age-20 season, hitting .292/.372/.542 with 26 homers and 20 steals in 126 games across Double-A and Triple-A. The performance netted Carlson, a switch-hitter, Double-A Texas League Player of the Year honors, and he posted a 1.098 OPS with five homers in 18 games after advancing to Memphis. Carlson's five-tool profile enables him to impact games in a variety of ways, and it's difficult to envision a scenario in which he doesn't spend most of 2020 as an everyday player for the Cardinals.
Cubs: Nico Hoerner, SS (No. 1/MLB No. 47) - Hoerner has played just 89 games in the Minors, but that hardly seemed to be an issue as he held his own in Chicago last season. The 24th overall pick from the 2018 Draft, Hoerner hit .282 over 20 games with the Cubs. Although he doesn't hit for a ton of power, Hoerner has an advanced approach, makes consistent contact and has the speed to swipe a few bags.
Pirates: Mitch Keller, RHP (No. 1/MLB No. 26) - Keller finished just two innings shy of graduating off of prospect lists during his uneven big league debut in 2019, but he finished off the year on a strong note and while his prospect star faded a tiny bit, he showed he can be an effective big league starter when he trusts his stuff.
Reds: Nick Lodolo, LHP (No. 2/MLB No. 56) - Picking a guy with a grand total of 18 1/3 professional innings on his resume might sound bold, but Lodolo's combination of stuff and outstanding command all point to a quick trip up the ladder to the big leagues. The Reds let Mike Leake make his pro debut in the big leagues and while Lodolo did pitch last summer, he could follow a similar path to the Reds rotation.
NATIONAL LEAGUE WEST
D-backs: Jon Duplantier, RHP (No. 6) - Duplantier was one of the first notable prospects to get the call in 2019, as he tossed three scoreless frames in relief to earn the save in his big league debut on April 1. Right shoulder inflammation ultimately limited the 25-year-old right-hander to just 36 2/3 frames with Arizona (and 79 2/3 total IP including the Minors), but he performed well enough in that small sample and appears poised to take on an even greater role, possibly as a starter, in 2020.
Dodgers: Gavin Lux, SS/2B (No. 1/MLB No. 2) - After flying through the Minors and hitting .392 in Triple-A, Lux got a taste of the Majors late in the year. That experience, which included nine postseason at-bats, should only help the 21-year-old hit the ground running in 2020. Not only can Lux hit, but he also has plus speed and could become a 25-25 player. Although the Dodgers' lineup is certainly crowded, Lux, as he demonstrated this year, has plenty of potential and should have no problem getting at-bats as long he's producing.
Giants: Joey Bart, C (No. 1/MLB No. 19) - Bart missed time during the regular season because of a fractured right hand and then it fractured again in the Arizona Fall League when he was hit by a pitch. However, when Bart was on the field, he showed why he was considered one of the best hitters in the 2018 Draft and why the Giants grabbed him No. 2 overall. Bart, who reached Double-A this season, hit .278 with 16 homers in 79 games then hit .333 with four homers over 10 games in the AFL. Bart has plenty of power and has improved behind the plate. Of course, the Giants have Buster Posey, who caught 101 games in 2019, so that may delay Bart's arrival enough to keep him out of the running for the National League Rookie of the Year Award.
Padres: MacKenzie Gore, LHP (No. 1/MLB No. 4) - Gore, the No. 3 pick in the 2017 Draft, overcame the blister problems that plagued him in 2018 to earn MLB Pipeline Pitcher of the Year honors after posting a 1.69 ERA, a 0.83 WHIP and 135 strikeouts over 101 innings between Class A Advanced Lake Elsinore and Double-A Amarillo. The Padres pushed many of their top pitching prospects up to the Majors last season, and that trend should continue in 2020 with Gore, who should quickly establish himself as one of the game's premier young hurlers.
Rockies: Brendan Rodgers, INF (No. 1/MLB No. 14) - If it hadn't been for a torn labrum, Rodgers would have graduated off of prospect lists during the 2019 season. All reports have been that his rehab is going well and he plans to be ready and raring to go this spring. If he breaks camp as the club's starting second baseman, he could put up some huge numbers in Coors Field.