Halfway there: A look at Seattle at midpoint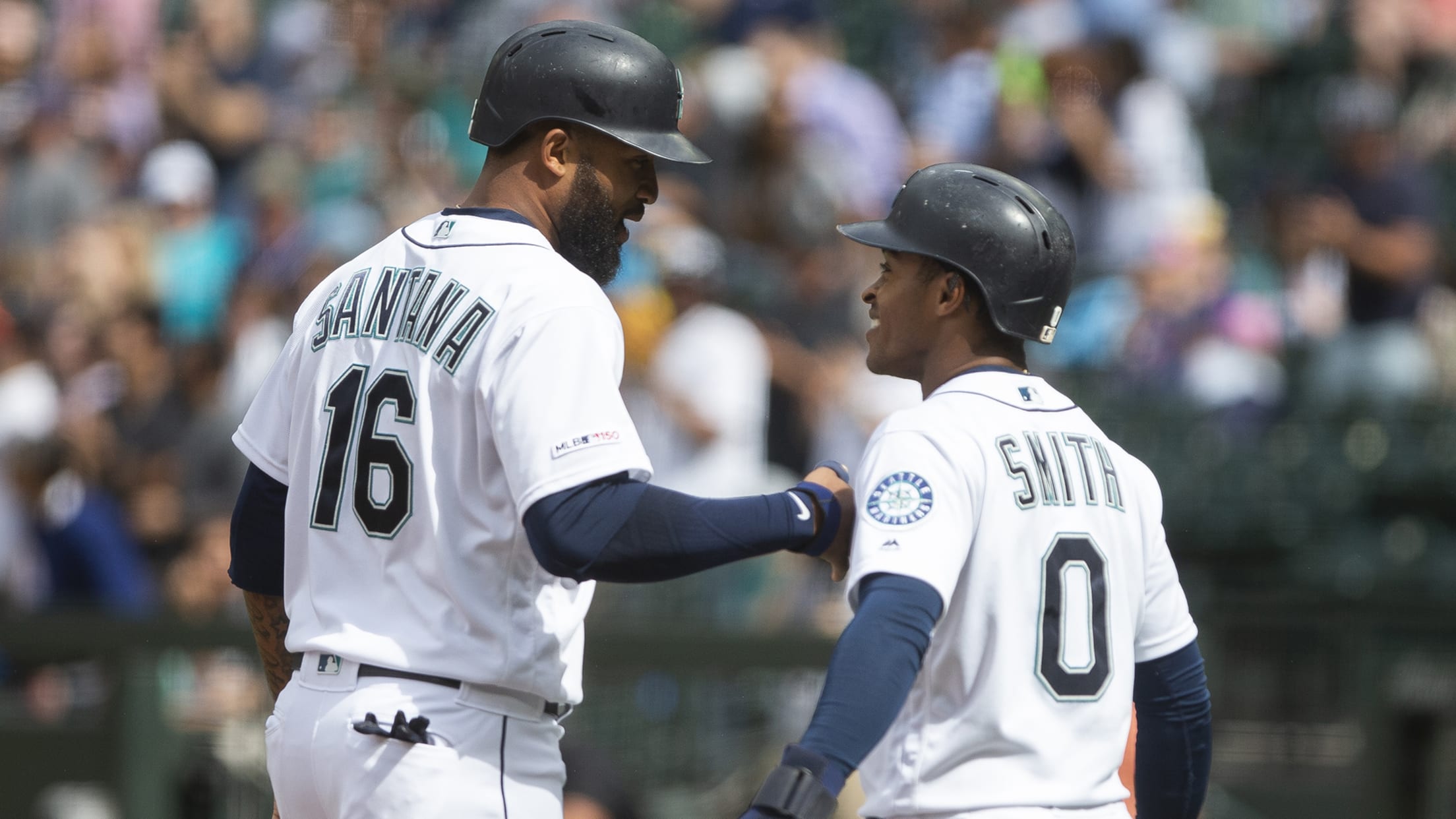 SEATTLE -- As the Mariners embark on a six-game road trip through Milwaukee and Houston to kick off the season's second half, here are three interesting things we've learned during the first 82 games of the marathon.
SEATTLE -- As the Mariners embark on a six-game road trip through Milwaukee and Houston to kick off the season's second half, here are three interesting things we've learned during the first 82 games of the marathon.
1. Domingo needs to play right field
The trial and error of the first three months included more of the latter than expected. The Mariners have committed an MLB-high 81 errors -- 20 more than the Orioles, which have committed the second-most -- and far beyond the MLB average of 46 per team to date.
But things have improved considerably in recent weeks, in part because Kyle Seager returned from injury to man third base and shortstop J.P. Crawford helped stabilize the infield following his promotion from Triple-A Tacoma. But the biggest surprise defensively has been the dramatic improvement in Domingo Santana's outfield play since the big man was switched from left field to right.
Santana committed nine errors in 59 games in left field to start the year. Entering play Monday, no other outfielder had more than four errors this entire season. But since moving to right field the past 20 games, Santana hasn't made a miscue. Not only is he not booting balls, Santana has shown far better range and general comfort while making plays, including a couple more nice catches in Sunday's 13-3 win over the Orioles.
"He's a totally different player," manager Scott Servais. "He's a different animal out there. He's comfortable. His reads on balls, his first step, his angles are really, really good. It's been a huge difference."
Santana played almost exclusively right field with the Brewers before being acquired by Seattle, but the Mariners like Mitch Haniger in right and figured Santana could adjust to left. That clearly didn't go as hoped, and the question now is what happens when Haniger returns from the injured list sometime in the next few weeks.
My guess is Haniger will take over in center and Mallex Smith will shift to left, which is what the Mariners were experimenting with for two games before Haniger ruptured his testicle on a foul ball on June 6.
2. There are some keepers in the clubhouse
Let's be honest. Most of the players you're seeing on the field are not going to be part of the Mariners when they expect to make a push for contention in 2021 or so. Many of Seattle's top prospects are still a year or two away from arrival, and the future payroll that was shed in Jerry Dipoto's makeover the past eight months will be used to acquire players poised to help then, not now.
But a few youngsters are starting to show they could be part of that next wave. Crawford's initial impression has certainly been positive at shortstop. Omar Narváez and Tom Murphy have combined for the second-highest fWAR for catchers -- behind only the Brewers -- in all of MLB this season. And Santana's bat certainly makes him a future factor, though it's worth noting he only has two years of team control remaining before hitting free agency.
Yet the biggest surprise arising from the first half would have to be Daniel Vogelbach's emergence as a legitimate thumper at designated hitter. There were a lot of eyebrows raised when the Mariners let Nelson Cruz go, but the club wanted to see what Vogelbach could do if given a full-time shot, and that wasn't going to happen with Cruz in the lineup.
Vogelbach has made the most of that opportunity, posting a .251/.388/.523 line with 18 homers and 44 RBIs in 73 games. Cruz is having a nice season with the Twins, putting up a .266/.357/.531 line with 13 homers and 36 RBIs in 51 games, but he's 38 years old, has missed time with a left wrist injury and is making $14 million, while Vogelbach is earning the MLB minimum $559,000 and is under team control for five more seasons.
3. Sometimes patience pays off
Maybe it was the fact Smith missed almost all of Spring Training with a right elbow injury. Perhaps he was just pressing too hard trying to please his new team. Whatever the reason, Mallex didn't look like he belonged in the Majors in his first two months with the Mariners.
Smith couldn't hit, he couldn't run much because he wasn't getting on base and, worst of all, he started having trouble simply catching fly balls in center field. But give Smith credit, because the youngster has worked his tail off to turn things around.
For the past month, Smith has been out on the field before every game with outfield coach Chris Prieto working on fundamentals, to the point where he nearly suffered from heat exhaustion one muggy day in Texas. And the results have paid off, as the 26-year-old has regained his confidence in center field as well as at the plate.
While Smith may ultimately move to left field when Haniger returns, he no longer is a liability in the field. And offensively? After posting a miserable .164/.243/.254 line with eight stolen bases in his first 34 games, Smith has hit .308/.372/.439 with 13 stolen bases in his last 27.
Despite a three-week stint in Triple-A with Tacoma to help get him back on track, Smith's 21 stolen bases rank second in MLB and his recent run has reminded how important it is to have a table-setter atop the lineup.
Crawford has benefitted from hitting second behind Smith and seeing a steady diet of fastballs as pitchers worry about the speedster when he's on base -- and the entire team seems to draw energy when Smith's on the loose.
"This," said Servais, "is the Mallex Smith we were expecting."