Taking stock of Seattle near quarter mark in '19
After a torrid 13-2 start, the Mariners hover around .500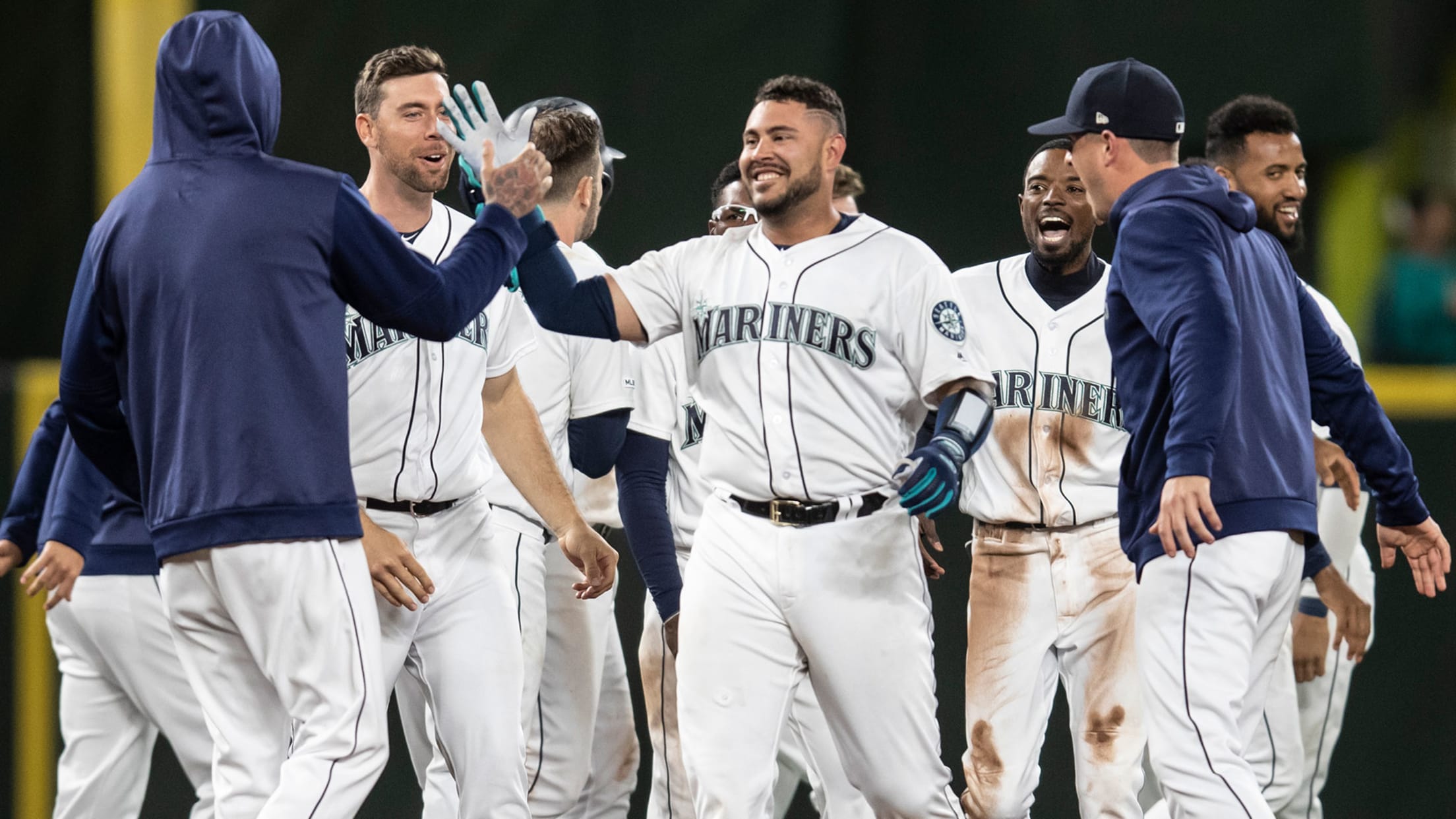 SEATTLE -- Just past the quarter mark of the MLB season, things are starting to sort themselves out. The expected American League powers -- the Astros, Red Sox and even an injury-plagued Yankees squad -- are rising to the top after slow starts. The Rays, Twins and Indians appear ready
SEATTLE -- Just past the quarter mark of the MLB season, things are starting to sort themselves out. The expected American League powers -- the Astros, Red Sox and even an injury-plagued Yankees squad -- are rising to the top after slow starts.
The Rays, Twins and Indians appear ready to make legitimate playoff pushes.
And the Mariners? After a 13-2 start, they're now below .500 at 22-23, though a pair of wins over the A's earlier this week helped level things off after a rugged East Coast road trip.
But just who are these Mariners? And not just who are the players -- given that only seven on the current 25-man roster are holdovers from last year. But what exactly can we expect to see over the remaining 4 1/2 months of the schedule?
Here are three thoughts on what we've seen and what's to come:
1. Regression can be mean
Of course they weren't as good as the 13-2 start suggested, when they were bashing out a .295/.370/.565 line with 36 homers and 7.8 runs per game. But realistically, they aren't as bad as the 9-21 club that has since posted a line of .212/.296/.406 while hitting 47 homers and averaging 4.1 runs in their last 30 games.
Some of that is natural regression. No team puts up those early offensive numbers over the course of 162 games. But the balancing effect has to do with the level of competition as much as the law of averages catching up to them … and that competition will swing back the other way.
The Mariners are 17-4 vs. teams with losing records and 5-19 against teams with winning records. They just happened to play a lot of bad teams early … and not coincidentally fell back to Earth when playing seven of nine series against winning clubs, capped by the wicked trip through Cleveland, New York and Boston, which yielded a 2-8 record.
They're good enough to beat -- and sometimes bash -- lesser pitching with their offensive attack. But you can't play poor defense and run out an inexperienced bullpen and expect to beat elite teams on a consistent basis.
The good news? After the upcoming four-game series against the AL Central-leading Twins, eight of the following 10 series leading up to June 25 will be against teams who currently own losing records.
That's a lot of winnable games.
2. The defense has to get better. Doesn't it?
As the Mariners have discovered, home runs don't fly away as often against good pitchers. That's why defense and your own pitching come into play against quality opponents. You can't give extra outs to good teams and just overcome it by scoring 10 runs yourself.
The Mariners are now second to the Astros in the Majors for the most home runs per game and third -- behind the Astros and Twins -- in slugging percentage. They also rank No. 1 in errors committed, and by a sizable margin. They've racked up 47 errors in 45 games, while the next-worst team entering play Wednesday was the White Sox with 35 in 41 games. The current Major League average is 24 errors in 41 games.
Can they improve defensively? To some degree, yes. The arrival of J.P. Crawford at shortstop has already helped stabilize the infield and he'll continue to play regularly from here on out. Kyle Seager should be back at third base later this month and that will help. Along with Dee Gordon at second, that's a far better defensive infield.
Mallex Smith will likely return Thursday from Triple-A Tacoma and I suspect that he'll be better in center field if he's regained his confidence. That allows Mitch Haniger to return to his strong suit -- right field. Are there still defensive holes? Sure, but it at least shouldn't be historically bad.
As for the bullpen? That's another story. The current theme is "providing opportunity" to guys who've struggled elsewhere, but might have upside if the Mariners pitching brain trust can help make things click. They've done wonders with Rule 5 Draft pickup Brandon Brennan and Rangers castoff Connor Sadzeck and could continue to find some helpful pieces for the future, but not all the long shots are going to pay off.
That means rough sledding ahead for a team that ranks 26th in the Majors in bullpen ERA at 5.33 and 29th in WHIP at 1.60 (compared to 3.76 and 1.23 last season, respectively).
3. More change is coming, so hang on
Here's the wild card in all of this: This season remains about the future. The 13-2 start led some to wonder if that path should be abandoned, but reality -- and regression -- reared its head.
The Mariners currently have a roster that has them near .500 and, as noted, can certainly compete against other sub-.500 teams.
But to take the desired step forward, this year remains about developing core pieces for the future and that means veterans who have driven this team's early offense -- like Edwin Encarnacion, Jay Bruce, Tim Beckham and Gordon -- could be traded if general manager Jerry Dipoto can get helpful prospects in return.
Yusei Kikuchi and Daniel Vogelbach have shown that they can join Marco Gonzales and Haniger in the future nucleus. Domingo Santana and Omar Narvaez are legitimate run producers.
But at some point, this year will also become more about the development of Smith, Crawford, Justus Sheffield, Erik Swanson, Braden Bishop, Shed Long and pitchers that we've not even seen yet. And that means taking inevitable lumps along the way.
With 117 games still to play, much can and will still happen this year. The only thing that seems certain? What we see now for the Mariners will not be what we see in August and September. So hang on.