2022 Nationals Holiday Packs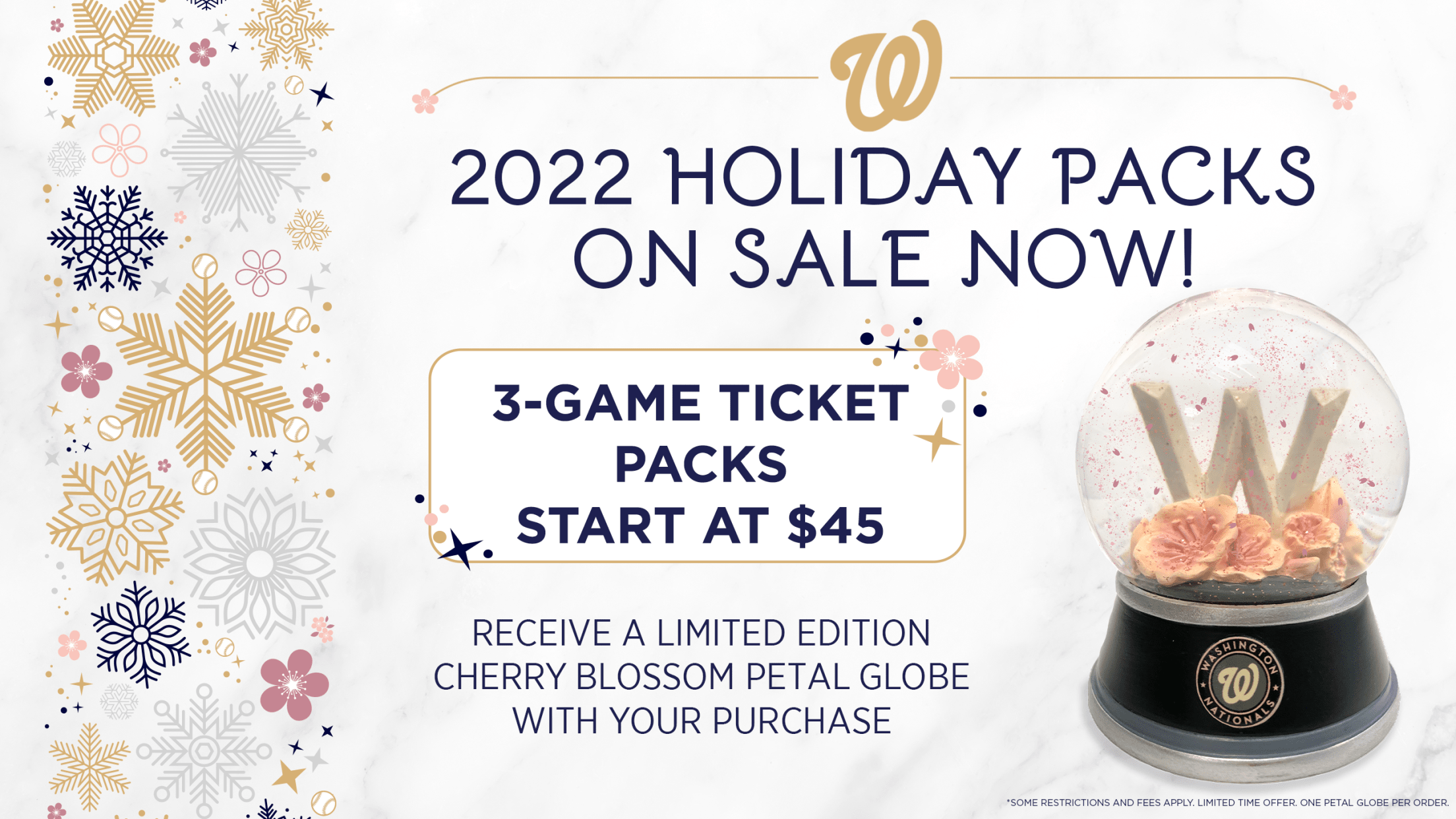 This holiday season, give the gift of Nationals baseball! Buy a Nationals Holiday Pack and get tickets to three 2022 Nationals games and a limited-edition Nationals Cherry Blossom Petal Globe. Happy Holidays!
Tickets to three 2022 Nationals games
Limited-edition Nationals Cherry Blossom Petal Globe (one per order)
Order by December 15 for delivery of Petal Globe by December 23!*
Packs start at just $45
Fans who elect to pick up their Nationals Cherry Blossom Petal Globe at the Nationals Team Store can do so between 10 a.m. and 4 p.m., Monday through Saturday. Please show your Holiday Pack confirmation e-mail to receive your item.
Nationals Cherry Blossom Petal Globes can also be shipped via U.S. mail for a $5.00 shipping & handling fee payable at the time the pack is purchased.
* All orders submitted by December 15, 2021 are subject to holiday-related shipping delays experienced by third party shipping carriers (i.e. USPS). Any such delays suffered are due to no fault of the Nationals.
The Nationals reserve the right to change any and all 2022 access, benefits, promotions, seating locations and events (including, without limitation, location, dates and times) without notice based upon: 1) federal, city, state and/or local government orders, mandates or restrictions; 2) the guidance or recommendations of a recognized health agency (i.e. Centers for Disease Control or the World Health Organization); and 3) the ongoing developments of the COVID-19 pandemic.
Maximum of six (6) packs per order. All tickets will be delivered via the MLB Ballpark app in March 2022.
Limited time offer. Some restrictions apply. Only valid for the games and seating areas listed above, while supplies last. Not valid for Special Ticket Events. Cannot be combined with any other offer. Promotion is subject to change without notice. Tickets brokers are not eligible for this offer. The Washington Nationals may expand the use of netting. All sales are final. There are no refunds, exchanges or cancellations.
2022 Season Plans are on sale now! Season Plans offer access to Opening Day & Postseason tickets and great discounts on tickets, concessions and merchandise.