Here are the O's top 5 wins of 2019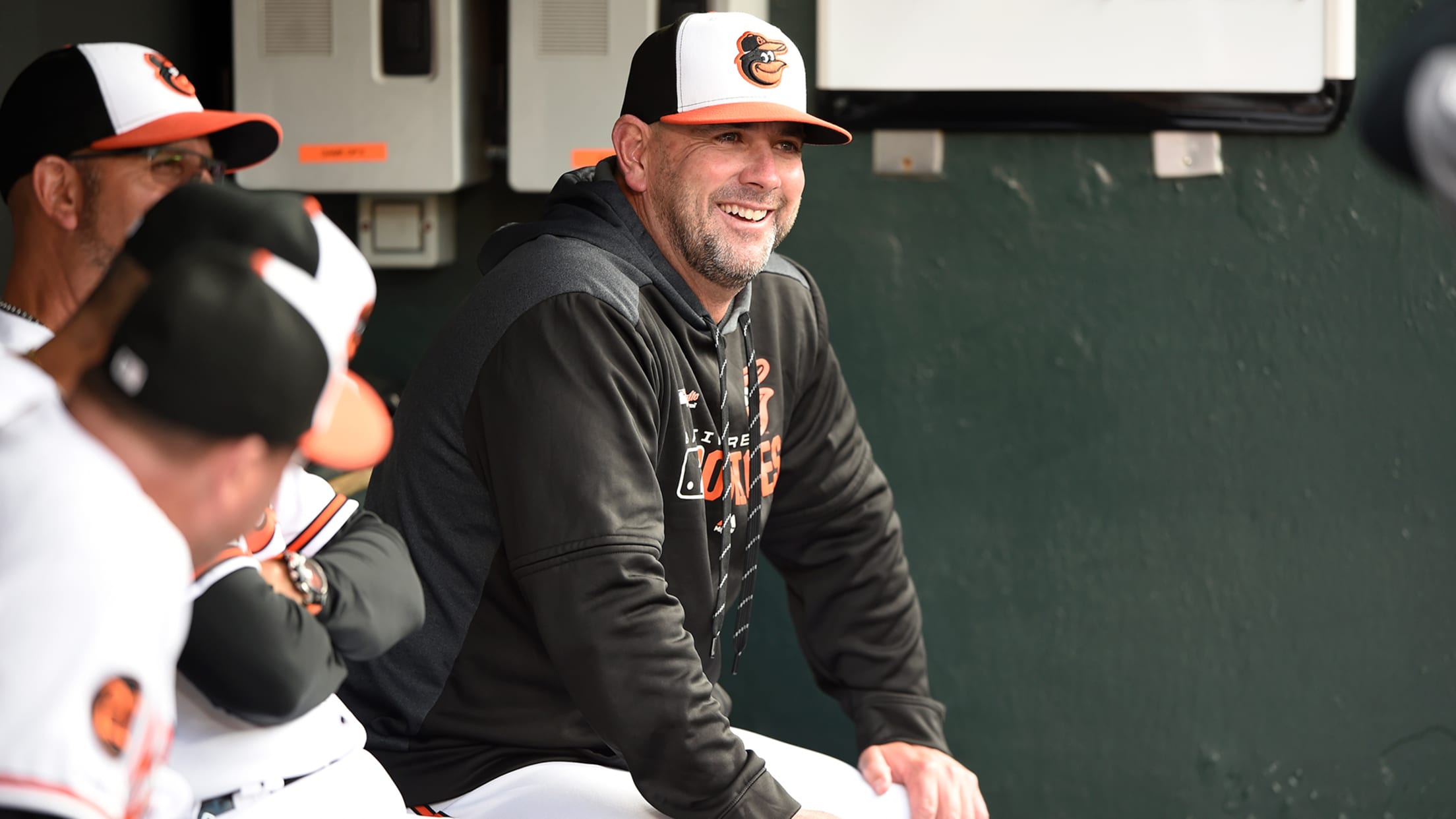 The Orioles savored their moments of triumph in 2019, relishing the victories when they came. They were, granted, few and far between for a rebuilding team that finished 54-108. And that's why they were worth soaking up, whether it was with beer showers, laundry cart shenanigans or other celebrations within
The Orioles savored their moments of triumph in 2019, relishing the victories when they came. They were, granted, few and far between for a rebuilding team that finished 54-108. And that's why they were worth soaking up, whether it was with beer showers, laundry cart shenanigans or other celebrations within the walls of the O's clubhouse.
Let's do something similar here, now that the winter is upon us. While we wait for the Hot Stove to heat up, here is a look at the Orioles' five best victories of 2019 and what they tell us about 2020:
1) Hyde's first, in NYC
March 30
Second game as a big league manager? At Yankee Stadium? In March? No problem for the Orioles and rookie skipper Brandon Hyde, who pressed all the right buttons in Baltimore's 5-3 March 30 win over the Yankees, his first at the helm. It didn't come easy: With Alex Cobb suddenly sidelined with a groin injury, the Orioles were forced to pivot last minute to an early-season bullpen day.
Hyde trotted out six pitchers – beginning with Nate Karns and finishing with Mike Wright, neither of whom would be on the active roster in a month's time. But they delivered on this day, as did Jimmy Yacabonis, Miguel Castro and Mychal Givens. Soon-to-depart backstop Jesús Sucre led the offense with three hits and three RBIs, and Wright worked out of a two-on, one-out situation in the ninth to secure Hyde's first victory. The Orioles chucked Hyde into a laundry cart and rolled him into a beer shower to celebrate.
Ain't the beer cold! 🍻 pic.twitter.com/yJsjvy2Jd7

— Baltimore Orioles (@Orioles) March 30, 2019
What does it tell us about 2020?
The Orioles were right to celebrate -- they'd lose 16 of their next 17 games against the Yankees the rest of the way. They will need to do better than that in 2020, for personal pride if nothing else. This win also proved that if the pitching comes through, anyone can be beaten on any day. It was a luxury Hyde was rarely afforded by a staff that ranked as MLB's worst by ERA and other important metrics.
2) 13-0? Let's do that again
June 28-29
This is technically two wins, but they must be lumped together. By toppling the Indians by consecutive 13-0 scores in late June, the Orioles became the first team ever to compile back-to-back shutouts while scoring at least 13 runs in each. They got 29 hits and hit five homers over the two-day span, stringing together 18 scoreless innings on the pitching end as well.
What does it tell us about 2020?
Nothing really, as these contests were largely statistical outliers. Simply put, it was one of the best two-game stretches for any team in Major League history, and it came in the middle of one of the most trying seasons ever for the Orioles. Savor the good times, right? That meant the homers from Núñez, Chance Sisco and Anthony Santander -- who was the 100th player ever to homer onto Eutaw Street. All will play big roles in 2020, as will John Means, who breezed through five innings in one of the victories.
3) Comeback kids
May 31
The Orioles needed all their comeback magic to claim this 9-6 Interleague win over the Giants. Down 5-0 after a half inning, the Orioles responded with six runs in the bottom of the frame. Dwight Smith Jr's grand slam was the headliner, but homers from Mancini and Renato Núñez later would help stretch a lead the Orioles never relinquished. As is true for every game on this list, an uncharacteristically stingy performance from the bullpen pulled the O's toward victory on this night. The unit logged four shutout innings in relief of Andrew Cashner.
Dwight Smith Sr. is one proud dad. 😊 pic.twitter.com/usKaOd12oa

— Baltimore Orioles (@Orioles) June 1, 2019
What does it tell us about 2020?
Maybe the Orioles should've held on to Mike Yastrzemski? This was the first game in which both teams scored at least five first-inning runs since July 6, 2012, when the Yankees and Red Sox did so. It was also notable for hosting the first career home run for Yastrzemski, the former Orioles farmhand. Currently the Giants' left fielder, Yastrzemski went deep off Cashner in the second and would go on to hit 20 more in his rookie year, after spending six seasons in Baltimore's system.
4) Stevie makes history in marathon
July 25
This was the game of the Orioles' season for so many reasons, including many that came before Stevie Wilkerson took the mound. But then he did, and everything changed. The game that turned Wilkerson from curiosity into cult hero ended six hours, 19 minutes and 16 innings after it began, and with Wilkerson floating up mid-50s lob pitches in an effort to secure the O's 10-8 win over the Angels. He did, flawlessly, tossing a 1-2-3 bottom of the 16th to record the first save by a position player in MLB history.
What does it tell us about 2020?
That Wilkerson will probably take the mound again at some point, because that's kind of his thing now. That aside, this game spoke to the impact of Trey Mancini and Jonathan Villar, who essentially dragged the Orioles to victory with a pair of late-inning homers. Clearly the club's two best offensive players, Mancini and Villar are also its best trade chips at a time when the organization's sights are set squarely on the future.
5) Just what the doctor ordered
Aug. 11
The Orioles didn't need many wins as badly as they needed this 8-7 victory over the Astros. They'd lost five straight, having allowed at least nine runs in four of those contests. They lost 23-2 to Houston the night before, the second-most-lopsided defeat in franchise history since setting the all-time record in 2007. They'd endured some very public tension between Chris Davis and manager Brandon Hyde, who engaged in a dugout skirmish in front of TV cameras earlier in the week.
Then came Sunday, as the team watched a two-run, ninth inning lead evaporate, becoming a one-run hole.
"It's been an eventful week," Hyde would quip later.
It concluded in eventful fashion that same afternoon, when Rio Ruiz sent the Orioles to a cathartic walk-off victory by crushing a two-run, game-winning homer off Roberto Osuna. That capped a day the Orioles spent battling Justin Verlander, ending the most trying homestand of their season in celebratory fashion. Ruiz's was the second walk-off to hit Eutaw Street in Oriole Park history, and the first since Luke Scott on July 19, 2008. The Orioles had been 0-68 when trailing after eight innings prior.
What does it tell us about 2020?
There is probably untapped power in Ruiz's swing, and the third baseman spent the second half proving that point. Demoted to Triple-A Norfolk after hitting .238 with five homers in his first 89 games, Ruiz slugged .473 with seven homers in his final 38. This one was the start, capping Ruiz's first game back in the Majors. Is more in store for 2020?