Hyde after loss: 'Tonight was just real sloppy'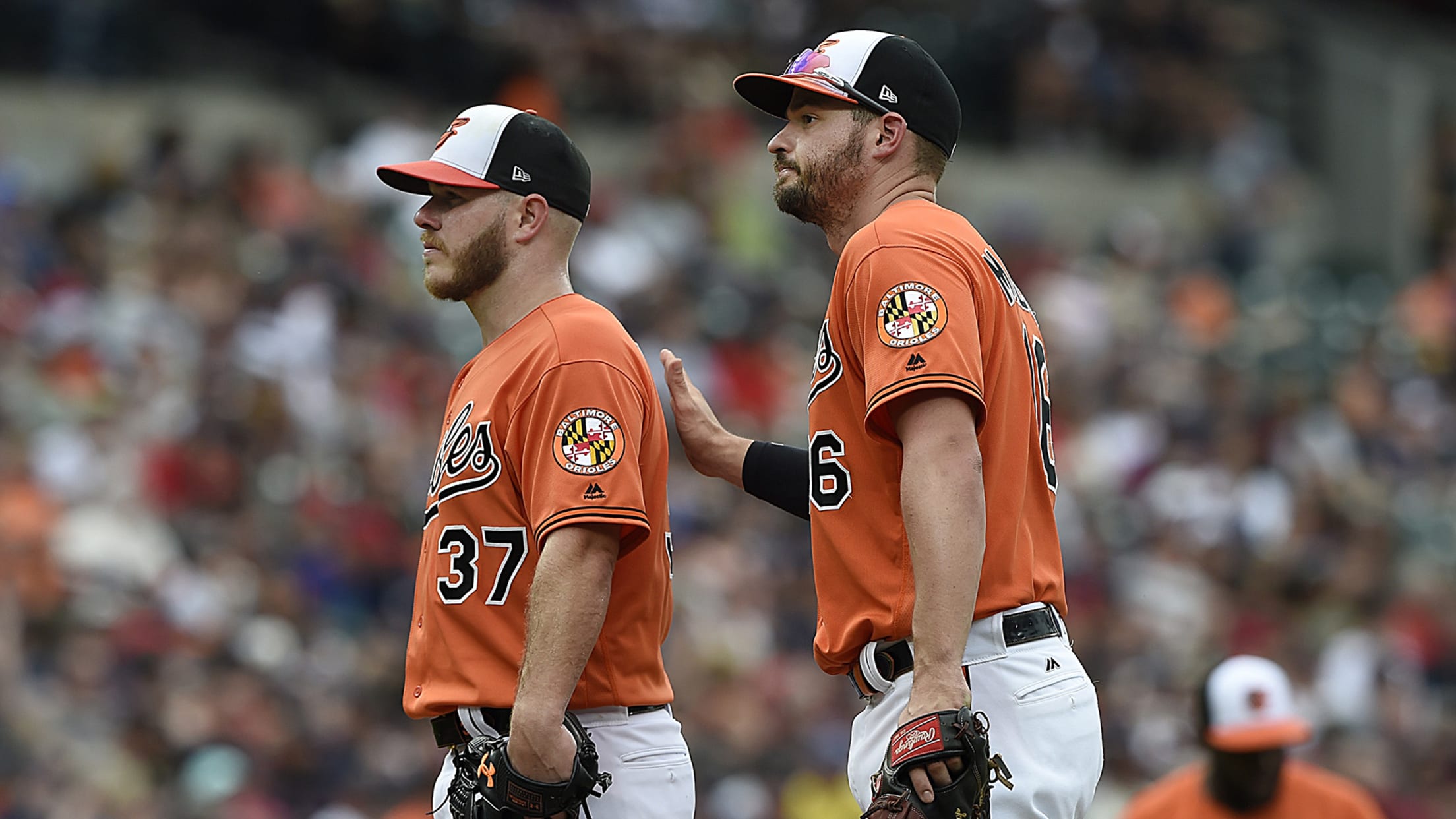 BALTIMORE -- Minutes after a series of defensive lapses and mental mistakes secured the Orioles their fourth straight defeat, a 7-2 loss to the Red Sox on Saturday at Oriole Park, manager Brandon Hyde strode into his postgame press conference intending to send a message. Often one to accentuate the
BALTIMORE -- Minutes after a series of defensive lapses and mental mistakes secured the Orioles their fourth straight defeat, a 7-2 loss to the Red Sox on Saturday at Oriole Park, manager Brandon Hyde strode into his postgame press conference intending to send a message. Often one to accentuate the positives, Hyde struck a markedly different tone with his comments, easily the sternest he's been publicly since taking the job late last year.
"The bottom line is, this is the big leagues," Hyde said. "I'm going to steal a [Cubs manager] Joe Maddon term here I heard when he got to Tampa; 'We're taking inventory of what we have.' That's the way to look at it. We're taking inventory of the players that we have, who's going to be around for us when we're good. Just evaluating our players. Our guys are getting an incredible opportunity and at times I feel like we take advantage of them for the most part. Days like the last couple days, guys haven't. They need to start appreciating the opportunity that they're getting."
Hyde didn't mention any players by name, instead chiding the Orioles' effort and execution of fundamentals in the aggregate. He made his targets clear, though, by criticizing specific plays that led to Baltimore's latest loss, its MLB-worst 49th of the season. And they ran the gamut, from newcomer Keon Broxton to veterans like Jonathan Villar to spark plug Hanser Alberto, whose hustle and energy Hyde often lauds.
"Walking the leadoff hitter in the ninth inning of a two-run game [Miguel Castro], falling asleep on defense in the outfield [Broxton], not catching the ball in the infield [Alberto], breaking too early on a stolen base attempt which allows a run [Dylan Bundy], not catching the ball on a stolen base attempt [Villar], a lot of things we can't do because we can't overcome them," Hyde said. "We're not talented enough offensively, we don't have shutdown guys on the mound to be able to win. So we have to play almost perfect and we just didn't play well."
Hyde's point is that the Orioles must clean things up to at least give themselves a chance on a nightly basis. The talent gap they often face demands it, as is often plain to see. Baltimore is 11-37 against teams with .500 records or better. They have a -155 run differential overall, and have been outscored 133 to 91 in 21 games against the AL East-rival Yankees and Red Sox.
"The bottom line is we have to play almost perfect to win against good clubs," Hyde said. "Last night was embarrassing and tonight was just real sloppy defensively."
That wasn't the case for a good chunk of Saturday, which Bundy and Chris Sale largely spent locking horns. But things devolved during a decisive sixth, when Alberto committed a costly error that allowed Brock Holt to scamper home for Boston's third, and eventually winning, run. The Orioles rallied back in the bottom half of the frame via Renato Núñez's RBI double and a Villar sac fly, pushing the tying run to third and perhaps Sale to the brink. Sale then squashed the threat by striking out Broxton -- whose lackadaisical play earlier in the game allowed a baserunner to advance, drawing Hyde's ire -- and Boston pulled away on a J.D. Martinez homer and three runs off of Castro in the ninth.
"Maybe we lost focus a little bit, because we got the game real close and then it [got away]," Alberto said. "[Hyde] always talks about playing hard. We have been playing hard, but sometimes we slow down a little bit. We'll work on it and hopefully it never happens again."