Trumbo set for spring debut against Jays
Veteran slugger underwent right knee surgery in 2018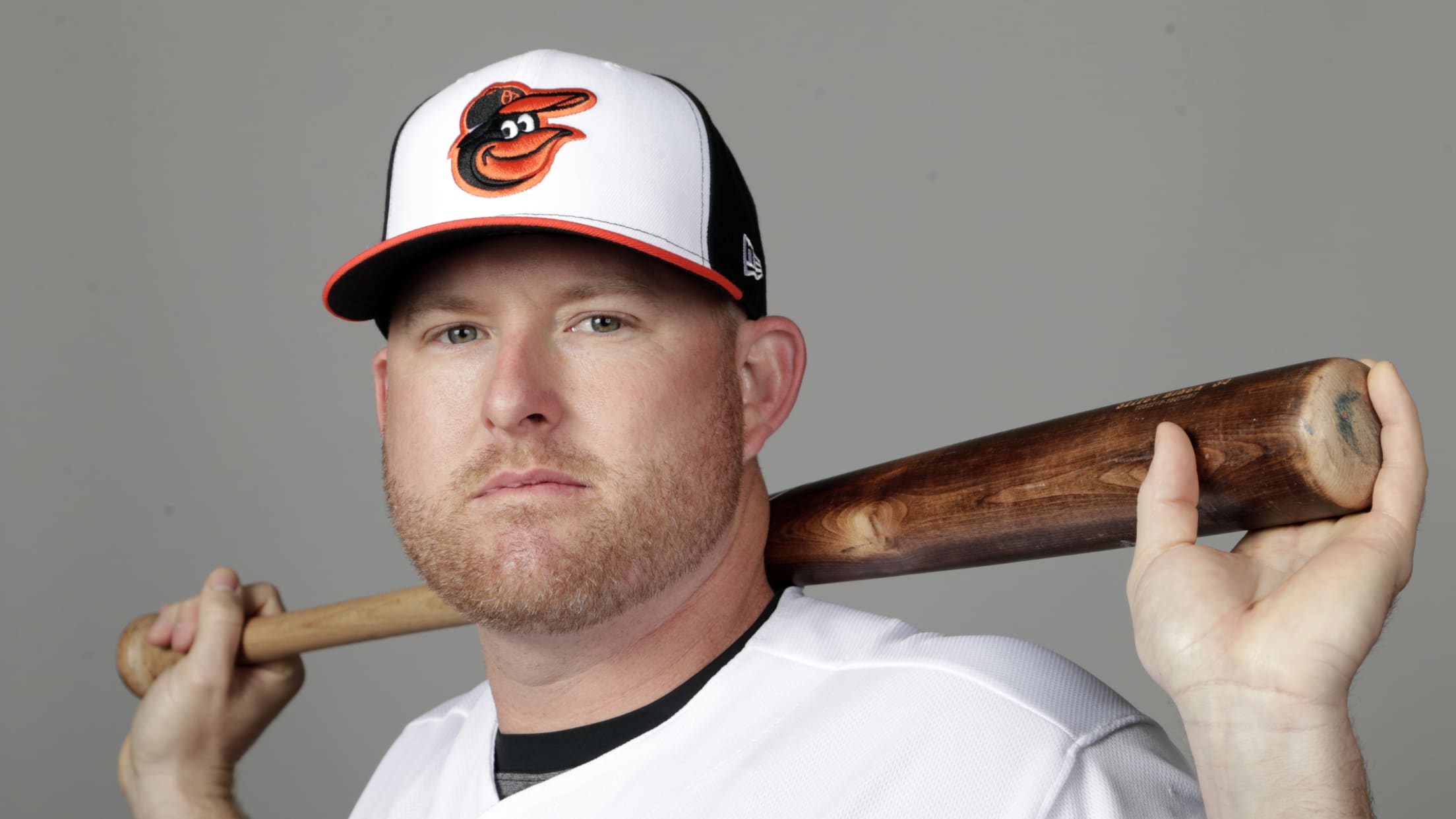 TAMPA, Fla. -- The Orioles are getting one of their most important hitters back, right on schedule. More than eight months removed from serious right knee surgery, Mark Trumbo is slated to hit his target return date and make his Grapefruit League debut Wednesday. The veteran slugger will serve as
TAMPA, Fla. -- The Orioles are getting one of their most important hitters back, right on schedule.
More than eight months removed from serious right knee surgery, Mark Trumbo is slated to hit his target return date and make his Grapefruit League debut Wednesday. The veteran slugger will serve as the designated hitter for Baltimore's 1:05 p.m. ET home tilt against the Blue Jays.
"We're going to give it a shot," Trumbo said. "At some point, you have to get out there and see what you've got. No better indicator than game action."
It'll mark the first competitive appearance since Aug. 19 for Trumbo, who underwent an operation to repair a chondral defect in his right knee shortly after. He returned to baseball activities earlier this year; his knee has passed every physical test since. Trumbo has spent weeks hitting at the Orioles' Spring Training complex, and he was recently cleared to play after going through two batteries of baserunning and sliding drills.
Trumbo is scheduled to receive two at-bats against Blue Jays starter Marcus Stroman, then get Thursday off to see how his knee responds. He will strictly DH; there are no plans for him to play the field.
"He doesn't need to take ground balls to make the Opening Day roster," Orioles manager Brandon Hyde said. "It's one of those injuries where you kind of have no idea, but he's done everything so far and his knee has responded well. If we can break with him as our DH, that would be great, but I'm not reliant on it."
The Orioles now have two weeks to determine how realistic that is, though the truth is, Trumbo's body will largely decide that for them. Should Trumbo begin the season on the injured list, it won't be for a lack of preparation. He's already gotten about 20 at-bats against live pitching on the back fields at the club's spring complex, and Trumbo can always binge more should he desire. His status will hinge more on how well his right knee withstands the demands of in-game baserunning: sprinting, turning bases and sliding at max effort.
"There will probably be some apprehension at times," Trumbo said, given the seriousness of his condition.
Trumbo's operation was more than a routine cleanup. Chondral defects are chronic, degenerative conditions that grind down the cartilage between the femur and tibia; surgeons transplanted that cartilage and removed floating pieces within Trumbo's knee. He said doctors recommended a year recovery time. Wednesday will mark almost 8 1/2 months.
"If it responds like it has so far, we should be good to go; if it doesn't, then we'll deal with it," Trumbo said. "I trust it enough right now, but there will probably be some apprehension at times, because what I went through was kind of major. You just have to trust the operation was a success, and that the body's ready to handle it."
The Orioles won't take any chances if it isn't. They've preached caution all spring with regards to Trumbo, who, at age 33, is entering the final year of a three-year, $37.5 million contract. Their roster features a host of candidates who could get at-bats at DH in his place, from Chris Davis to Trey Mancini and others. Trumbo's absence would also open up a roster spot for one of the several young outfielders having nice springs, namely Anthony Santander. But if healthy, Trumbo would bring a combination of pop and experience the Orioles will have little of elsewhere in their lineup March 28 in New York.
The Major League home run leader in 2016, Trumbo hit .261 with 17 home runs and a .764 OPS in 90 games across an injury-riddled 2018.
"It's not life or death to me," Trumbo told MLB.com earlier this week, about heading north with the club. "I'd like to be available. But it does nobody any good if I'm at a level that's not up to par."