Here's how O's Opening Day roster might look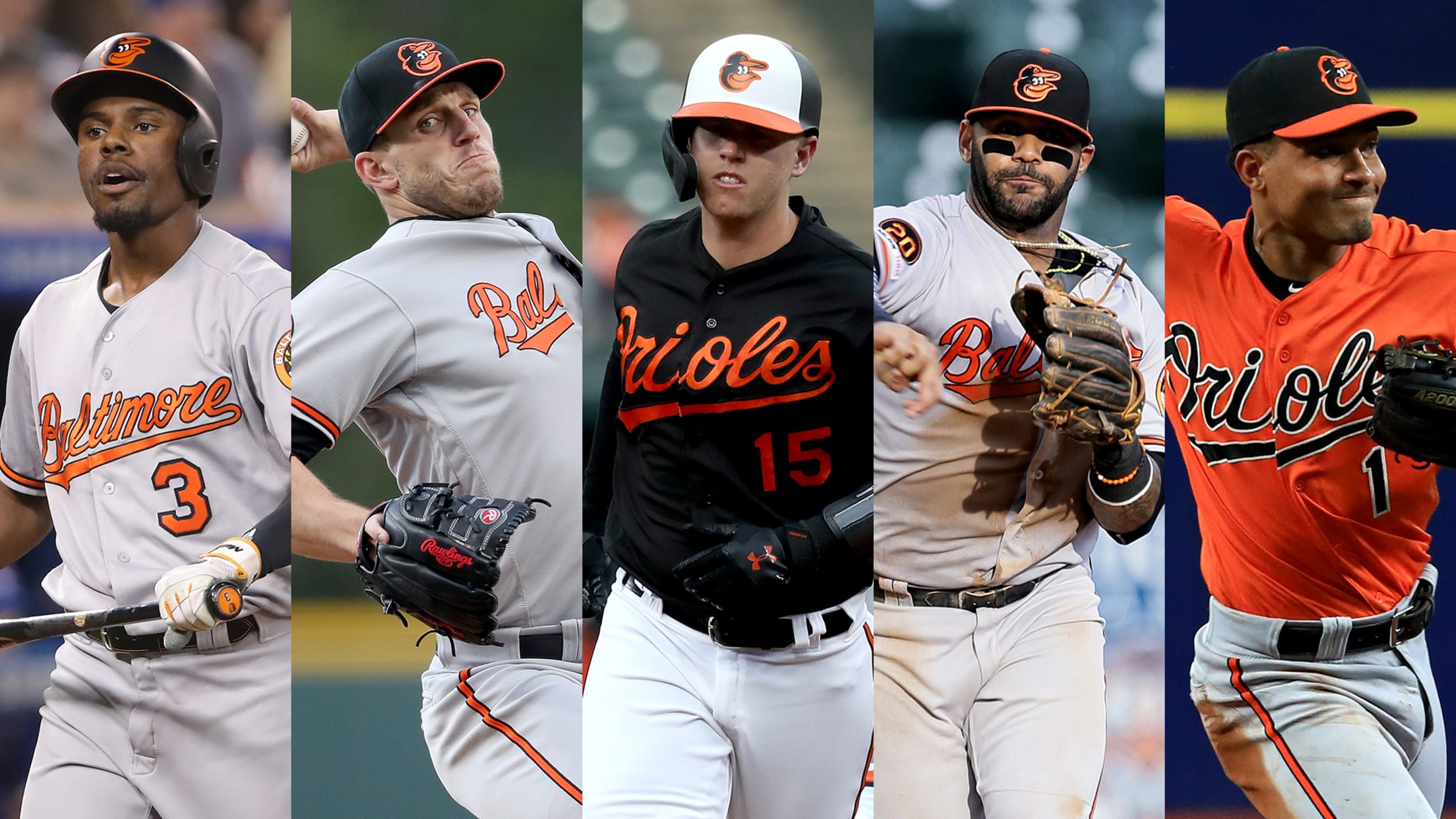 For much of last spring, Orioles officials did their best to temper excitement regarding the Opening Day roster, cautioning how that alignment was bound to change over the course of the season. And were they ever right: The O's cycled through a franchise-record 58 players in 2019. By the end
For much of last spring, Orioles officials did their best to temper excitement regarding the Opening Day roster, cautioning how that alignment was bound to change over the course of the season. And were they ever right: The O's cycled through a franchise-record 58 players in 2019. By the end of the season, 32 percent of the players who broke camp with the club were not with the team.
Given the number of moving parts and 40-man restructuring set for the months ahead, the Orioles' potential 2020 Opening Day roster is tougher to predict than most. But we'll take a stab at it anyway.
(Remember, beginning in 2020, the roster size from Opening Day through Aug. 31 will increase from 25 to 26, wth the minimum number of players on the roster increasing from 24 to 25. The safe bet is the on Baltimore often using the extra spot on pitching.)
Catcher
Locks: Pedro Severino, Chance Sisco
Possibilities: Austin Wynns
The Orioles were pleasantly surprised with the offense they got from Severino and they want to continue developing Sisco, who they believe can be an above-average offensive player at the position. Wynns may be able to sneak on the roster if there is an injury, but if not, it'll be Severino and Sisco again splitting duties in more or a less a platoon arrangement.
First base
Locks: Trey Mancini, Chris Davis
Possibilities: Ryan Mountcastle
The huge question mark here is Davis, whose roster status will be the subject of speculation all spring. But there is a sense within the organization that any decision on him won't come until after Opening Day, and probably not until Mountcastle is deemed developmentally ready. The O's have been quite vocal in their support of Davis, who hit .172 with a .564 OPS over the past two seasons and is owed $51 million through 2022 (plus $42 million in deferred payments through '37), while expressing optimism that his performance will improve. The club's best offensive player, Mancini is a priority whether he starts at first base or in the outfield.
Second base
Locks: Hanser Alberto
Possibilities: Jonathan Villar
In most cases, Villar would return after his stellar 2019 as the Orioles' slam-dunk starting second baseman. The fact that he may not has more to do with logistics than performance. By amassing 4.0 Wins Above Replacement, per FanGraphs, with 24 homers and 40 steals, Villar was arguably Baltimore's top contributor in '19. But he is also their most movable asset and the likeliest O's player to be traded, as the club looks to spark its rebuild by acquiring young talent. They are expected to shop Villar -- who is a free agent after next season -- aggressively this winter. If he is moved, it throws the entire complexion of their infield for a loop.
Shortstop
Locks: None
Possibilities: Richie Martin, Pat Valaika, Villar, Alberto, free agent, trade or waiver claim
This really hinges on Villar, who made 97 starts at short in 2019 to help ease Martin's workload. Martin made 117 starts at short as a Rule 5 Draft choice as a rookie, flashing athleticism and defensive upside but ultimately struggling enough offensively for the club to consider him needing more Minor League seasoning. All things equal, Martin's .208/.260/.322 (54 OPS+) rookie line meant he'd at least have to compete for his job next spring. But as we explored in a recent inbox, there aren't many internal options behind Martin, especially if Villar departs. That'll probably require the Orioles to scour the free-agent market in search of a low-priced veteran, perhaps a la Adeiny Hechavarria.
Third base
Locks: Rio Ruiz, Alberto
Possibilities: Jose Rondon, free agent, trade or waiver claim
Despite some late-season faux pas, Ruiz rated as one of the American League's better defensive third baseman by several advanced metrics. He showed improved power in the second half as well, enough to where he can expect regular at bats again in 2020. Whether that's in an everyday role or another platoon with Alberto remains to be seen, and really depends on Villar/Martin/if Alberto is needed elsewhere on the diamond. Alberto may be a trade chip this winter as well, but he'll play if he arrives in Baltimore for Opening Day '20. The only question is where.
Designated hitter
Locks: Renato Núñez
Possibilities: Mountcastle
Núñez proved that he could be a regular contributor in 2019, hitting 31 homers with 90 RBIs. He should get a shot to reprise his DH role in 2020, though Davis' presence on the roster will require the Orioles to siphon at-bats here to Mancini, and eventually, Mountcastle.
Utility
Locks: Stevie Wilkerson
Possibilities: Free agent, trade or waiver claim
A natural infielder who carries nearly a dozen gloves in his locker, Wilkerson mostly played in the outfield last season. But he may be needed more on the infield in 2020, depending on what happens with Villar and Martin. He is likely to make the team on the basis of his versatility alone.
Outfield
Locks: Trey Mancini, Anthony Santander, Austin Hays
Possibilities: Dwight Smith Jr., Ryan McKenna, free agent or trade
DJ Stewart was supposed to be in this mix, before undergoing right ankle surgery that'll sidelined him until at least late March. Cedric Mullins is still on the 40-man roster, but he probably needs more than a strong spring to show his lost 2018 season was a fluke. Expect the O's to once again comb the waiver wire and trade market for outfield depth, as they did a year ago (with deals that brought in Smith but also sent out Mike Yastrzemski). But they saw enough from Santander and Hays in '19 to slot both in for starting jobs next season, barring injury.
Starting pitchers
Locks: John Means, Dylan Bundy, Alex Cobb
Possibilities: Asher Wojciechowski, Keegan Akin
Means emerged as the unlikely ace, Bundy proved durable and the Orioles are expecting Cobb healthy again after hip and knee surgeries ravaged his 2019 season. There are a lot of question marks behind them, but Wojciechowski probably has a leg up in the competition for one of the two back-end rotation spots. The club hopes Akin, its No. 6 prospect, wins the other out of camp.
Relievers
Locks: Mychal Givens, Shawn Armstrong, Miguel Castro, Paul Fry, Hunter Harvey
Possibilities: Richard Bleier, David Hess, Dillon Tate, Tanner Scott, Branden Kline, Evan Phillips, Cody Carroll, Eric Hanhold, Cole Sulser
Competition doesn't get more wide open than in the Orioles' bullpen, where there could be as many as five spots open come late March. This is assuming the O's hold onto Givens, with the hope that he recoups some value with a bounceback 2020, and don't non-tender Bleier, though that's no guarantee. If both are not back, more spots will open.
If both return, the Orioles will still need to sift through nearly a dozen arms to decide on their Opening Day 'pen. And more names are bound to enter the mix, with Baltimore planning to comb the waiver wire for pitching all winter. Simply put, there are a lot of different ways this can shake out, and however it does, the alignment is bound to change quickly. The O's used 31 relievers in 2019.