Gold Glovers revealed tonight (8 ET, ESPN)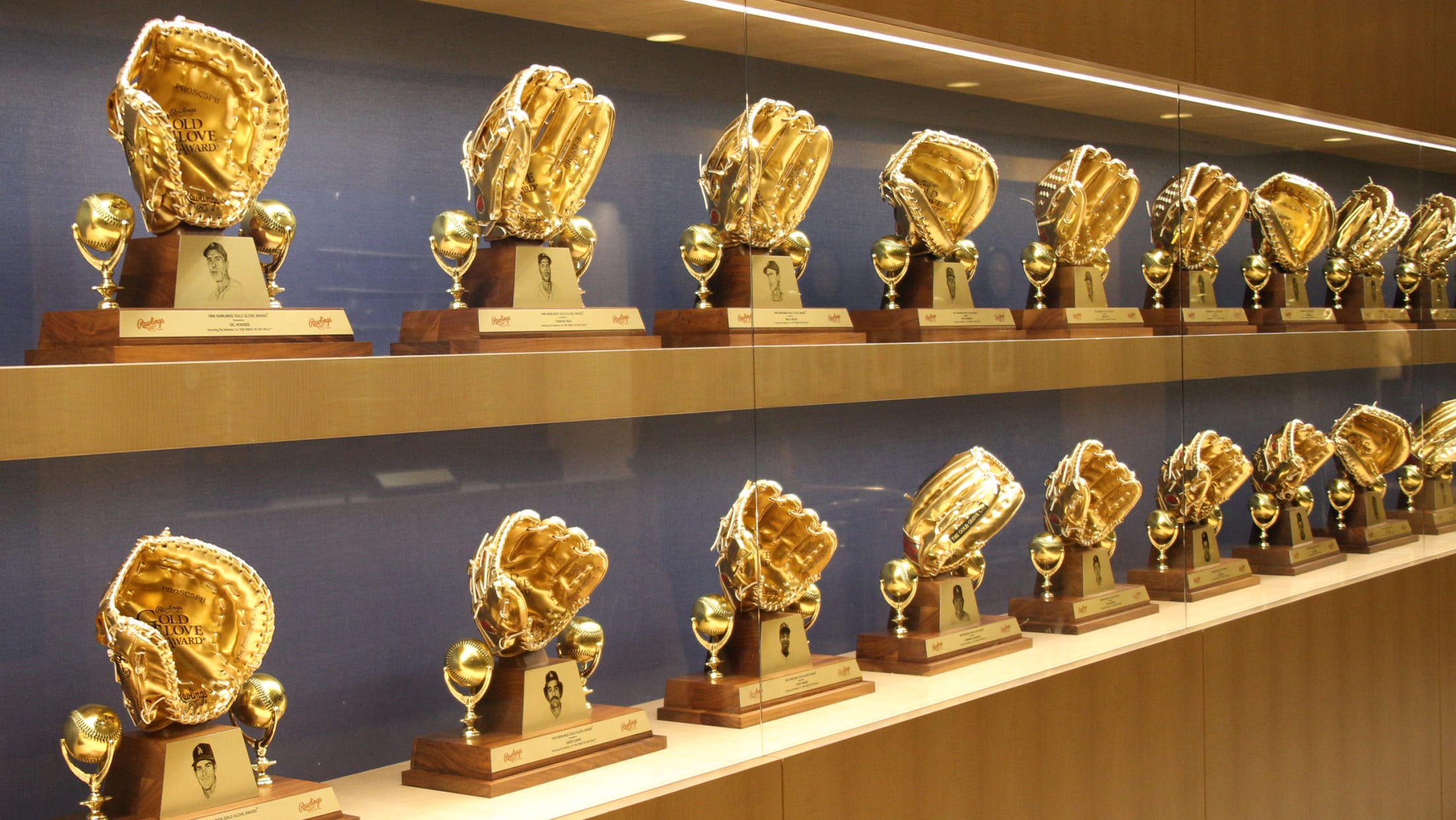 Below are the finalists -- three at each position in each league (except for second base in the American League) -- for the 2020 Gold Glove Awards revealed by Rawlings. The winners will be named tonight on ESPN at 8 p.m. ET.
Below are the finalists -- three at each position in each league (except for second base in the American League) -- for the 2020 Gold Glove Awards revealed by Rawlings.
The winners will be named tonight on ESPN at 8 p.m. ET.
AMERICAN LEAGUE
PITCHER
Griffin Canning, Angels
Kenta Maeda, Twins
Zach Plesac, Indians
The AL will have a first-time Gold Glove Award winner at pitcher for the second consecutive year (Mike Leake, 2019), and the absence of Zack Greinke from this list means the Astros right-hander is officially out of the running for his seventh consecutive Gold Glove honor -- a streak only accomplished by Bob Gibson, Jim Kaat and Greg Maddux. The Indians have never featured a Gold Glove Award-winning pitcher, while the Twins' last pitching winner was Johan Santana (2007) and Mark Langston (1995) was the last Angels hurler to win it.
CATCHER
Yasmani Grandal, White Sox
James McCann, White Sox
Roberto Pérez, Indians
This year's AL finalists include the reigning Gold Glove Award winner in Pérez, plus the White Sox pair of elite pitch framers, Yasmani Grandal and James McCann. It would be the first Gold Glove for either Grandal or McCann. Perez, Grandal and McCann ranked as the top three catchers in the AL in Defensive Runs Saved.
FIRST BASE
Yuli Gurriel, Astros
Matt Olson, A's
Evan White, Mariners
Olson is seeking his third straight Gold Glove Award, but he has plenty of competition this year. White led all AL first basemen with seven Defensive Runs Saved -- two more than any other AL first baseman. Olson tied for second with five DRS, while Gurriel -- who had split time at various infield positions over his first four big league seasons -- had two DRS in his first season exclusively at first base.
SECOND BASE
Cesar Hernandez, Indians
Nicky Lopez, Royals
Danny Mendick, White Sox
Jonathan Schoop, Tigers
There will be a first-time winner at second base in the AL, as none of the four finalists have previously taken home a Gold Glove. Lopez led all AL second basemen with eight Defensive Runs Saved, while Hernandez finished second with six DRS and Mendick racked up four despite playing significantly fewer innings. While Lopez played 424 innings and Hernandez logged 503 2/3 innings, Mendick manned second for only 226 innings in 33 games. Schoop, meanwhile, finished with +2 Outs Above Average, according to Statcast, in his debut season with Detroit.
THIRD BASE
Isiah Kiner-Falefa, Rangers
Yoán Moncada, White Sox
Gio Urshela, Yankees
The AL will feature a first-time winner at the hot corner, as A's third baseman Matt Chapman's season-ending hip injury in early September knocked him out of the running for his third straight Gold Glove Award. Urshela could be the Yankees' first Gold Glove Award winner since outfielder Brett Gardner back in 2016. Moncada continues to flourish with his glove at third base ever since he moved over there from second following the 2018 campaign. And Kiner-Falefa ranked among Statcast's top 10 infield defenders by its Outs Above Average metric in his first season as a full-time infielder, following previous years in which he split time between the infield and the catcher position.
SHORTSTOP
Carlos Correa, Astros
J.P. Crawford, Mariners
Niko Goodrum, Tigers
Francisco Lindor and Andrelton Simmons had the AL Gold Glove Award at shortstop locked down for the past four seasons, but there will be a new winner this year -- Correa, Crawford and Goodrum are all looking for their first Gold Glove. Goodrum and Crawford both ranked among the AL shortstop leaders in Outs Above Average, and Correa has one of the strongest arms at the position.
LEFT FIELD
Alex Gordon, Royals
Lourdes Gurriel Jr., Blue Jays
Kyle Tucker, Astros
Gordon, who announced his retirement at the end of the season, is looking to add one final Gold Glove Award. The veteran outfielder has won seven Gold Gloves, including each of the past three seasons. Gurriel's candidacy, meanwhile, can be summed up pretty well in one unforgettable play on Aug. 21 against the Rays, when he unleashed a cannon to the plate to throw out Yandy Díaz from the left-field corner. Like Gurriel, Tucker -- who led this trio with three Defensive Runs Saved -- will be seeking his first Gold Glove Award.
CENTER FIELD
Byron Buxton, Twins
Ramón Laureano, A's
Luis Robert, White Sox
Buxton, a perennial elite defensive center fielder, has a chance at his second Gold Glove Award after winning in 2017. Laureano, with his penchant for highlight-reel plays from home run robberies to laser throws, is looking for his first Gold Glove. But it was the rookie phenom Robert who led MLB center fielders in Outs Above Average at +7.
RIGHT FIELD
Clint Frazier, Yankees
Joey Gallo, Rangers
Anthony Santander, Orioles
Though likely overshadowed by his bat, Gallo had by far his best defensive season in right field, leading all outfielders with 12 Defensive Runs Saved. In fact, the only player with more DRS at any position across the Majors was seven-time Gold Glove Award winner (and 2020 nominee) Nolan Arenado (15). Santander was second among AL right fielders with eight DRS, while Frazier tied for third with four.
NATIONAL LEAGUE
PITCHER
Max Fried, Braves
Kyle Hendricks, Cubs
Alec Mills, Cubs
Fried was not only undefeated with a 2.25 ERA in his 11 starts this season, but he also led all pitchers with five Defensive Runs Saved in just 56 innings of work. Hendricks and Mills tied for second in that category, each registering three DRS, albeit in more innings (81 1/3 innings for Hendricks and 62 1/3 for Mills). Regardless, the NL will have a first-time winner on the mound, as none of the three finalists have taken home a Gold Glove Award previously.
CATCHER
Tucker Barnhart, Reds
Willson Contreras, Cubs
Jacob Stallings, Pirates
Barnhart is vying for his second career Gold Glove Award after taking home the honor in 2017, while the cannon-armed Contreras and the emerging Bucs backstop Stallings hope to be first-time winners. Barnhart led all catchers with a minimum 100 innings behind the plate with nine Defensive Runs Saved, followed closely by Stallings with seven. Contreras improved as a pitch framer behind the plate, according to Statcast's catcher metrics.
FIRST BASE
Brandon Belt, Giants
Paul Goldschmidt, Cardinals
Anthony Rizzo, Cubs
Either Rizzo or Goldschmidt has won the NL Gold Glove Award at first base in each of the past five years and six of the past seven -- they have three Gold Gloves apiece, with Rizzo the reigning winner. Belt, who has yet to win a Gold Glove Award in his 10 big league seasons, would be the only first-time winner among the veteran trio.
SECOND BASE
Adam Frazier, Pirates
Nico Hoerner, Cubs
Kolten Wong, Cardinals
The NL Gold Glover at second base will come out of the NL Central. Wong is the reigning Gold Glove winner and played his usual stellar defense at the keystone in 2020, but Frazier led all MLB second basemen in Statcast's Outs Above Average metric at +6.
THIRD BASE
Brian Anderson, Marlins
Nolan Arenado, Rockies
Manny Machado, Padres
It'll be tough to make a case against Arenado earning his eighth Gold Glove in as many big league seasons. His 15 Defensive Runs Saved were three more than any other player at any position, and more than twice the amount of both Machado (seven) and Anderson (four).
SHORTSTOP
Javier Báez, Cubs
Miguel Rojas, Marlins
Dansby Swanson, Braves
Swanson's breakout 2020 season included some sensational defense at shortstop. As for Báez, he continued to play superb defense this season despite his struggles at the plate. He finished behind only Fernando Tatis Jr. among NL shortstops in Statcast's Outs Above Average metric. Rojas, meanwhile, put together an incredible all-around season for the Marlins despite being limited to just 40 games after Miami's COVID-19 outbreak in the Opening Week.
LEFT FIELD
Shogo Akiyama, Reds
Tyler O'Neill, Cardinals
David Peralta, D-backs
O'Neill racked up nine Defensive Runs Saved in left field, four more than any other NL left fielder. That said, O'Neill did not have any outfield assists, while Akiyama turned in a pair in his first MLB season, and Peralta -- the reigning NL Gold Glove winner in left field -- had one.
CENTER FIELD
Ronald Acuña Jr., Braves
Cody Bellinger, Dodgers
Trent Grisham, Padres
Bellinger could win this award for the second consecutive year, which is even more impressive considering that the Dodgers' star came up in the game as a first baseman. He'll have stiff competition from Grisham, who tied for MLB's third-best outfielder by OAA in his debut season for the Padres. And Acuña is hoping to join Ender Inciarte, Marquis Grissom, Andruw Jones and Dale Murphy as the next Gold Glove Award-winning center fielder in the Braves' proud history.
RIGHT FIELD
Mookie Betts, Dodgers
Charlie Blackmon, Rockies
Jason Heyward, Cubs
Betts is seeking his fifth straight Gold Glove Award, but his first in the NL in his debut season with the Dodgers after winning in the AL with the Red Sox from 2016-19. He'll have competition from a five-time Gold Glove Award winner in Heyward, who won Gold Gloves in 2012 and from 2014-17. Blackmon is looking for his first career Gold Glove.