Back in action, Judge launches towering HR
NEW YORK -- Any lingering concern over Aaron Judge's recent absence from the Yankees' intrasquad lineups seemed to be resolved in the first inning of Wednesday's scrimmage at Yankee Stadium, when the slugger blasted a long home run to center field off teammate James Paxton. Judge had missed the Bombers'
NEW YORK -- Any lingering concern over Aaron Judge's recent absence from the Yankees' intrasquad lineups seemed to be resolved in the first inning of Wednesday's scrimmage at Yankee Stadium, when the slugger blasted a long home run to center field off teammate James Paxton.
Judge had missed the Bombers' last three intrasquad contests while receiving treatment for a stiff neck. He deposited the second pitch he saw from Paxton onto the netting that covers Monument Park, then worked a walk against Paxton during his second plate appearance.
Jog it out. pic.twitter.com/Utarw5jh7G

— New York Yankees (@Yankees) July 15, 2020
"Sometimes you just wake up on the wrong side of the bed; that's all I've really got for that," Judge said. "The trainers have been helping me out. It's just a stiff neck. My biggest thing is I couldn't really turn my neck all the way to see the pitcher, and that's not where you want to be. So now I can see the pitcher and we're ready to roll."
It was another encouraging sign for the 28-year-old Judge, who went 1-for-2 while playing right field in the contest and has voiced confidence that he will be ready for the July 23 opener against the Nationals in Washington, D.C.
"I've been there, in the course of the season, where your neck gets jammed up on you," manager Aaron Boone said. "You can kind of fight through it and sometimes it leads to some bad habits. I was confident, especially the way he was progressing each day, that he would get to this point. It's always nice to see the big fella go out the front door."
Judge was unable to log at-bats during the first iteration of Spring Training due to injuries that were later diagnosed as a fracture of his first right rib and a collapsed lung, which the club believes can be traced to an attempted diving catch last September.
Prior to his arrival at Summer Camp, Judge was cleared to resume hitting and throwing at George M. Steinbrenner Field in Tampa, Fla. Even with the four-day respite, Boone believes that Judge has gathered enough reps to be prepared for the opener, noting that Judge took several days of live at-bats against pitchers like Gerrit Cole.
"Right now, it's about getting ready for Opening Day," Judge said. "If I didn't play a single Spring Training game but I'm ready to play for Opening Day, I'm going to be excited about that. I'm not really too worried about it. You break a bone in your ribs from diving, trying to make a play for your pitcher, get hit in the wrist by a pitcher -- it's just freak things. I'm going to keep playing this game hard, and that's all I know."
Giancarlo Stanton followed Judge's first plate appearance of the evening with his first homer of Summer Camp, a line-drive shot that rattled into the seats down the left-field line.
"It was great to see those guys get those hits. It's too bad it was off of me," Paxton said. "I did make mistakes and they made me pay, which is what they're supposed to do. They did a great job of executing there. I left those balls over the middle, and those are some things that I need to tighten up a little bit."
During regular-season play, Judge and Stanton have homered in the same inning just once on June 6, 2018, in Toronto, when they each went deep in the 13th inning of a 3-0 victory over the Blue Jays.
"If those guys are in there, healthy and posting, we feel like they're going to do a lot of damage," Boone said. "Hopefully they go out there and do what we all know they're capable of."
On assignment
Making his first appearance of Summer Camp, Paxton pitched around the Judge and Stanton homers over four solid innings, striking out five with a pair of walks. Boone confirmed that Paxton is scheduled to start the second game of the regular season against the Nationals on July 25, following Cole in the rotation.
"It's definitely going to be a challenge," Paxton said. "It's much shorter than normal as far as getting things tightened up, but everyone's in the same boat, and I'm going to do my best to be as ready to roll as I can."
• Sánchez mastering art of pitch framing
Paxton had faced hitters in live batting practice earlier this month, but Wednesday marked his first time performing in a game situation since undergoing back surgery in February. Boone said that Paxton's fastball was clocked in the 92-94 mph range.
"I thought he made a lot of good pitches," Boone said. "I do think he made some mistakes in the middle of the plate with some of his pitches, but he got his pitch count up, so I thought overall it was a positive step."
Ready to relieve
Most pitchers in Jonathan Loaisiga's situation generally prefer to pursue a path toward the rotation, but the 25-year-old right-hander believes that coming out of the bullpen would offer a good platform to showcase his talent.
"It really doesn't matter," Loaisiga said through a translator. "It's about getting in the game and doing your job. If I'm going to start the game, I'm fine with that. If I'm going to go into the middle of the game, no problem with me. If I have to end the game, I'm cool with that. I just want to pitch, help and just go do my job."
Loaisiga struck out four over three scoreless, hitless innings on Wednesday. Boone said that Loaisiga's next outing will come in Sunday's exhibition against the Mets, and that he envisions Loaisiga beginning the regular season as a reliever.
"He's a guy that's capable of giving us some length," Boone said. "I'm really excited about where he's at right now and feel like he's going to play a very important role for us this year. That could be everything from an important high-leverage inning to a three-inning stint to an opener role, or even the possibility of being a starter. I don't want to put a limit on him."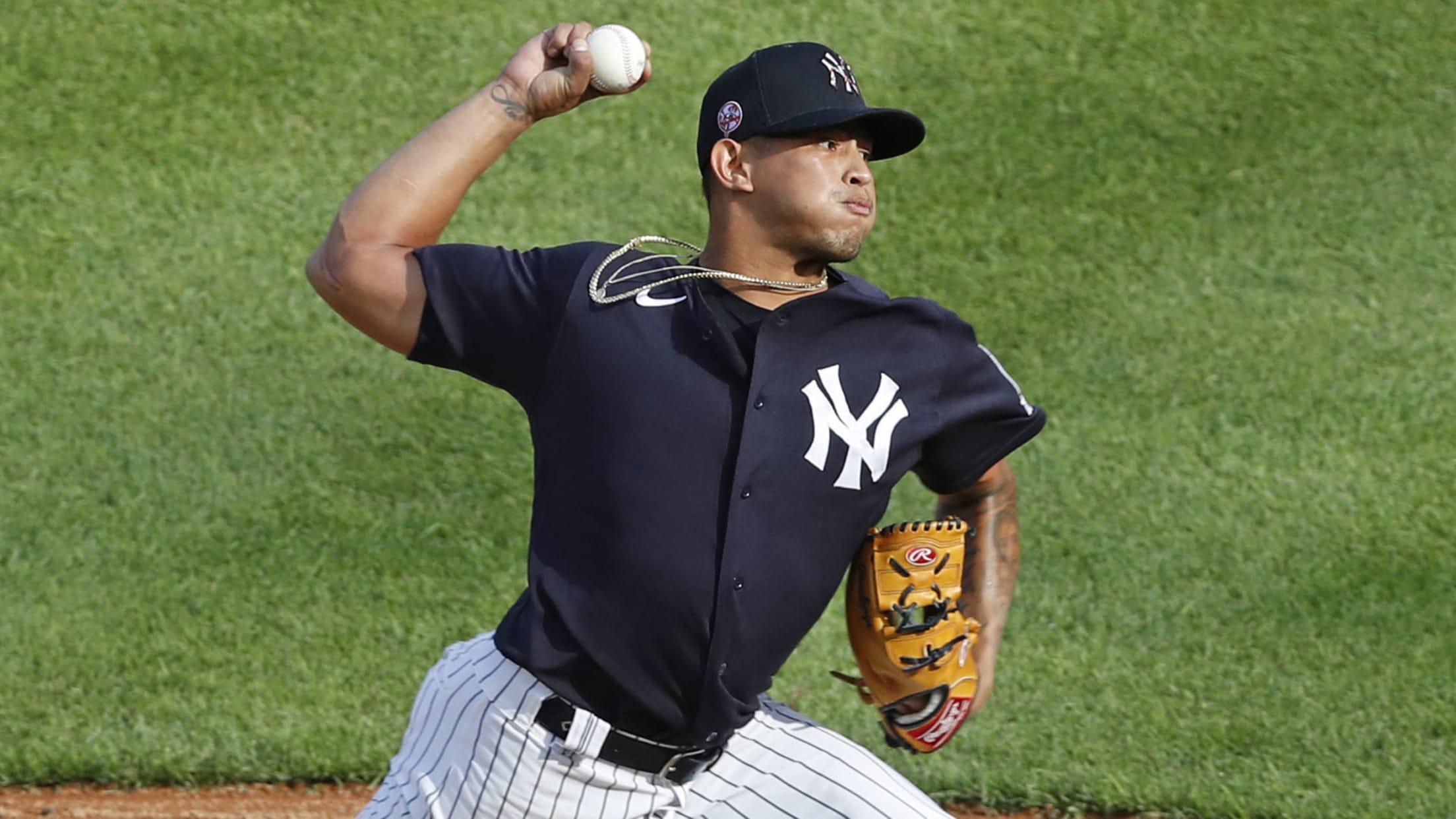 Comeback trail
Masahiro Tanaka is scheduled to throw from a bullpen mound on Thursday, the right-hander's first time doing so since he sustained a concussion on July 4. Boone said that if all goes well, Tanaka would toss another bullpen session, then could be cleared to face hitters prior to Opening Day.
Up next
The Yankees will have a lighter Summer Camp workout on Thursday, hosting live batting practice at Yankee Stadium. They plan to return to intrasquad play on Friday, when Cole is scheduled to pitch under the lights. For Thursday's action, the YES Network will televise coverage beginning at 2 p.m. ET.