Gardner's role to shift with roster additions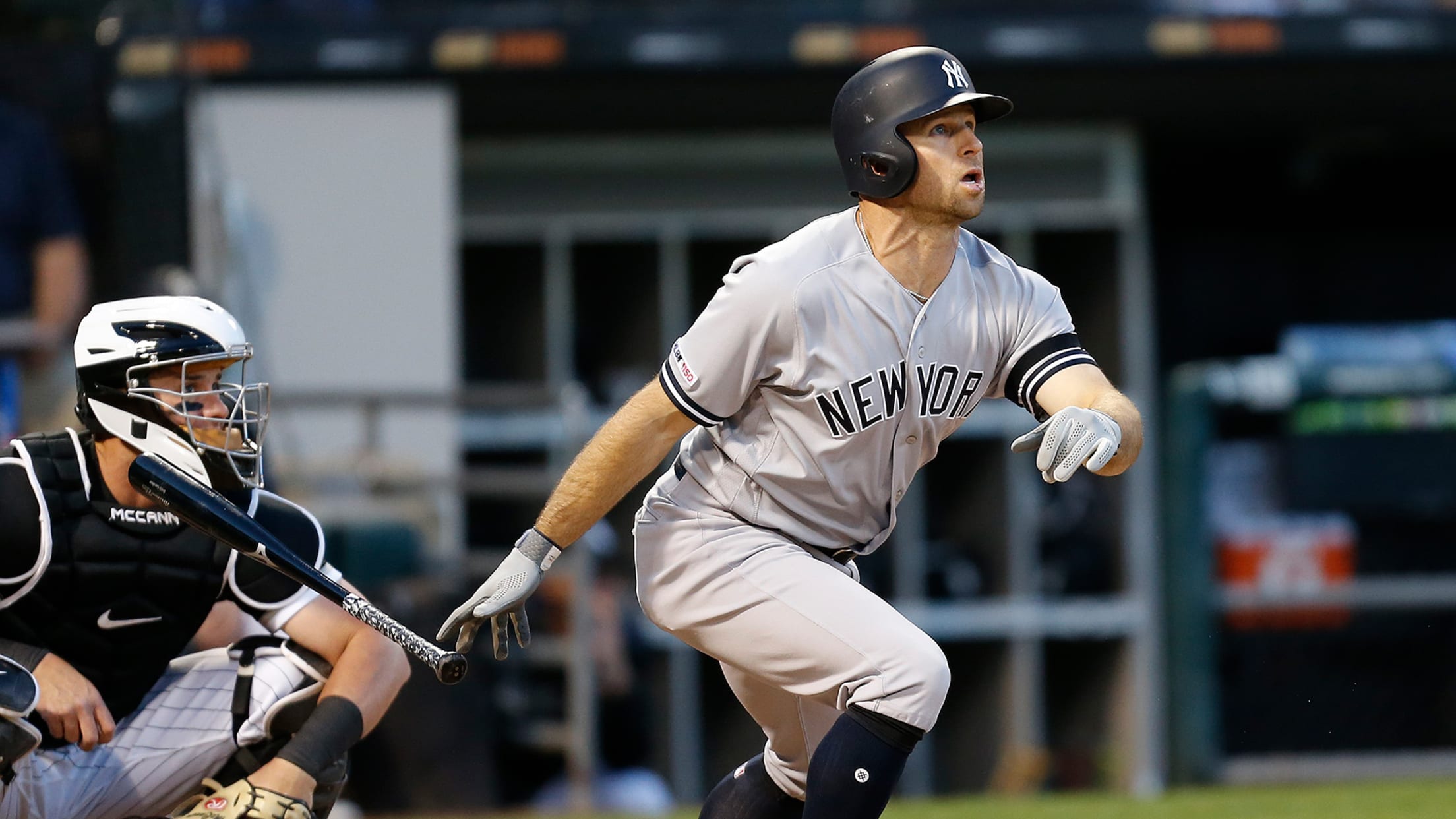 NEW YORK -- The new-look Yankees' roster projects to impact Brett Gardner's time in the lineup more than most, but manager Aaron Boone believes that the longest-tenured player in pinstripes will continue to see the field in important situations. "He's still going to play a lot, and I think that'll
NEW YORK -- The new-look Yankees' roster projects to impact Brett Gardner's time in the lineup more than most, but manager Aaron Boone believes that the longest-tenured player in pinstripes will continue to see the field in important situations.
"He's still going to play a lot, and I think that'll show up over time," Boone said prior to Wednesday's series finale against the Rays. "I think he'll be playing a lot more regularly than some people might be speculating, but it'll be that constant conversation, and know that he'll continue to play a big role for us."
Gardner started 62 of the Yankees' first 72 games, 42 of those coming in center field as Aaron Hicks missed the season's first eight weeks due to injury.
Following the club's acquisition of first baseman/designated hitter Edwin Encarnacion this week, general manager Brian Cashman said he anticipates the starting outfield to feature Giancarlo Stanton in left field, Hicks in center field and Aaron Judge in right field. Judge is expected to be activated Friday from his Minor League rehabilitation assignment.
"We're going through a stretch where we're facing a handful of lefties that maybe will take some starts away from him," Boone said of Gardner. "But when Aaron gets here, Giancarlo and even Hicks to a degree, those are all guys that are going to need their days once, twice a week, whatever it may be."
Following the Encarnacion acquisition, Gardner said he was not concerned about how the trade would affect him. The 35-year-old was in Wednesday's starting lineup against the Rays, batting ninth and playing left field.
"We've got a lot of talented guys in the room, and a lot of talented guys headed back, which will do nothing but make our team stronger," Gardner said. "You never know what can happen. Nobody expected me to play center field 40 out of the first 45 games this season. You just never know. You've got to stay ready."
Hammerin' Cameron
Cameron Maybin entered play on Wednesday having homered in a career-best four consecutive games after hitting just one homer in his first 35 games of the season. The outfielder credits hitting coaches Marcus Thames and P.J. Pilittere for encouraging him to hit the ball in the air more frequently
"It's working," Maybin said. "It's a trust factor, going up there knowing that I've got a ton of ability, and I'm trusting it. I'm thankful for these guys continuing to believe in me, continuing to encourage me to get my 'A' swing off. I'm going to try to keep adding on."
The surge comes as Judge's pending return has placed Maybin's future on the roster into doubt, with Gardner expected to serve as the extra outfielder on a three-man bench and Maybin out of Minor League options. Boone said that he has been impressed by Maybin's focus despite the uncertainty.
"He's been so awesome to have and to have in that room," Boone said. "What he means to those guys already, and just how well he's performed for us, I love the player."
Medical report
Jordan Montgomery has returned to New York for an MRI on his left shoulder, one day after the rehabbing left-hander cut a live batting practice session short after 15 pitches due to discomfort.
Montgomery is returning from Tommy John surgery performed June 2018, and he had been aiming for an August return to the Majors.
"I don't want to sound the alarms off, but we just wanted to get him back here and get it looked at," Boone said. "I think we're just being cautious."
This date in Yankees history
June 19, 2015: Alex Rodriguez became the 29th player in Major League history to collect 3,000 hits, hitting a solo home run off the Tigers' Justin Verlander. A-Rod joined Derek Jeter and Wade Boggs as the only players to homer for their 3,000th hit.