Yanks GM actively monitoring pitching market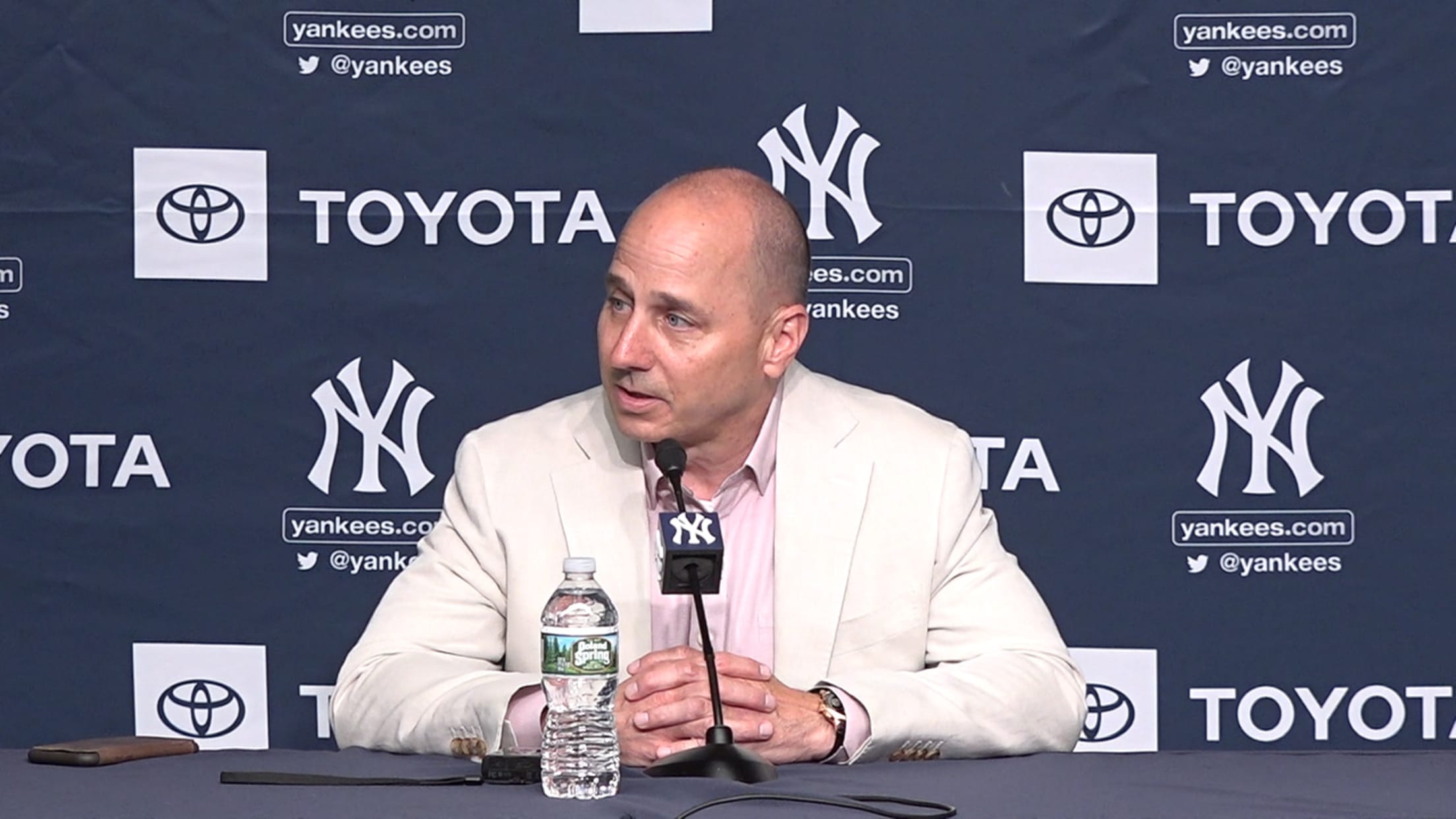 NEW YORK -- There are approximately six weeks remaining for the Yankees to identify the best available target(s) on the pitching market, and general manager Brian Cashman said on Monday that he has been blowing up the cell phones of most opposing GMs. Though the acquisition of slugger Edwin Encarnacion
NEW YORK -- There are approximately six weeks remaining for the Yankees to identify the best available target(s) on the pitching market, and general manager Brian Cashman said on Monday that he has been blowing up the cell phones of most opposing GMs.
Though the acquisition of slugger Edwin Encarnacion from the Mariners presented what Cashman and his staff view as an incremental upgrade, importing a front-line starting pitcher would address an area of significant need.
• Edwin: Being a Yankee is 'going to be fun'
Cashman's public message: We're trying.
"It's a process we're working through, and we'll see," Cashman said. "We're certainly compiling a list of the names that are available that are obvious, and we're compiling a list of the names that might become available."
With Domingo German (strained left hip flexor) having joined Luis Severino (strained right lat) on the injured list, the Yankees' starting depth has been tested greatly. It is no secret that the team wants to stabilize a rotation that has been leaning on J.A. Happ, James Paxton, CC Sabathia and Masahiro Tanaka, and Chad Green has frequently been used as an opener.
The biggest Trade Deadline prize would be the Nationals' Max Scherzer, while other potential targets include the Giants' Madison Bumgarner, the Blue Jays' Marcus Stroman and Aaron Sanchez, and the Indians' Trevor Bauer. The Tigers' Matt Boyd and the Rangers' Mike Minor have also been linked to New York in published reports.
In addition to performing his own due diligence and using the feedback the organization receives nightly from its scouting network, Cashman has deputized assistant GMs Michael Fishman and Jean Afterman to scour the league for potential names that might become available.
"I certainly want to pull down whatever's best for this franchise and for our fan base, because we certainly are intent on taking another shot at this thing," Cashman said. "We've been taken out the last two years by the eventual champs.
"We're proud to get to the postseason, but we're not proud to say we're exiting the postseason at some point. We want to be the one that has a chance that everyone's talking about in a big way when it's all said and done, so I've got more work to do."
Murderer's Row 2.0?
Encarnacion entered play on Monday leading the American League with 21 homers, Giancarlo Stanton is set to rejoin the Yankees for Tuesday's game against the Rays and Aaron Judge is also expected back during this homestand. Manager Aaron Boone is excited about the potential of what he believes should be a "great lineup."
"I like them when they fly out on our side, that's for sure," Boone said. "Look, [hitting homers] is definitely a humongous part of the game right now, and more and more guys are capable of doing it. More and more teams have more and more guys that are capable of doing it. So you like to have that kind of firepower."
Though there has been hand-wringing in recent years over power-hitting clubs struggling to slug against elite pitching in the postseason, that remains "a bit of a false narrative" to Boone, who has listed it among his pet peeves.
"I want great players, I want great hitters," he said. "When you look back on it, the teams that get on base and hit a mistake in the seats and pitch really well usually [win]. We want to be as well-rounded as we can, but I think it's a little bit of a myth that in the postseason, all of a sudden, we're just moving guys along and touching the ball.
"It's really hard in the postseason against elite-level pitching to string together a ton of hits night in and night out against a team, so the more good players we have, the more traffic we're creating. It gives us a chance to score big, and that's what we're hoping for. Home runs are still good in October. So are hits, though. I like hits, too."
All Rise
With Stanton en route to The Bronx, Judge's stay with Triple-A Scranton/Wilkes-Barre will continue for at least a few more days. Returning from a significant strain of his left oblique, Judge had played three games with the RailRiders entering Monday, collecting one hit in 12 at-bats.
"He feels good," Boone said. "I think he'd prefer being back already. But I think the nature of the injury and just how we've had to bring him back, I think it's important that he gets a couple more games down in there where he's in the field, bouncing back, running the bases, those kinds of things. So he's doing really well, he feels good, he feels like he's ready. I'm excited to see him here in a few days."
This date in Yankees history
June 17, 1978: Ron Guidry struck out 18 Angels in a four-hit shutout, setting a single-game franchise record that still stands. His 18 strikeouts also set a single-game AL record for left-handed pitchers, since broken by Randy Johnson (19).