Frazier optioned to Triple-A after rocky spring
24-year-old outfielder was 6-for-46 (.130) in Grapefruit League play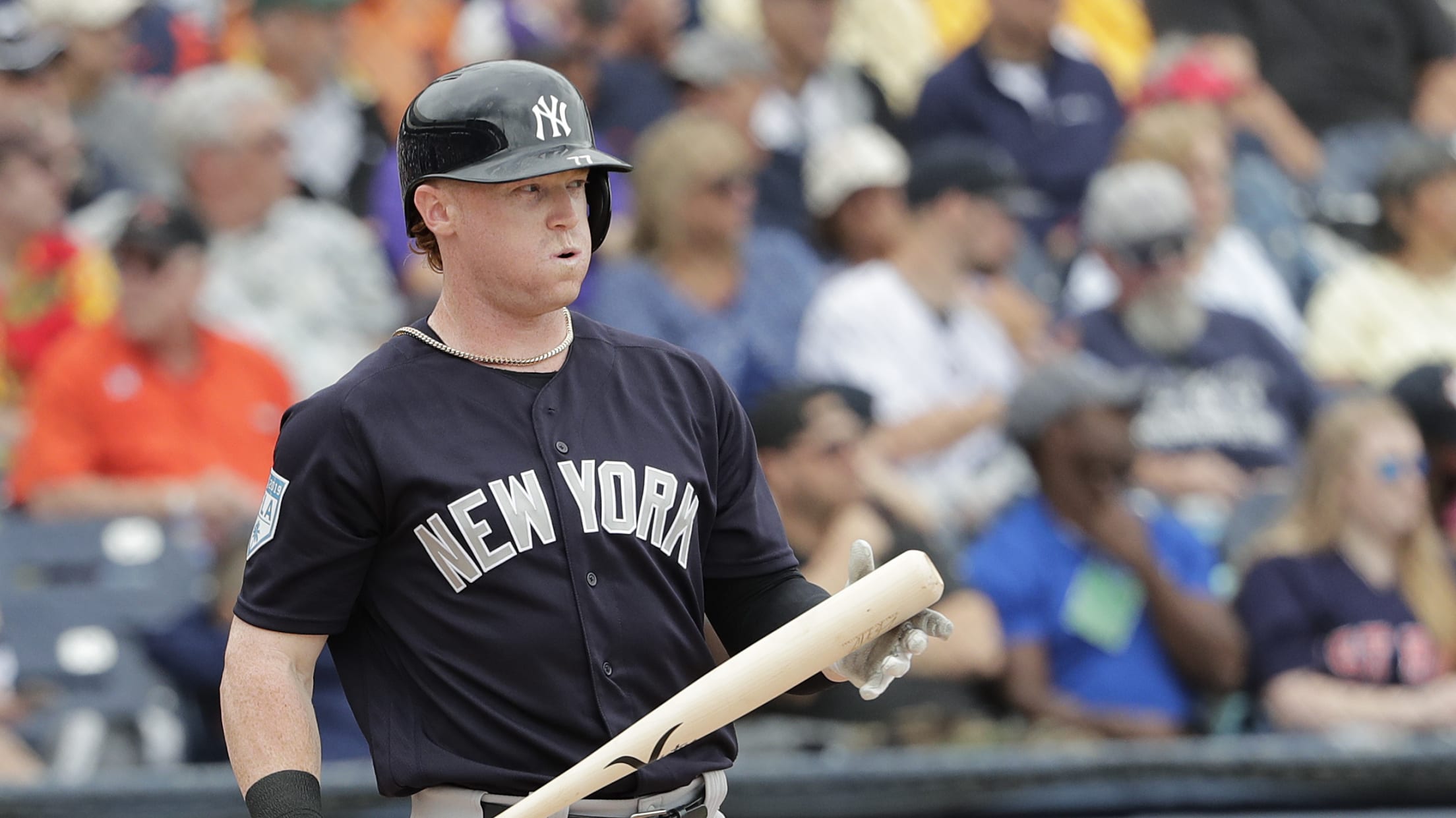 TAMPA, Fla. -- Clint Frazier's bid to make the Opening Day roster concluded on Friday, as the outfielder was optioned to Triple-A Scranton/Wilkes-Barre prior to the Yankees' Grapefruit League game against the Phillies. Frazier arrived in camp announcing his intent to steal playing time from Brett Gardner in the big
TAMPA, Fla. -- Clint Frazier's bid to make the Opening Day roster concluded on Friday, as the outfielder was optioned to Triple-A Scranton/Wilkes-Barre prior to the Yankees' Grapefruit League game against the Phillies.
Frazier arrived in camp announcing his intent to steal playing time from Brett Gardner in the big league outfield, but the 24-year-old's bat showed signs of rust after he was limited to 69 games last season (15 in the Majors) due to the effects of a concussion sustained in February.
In 17 Grapefruit League games, Frazier collected six hits over 46 at-bats (.130), with two doubles, one triple, five RBIs and three stolen bases. He worked four walks and struck out a team-leading 15 times.
"My message to him is, 'Go keep working hard at your craft,'" Yankees manager Aaron Boone said. "'You have a chance to be really good in this league for a long time. Don't be in a race to put up this number this week. Go get really good at your craft and your talent will then follow and carry.' I really want him to go there with a purpose, because he's going to help us this year."
Frazier's demotion appears to indicate that Tyler Wade will make the roster, joining catcher Austin Romine and DJ LeMahieu on the bench in a utility role. Boone has said the Yankees will carry 13 pitchers to begin the regular season, one of whom may be CC Sabathia, who will be serving a five-game suspension for his actions in a game against the Rays last September.
In other roster moves announced on Friday, the Yankees reassigned left-handers Rex Brothers, Danny Coulombe and Phillip Diehl to Minor League camp, along with right-hander Drew Hutchison. Following the Yankees' 6-3 win over the Phillies, infielders Kyle Holder and Giovanny Urshela were also reassigned to Minor League camp.
The word on Bird
Greg Bird feared the worst when the Yankees ordered him across the state of Florida for an X-ray and a CT scan on his right elbow, having been hit by a pitch in the first inning of Wednesday's 2-1 loss to the Astros in West Palm Beach, Fla. The first baseman was extremely relieved to learn that all images came back clean.
"It's better than it was yesterday, and that was better than the day before, so that's good," said Bird, who did not swing or take ground balls on Friday, but expects to return to the lineup on Saturday.
The past several springs have not been kind to the 26-year-old first baseman. He missed all of 2016 while recovering from right labrum surgery, then sustained a right ankle injury on a foul ball in the team's final Florida exhibition of '17. Bird landed on the shelf again last March when it was determined that he needed to have a bone spur removed from the outside of his right ankle.
"I'm excited to get going," Bird said.
Nothing doing
Aaron Hicks' chronic back pain has not eased to the point where the switch-hitting outfielder has been able to resume baseball activities. Though Hicks said that he hoped to be activated from the injured list on April 4, the first day he is eligible, Boone indicated that timetable was "probably too ambitious."
"He's missed a considerable part of Spring Training," Boone said. "We've got to get him built up properly. As much as we need and want him back, we also don't want to push him out there a couple of days early and jeopardize anything over the course of 162 [games]. We have to have a level of patience there, balanced with the urgency of getting after it and getting back. We'll be conservative."
Closing in
Boone expects to have his roster finalized before the team's buses roll to Fort Myers, Fla., for the Yankees' final Grapefruit League exhibition on Sunday. He said that he and general manager Brian Cashman are "close" to hashing out all aspects of the pitching staff.
"We've had some pretty spirited conversations and talks about it," Boone said. "We're not there yet. I think there are a few different ways we are considering going, so truly nothing is finalized yet. Hopefully we can get there in the next day or two."
Pitchers on the bubble include Luis Cessa, Domingo Germán, Jonathan Loaisiga and Stephen Tarpley. Of that group, Cessa (0.53 ERA in 17 innings) and Tarpley (0.00 ERA in 11 innings) have been particularly impressive this spring. German's numbers took a hit on Thursday when he allowed five runs in 3 2/3 innings against the Cardinals.
Bombers bits
Lee Mazzilli was released from the hospital on Friday following a two-night stay after being struck in the head by a batted ball on Wednesday. Mazzilli, who was at Yankees camp as a guest instructor, is said to be in good spirits.
Up next
The Yankees will play their final home game of the spring on Saturday, hosting the Blue Jays for a 1:05 p.m. ET contest. Right-hander Masahiro Tanaka will make his final tuneup in advance of his Opening Day start. Toronto will counter with right-hander Trent Thornton. The game will be broadcast on YES Network, MLB.TV and WFAN.