Frazier aims to make most of opportunity
Outfielder recalled from Triple-A with Stanton landing on IL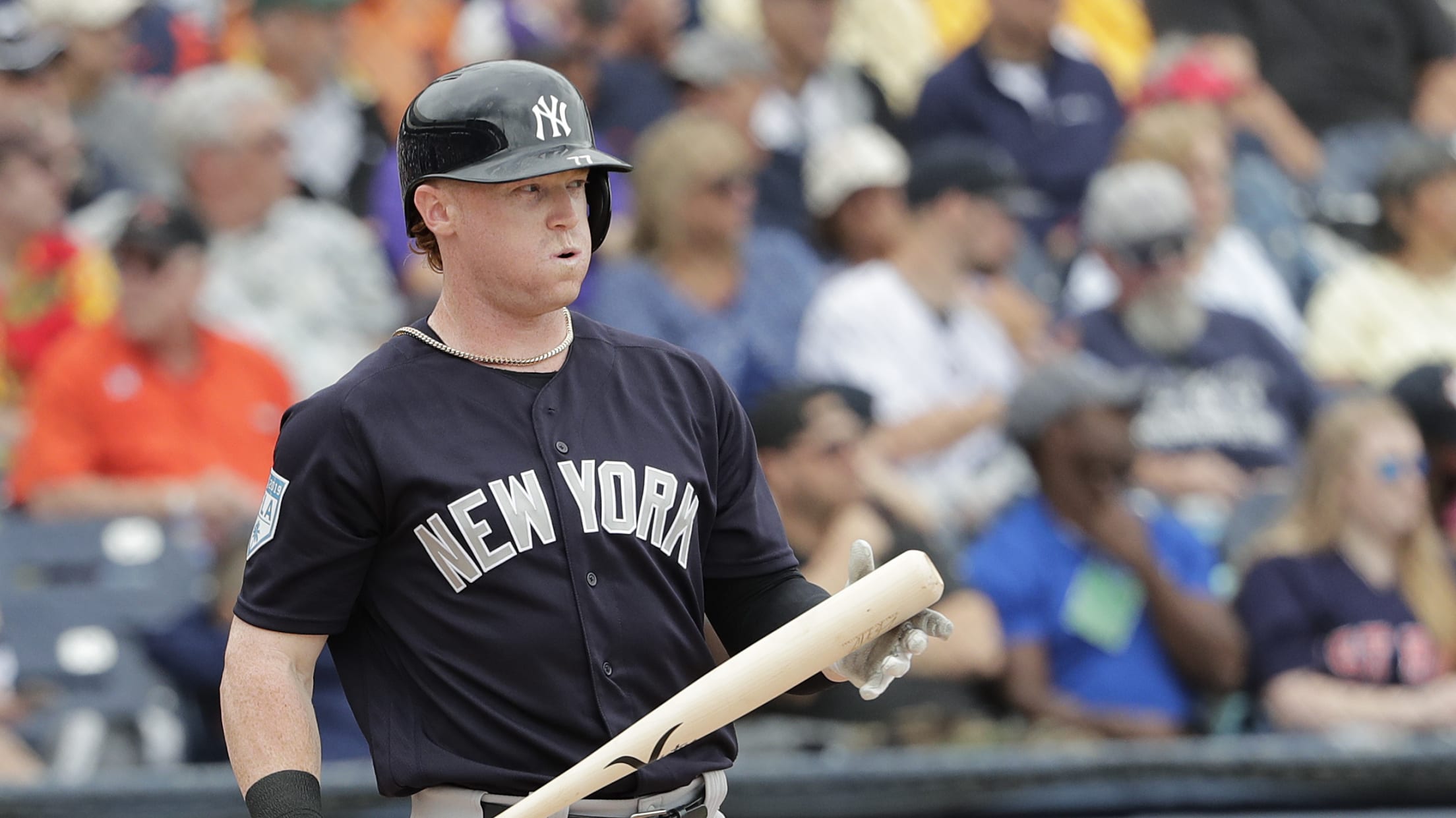 NEW YORK -- Having completed his spring by scorching line drives around the Yankees' practice fields in Tampa, Fla., Clint Frazier buckled his seat belt on a plane bound for northeastern Pennsylvania on Sunday afternoon, believing that he would not need to wait long for a big league callup. Even
NEW YORK -- Having completed his spring by scorching line drives around the Yankees' practice fields in Tampa, Fla., Clint Frazier buckled his seat belt on a plane bound for northeastern Pennsylvania on Sunday afternoon, believing that he would not need to wait long for a big league callup.
Even he could not have anticipated how quickly it would come; Frazier was approaching the baggage claim at Wilkes-Barre/Scranton International Airport when he felt his phone vibrating. His travel plans had changed, with Frazier now due in New York to assume Giancarlo Stanton's roster spot.
"It's the opportunity that I wanted last year," Frazier said. "I think there was a chance for me to come up and unfortunately I was going through my own injuries. Right now, I'm feeling the best I've felt at the plate in a long time. I think those extra couple of days in Tampa are going to be very beneficial to come up here and try to make the most of every opportunity that I get."
With Stanton shut down for at least the next 10 days, manager Aaron Boone said he expects Frazier to take regular reps in the outfield alongside center fielder Brett Gardner and right fielder Aaron Judge. Reserve outfielder Mike Tauchman got the starting nod on Monday against the Tigers, but Boone said Frazier could start the next two games.
"In the Minor League games down there, he's been tearing the cover off the ball," Boone said. "I feel like he's in a really good place coming up here right now. I feel like he's ready to go, he's excited to be here and he's going to get some good opportunities."
Though he arrived in camp voicing an intention to steal big league at-bats from Gardner, the 24-year-old Frazier managed seven hits in 49 spring at-bats (.143), with a double and eight RBIs. Boone believes Frazier was pressing to erase a 2018 season that was marred by the lingering effects of a concussion sustained in the Yankees' second game of the spring.
"I was thinking more mechanical than I probably should have in the box," Frazier said. "Once spring finished over there, I went over to the bushes and just kept a clear mind and tried to play as much baseball as I could, not play mind games with myself. I made a few mechanical adjustments that I felt like simplified things for me at the plate and I had a really good, strong showing toward the end of camp."
To the sticks
Aaron Hicks has not picked up a bat since his troublesome lower back required a pair of cortisone injections in mid-March, and though Hicks has said that he "feels great," Boone said the switch-hitting outfielder needs a full Spring Training before he can play a role at the big league level.
"We're taking it slow and making sure he is good to go," Boone said. "He hasn't started baseball activities, but I feel like that's around the corner. Still, he's going to need a Spring Training, so speculating on when -- I don't think it's going to be deep into the season by any means, but he's still got some weeks to go."
This date in Yankees history
April 1, 2003: Andy Pettitte fired seven scoreless innings in a 10-1 win over the Blue Jays, marking the franchise's first victory on April Fools' Day.