Betances shut down 'couple weeks' by lat strain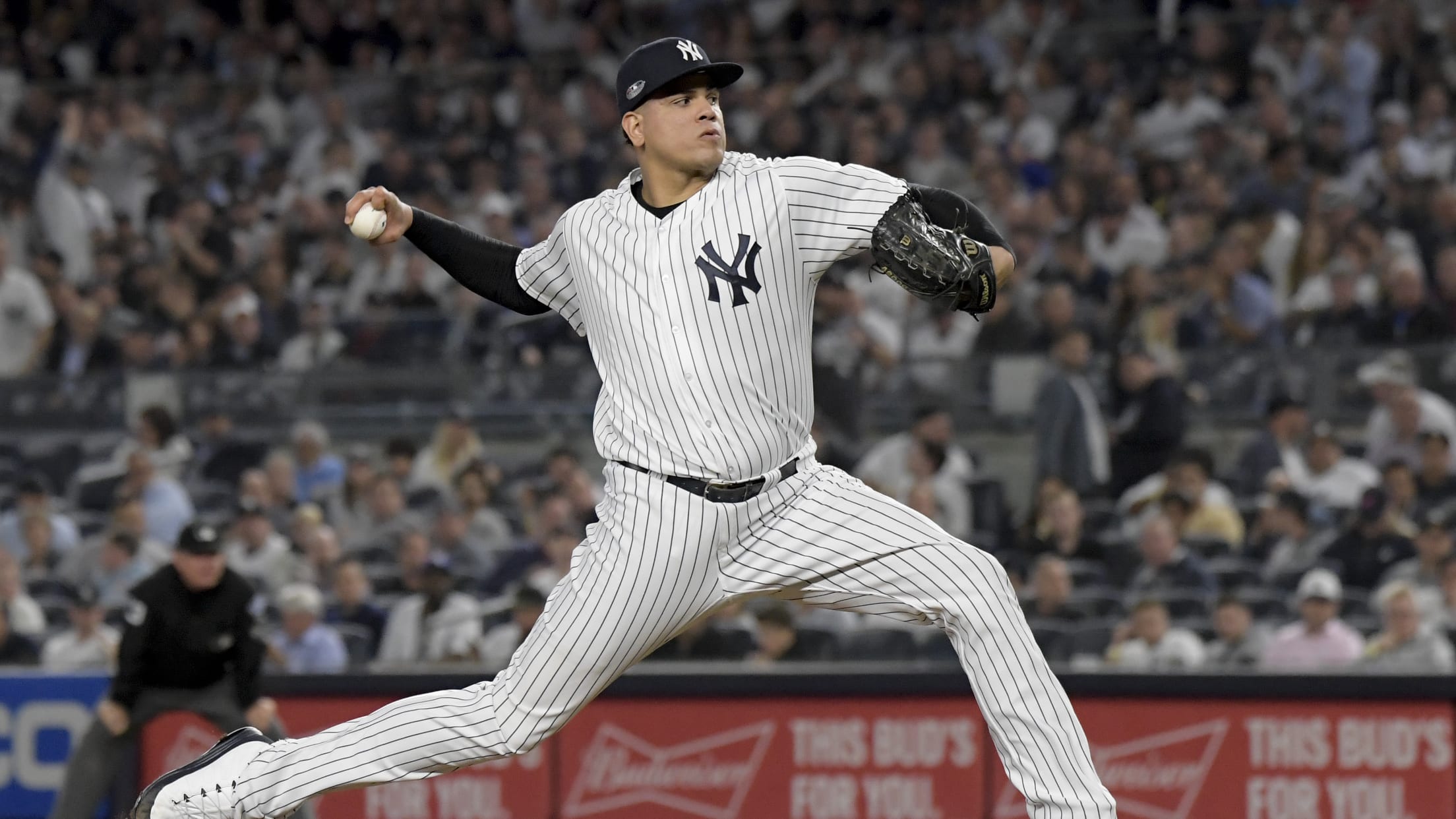 NEW YORK -- The Yankees envisioned Dellin Betances serving as a pillar of what they dreamed would be the most dominant bullpen in the Majors. That blueprint is once again on hold. The right-hander will be shut down for a few weeks due to a low-grade strain of his right
NEW YORK -- The Yankees envisioned Dellin Betances serving as a pillar of what they dreamed would be the most dominant bullpen in the Majors. That blueprint is once again on hold.
The right-hander will be shut down for a few weeks due to a low-grade strain of his right latissimus dorsi muscle, manager Aaron Boone said after Tuesday afternoon's 12-5 Subway Series victory over the Mets, the first game of a day-night doubleheader at Yankee Stadium.
"I guess the good news is it's a low-level strain, but it's obviously frustrating, especially because the shoulder's good and he was feeling good," Boone said. "So we'll support him right now and hopefully it's a few weeks down and ramp him back him up. He's still going to play a big role for us this year, just a little later than we thought."
A four-time All-Star, the 31-year-old Betances has yet to pitch in a big league game this season, having been sidelined during Spring Training with a right shoulder impingement.
Because Betances was unable to take the mound for a scheduled bullpen session late last week in Tampa, Fla., the club had him fly to New York to be examined by team physician Christopher Ahmad. An MRI taken on Tuesday morning revealed the strain.
"I'm guessing [it happened] when he went down there," Boone said. "I can't know for sure. He came out of his throwing to hitters well but felt the soreness the next day. Then when it was still there when he went out to start his bullpen the next day, that was when we knew he needed to take a leave."
Even without Betances, the Yankees' bullpen has been a strength. Their efforts have been paced by Aroldis Chapman (1.40 ERA), Adam Ottavino (1.53 ERA), Tommy Kahnle (2.81 ERA) and Zack Britton (2.86 ERA).
Betances is the second Yankees pitcher this season to land on the injured list with an injury, then sustain a new injury while rehabbing.
Ace right-hander Luis Severino was expected to return in April from right rotator cuff inflammation, but he strained his right lat while tossing in Florida and is now not expected back until after the All-Star break.
"I believe it's coincidence, but I don't know," Boone said. "We've had things happen to guys where it's been a lot, but we've dealt with it. I'm certainly not the person to ask about exactly what happened."