Gary Sánchez dealing with lower back issue
Yanks' catcher: 'It's been a little tight' after catching back-to-back games this week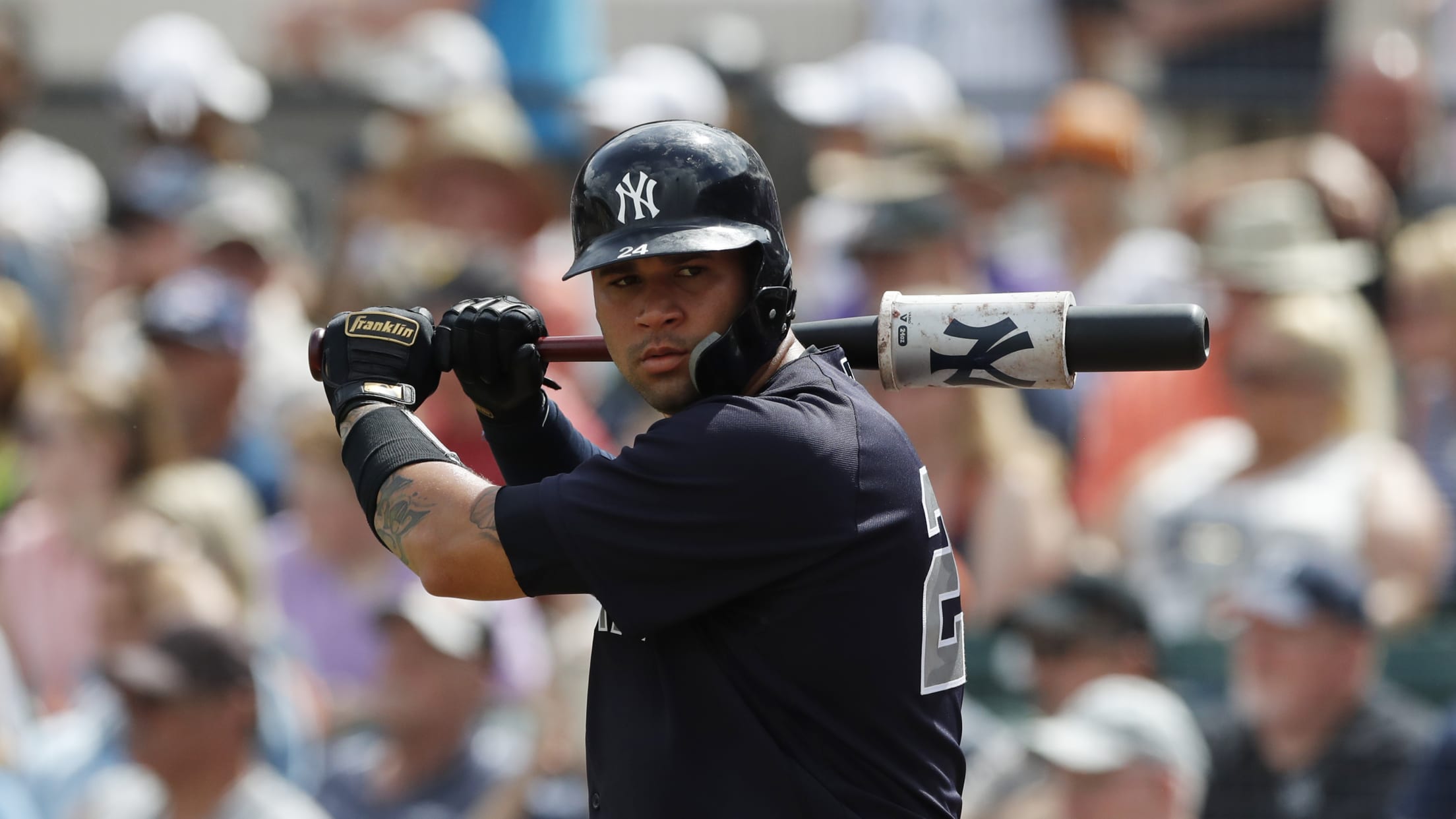 TAMPA, Fla. -- Being behind the plate on consecutive days left Gary Sánchez's lower back barking, prompting precautionary visits to the trainers' room at George M. Steinbrenner Field. But the Yankees catcher believes he will return to Spring Training action shortly. Sánchez was left off the batting-practice schedules on Saturday
TAMPA, Fla. -- Being behind the plate on consecutive days left Gary Sánchez's lower back barking, prompting precautionary visits to the trainers' room at George M. Steinbrenner Field. But the Yankees catcher believes he will return to Spring Training action shortly.
Sánchez was left off the batting-practice schedules on Saturday and Sunday due to the discomfort, which he said is in the lower-to-middle area of his back. The Yankees have not sent Sánchez for an MRI, but the 27-year-old did not travel to Monday's Grapefruit League game against the Phillies in Clearwater, was not at the ballpark on Tuesday due to a fever and is not expected to play until Friday. Manager Aaron Boone said on Monday that he wants to give Sánchez extra rest with the team going across the state to play the Marlins and Nationals on Wednesday and Thursday.
"It's been a little tight, a little uncomfortable," Sánchez said through an interpreter. "We're treating it. After catching those two games back to back, I just thought it was better for me to take care of it now. This is the right time to take care of everything. You don't want to rush anything, especially in Spring Training. You have time."
Teamed with ace Gerrit Cole and two relievers, Sánchez caught five innings in Thursday's 15-11 loss to the Tigers in Lakeland, then was behind the plate for another five innings to catch prospect Deivi Garcia and two relievers in Friday's 5-1 loss to the Orioles at Steinbrenner Field. In that latter contest, Sánchez saw a passed ball and three wild pitches on his watch.
At the suggestion of new catching coach Tanner Swanson, Sánchez has been experimenting with a right-knee-down stance behind the plate, intended to improve his framing. Sánchez said he does not know if the change has anything to do with his back issue.
"That's probably the easy thing to run to, but I'm not so sure," manager Aaron Boone said. "Part of the stance is to alleviate some of the wear and tear. My hope is that over the long haul, it will be something that is a little less demanding physically. When I watch with my eyes, that's what I'm seeing. I'm seeing him in a more comfortable, less demanding position. That said, it's different, so I guess there's certainly a possibility that it could be a contributor."
Sánchez has managed only an infield single in 17 at-bats (.059) this spring, which he attributes more to a matter of timing than to the specific back issue.
"At the end of the day, I just want to be healthy," Sánchez said. "If I'm healthy, I'm able to make adjustments and get to where I want to be.
"As a baseball player, you never want to be hurt. You never want to have any kind of injury that holds you back. I just want to be healthy and try to do what I need to do to get back."
Midseason form
Masahiro Tanaka may be one of the most relentless perfectionists on the Yankees' pitching staff, but even he is pleased with his spring work to date. The right-hander hurled 3 2/3 innings of scoreless, one-hit ball against the Braves in a 1-0 Grapefruit League victory, striking out four without a walk in the 52-pitch effort (34 strikes).
"[I'm happy with] just being healthy enough to rack up the innings and number of pitches," Tanaka said through an interpreter. "Also, just being able to work on a lot of my pitches -- maybe the cutter moreso than the others, just to see how it plays out in games."
The Yanks' likely No. 2 starter behind ace Gerrit Cole, Tanaka has compiled a 2.08 ERA across 8 2/3 spring innings, permitting two runs and three hits. He has struck out 11 without issuing a walk.
"Masa has been really good all spring," Boone said. "He made some really good pitches with the cutter today into righties. The split, I thought was good. The command was good. He's been in a really good place since he's gotten down here and throwing. Another good one and another step up today."
'O' so good
Adam Ottavino did not enjoy a strong close to his debut campaign with the Yankees, but the right-handed reliever appears to be back to form. Ottavino retired all three Braves he faced on Sunday, striking out one, and has struck out five across four scoreless frames so far this spring.
"The changeup has become a pitch for him, something you're seeing a lot to left-handed hitters," Boone said. "He's had really good results with it in the bullpen and he's taking it into the game. That'll be a factor for him this year, especially against lefties, to keep them off balance a little bit."
Comeback trail
Giancarlo Stanton (right calf strain) ran at 85 percent effort on an anti-gravity treadmill and hit in the batting cages on Sunday, according to Boone.
Up next
The Yankees are on the road Monday, visiting the Phillies for a 1:05 p.m. ET contest in Clearwater, Fla. Left-hander J.A. Happ will make his fourth start of the spring, having compiled a 1.00 ERA through his first nine Grapefruit League innings. Right-hander Aaron Nola draws the start for Philadelphia. The game is available to watch live on MLB.TV.