Next Yankee up for imminent return is Stanton
Slugger re-joins team and will be activated from IL this week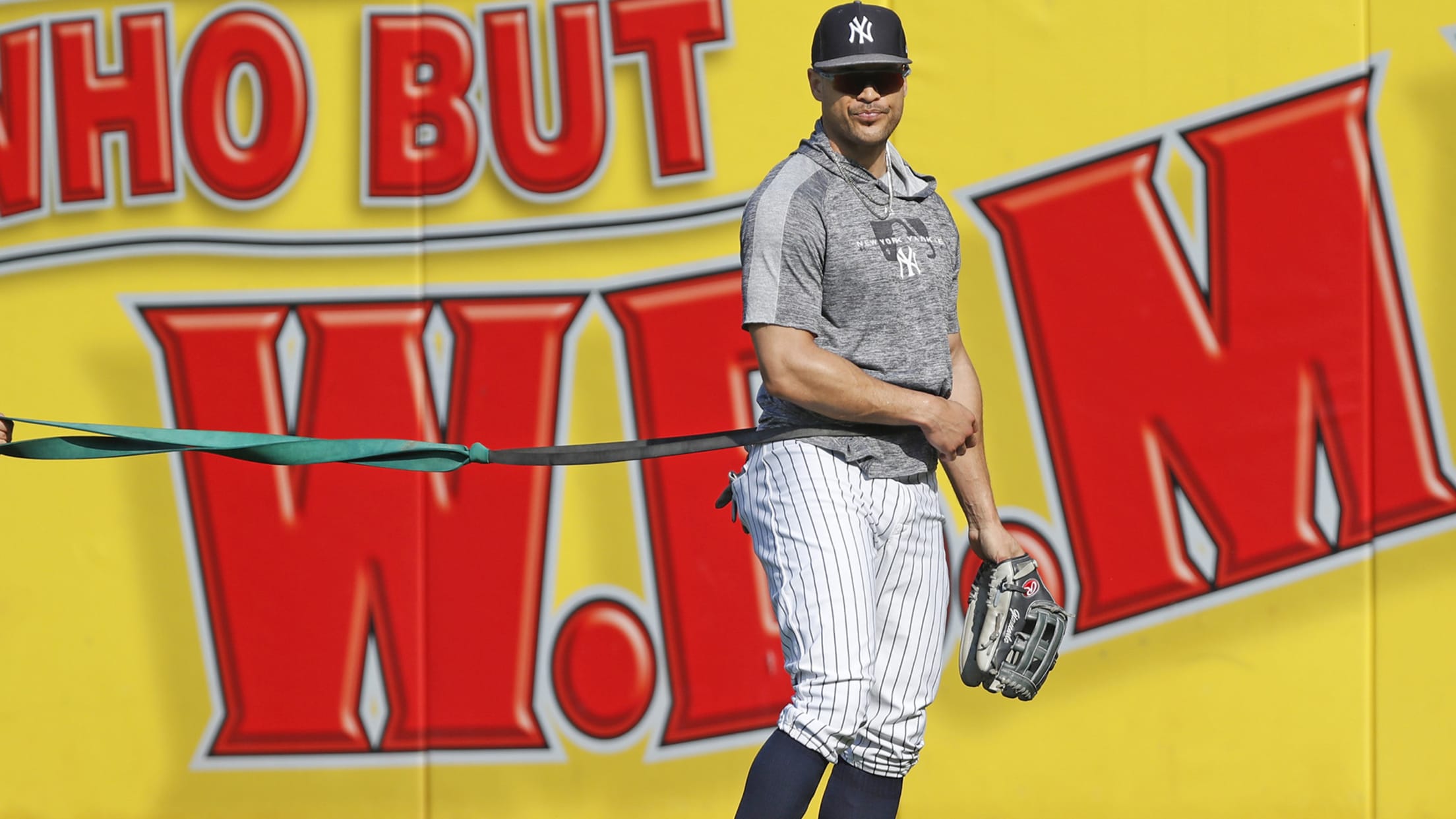 NEW YORK -- Injuries have limited Giancarlo Stanton to only 38 plate appearances so far this season -- fewer than the scarcely-seen Greg Bird (41), Miguel Andújar (49) and Kendrys Morales (75), among others -- but the Yankees believe that is about to change. Stanton will join the Yankees for
NEW YORK -- Injuries have limited Giancarlo Stanton to only 38 plate appearances so far this season -- fewer than the scarcely-seen Greg Bird (41), Miguel Andújar (49) and Kendrys Morales (75), among others -- but the Yankees believe that is about to change.
Stanton will join the Yankees for Tuesday's game against the Angels and is expected to be activated from the 60-day injured list on Wednesday or Thursday, said manager Aaron Boone, who expects that the 29-year-old slugger is ready to handle full activities at the plate and in the outfield.
• Here's when the injured Yanks are due back
"He's been getting after it really for a good while now," Boone said. "He's racked up a lot of at-bats. He's done all his defensive work. He's really been bouncing back well the next day, feeling like his knee is where it needs to be."
Stanton's last big league game was on June 25 against the Blue Jays, when he sustained a right PCL strain on a head-first slide into third base. He has been rehabbing at the Yankees' complex in Tampa, Fla., and he appeared in Instructional League games this past weekend.
"He's been doing his baserunning and all his agility and conditioning," Boone said. "The amount of at-bats that he's been able to rack up has him feeling good about that."
As recently as nine days ago, Stanton's imminent return was viewed as a luxury for the first-place Yankees. That was before Mike Tauchman's potentially season-ending left calf strain created a scenario where Stanton could be needed to play left field regularly.
"I'm looking forward to getting with him to map out the plan moving forward," Boone said.
Back on the bump
Last week, J.A. Happ went straight from a start against the Tigers in Detroit to a medical appointment in New York, seeking treatment for left biceps tendinitis that the hurler estimated he has quietly handled for three to five starts.
Happ tossed in the bullpen on Tuesday and has been cleared to start as scheduled on Thursday against the Angels. Boone said there are no restrictions on the left-hander, who received treatment from team physician Dr. Christopher Ahmad and has voiced a preference to continue taking the ball.
"I think it's helped a little bit, for sure," Happ said. "We're throwing some stuff at it, but I think it's an issue that I can pitch through."
Comeback trail
Edwin Encarnación (internal left oblique strain) has voiced confidence that he will return to the lineup before the end of the regular season, saying that he is "feeling better every day." Boone said that Encarnación is pain-free but is unlikely to resume swinging a bat this week, though he could begin range-of-motion exercises.
After traveling to Los Angeles to seek a second opinion on his ailing right elbow, Aaron Hicks (right flexor strain) has reported to the Yankees' complex in Tampa to begin a throwing program. Boone said that Hicks is "doing pretty well," but that he is in "the very early stages" of his rehab.
Gary Sánchez (left groin strain) continues to receive treatment. Boone said that the early days of his rehab have been encouraging and that there is optimism that Sánchez can play before the end of the regular season, "but it'll probably be close."
Bombers bits
The Yankees designated infielder Breyvic Valera for assignment on Tuesday, clearing space on the 40-man roster to activate right-hander Luis Severino from the 60-day injured list. Valera, 27, batted .219/.324/.313 in 12 games for the Yankees this season.
This date in Yankees history
Sept. 17, 2014: Brandon McCarthy pitched the fifth immaculate inning in Yankees history, striking out the Rays' Wil Myers, Nick Franklin and Matthew Joyce on nine pitches. The feat occurred in the seventh inning of New York's 3-2 win at Tropicana Field. McCarthy joined Al Downing, Ron Guidry, A.J. Burnett and Ivan Nova as the only Yankees to notch an immaculate inning.