Torres' 2019 trend points toward torrid '20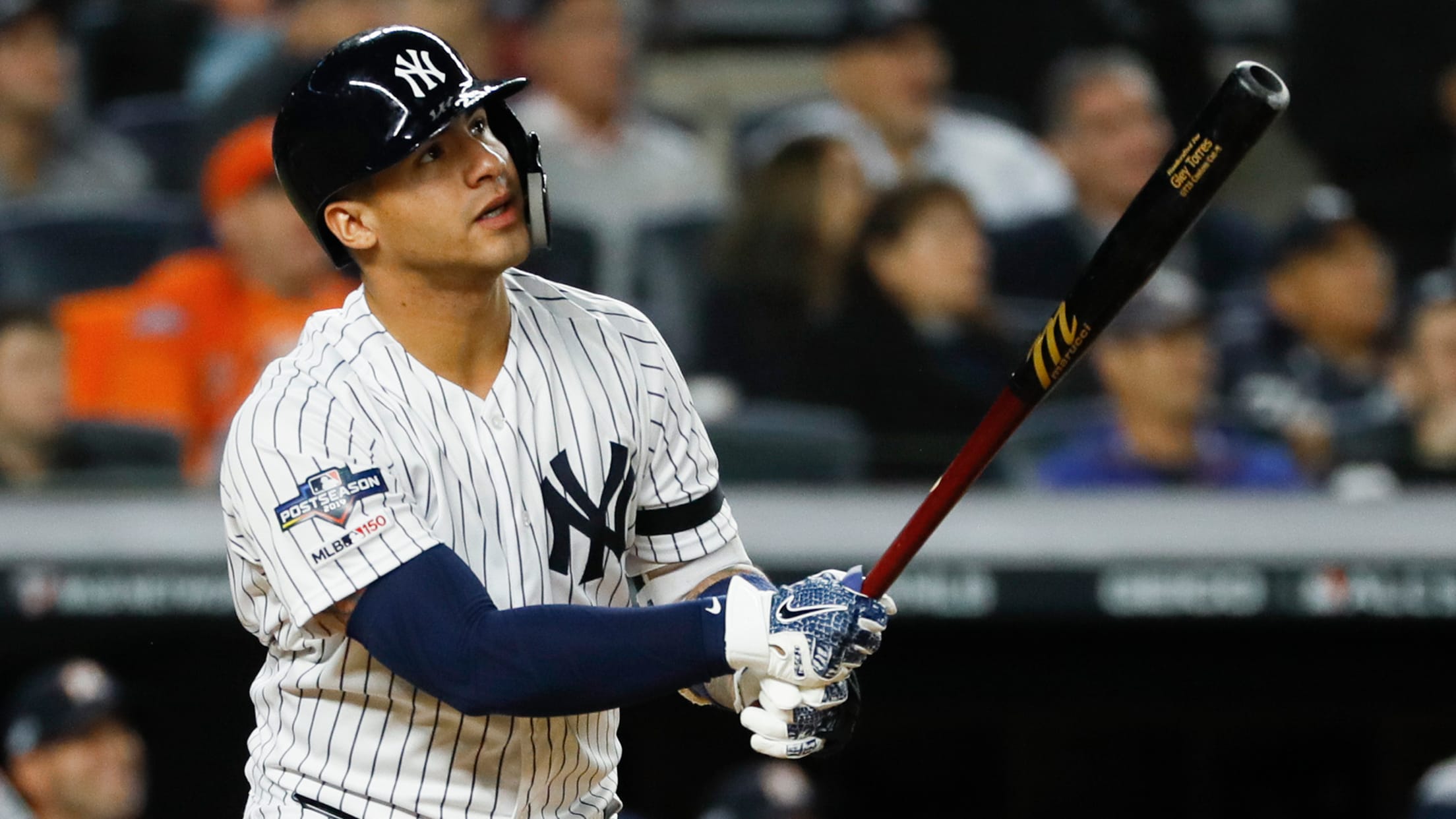 NEW YORK -- Gleyber Torres replayed the moment in his mind countless times as he prepared for the 2019 season, powering his sets in the weight room and his drills in the batting cage. It was a slow grounder to third base, scooped by Eduardo Nuñez and fired across the
NEW YORK -- Gleyber Torres replayed the moment in his mind countless times as he prepared for the 2019 season, powering his sets in the weight room and his drills in the batting cage.
It was a slow grounder to third base, scooped by Eduardo Nuñez and fired across the infield to Steve Pearce, allowing the Red Sox to celebrate their American League Division Series victory on the Yankee Stadium infield. The outcome stung everyone in a Yankees uniform, but arguably no one took it harder than Torres.
"I was the last out in that series," Torres said. "For sure, I felt really bad. After that season, I went home and I never forgot that moment. I feel bad; I feel frustration. I just took that moment personally and just take advantage of that. During my offseason, I prepared really, really, really good to help my team all this season."
The 22-year-old Torres enjoyed a terrific 2019 campaign, making his second consecutive All-Star team and standing as the only member of the Opening Day lineup not to land on the injured list. Torres belted a career-high 38 home runs, joining Robinson Cano ('13) as the only middle infielders to lead the club in homers.
Torres was the second-youngest Yankee to hit at least 30 home runs in a season, behind only Joe DiMaggio, while his 90 RBIs were the most by a Yankee age 22 or younger since Mickey Mantle collected 102 in 1954.
"Gleyber had a great offseason," Yankees manager Aaron Boone said. "There were a couple of times where he played through some things, and he would always talk to me about how he worked really hard all winter to put himself in a position to be there every day and to continue to build off of last year."
General manager Brian Cashman said that Torres and DJ LeMahieu were the driving forces behind a club that posted 103 regular-season victories, then swept the Twins in the ALDS before falling to the Astros in a six-game AL Championship Series.
"He does it with a smile," Cashman said. "You see the personality playing out while he's consistently having success. It's a talent that very few possess."
Torres' consistency won him an ardent fan in Aaron Judge, who remarked, "I've never seen anything like Gleyber."
"Especially at his age, 22, to be doing what he's doing in the big leagues is something that's unheard of," Judge said. "When I was 22, I was playing in A ball in Charleston, South Carolina, not nearly on as big a stage and facing the best arms in the biggest situations in the world."
What went right?
Torres set career highs in every offensive category, batting .278 with 96 runs, 26 doubles, 38 homers, 90 RBIs and 48 walks in 144 games. Of his 38 homers, 21 came against the American League East, including 13 against the Orioles that memorably tormented Baltimore play-by-play announcer Gary Thorne. Against the O's, Torres hit .394 (26-for-66).
Torres led the Majors with eight multihomer games, tying a Yankees franchise record shared by Babe Ruth (1927), Mantle ('61) and Alex Rodriguez (2007). Torres hit 20 of his homers at Yankee Stadium and led the Majors with a .462 on-base percentage in June. He caught fire in August, slugging 13 homers and reaching base in a career-best 22 consecutive games from Aug. 12-Sept. 4.
What went wrong?
As impressive as Torres' offensive performance was, his baserunning and defense continued to be areas in which the Yankees will look for improvement. Torres committed 20 errors during the regular season, 11 at shortstop and nine at second base. He committed two of the Yanks' four errors in an ugly ALCS Game 4 loss to Houston.
Best moment
In the hours before Game 1 of the ALCS, Torres told Judge that he would be claiming the team's ceremonial championship belt that night, indicative of the game's top performer. He backed up that boast by going 3-for-5 with a double, homer and five RBIs in the Yankees' 7-0 victory over the Astros.
"I just go to home plate believing in what I can do," Torres said. "And each opportunity I get, I just believe in myself. I just like to help and be confident."
2020 outlook
The Yankees are counting on Torres to continue providing a stable presence near the top of their batting order and in the middle of the infield, though exactly where Torres will be playing remains up for debate.
Shortstop Didi Gregorius is a free agent, and if he does not return, Torres could potentially step in as the starting shortstop, with LeMahieu handling duties at second base. Torres started 73 games at shortstop and 64 at second base during the regular season.
"I feel like he is going to continue to get better -- which is kind of scary for opposing pitchers and exciting if you are a Yankees fan," Brett Gardner said. "He's just so talented and has a knack for being able to put the bat on the baseball and make hard contact. I've said all along, no moment is too big for him."