Moving Together
After facing off in the 2017 New Era Pinstripe Bowl, Isaac Yiadom and Josey Jewell became Denver Broncos teammates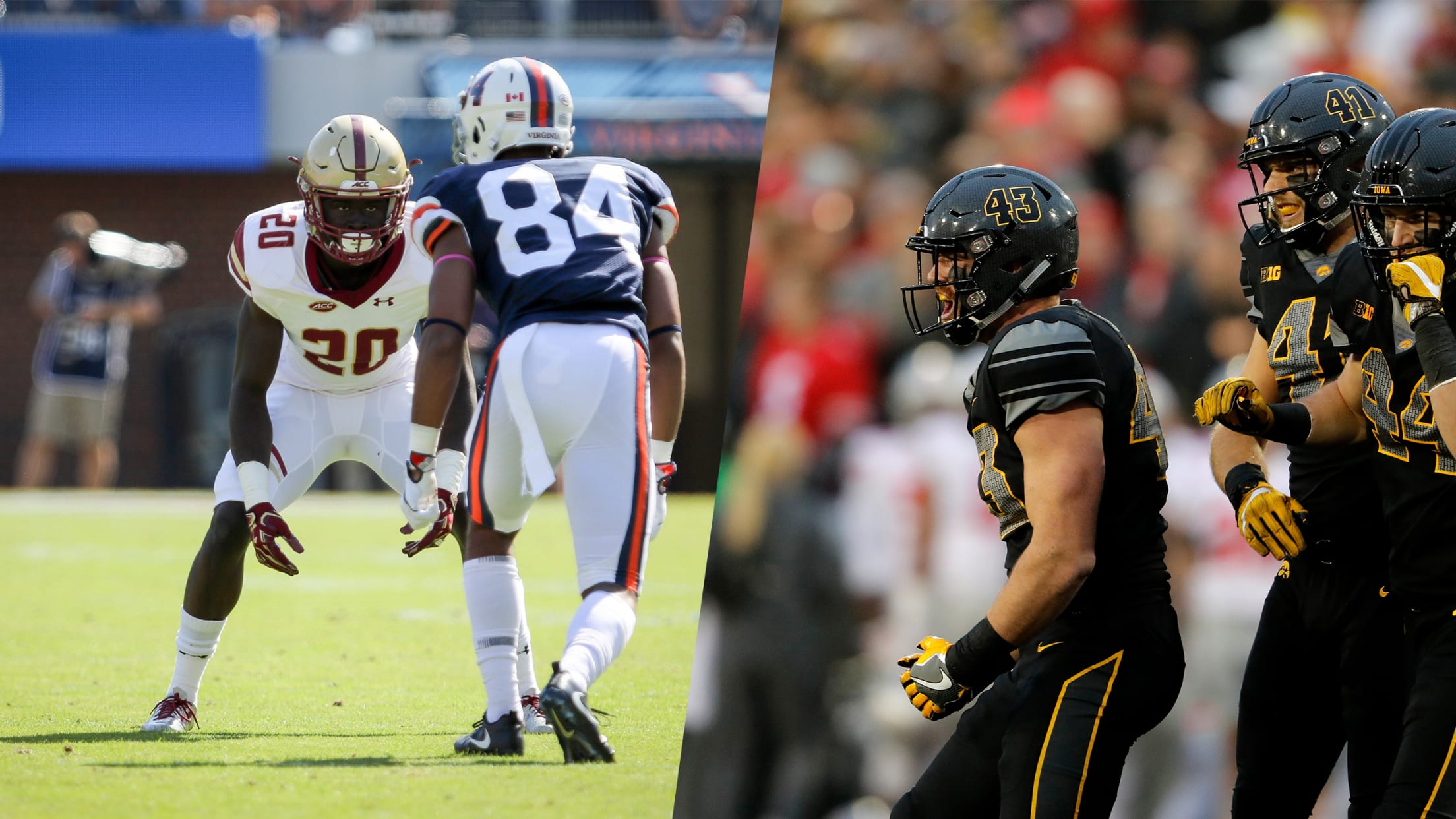 It's a moment containing multitudes, the clock turning to zeros as a college football game ends. On one side, players high-five, dog-pile or find any other means of exaltation. On the other, the recognition that 60 minutes or more of trench fighting went for naught. For some, there will be
It's a moment containing multitudes, the clock turning to zeros as a college football game ends. On one side, players high-five, dog-pile or find any other means of exaltation. On the other, the recognition that 60 minutes or more of trench fighting went for naught. For some, there will be more games, more seasons. But as the 2017 New Era Pinstripe Bowl wrapped -- the Iowa players swimming in confetti following their hard-fought 27-20 win while Boston College's men sought relief indoors from the arctic weather -- the seniors on both sides had other emotions to confront. Something was ending; maybe a chapter or perhaps an entire book, but something real.
On one side stood Josey Jewell, an Iowa linebacker; on the other, Boston College defensive back Isaac Yiadom. They didn't know each other, but they soon would. Four months later, the Denver Broncos selected Yiadom with the 99th pick in the NFL draft, then took Jewell seven picks later. In less than one year, the two players went from opposite sidelines at Yankee Stadium to working out alongside one another in the Mile High City. During the Broncos' bye week last month, they spoke to Yankees deputy editor Jon Schwartz about their winter memories from New York City and all that has happened since the clock hit zero 12 months ago.
JON SCHWARTZ: When did you realize, "Hey, that guy -- I think I played against him?"
JOSEY JEWELL: I think that was right after we got drafted. I was looking at everybody on the team that got drafted. I saw Boston College come up underneath his name, and I was like, "Oh, OK, now I know this guy." So I kind of knew him from filmwork and stuff like that; remembering the offense talking about him. And then I saw his name.
ISAAC YIADOM: Josey went a couple of picks after me, the next day. So I was actually in Denver on day three of the draft, and I got a chance to be there when they were on the phone with Josey. I was excited because I had seen him play just a couple months before. I knew what we were getting, so I was excited about that.
JS: What's the experience like of hearing your name that day? It's got to be the strangest sensation.
IY: It's exciting, it's sad, there are so many emotions. Dang, all these years,
I worked so hard for this moment, and it's finally here. It's just another chance to show what you can do, and finally getting a chance to get paid for doing what you love.
JJ: You always want it as early as possible, but whenever it comes, you're going to be excited for it. I'm just glad I'm here. I feel lucky and blessed with the opportunity, but there's a lot of work to be done still. That's why they draft you -- they think you're going to do well, and that's what you need to do if you're going to stay here.
JS: Josey, you grew up in Iowa a huge Broncos fan. Was it extra special to get the call from this organization?
JJ: It meant a lot. At the time, when the whole draft process was going on, I guess I didn't have a huge preference. Whatever team really wanted me and knew what they were going to get with me was fine with me. But yeah, I felt lucky at the end of the day knowing that I went to the team that I grew up watching a lot and really rooting for.
JS: Whether it's the next day, or that night, when does the jarring nature of the transition set in? Does everything change right away?
JJ: Right away. You realize the work that's in front of you, and what's to come. Once you come here, your first day, it's crazy. I was nervous as crap when I got here. I didn't know what to expect, and I just wanted to show them my best side and show them what I had. So, it was nerve-wracking. You just don't want to put a wrong step forward. You want to be able to show them what you can do. You've just got to be yourself. That's the end goal right there -- be yourself, and do what you can.
JS: I get that you want to be yourself, but who do you lean on in those moments?
JJ: My wife, [Micole]. She came out here, and everything kind of settled down a little bit once she got here. That's the person that keeps me in the middle -- not too high, not too low. She reminds me that if something goes bad, it's going to get better; if something goes good, I've still got a lot of work to do. And one of the other guys was Casey Kreiter. He was from Iowa, and he's our long snapper here. I knew him a little bit when I was at Iowa, and he really helped me along here, just kind of the ins and outs. And (linebacker) Todd Davis and (safety) Trey Marshall were huge in helping me understand the defense, helping me just kind of ease my way into it and understand what's expected.
JS: Isaac, you had Justin Simmons, a fellow BC guy, already in the Broncos' defensive backs room. How much did he help you?
IY: I leaned on him a lot. He helped me out so much during [organized team activities], just somebody that I could be comfortable talking to, asking questions that maybe you wouldn't ask someone you didn't know so well. As somebody you played with in college, me and Justin were pretty close. It made it so much easier, and I was thankful I got a chance to be here with him.
JS: How much different is the work you have to do in preparation once you're in the NFL compared to what you were used to at Boston College?
IY: At the end of the day, it's all just football. But now we don't have school. In your free time, you can do more film. You start to enjoy watching film because it's your job now. You pick other guys' brains, watch films, see some things you can take advantage of in the game. Just do your thing.
JS: What do you miss about college football now that you're in the NFL?
JJ: Shoot, I don't know. It's crazy. It's a little different, but it's still playing football at the end of the day. I don't try to look at all the other stuff maybe that other people talk about. I just try to focus, prepare for the week to win games. In college, you have school, so you can't be at football all day. And now the difference is that you can be here all day. So I kind of enjoy that, being able to put a little more time into it.
IY: I loved being in Boston. I loved my team, loved my coaches - we were coached really hard. I feel like it prepared me for where I am now. But there ain't no difference. The competition is a little harder, but it's just football.
JS: Josey, you got a scholarship from Iowa at the very last second, and then by your sophomore year you were a captain. You struggled at the NFL combine, and now you're starting as a rookie for the Denver Broncos. Can you make sense of the whole roller-coaster ride?
JJ: It's been crazy. You don't know what to expect. Your dream when you're playing as a kid is to play in the NFL, to be a top-tier guy. I'm starting to make my way into the NFL now, getting to play more. It's been kind of a crazy thing. I try not to look at it too much, just keep it on the back burner. Maybe I'll look in the offseason and kind of be happy about it. But right now, you can't really look at things like that. You've just got to keep focused on what's in front of you -- the next day, the next hour -- not too far ahead.
JS: Sure, but when you hear Pro Bowler Von Miller say that he really loves the way you play, that's got to feel good.
JJ: That's pretty sweet. Knowing how good of a player he is, and how recognized he is, he's also a great guy. You can't say enough about him.
JS: What were some of the highlights of the New Era Pinstripe Bowl experience for you?
IY: It was frozen, but we were in New York City! I love New York City, I love going there. I got a chance to play in Yankee Stadium. I thought the game was fun, even though it was the coldest game I ever played in. I enjoyed it.
JJ: I had never been to New York before, until then. I'm not a huge big-city guy, so it was kind of crazy for me to be walking around, especially during Christmas time when everybody was there. That's the one thing that stuck out to me. There are so many people, so many things going on. It just showed me a different lifestyle that I wasn't too used to.
JS: Isaac, you also played in the 2014 New Era Pinstripe Bowl. How did the two experiences compare?
IY: I did a lot of the same things. I just knew what it would take to win - unfortunately, we didn't win - but I just tried to prepare a little bit harder to come out with a victory. But everything happens for a reason; Iowa played a little tougher than us. At the end of the day, I enjoyed the experience a lot.
JS: With Iowa, Josey, you had four very different bowl game experiences, including a Rose Bowl, two Florida bowl games and the New Era Pinstripe Bowl. What made the game in the Bronx special?
JJ: I don't try to do a lot during the bowl game stuff. I just tried to keep my nose to the grindstone, do the stuff they have planned for us. I'm not one of those guys that's trying to do all the events that you could possibly do and sightseeing, stuff like that. I try to treat it like a normal work week. So, all the bowl games were similar to me since I didn't do much else other than watch tape and practice.
The two big things that were cool when we went there were the 9/11 Memorial & Museum -- it was very interesting to see, and it makes you really understand what happened and what was going on. And while we were there, we saw one of our old coaches, Jim Reid. So, it was good to meet up with him and see how things were going. And the New York Stock Exchange was another thing. Those are two things that, at another bowl game, you wouldn't get to do.
JS: That visit to the 9/11 Memorial is poignant for everyone. Isaac, Boston College has such an emotional tie there, with the story of Welles Crowther and the red bandana. How much does it mean when you can celebrate Welles' legacy as part of the Christmas celebration in New York?
IY: It's definitely important. It's great that we honor Welles, and that we can go there and actually see his name there.
JS: When the whistle blows at the end of that game, your college career is suddenly over. How emotional is that moment?
JJ: You always want to play football, and I love the University of Iowa. I enjoyed my time there. I loved playing there, and I didn't want it to end, but you've got to move on at some point. I would say after the game, I was excited to see what would happen next. I was sad to see it come to an end, but every good thing's got to come to an end. Moving on, looking forward to the next great thing. You've just got to do it day by day. When you're ending the game, then the next day you're getting excited to see what will happen.
IY: It hits you right away. I was sad -- it's like, Dang, it's been a great four years, but now it's on to the next level. I had to start working to be where I wanted to be.
JS: Is it hard to believe that it's been almost a year since you moved on?
JJ: It doesn't feel like that. It feels like a lot less than that. Time has definitely flown by since the end of the season. It's crazy. It flies by, and there's a lot of stuff going on in between these two seasons. But it's been really cool to watch [Iowa] compete and watch them do well. You've got to hold on to both. You're going to be an alum forever, so you can't take that away. But right now, my focus is here, trying to stay here. I'm not trying to focus on them too much. My main focus is here, trying to help the Broncos and be the best player possible.
IY: I'm just working to get stronger, faster, to be a better football player than I was. I enjoy my team; I like being in Denver. It's chill. I like my coaches a lot -- they coach you hard, they know a lot about the game. So I'm trying to pick their brains, learn from my older teammates and become a better player.
This interview has been edited for clarity and length.
This story appears in the 2018 New Era Pinstripe Bowl Official Game Program.