After strong rehab outing, Paxton nears return
Gregorious starting rehab assignment in Tampa; Tulo not far behind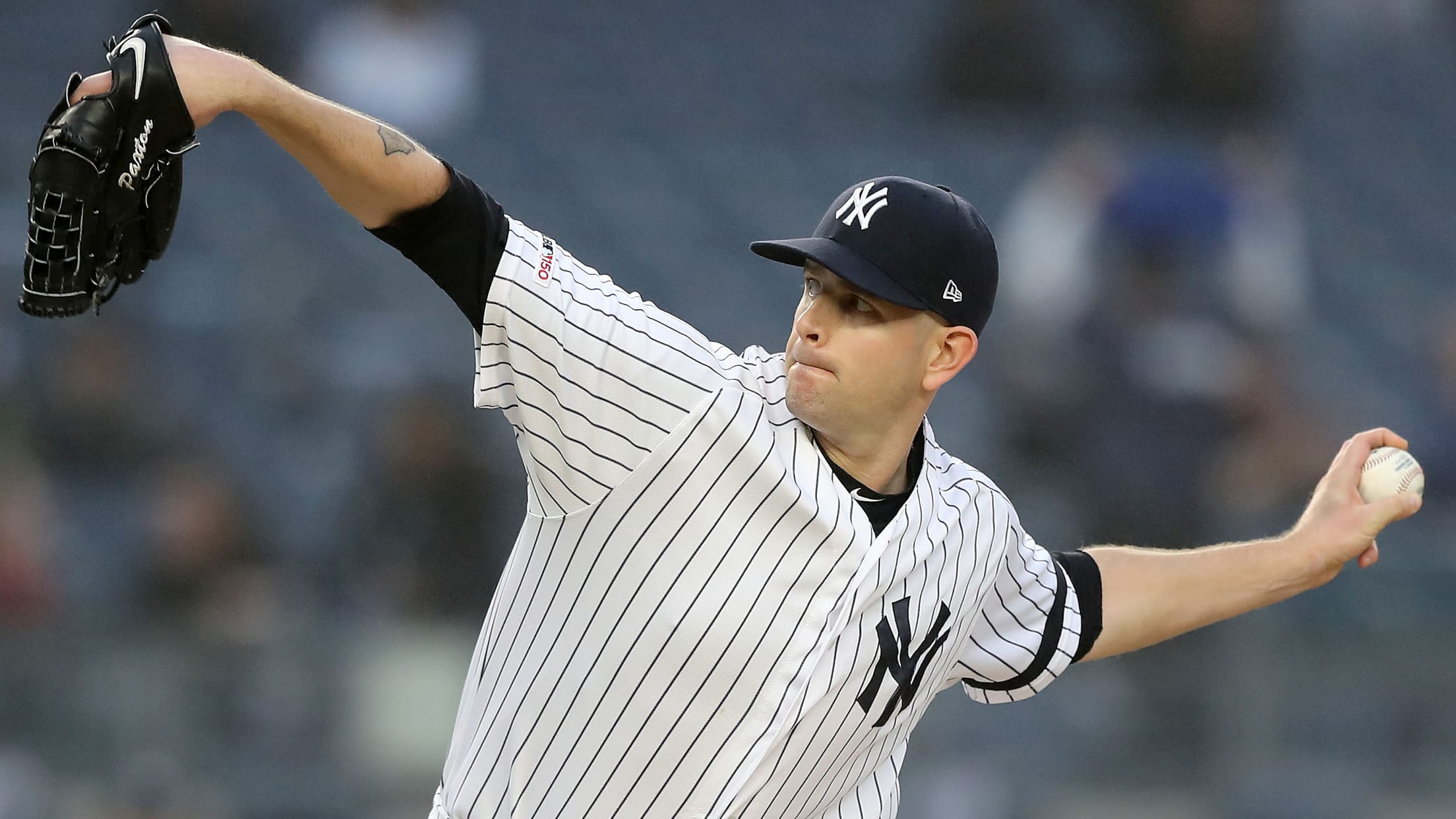 KANSAS CITY -- James Paxton has reported no significant issues with his left knee and could slot into the Yankees' rotation during their upcoming homestand, manager Aaron Boone said prior to Saturday's scheduled doubleheader against the Royals at Kauffman Stadium. Paxton pitched four innings in an extended spring game on
KANSAS CITY -- James Paxton has reported no significant issues with his left knee and could slot into the Yankees' rotation during their upcoming homestand, manager Aaron Boone said prior to Saturday's scheduled doubleheader against the Royals at Kauffman Stadium.
Paxton pitched four innings in an extended spring game on Friday in Tampa, Fla., saying afterward that he still "felt it a little bit" in his ailing left knee, but he was able to limit a team of Tigers Minor Leaguers to one hit.
"I understand he felt pretty good today," Boone said. "I haven't gotten to talk with him yet, but my understanding is he is still pretty good today."
Wearing a protective brace on the knee, Paxton struck out seven in the outing, throwing 42 of 55 pitches for strikes. He has been on the injured list since May 4.
"If I come in [Saturday] and it feels the same as it did walking in today, then that's just how I'm going to have to pitch for right now," Paxton told The Associated Press following the outing.
The Yankees will open a three-game Interleague series with the Padres on Monday, then welcome the Red Sox to town for a four-game set that begins on May 30. Boone said it is possible that the Yankees could have both Paxton and CC Sabathia back in the very near future.
"The hope is that CC is back, that Paxton is back," Boone said. "In the meantime, this next week there's going to be probably at least a couple of games where we have to navigate it with some bullpen. Having some guys down there that can really give us some length is important."
Didi is a go-go
Didi Gregorius will begin his Minor League rehabilitation assignment on Saturday evening with Class A Advanced Tampa, and Boone believes that the shortstop may not need to wait long for a change in venue.
Gregorius is expected to play two or three games with the Tarpons, then he could be promoted to a higher level. Boone believes that Gregorius will return to the big leagues in fewer than the 20 days his rehab assignment permits.
"Last time I texted with him, it was probably three days ago when he was getting ready to start his rehab," Boone said. "I just let him know how excited we all are for him, and I know he's excited to take these next steps, obviously. It's good to know that he's getting close."
Boone said that when Gregorius returns to the active roster, the Yankees will expect him to be prepared for everyday duty.
"I think when he comes back, he'll be essentially ready to play every day," Boone said. "I'm sure he'll get his day off a week here, especially with our situation where we like our depth a lot. When he comes back and is ready to go, he's coming back as a regular."
Comeback trail
Troy Tulowitzki has passed his final run of protocols to begin a Minor League rehab assignment, though there does not appear to be a perfect opportunity for the veteran to log big league playing time, especially with Gregorius thought to be weeks away. Boone was asked Saturday if there is still a place for Tulowitzki on the roster.
"Potentially," Boone said. "Every time you think you've got something figured out with our roster situation this year, it has a way of changing. The more people we can get ready to go, the better decision options we have."
Bombers bits
Right-hander Chance Adams was summoned from Triple-A Scranton/Wilkes-Barre to serve as the 26th man for Saturday's split doubleheader.
This date in Yankees history
May 25, 1922: Babe Ruth's five-day captaincy ended as the slugger threw dirt in an umpire's face following an unfavorable call. Ruth then went after a heckler in the crowd, standing on the dugout roof and calling them "yellow" cowards. The tirade earned Ruth a one-game suspension and a $200 fine (approximately $3,000 today).